Sicilian Style Spaghetti Sauce
By:
Raven Wing
•
3 years ago
•
19 comments
Note: I have never made a small pot of this, so I won't try to figure the cutbacks for the ingredients.  I make this only by the large corn cooker or spaghetti sauce sized pots.  Use whichever large pot you like. I like having lots of room to stir and work in the pot, and any leftover sauce can be frozen for use another day. 
This recipe makes approx. 1 to 1-1/2 gallons of sauce.  Why so much?  I use this sauce for all my 'Italian' dishes. Normally when I make the new pot, I use the sauce to make other Italian dishes, and share some of the sauce with family and Friends. The sauce freezes well and I put the left over sauce in containers or freezer bags for use later. And it is fun to experiment with for other uses.
Ingredients:  (as this is a personal recipe, the measurements here are a guestimate, and you can add or subtract to suit your tastes or medical needs, if any.)
     5       large cans of tomato puree
     3       medium cans of diced tomatoes, unseasoned 
     8       fresh Italian link sausages (Optional - your choice, hot, mild, mixed. I like fresh from a deli)
    1/2     lb. fresh mushrooms, sliced with stems on
     2       large white onions, chopped (yellow or red onions are not strong enough to hold their flavor)
     4       green bell peppers, chopped (color optional)
     6        green onions (spring onions) with tops, chopped
     8        large garlic cloves, smashed and chopped
     2        tbsp. fine crushed Thyme leaves
     1        tsp. crushed Rosemary leaves
     1        tsp. crushed Marjoram leaves
     1        tsp. crushed Basil leaves
     1        tsp. Allspice
     2        tsp. salt
     1        tbsp course ground black pepper
     1        tsp. white pepper
    1/2      cup red or white wine (the wine is optional, but, any cheap white wine will do)
(Note)
You will notice that I have omitted Oregano. I never use it in my Italian dishes. The real secret to a good Italian sauce is Thyme, that is what really gives it the robust Italian taste, not Oregano. For me Oregano makes the sauce taste bitter, so I never use it. However, if you like Oregano and wish to use it, add to your taste.
Preparations:
Cut the fresh sausages in half and brown well on medium heat in the pot you are going to use to cook the sauce in. Remove sausages when brown and put in onions, bell peppers and garlic.  Brown in the liquid from frying the sausages until just barely limp. 
Add wine and bring to a boil.
Then slowly add tomato puree, diced tomatoes and all other ingredients and stir well.
Add browned sausages to mixture, stir and cover.
Let simmer slowly, stirring only enough to keep from sticking, for approx. 4 hours. I use a flame diffuser (below)......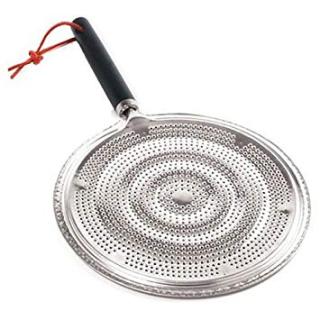 .......under the pot to prevent the sauce and ingredients from sticking to the bottom of the pan so much, but, you will still need to stir now and then to make sure the ingredients are well combined.
Be sure to scrape the sides of the pot when you stir the sauce, as the seasonings and other stuff will normally tend to stick to the sides as it cooks, and scraping the sides will keep the good stuff back in the sauce and not stuck on the sides of the pot.
You can let your taste buds be your guide in the need for more seasonings to suit your tastes.
Remove the sausage and set aside when the sauce is done.
Serve over cooked spaghetti with grated Parmesan cheese, a tossed green salad and toasted Italian bread for a great Sicilian meal.
(Note)
Northern Italians like to add sugar and cheese to their sauce. The sugar helps to cut the bitterness of the tomatoes grown in Northern Italy, and adding cheese also tends to mellow the tartness or the tomatoes.
The reason the tomatoes in Northern Italy are rather bitter is because most of the soil in that area is based with lave ash from the volcano eruptions in the early years, which tends to make the vegetables have a very tart or bitter taste. So adding sugar to the sauce helps deter some of the bitterness.
However, adding sugar to this sauce is optional, as is adding cheese. It is up to your own taste buds.
Hope you enjoy it.