Photo Essay - The Colours of China at Night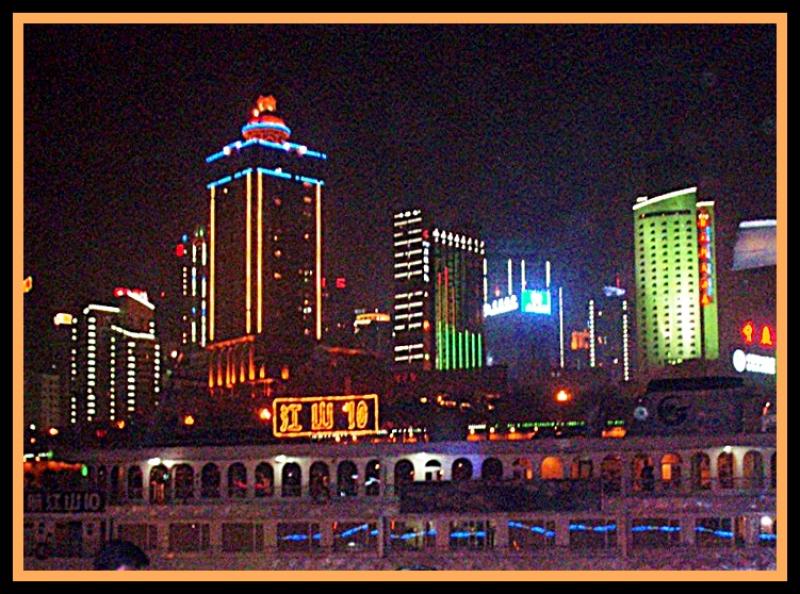 "Life is a sea of vibrant color. Jump in." ― A.D. Posey
Photo Essay - The Colours of China at Night
Four years ago I posted a photo essay called China at Night Through My Camera's Lens. This new essay incorporates many of those photos that have now been re-edited, along with others that may also have been posted more recently, and others not yet posted.  It amazes me how the Chinese light up their cities at night, as if electricity only cost a dime. However it is a beautiful sight to see.
As you look at the colours of the night, listen to the music of the night:
http://video.tudou.com/v/XNTAyNTg1NDI0.html?spm=a2h0k.8191414.0.0&from=s1.8-1-1.2
Chongqing, previously known as Chunking, the seat of the Nationalist government of Chaing Kai Shek, was the location of the American Flying Tigers during WWII.  This is a scene taken from across the Jialing River.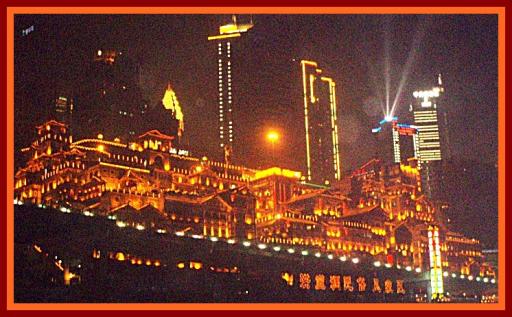 Another view of Chongqing. This is a city with a population almost equal to that of all of Canada.  Chongqing is my wife's "houkou", or "home town".  My residency visa permits me to live here, and although I have lived in a couple of other Chinese cities previously, I am now in Chongqing and will most likely remain here until the end of my days.
Downtown Chongqing as seen from the Jialing River. This river connects not far from here with the Yangtze River.  I use this background for my personal NT page.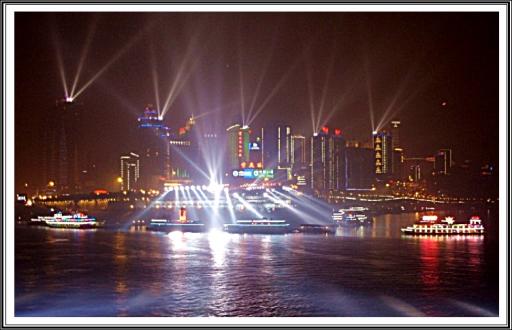 This photo was taken inside the structures shown in the first photograph above.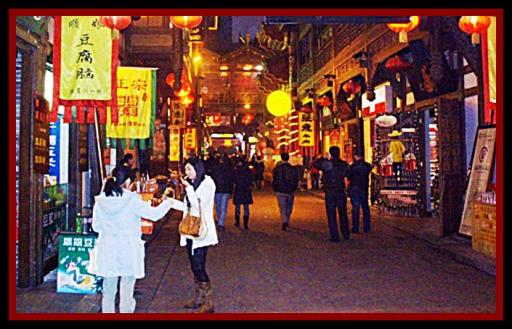 A riverboat at Chongqing. There are cruises in these boats up and down the Yangtze River.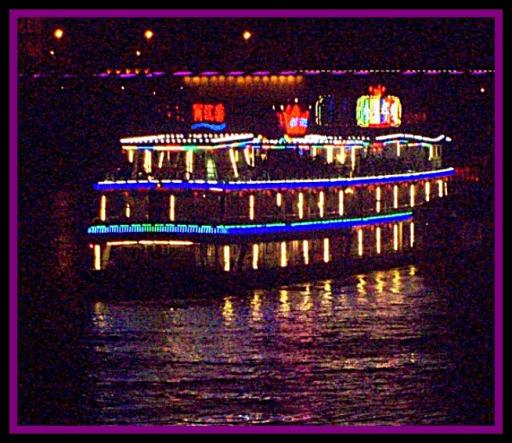 It's as if every night the buildings are lit up like Christmas.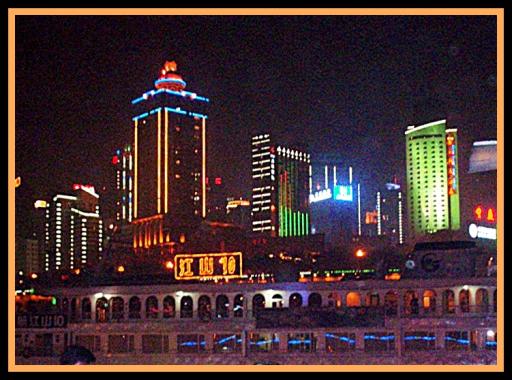 I know I've posted this photo recently, but it's one of my favourite shots - taken in Chongqing almost a decade ago during Lantern Festival, back when I was courting my Chinese wife.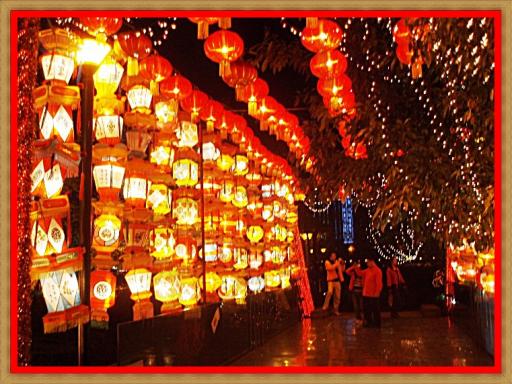 There is a restaurant in this Chongqing complex that serves delicious Beijing (Peking) duck.
This is in Liuzhou, a city in Guanxi Autonomous Region that has the most beautiful inner city park I've ever seen. It also has a forest park in the outskirts that makes me think of home. I took this photo from a bridge, and because I was concerned about the camera shaking while taking a night photo I rested it on the railing of the bridge when I took the picture. However, I didn't take into consideration that the passing cars made the bridge vibrate, so the photo is a little fuzzy. It is an example of how they light up their bridges at night.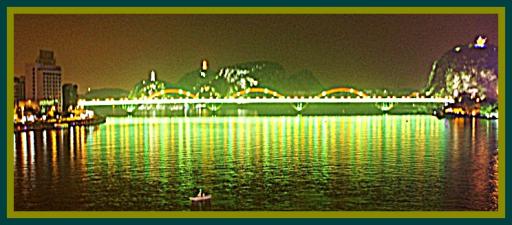 This is downtown Liuzhou. The buildings on the sides aren't falling over, it's a distortion because of the angle of the photo.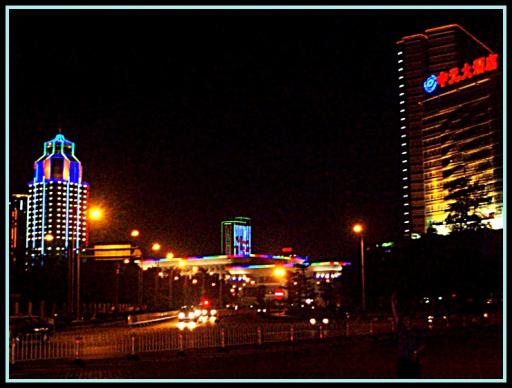 Now to Souchou, the city known as the Venice of China because of its many canals. It is located just north of Shanghai. We took a canal cruise at night and took these photos.  I am only posting a few good examples of Souchou night colours because I just recently posted a photo essay about the city.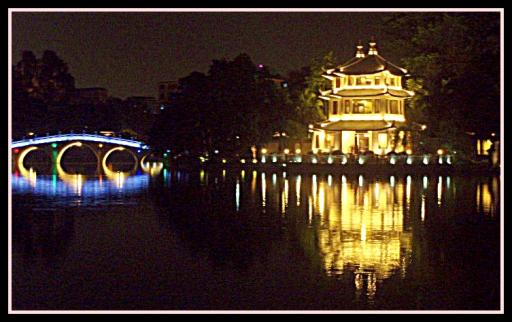 The boats moored at the canals are mostly restaurants, lit up like this.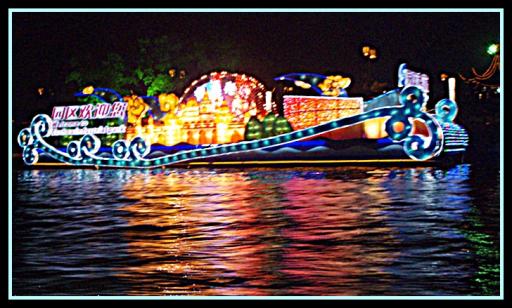 Yet another canal shot. This is across from where we boarded the canal boat.
Boats on the Jialling River at Chongqing light up in colours at night.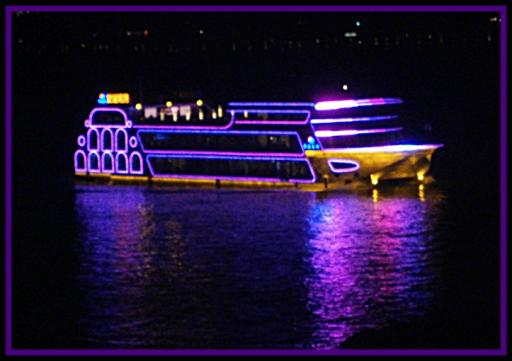 And change colours on the go.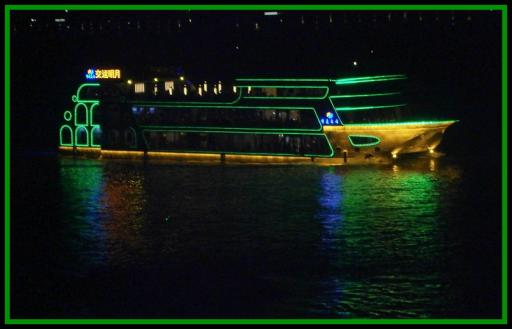 A fruit store next to our home - they stay open until midnight.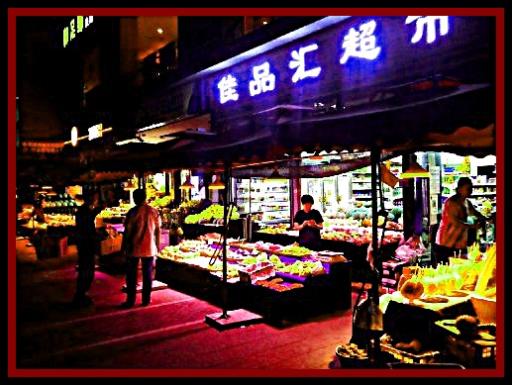 At Christmas the streets are decorated in colours.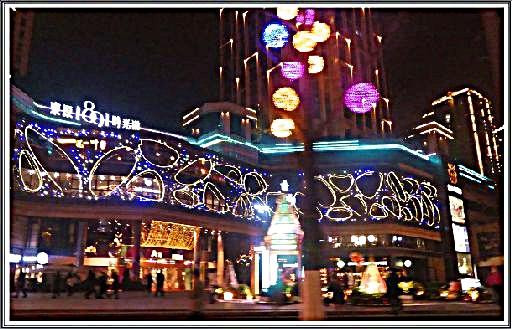 A Christmas tree grows in Chongqing.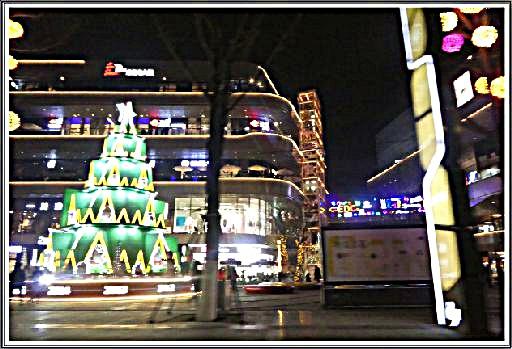 I wonder what's inside that globe.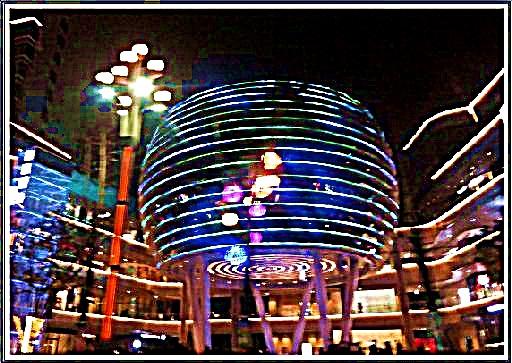 20.  And I leave you with another view of my adopted home, Chongqing.