Most Unusual Photo Challenge
"The key to life is accepting challenges. Once someone stops doing this, he's dead." ― Bette Davis
Most Unusual Photo Challenge
Here is the opportunity for you to post what you consider the most unusual photo or photos you have ever taken.  Please give it a try and explain what the facts about the photo are.  Here is an example.  I took this photo in the observation deck of the Chengdu TV and Radio Tower, looking straight down towards the city through the glass "walk-on" deck. You can see the buildings and the cars on the street below.  The greyness is because it was a very misty day.  I think the hearts were pasted onto the glass floor because it was around Valentine's Day (and no, I wasn't supposed to meet anyone there for an affair to remember). 
I did a little editing: levelling the photo, sharpening it a bit, cropping unnecessary edges and framing it - nothing serious.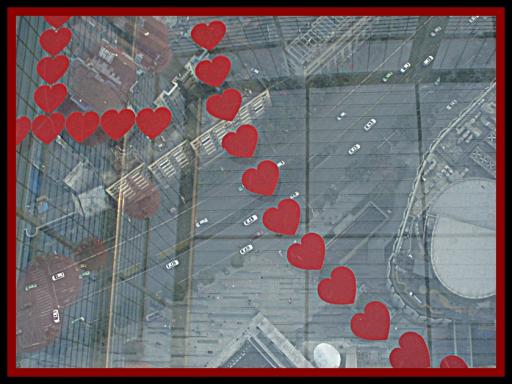 Now let's see YOUR unusual photos....