Inflation is 'Lumber'ing Along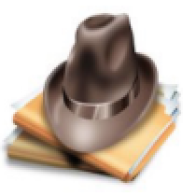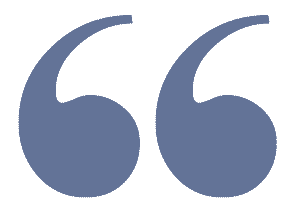 I don't mind going back to daylight saving time. With inflation, the hour will be the only thing I've saved all year. - Victor Borge
Another inflation report has come out and "gasp"... it is bigger than it has been for awhile. The report ...



The Consumer Price Index for All Urban Consumers (CPI-U) increased 0.8 percent in April on a seasonally adjusted basis after rising 0.6 percent in March, the U.S. Bureau of Labor Statistics reported today. Over the last 12 months, the all items index increased 4.2 percent before seasonal adjustment. This is the largest 12-month increase since a 4.9-percent increase for the period ending September 2008.



The Federal Reserve is saying this is transitory. I would agree it should not be permanent, but how long is temporary? A lot of stuff can be traced back to a disrupted supply chain, etc. The effects will likely continue into 2022 and maybe 2023. Whatever triumphs over covid we might experience in this country...  it is a global supply chain. So just as timy chips are preventing vehicles from being completed, so are widgets, dodads, etc. stalling completion of many other items. Plants are being idled. 
I have not a clue what will happen, but currently... this is my situation.
Overall, my annual is 2.8%. This is largely due to low inflation in medical costs. I also found that hard to believe. 
CPI-U, 4.2% y/y
CPI-W, 4.7% y/y
C-CPI-U, 4.1% y/y
R-CPI-E, 3.7% y/y 
In theory the core exceeding the target might prompt the FED to raise rates earlier, rather than later. But there was some famous person that said... "To me, a wise and humane policy is occasionally to let inflation rise even when inflation is running above target." - Janet Yellen, 1995. Granted she is no longer the FED chair, but even a dolt such as myself can see that the term "acceptable rate of inflation" is being redefined to a bigger and bolder number. 
Shortages ...
I've touched on the chip shortage, but recently the term labor shortage seems to be in vogue. I am suspicious of some of the rationale behind these pronouncements. Granted it would be obvious that paying someone more to sit at home would discourage job hunting, but I am not sure that is the real motive behind some of the complaints. Besides, these are the people that I would not accuse of hoarding cash, which means they would be spending it on "stuff" that keeps someone else working. 
On the other hand, they might hoard toilet paper, bread, canned goods and even buy gasoline cans to hoard gasoline... but not cash, imo. Maybe if truck driver wages are substantially increased, they would opt to drive around a really big can. Didn't I hear of an impending fuel delivery driver shortage, before this colonial pipeline thing?
Don't worry, it will eventually work itself out. History does repeat itself, because we never really change, despite all the revisionist history we bounce back and forth from. 
Covid and vaccinations ...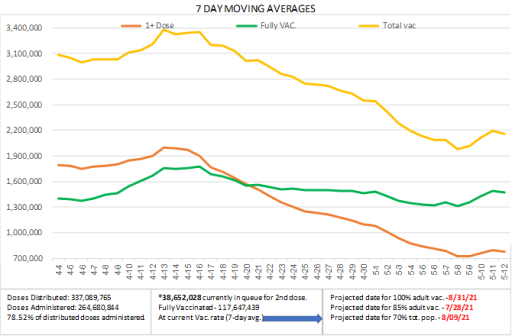 The numbers have tapered off quite a bit and I doubt those high expectations will be met. The 7-day death rate for the U.S. is roughly in the same range as last July. I would expect it to fall further, but realize that we are nearing what will be regarded as an acceptable rate. That may sound cold, but you know it to be true. 
Likely 80%+ of deaths fell into the 65+ age range and that age range has 84% with at least one dose and 71.9% fully vaccinated .
I have tracked my state and 92% were 60+. Booster shots will be coming soon for us oldsters.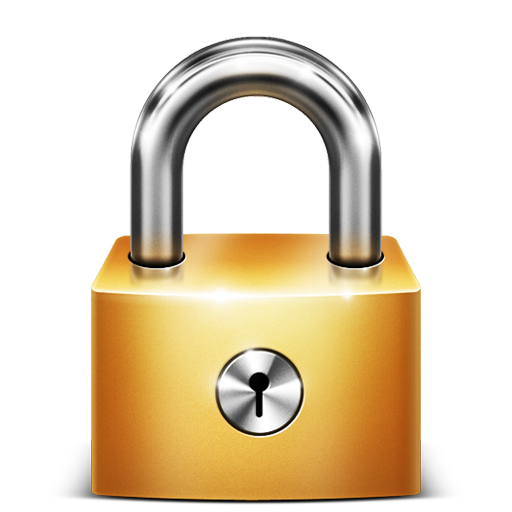 Article is LOCKED by author/seeder