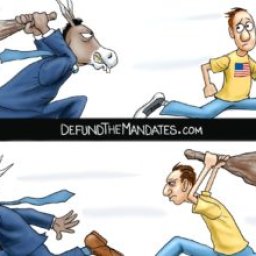 Senator Sessions' detractors point to some gaffes and jokes he made years ago, but his career has been marked with comments like these he made from the Senate floor in 2006 on the passing of Coretta Scott King, the widow of Dr. Martin Luther King, Jr.:
"Our state and our nation is the better for her life, for Rosa Parks' life, for Dr. King's life. They changed a system that could not be defended. It was a system that treated people because of the color of their skin as second-class citizens and not equally."
What likely frustrates Leftists most about Sen. Sessions being named AG?
He ruins stereotype of 'Southern gentleman'
He would lead a color-blind DOJ
They lack power to stop him
GOP not cowered by cries of 'racist'
Left is really fearful of his boss
Vote
View ResultsPolldaddy.com
In an attempt to put the matter to rest, about a dozen black pastors spoke out in his defense Monday. One of them was Rev. Ralph Chittams of The Frederick Douglass Foundation.
"Now allegations have been made that Senator Sessions is a racist. However, an examination of his record proves otherwise," said Chittams.
He noted that as state attorney general, Sessions prosecuted the Ku Klux Klan in Alabama, getting a death sentence and a multi-million dollar judgment that bankrupted the racist group. Session also spearheaded the effort a decade ago to honor Rosa Parks with the Congressional Gold Medal.
Pastor Troy Towns of Montgomery, Alabama, has been watching Sessions for years.
"Senator Sessions, I have observed your body of work and there has been one constant: that you always took the right stand, you've always taken the hard stand and the principled stand," Towns stated. "I am not surprised that you have been selected and promoted to this lofty place, for God rewards those who stand for what is right."
https://www.onenewsnow.com/politics-govt/2017/01/10/sessions-a-racist-no-way-say-pastors