Trump DOJ sues California over 'interference' with immigration enforcement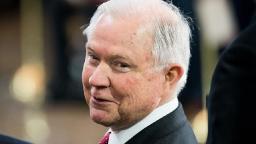 On the heels of Oakland Mayor Libby Schaaf warning local residents of imminent ICE raids, potentially allowing several dangerous criminals to escape, Lieutenant Gov. Gavin Newsom, who's running to replace Gov. Jerry Brown, is calling for other local leaders to do the same thing. 
The Trump Justice Department filed a lawsuit Tuesday night against California, saying three recently-passed state laws were deliberately interfering with federal immigration policies.
It marked the latest legal and political confrontation with the nation's most populous state, which the federal government says has repeatedly stood in the way of its plans to step up enforcement actions in the workplace and against criminal aliens.
"The Department of Justice and the Trump Administration are going to fight these unjust, unfair, and unconstitutional policies," Attorney General Jeff Sessions was expected to tell California law enforcement officers on Wednesday. "We are fighting to make your jobs safer and to help you reduce crime in America."
The state's Democratic governor, Jerry Brown, fired back: "At a time of unprecedented political turmoil, Jeff Sessions has come to California to further divide and polarize America. Jeff, these political stunts may be the norm in Washington, but they don't work here. SAD!!!"
Sessions and Rosenstein were spotted dining together hours after the president's criticism. Republicans say a special counsel is warranted because of the high legal standard for obtaining a surveillance warrant.
Federal officials are seeking an injunction to immediately block enforcement of the three California laws, each enacted within the past year.
One of those laws offers additional worker protections against federal immigration enforcement actions. Senior Justice Department officials have said it's prevented companies from voluntarily cooperating with Immigration and Customs Enforcement (ICE) officials.
Employers are mandated under the law to demand ICE agents present a warrant or subpoena before entering certain areas of the premises, or when accessing some employee records.
Some companies have complained they've felt torn between trying to comply with seemingly contradictory state and federal statutes, since penalties for non-compliance can be steep from both entities.
Another state law dubbed known by critics as the "sanctuary state" bill protects immigrants without legal residency by limiting state and municipal cooperation with the feds, including what information can be shared about illegal-immigrant inmates.
A third law gives state officials the power to monitor and inspect immigrant detention facilities either run directly by, or contracted through, the U.S. Department of Homeland Security.
The Justice Department has said it's confident the Constitution's Supremacy Clause gives it broad authority to supersede state laws that it says interfere with its immigration enforcement obligations.
President Trump threatens to pull ICE agents out of California over the state's sanctuary state police; retired Marine Corps sergeant Tommy Kilbride reacts.
Still, state officials in the past have cited the 10th Amendment's guarantee of states not being compelled to enforce federal laws.
"We've seen this B-rated movie before. So we're not totally surprised," California Attorney General Xavier Becerra said in response to the new lawsuit.
An estimated 2.5 million immigrants are believed to be in California illegally. In the most recent figures, ICE has reported about 16 percent of its enforcement apprehensions take place in that state.
The latest legal action by the Trump administration is part of an aggressive push to enforce existing immigration laws, with Sessions in previous remarks citing a porous U.S. border with Mexico, and the threat of criminal activity by immigrant gangs.
Federal officials repeatedly cite the case of Kate Steinle, shot to death by an illegal alien and seven-time felon in San Francisco, one of 35 communities in the state declaring itself a "sanctuary city."
The Justice Department in January threatened California and other states with subpoenas and a loss of grant money for repeatedly failing to respond to requests for immigration compliance under a federal law known as Section 1373.
Federal officials would not say whether other states were at risk of similar lawsuits over their alleged non-compliance with immigration laws.
A coordinated ICE enforcement action last month on businesses in the Los Angeles area netted 212 people arrested for violating federal immigration laws, 88 percent of whom were convicted criminals, officials said.    http://www.foxnews.com/politics/2018/03/06/trump-doj-sues-california-over-interference-with-immigration-enforcement.html