Trump Has Fired His Secretary Of State Rex Tillerson
Via:
johnrussell
•
9 months ago
•
200 comments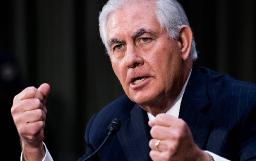 It has been announced this morning that President Trump has fired U.S. Secretary Of State Rex Tillerson. He will be replaced by CIA Director Mike Pompeo.
Interestingly, yesterday, Rex Tillerson named Russia as the perpetrator of the nerve agent attack on two individuals recently in London. Donald Trump's White House failed to name Russia as the likely perpetrator of that attack. Hmmmm.
News continues to break on the Tillerson ouster.  Has Tillerson been out of step with Trump's attitudes toward Russia?