By:
johnrussell
•
3 months ago
•
71 comments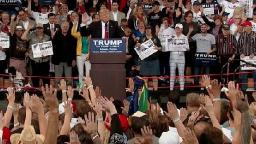 Raise Your Hand If You Think President* Trump Solved 'The North Korea Problem'
North Korea is "over" .  It's done. Trump had great "chemistry" with Kim Jong Un , which was the main goal of these 'negotiations', and by osmosis the nuclear weapons crisis regarding North Korea was "solved".  We know this is true because President Trump told us so. 
If You Believe Everything President Trump Says Is True, Raise Your Hand
OK then. 
----------------------------------------------------------------------------------------------------------------------------------------------------------------------
Just one minor thing



National security adviser John Bolton said Tuesday that North Korea has not made progress toward denuclearization in a dismal acknowledgment that comes nearly two months after President Trump held a historic summit with North Korean leader Kim Jong Un in Singapore.




https://thedailybanter.com/issues/2018/08/08/north-korea-hasnt-denuclearized/