Panama City weathers brunt of Hurricane Michael's destructive force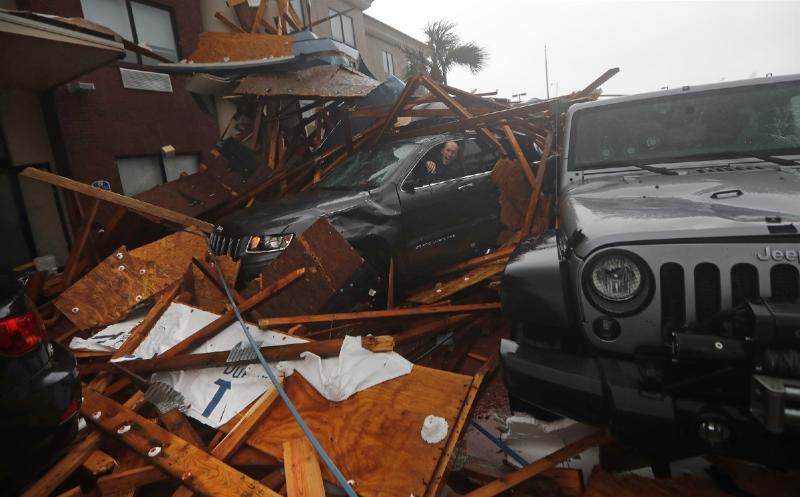 "I've been here all my life and I've never seen the water hit the end of the pier the way that it's doing," the mayor of Panama City Beach said.
S E E D E D C O N T E N T
As Hurricane Michael menaced the Florida Panhandle with howling winds and dangerous surf, residents riding out the storm in the popular resort town of Panama City Beach witnessed just how much damage it could deliver.
Videos on social media showed 155-mph winds ripping tarps off roofs and new housing on the beach collapsing into the encroaching waves.
"The resort next to us is completely demolished," said Lisa Dawn Parker, 51, who has lived in Panama City Beach for almost three years and who was riding out the storm along with her boyfriend in a friend's apartment right by the beach.
"The windows are blown out. The whole front of it's gone," she said in a phone interview with NBC News Wednesday after the storm hit.
"We didn't think it was going to be worse than [hurricane] Ivan," she said. "We don't know why we stayed."
She said there was "lots and lots of wind and debris," and that "the rest of the beach is getting tattered with waves. The water looks like it's gone up to the dunes from here."
The hurricane had maximum sustained winds of 155 mph when it made landfall Wednesday morning, making it a Category 4 — but the winds slowed slightly as it churned over land. Three major utilities in Florida reported outages affecting hundreds of thousands of customers.
"I've been here all my life and I've never seen the water hit the end of the pier the way that it's doing," Panama City Beach Mayor Mike Thomas told MSNBC before the storm 
made landfall Wednesday afternoon 
near Mexico Beach, a sparsely populated town about 28 miles to the southeast.
He said he was disheartened that a number of the town's 12,000 residents failed to evacuate ahead in time, instead choosing to shelter in place. Even if they wanted to, all of the bridges in the county were deemed unsafe and closed earlier Wednesday afternoon.
"If you're going to live in a beautiful place, there's always some kind of problem with it, and this is truly beautiful, even now ... it's just a shame [the hurricane is] so destructive," Thomas said.
Read more at seeded content