Driven by Trump Policy Changes, Fracking Booms on Public Lands
Via:
ender
•
5 months ago
•
65 comments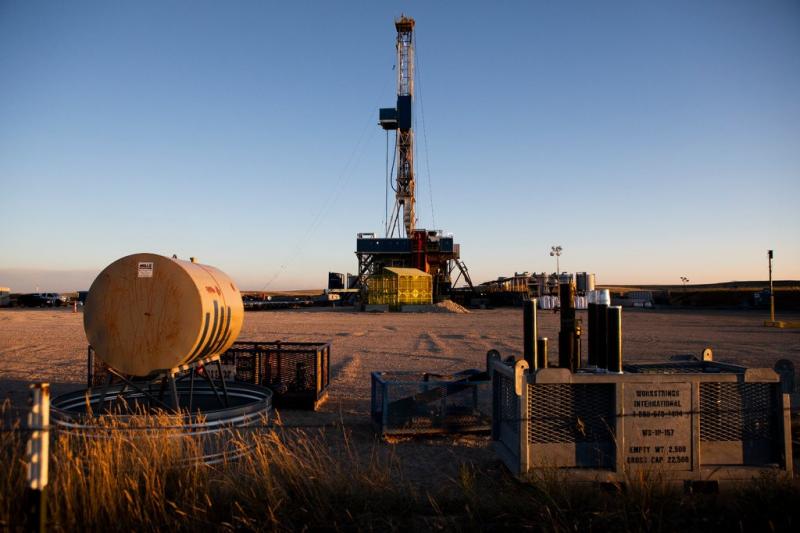 The administration is auctioning off millions of acres of drilling rights and rolling back regulations, raising environmental concerns in states like Wyoming.
S E E D E D C O N T E N T
Video by Kristina Barker for The New York Times
CONVERSE COUNTY, Wyo. — The parade of trailer trucks rolling through Jay Butler's dusty ranch is a precursor to a new fracking boom on the vast federal lands of Wyoming and across the West.
Reversing a trend in the final years of the Obama presidency, the Trump administration is auctioning off millions of acres of drilling rights to oil and gas developers, a central component of the White House's plan to work hand in glove with the industry to promote more domestic energy production.
Seeing growth and profit opportunities at a time of rising oil prices and a pro-business administration, big energy companies like Chesapeake Energy, Chevron, and Anschutz Exploration are seizing on the federal lands free-for-all, as they collectively buy up tens of thousands of acres of new leases and apply for thousands of permits to drill.
In total, more than 12.8 million acres of federally controlled oil and gas parcels were offered for lease in the fiscal year that ended on Sept. 30, triple the average offered during President Barack Obama's second term, according to an analysis by The New York Times of Interior Department data compiled by Taxpayers for Common Sense, a nonpartisan group that advocates budget discipline.
Like the acreage offered for lease, the acreage actually leased by energy companies on federal lands hit its highest level last year since 2012, the height of the initial fracking boom in the United States. After 2012, a combination of Obama administration policy decisions and lower oil prices slowed demand for new drilling rights, a trend reversed since President Trump took office.
That reversal has been propelled in part by the Interior Department's willingness to go along with industry pressure to weaken rules that govern how these federal lands can be used, as regulators follow detailed industry scripts for rollbacks in protections for wildlife, air quality and groundwater supplies, documents show.
The push amounts to one of Mr. Trump's most comprehensive and controversial policy initiatives. It underscores the administration's eagerness to reshape regulation at the behest of industry, and is playing out more immediately and visibly across big parts of the country than many of the other changes he is making to federal management of the environment.
As the bustling traffic on Mr. Butler's central Wyoming ranch suggests, the boom is already starting to transform this rural landscape at a tremendous pace. The number of drilling rigs operating in the state 
has doubled since 2016
 — and more are on the way. As many as 5,000 new oil wells are being planned in Converse, a county of about 
14,000 
people, along with 1,970 miles of new roads.
Mr. Butler's ranch sits atop federally owned, below-ground mineral rights that the Interior Department has leased out, and he charges drilling, fracking, pipeline and other crews for the right to cross his property.
The leases give fossil fuel companies the right to drill for the oil and gas beneath the land at any point in the coming decade. Once the wells have been drilled — and the companies start to pay a 12.5 percent royalty on any oil or gas they extract — they can hold onto the producing leases indefinitely.
Mr. Butler's cellphone rang every few minutes as a different contractor called.
"We are going seven days a week," Mr. Butler said one recent afternoon at his cattle ranch here, watching as the trucks navigated a rutted pathway he calls his private toll road.
The surge in activity has been bolstered by the Trump administration's eagerness to comply with the industry's requests to roll back federal rules touching on almost every aspect of oil and gas companies' operations here.
A successful push by industry lobbyists has changed internal policies that govern how frequently new federal leases are offered, how quickly drilling permits are approved and how much the companies pay in royalties on oil and gas that they extract from the federal lands. The administration, at the industry's request, also cut the time the public has to challenge federal land sales.
The Interior Department is also moving to ease restrictions that had limited access to certain critical wildlife habitats, such as the mating grounds used by the sage grouse, a chubby bird with a small head and long tail that is famous for the colorful dance the male birds perform each spring.
The population of sage grouses in Wyoming — home to an estimated 40 percent of their global population — slumped over the past decades, but had started to recover after an intense effort to protect their mating grounds. Now, for two years in a row, the estimated male bird population has dropped nearly 30 percent according to state counts, declines that in the past have been attributed to surging energy production.
But perhaps the most visible shift — and real-world consequence — involves the watering down, completed in August, of an Obama-era rule intended to curb the flaring or venting of methane, an earth-warming gas that is roughly 30 times more potent than carbon dioxide.
The hillsides here in Wyoming now light up like a birthday cake from the flaring at oil and gas production sites, which blaze through the day and night. Production has so outpaced the construction of new local pipelines that companies simply vent or burn off methane into the High Plains air at a rapidly increasing rate, state data shows. Through July, energy companies had flared or vented 72 percent more methane in Wyoming compared with two years ago, approaching levels seen before a national effort to reduce such emissions was starting.
Oil and gas industry executives have celebrated these and other rollbacks as well as the surge in federal leasing, after years of complaining that Obama administration policies discouraged them from drilling on public lands.
"The president, love him or hate him, he's doing what he said he would do in Washington," Samantha McDonald, who until August served as a top lobbyist at the Independent Petroleum Association of America, said during an industry event in Houston. "He's been actively pursuing a deregulatory agenda that has had millions of dollars of impact."
The move is generating windfalls for the companies involved.
"The Powder River Basin in Wyoming is quickly establishing itself as the growth engine of the company," Chesapeake Energy told investors in its most recent earnings report. The company expects oil and gas production in the region to more than double in 2019 compared with this year.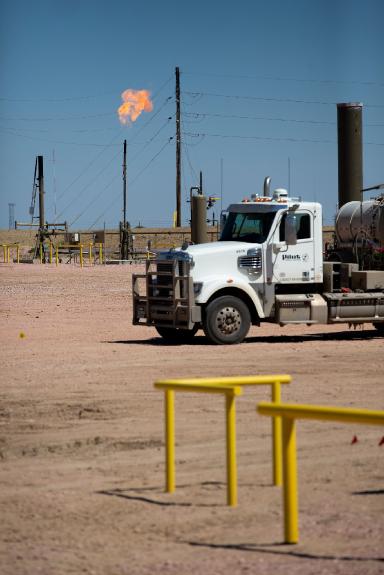 A Chesapeake Energy drilling site. Credit Kristina Barker for The New York Times
To proponents, the Trump administration is putting government-owned land to good use, with big returns for taxpayers.
Nationally, oil production on federal lands is rising at an extraordinary pace, jumping 25 percent in the first seven months of this year compared with 2016, the last year of the Obama administration.
That boom has driven up government revenue from lease sales and royalties collected from oil and gas production on federal lands, which is shared with the states. Wyoming received $669 million from federal oil, gas and coal sales last year, money it uses to help pay for its schools, roads and other needs. One federal lease sale in New Mexico last month brought in nearly $1 billion worth of bids, more than the total lease sale revenue from all sales nationwide in 2017.
"This historic lease sale shows what is possible when we leverage the vast natural resources we have in our country, using innovation, best science and best practices," Interior Secretary Ryan Zinke said in September, celebrating the result of that particular lease sale, adding that critics of the Trump administration's efforts to increase energy production "are eating their words and once again President Trump's policies are bearing fruit for the American people."
But the Interior Department has offered so much land through auctions in the last two years that the majority have failed to attract any bidders. Even so, the overall amount of land actually leased — in deals signed with oil and gas companies or investors — was 1.2 million acres in 2017, according to the agency, more than double the amount from the previous year, and reached 1.35 million acres this year.
As Western states reap the benefits from these sales, they are also confronting the risks that the administration's policies could scar iconic American landscapes, threatening wildlife and endangering public health.
Trump-era leases have given oil and gas companies access to drilling rights in areas that are known habitats for threatened species, and immediately next to preserved landscapes like the Canyons of the Ancients National Monument in Colorado, famous for its ancient pueblos, rock art and other archaeological sites.
"The American West embodies the American spirit and that is at risk here," said Jeremy Nichols, the energy program director at WildEarth Guardians, a nonprofit group that has filed more than a dozen protests and lawsuits over lease sales in the West. "The open spaces, clean air, wild rivers — this is all part of fabric of the American West, and it is being torn apart, acre by acre, by this unfettered oil and gas leasing."
A Powerful Lobbying Campaign
The stack of pending "permits to drill" sat in a neat pile nearly three feet high on Randy Sorenson's desk at the Wyoming regional office of the Bureau of Land Management, the division of the Interior Department that oversees an inventory of 700 million acres of so-called mineral rights in the United States. The land is concentrated in 12 Western states.
"These are just the ones that made it my desk yesterday and today," Mr. Sorenson said on a recent morning.
That stack is likely to grow. Mr. Sorenson is preparing for a February lease sale of as much as 780,000 acres in Wyoming, the largest such sale he can remember in decades.
The allure to energy companies in this part of the state starts with geological formations laden with rich layers of oil and gas deposits.
"I call it the potato chip can," Mr. Sorenson said, explaining that there is satisfaction, at least for the oil companies, at every level.
Anschutz, controlled by Philip F. Anschutz, a Colorado-based billionaire and a major funder of Republicans running for Congress, has bought up almost 90,000 acres of public lands since 2017.
The company expects to drill 20 wells this year in the Powder River area with the two rigs it has in the county, and plans to bring in another two rigs by 2020, pushing its planned oil production from its current level of about 5,000 barrels a day in Wyoming to more than 60,000 within four years, company documents show.
The industry's enthusiasm for drilling in the region has been supported by its lobbying campaign for deregulation.
The efforts started during the Obama administration, when the oil and gas industry groups like the Western Energy Alliance and the Independent Petroleum Association of America sued the Interior Department in attempts to reverse a slowdown of oil and gas lease sales. At the same time, the groups were moving to block new rules such as a mandate that the companies disclose the fracking chemicals they use.
Weeks after Mr. Trump's inauguration, senior administration aides, urged on by the industry, began to reverse the Obama-era policies, documents show.
"Yesterday afternoon we, BLM & Solicitor's Office, had a preliminary discussion on possible settlement conditions with the Western Energy Alliance," said one February 2017 email from Kathleen Benedetto, a geologist and former executive at an oil and gas consulting firm, whom Mr. Zinke named as a senior adviser at the Bureau of Land Management.
The outcome of that meeting became public this year, when the Interior Department sent a detailed "instruction memorandum" to field offices nationwide, ordering them to eliminate "unnecessary impediments and burdens" limiting the ability of the department to offer more land for lease. The steps included cutting down the amount of time that individual citizens or groups have to file protests challenging any oil and gas lease to 10 days, from a month.
The agency also notified the Bureau of Land Management offices that they would now have no more than six months to decide on nominations by the oil and gas industry of federal land they wanted to lease. Previously, that process often took more than a year, during which the Interior Department had to decide if the land should be kept available as pristine wild lands, or designated for other uses, such as farming or hiking.
That was just the start of a flurry of revisions to rules under the Trump administration that have reflected the industry agenda. In June 2018, the department issued a second memo that allowed Bureau of Land Management offices to skip the comprehensive environmental studies that have historically been conducted before issuing new leases. Field offices could instead use bureaucratic loopholes known as categorical exclusions and other measures that allowed officials to do away with environmental assessments, letting them "expedite the processing" of permits to drill, the memo said.
Trump-era rollbacks of Interior Department rules that govern methane releases, and a requirement that oil and gas companies disclose fracking chemicals they use on federal land, also followed intervention by industry.
In July 2017, Kathleen M. Sgamma, the president of the Western Energy Alliance, wrote to the Interior Department, arguing that the Obama-era sage grouse rules were far too protective. The measures included "overly expansive and burdensome" buffers, such as a requirement that drilling not take place within 3.1 miles of areas where the male birds gather for their annual courtship displays.
"These provisions are contrary to the president's executive order" to promote energy independence, Ms. Sgamma wrote.
Ms. McDonald, then a top lobbyist at the Independent Petroleum Association of America, also intervened on behalf of oil companies like Chesapeake, ConocoPhillips and EOG Resources, pushing for specific changes in zones set up in Wyoming to protect sage grouses.
"To ignore the problem," Ms. McDonald wrote in a July 2017 email, could "jeopardize several dozen projects in Wyoming." A top ConocoPhillips executive had reached out the previous day with a similar plea, reinforcing the industry's demand.
Ms. McDonald followed up the next month, asking Timothy Williams, a senior official at the Interior Department, if the bureau had "been able to resolve this map discrepancy in Wyoming yet?" Two minutes later, he responded, "We are working on it. I have let the secretary know as well." The emails were obtained by the Western Values Project, a nonprofit public lands advocacy group that sued the agency to gain access to its correspondence.
Last summer, Mr. Zinke proposed a new policy that reflected the change the oil companies had requested. A final action is expected soon.
Representatives for ConocoPhillips, Chevron and EOG, together with energy industry associations, said that they were committed to responsibly extracting oil and gas from public lands.
"We will continue to work with regulators to ensure that regulations are cost-effective, scientifically based and not duplicative, overly burdensome or in conflict with other regulations," Daren Beaudo, director of media relations at ConocoPhillips, said in an email. Chesapeake and Anschutz declined to comment.
Faith C. Vander Voort, the Interior Department's deputy press secretary, said in a statement that actions the agency had taken were smart regulatory overhauls that were "fostering increased investment." The changes were based largely on requests from the states, which were now benefiting from that increased investment, not industry players.
"It is an empty criticism launched by special interest groups who are not interested in facts," she said.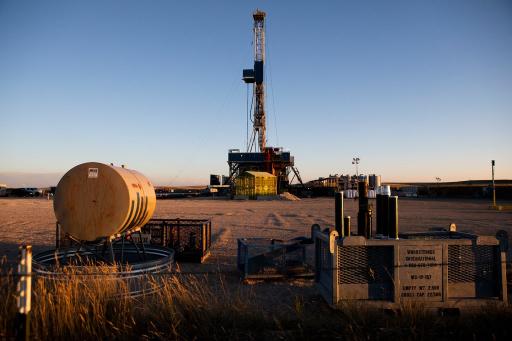 A drilling rig in the early stages of installation near Douglas. Credit Kristina Barker for The New York Times
The "Notice of Competitive Oil and Gas Lease Sale" was published on the first day of August: a detailed list that ran on for 134 pages notifying any interested bidders that 355,819 acres across Wyoming were about to be put up for auction.
Minimum bids as low as $2 an acre would be accepted for these 350 different parcels, including a series of plots that are just east of the Bighorn National Forest, one of the oldest national forests in the United States.
"Bidding starts on Tuesday, Sept. 18, 2018 at 7:30 a.m. Mountain time," the notice said, in all capital letters.
The advertisement drew intense and immediate interest from the industry, with 116 different companies, including EOG, Anschutz and Chesapeake, registering for the internet auction.
But it was not just the oil industry that took notice. The pending auction drew formal protests from 10 conservation and environmental groups who argued that the sale was about more than simply bolstering the nation's "energy dominance."
The land on the auction block included mule deer migration corridors and sage grouse mating areas, the protests noted. Drilling on these plots would push up air pollution and ozone levels in a state that has suffered from bad air quality during the last natural gas boom, the groups argued.
It also might deplete critical groundwater supplies needed for area ranchers, they said. One oil and gas project in Converse County alone is expected to consume as much as 55 million barrels of water a year — or 124,100 barrels of water for each oil and gas well drilled.
"Our organizations generally support the judicious leasing and responsible development of the public's oil and gas resources when done in the right place and after full disclosure of the environmental impacts that will result from development," said Bruce Pendery, a Utah-based lawyer for the Wilderness Society. "We have concluded that with respect to this proposal, none of those basic guiding tenets have been achieved."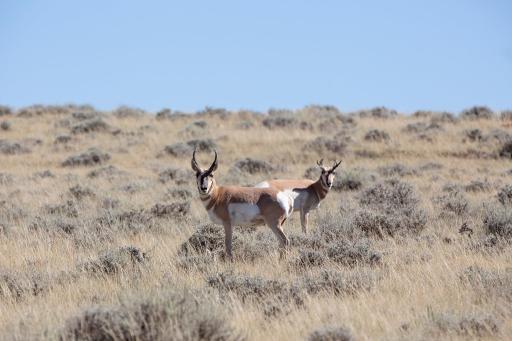 Pronghorn antelope grazing on sagebrush near natural resource extraction sites.Credit Kristina Barker for The New York Times
Not just environmental groups are concerned. In Utah, the National Park Service, itself a division of the Interior Department, tried to stop the sale of a collection of leases next to the Hovenweep National Monument, known for its mesas, ravines and recovered ruins of prehistoric villages. Its pleas were ignored, and the department sold those parcels for as little as $3 an acre in March.
Even Gov. Matthew Mead of Wyoming, a Republican who has received hundreds of thousands of dollars in contributions from energy companies, admonished interior officials this year for excluding Western states in changes the agency was making to sage grouse protection efforts.
"We ask that you involve the Western governors in these initiatives at the earliest point possible," Governor Mead wrote in January in a letter that Gov. John Hickenlooper of Colorado also signed.
More recently, the Bureau of Land Management gave final approval to a 140,859-acre project in western Wyoming — one that will feature as many as 3,500 new wells — in an area that also includes one of the world's most important winter habitats for sage grouse, said Tom Christiansen, who served as Wyoming Game and Fish Department's sage grouse coordinator until last month.
Drilling there will mean as much as $2.2 billion in new federal revenue over the life of the project, the Bureau of Land Management said in its approval document signed at the end of August. But counts of sage grouse populations in Wyoming over the last two years have already declined about 30 percent, he said. Though the decrease could be weather-related, there is real concern over the effect drilling could have on vital areas where the birds live.
"Literally, thousands of the birds winter there," he said. "We are talking about the highest density population in Wyoming of sage grouse, which has the highest density population in the world. I am very concerned."
Some ranchers in Wyoming now worry that oil and gas development will consume so much water that not enough will be left over for the cattle that graze on their land.
"If you lose water, you lose everything," said Terry Henderson, whose extended family has been working land in the Converse County area as far back as the 1800s. "You can't stay here if you don't have water."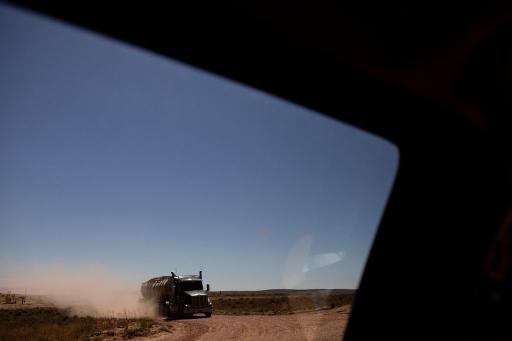 Land owners profit from allowing companies access to drilling sites on their land, as well as from royalties from mineral rights. Credit Kristina Barker for The New York Times
Ms. Vander Voort, the Interior Department spokeswoman, said the agency had taken steps to limit the impact of the drilling, including lease stipulations that ban oil and gas companies from occupying the surface of the land in certain sensitive migration corridors. "Developing our resources and protecting the environment are not mutually exclusive," she said in a statement. The agency at times has also delayed certain lease sales, after objections are raised, including some to the north in Montana this year, and it has now decided to remove some of the land slated to be sold during a December lease sale in Wyoming.
Many landowners and ranchers — like Mr. Butler — welcome the surge in oil production, and are convinced that the work can move ahead without harming the environment for residents, farm animals and wildlife.
Even as the trucks buzzed across his land — five drilling rigs were working nearby — he had hunters on his property using bow and arrows to take down a pronghorn antelope, whose population is so large it still needs to be culled.
He has also worked hard to cultivate sagebrush — the bitter-smelling, prickly plants that the sage grouse depends on for cover and food — on his ranch, earning him status as a certified conservation rancher, even as the oil industry tears up parts of his land.
Mr. Butler sells off access to chunks of his property — moving cattle if necessary — to oil and gas companies to allow them to build gas compressor stations, drilling pads, pipelines and other equipment necessary to serve the wells — collecting payments for each deal.
"There is a healthy tension between the landowners and oil and gas," Mr. Butler, a retired high school biology teacher, said as he offered a tour of his ranch via his dust-filled pickup truck. "We all have a vested interest to make sure these resources are developed responsibly."
The day before the Sept. 18 auction, the Bureau of Land Management issued a decision that concluded the leases "do not constitute a major federal action that will adversely impact the quality of the human environment."
Then, hours before the auction began, the agency formally rejected the protests from environmental groups with a letter peppered with 30 instances of the word "deny."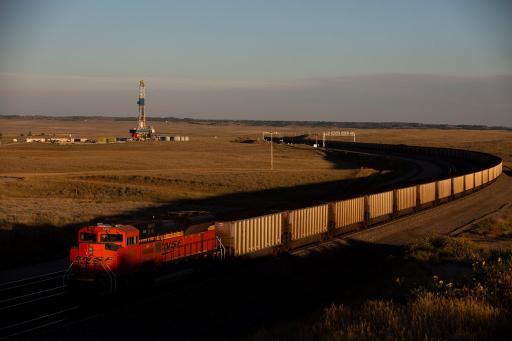 A coal train passes a drilling rig north of Douglas, near a site where Chesapeake Energy is drilling on federal lands to set up an oil and gas well.Credit Kristina Barker for The New York Times
"After a careful review, the B.L.M. has determined that the protests to the parcels in this sale will be dismissed or denied," said the letter, signed by Duane Spencer, the deputy state director.
All but 37 of the 348 parcels up for sale attracted bidders, with one of the highest bids coming from Chesapeake, the Oklahoma-based oil and gas company, which paid just over $2 million for 200 acres of land.
Environmental groups continue to fight back. This past week, the bureau was forced to delay a planned December sale of almost 600 parcels in sage grouse habitats in Wyoming after a federal judge temporarily reinstated the Obama-era policy of allowing more time for public comment in areas where the birds breed.
Out on the federal land, the drilling crews are already working day and night to bore new wells deep into the earth. The crews work 12-hour shifts, in two-week stints, some of them spending their off hours inside cramped trailers set up just below the drilling tower.
"We get paid to dig holes," said Kyle Heinrich, 24, who was taking a break from a Chesapeake drilling site in Converse County, in a muddied hard hat and overalls with huge metal clips he uses to attach himself to the giant rigs.
As a herd of pronghorn antelope grazed nearby, the sun set over an otherwise empty landscape. "There is a lot of talk," he said, "about this area blowing up."
By Eric Lipton and Hiroko Tabuchi
Eric Lipton reported from Converse County, Wyo., and Hiroko Tabuchi from New York. Rachel Shorey contributed reporting from Washington.
Eric Lipton is a Washington-based investigative reporter. A three-time winner of the Pulitzer Prize, he previously worked at The Washington Post and The Hartford Courant. 
Hiroko Tabuchi is a climate reporter. She joined The Times in 2008, and was part of the team awarded the 2013 Pulitzer Prize for Explanatory Reporting. She previously wrote about Japanese economics, business and technology from Tokyo.