This is a representation of Trumps approval rating over time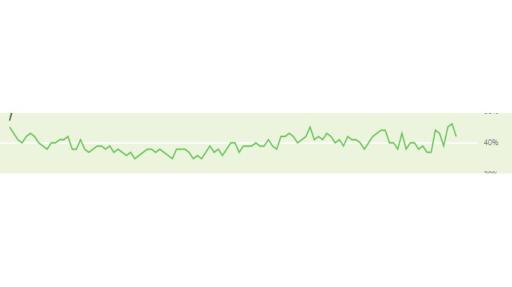 At the tail end there, on May 12,     2019, his approval rating at Gallup is 42%. As you can see it dipped from 46%  last week.
Trump's approval rating across the 2 1/3 years he has been president have been remarkably consistent, never varying from the range of 37% to 44%. A couple times he got up to 45 and once to 46. This is a weekly poll by the way.
The white horizontal line in the graph is the 40% mark. Trump's approval rating hovers around that figure every week, week in , week out.
It seems clear this figure represents Trump's "base", but the interesting thing is that he cannot add to it. Most people can't stand him. And , we should say, he can't fall below these figures either. This "40 percent" would largely die for Trump.
These figures make a poll result today even more interesting. Trump was matched against Biden, Sanders, Warren, Harris and Buttigieg in a Fox News poll, and  "in none of the head-to-head match-ups listed in the poll (vs. Biden, Sanders, Harris, Warren or Buttigieg) does Trump get more than 41 percent of the vote." https://www.washingtonpost.com/opinions/2019/05/17/trumps-biggest-problem-biden-women/?utm_term=.83ec66b74d0e
The WAPO writer goes on to say  "If that remains his ceiling, he's in deep, deep trouble."
Trump needs a third party candidate to take votes from the left. He can't get to 50%, not even close. Without a third party candidate to save him, he is up the creek.