Trump announces $16 billion in aid to farmers as trade war continues
Via:
kavika
•
4 months ago
•
54 comments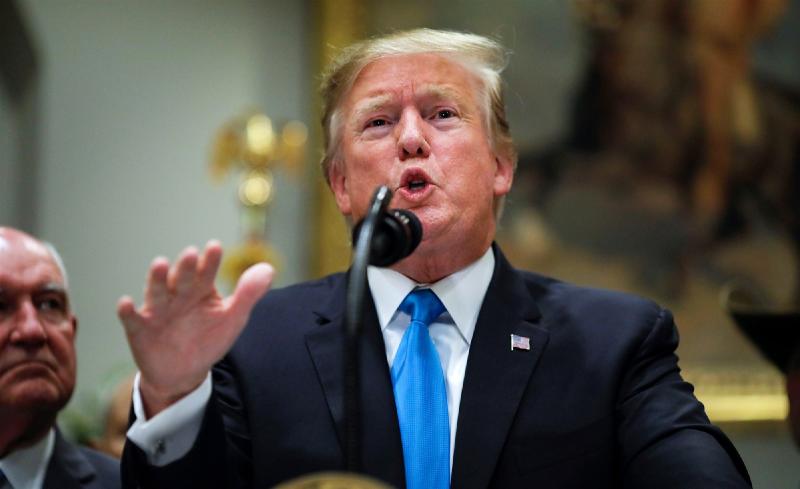 S E E D E D C O N T E N T
May 23, 2019, 4:50 PM EDT
By
Lauren Egan and Phil McCausland
WASHINGTON — President Donald Trump on Thursday announced a $16 billion aid package for American farmers aimed at softening the financial blow created by the ongoing trade war with China.
"Our farmers will be greatly helped," Trump said during a press event in the Roosevelt Room at the White House. "The 16 billion [dollar] funds will help keep our cherished farms thriving."
Thursday's announcement comes as tensions continue to escalate between the United States and China and negotiations have largely stalled.
Earlier this month, talks between the two countries ended without a deal as Trump imposed another round of tariffs on $200 billion of Chinese goods. And both Trump and President Xi Jinping of China have signaled that they are prepared for a long fight, if necessary.
Thursday's aid package is the second bailout the Trump administration has issued in response to decreased agriculture trade with China. Last November, Trump announced $12 billion in aid to "make it up" to farmers, as he described it.
"During that time of negotiation, if everyone remembers, we had a period where China would target our farms," Trump said Thursday. "Now is the time to insist on fair and reciprocal trade for our workers and our farmers."
Trump added that he was "hopeful" that trade talks could begin again with China, but if that didn't happen, "that's fine."
"These tariffs are paid for largely by China," Trump continued, repeating claims that the tariffs were being paid out by China, not American importers. However, a study published Thursday by the International Monetary Fund found that the tariff revenue on Chinese goods   "has been borne almost entirely" by U.S. importers .
Communities that   supported Trump in the 2016 election   have been some of the hardest hit by the ongoing trade war, and some say there is reason for Republicans to be concerned as the window to reach a deal with China before the 2020 election continues to narrow.
"I think President Trump is counting on his tariff bailout payments to buy support for him among farmers, but this is a bigger issue," Richard Oswald, 69, of Langdon, Missouri, a fifth generation farmer, said in a phone interview with NBC News. "This is going to bite a lot of Republicans when it's all said and done. I don't think he understands the stress people are under and it shows a lack of compassion."
The timing of the administration's decision to roll out another bailout, as farmers are still deciding what crops to plant this season, has come under criticism from some lawmakers.
"We want farmers to make decisions on how many acres of corn and soybeans to plant based on the market and not something the government's doing," Sen. Chuck Grassley, R-Iowa, told reporters Wednesday.
Article is Locked