A Dogs Life - Sometime it ain't so great. UPDATE July 6th
By:
kavika
•
8 months ago
•
63 comments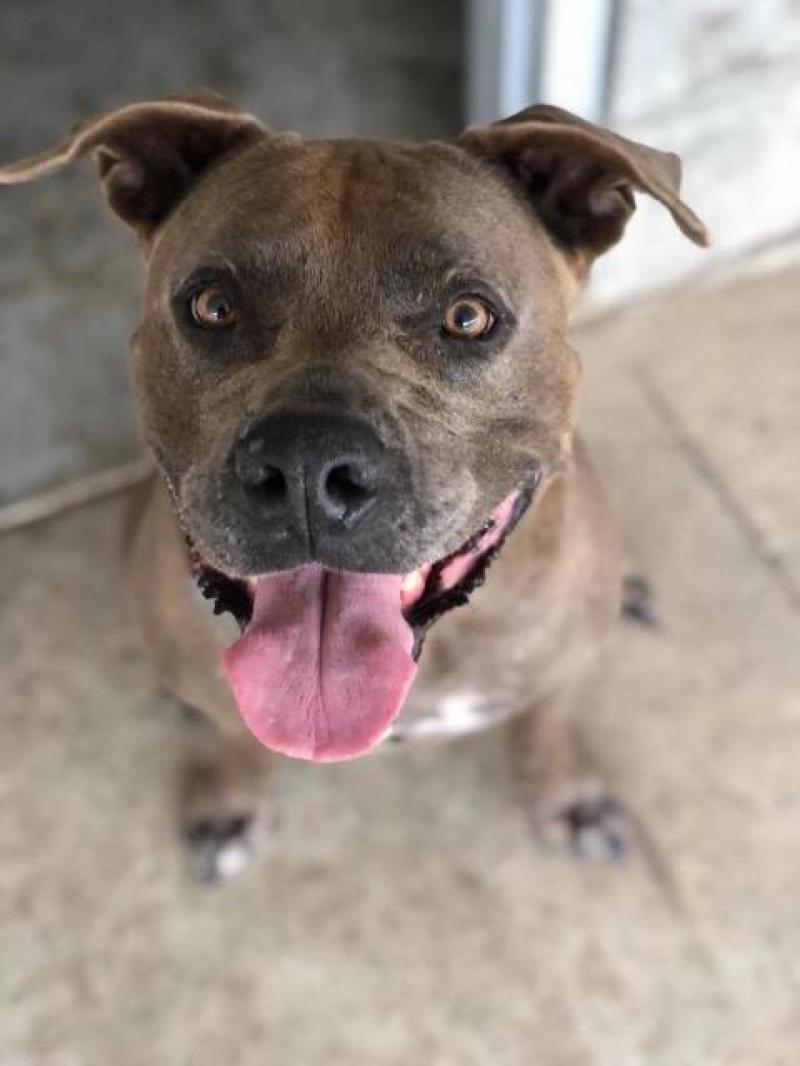 When the owners of dogs die they frequently leave behind a pet that has no where to go and no provisions are made for it. It's a very sad situation. 
One of the dogs wants to tell you his story. 
Hi, my name is Zeus and I'm 11 years old now. I'm a pretty big fella, around 95 lbs and I'm a iron colored Pit Bull. Some people think that I'm really scary looking and dangerous. I'm really not, I've never hurt anyone in my life except  that one time that I had to protect my human. 
When I was really really little and living with my other bothers and sisters a man came to where we were and took me home with him. At first I really missed my mom and siblings. What happened was really a good thing since I had my own bed and food and water bowls. He would take me for walks and we'd run and play in the grass. He also had to house train me cuz a couple of times I pee'd on the floor. My human, we'll call him Bud, showed me how to go outside and was really nice to me when I had a accident. No hollering or hitting me, just gentle reminders and showing me again how to go outside. 
Then Bud took me to ''school'' and I learned how to walk on a leash and respond to a lot of his talk, he called them commands. I also made friends with other dogs and even a couple of cats. 
For years and years Bud and I lived the good life. I went everywhere with him and even when people saw me and got scared cuz I was so big and had a not deserved bad reputation. But once they got to know me they found out that I was a loving huge ''ham sandwich''....
Then one night about 3 years ago Bud and I were fast asleep. Bud was sleeping more than usual cuz he was getting older and slowing down some. Anyhow, Bud fell asleep in his recliner and I was dozing on my fluffy rug next to him. 
It was very dark in the house and I sensed something wasn't right. Us dogs have those super senses ya know. I picked up a smell and noise and knew that someone was trying to get into the house...I laid very still and since my eyesight at night is much better than humans have. I knew that I'd see what was happening before Bud could. 
The sliding glass door opened and I could see two humans coming into the house. Suddenly Bud kinda got out of his recliner and shouted at them. A mistake on Bud's part. 
Both had flashlights and shined them in Buds face and eyes. He was blinded but was no match for them anyway. My night vision is excellent and they didn't see or hear me since I didn't growl, bark or make any movement till the time was perfect. 
The first one never saw me coming and I hit him with all 95 lbs of muscle. I knocked him off his feet and sunk my teeth into him arm. The flashlight flew out of his had but in his other had he had something and it hurt me when he hit me with it. I shrugged off the pain and clamped down harder on his arm and dragged him backward. Then I went after the other one that was trying to get back out the door and took him down, my jaws clamped down on his shoulder..
Another pain hit me but I didn't let it stop me as I kept attacking both until they were on the ground and no fight was left in them...
Soon there was loud noises and people coming into the house, but I kept the bad people pinned to the ground...
The next day people from the newspaper came to visit and talk to Bud. The police said I was a hero and that these were really bad guys that I took down. They had stabbed me a couple of times as well. My picture was in the paper and I got all kinds of really good treats. 
The most important thing was that I had protected Bud...He and I are like brothers ya know.
He doesn't have a family but has some really good friends that he told me he was in the Army with and they visit from time to time and the neighbors are all good people as well....So not having a family isn't that hard cuz he has his friends and he has me and I have him.
The next few years were fun for us but Bud was slowing down more and more. I was too cuz I'm not a puppy anymore. 
Bud was walking across the kitchen to get me my lunch when he sort of stumbled and fell down on the floor really hard. I rushed over to him and tried to get him up but he wasn't moving at all. I knew that this was horrible and he needed help. 
The doorbell rang later that evening and everyone knew that I loved to hear the doorbell ring. It meant that people were coming to visit me, well Bud to.
I knew that I had to get their attention and get Bud help...I ran to the door and started barking as loud as I could. I think that whoever was ringing the bell was leaving because the ringing stopped. I had to get their attention so I charged the door and threw all my weight against it. I did this a couple of times and soon people were trying to open the door. 
They got the door open and soon they were taking Bud away. I never did find out what happened to my best friend Bud, but he never came back home. 
(Authors note. Bud had passed away from a heart attack)... 
Soon I was being taken to a animal shelter. I really missed my Bud and wanted to see him again but it was not to be. 
The area I had in the shelter was very small and I was very sad. Soon someone picked me up and I was taken to another shelter that had a lot of room for me, remember I'm really a big guy. Lot's of room to run and other dogs to play with but it wasn't like being at home with Bud. 
I've been here for around a year and am looking for a ''forever home'' again. One day my front shoulder starting hurting and he got worse and worse. The people at this shelter took me to the vet and he stuck a needle into me. They said it was a biopsy and a week later I heard them talking that it was cancer and they could not operate on it.
I don't know what cancer is but it's not good. I get two pills every day and the pain goes away but walking is getting more difficult as the weeks pass. 
Dogs aren't dumb ya know. We're pretty smart in fact, so I know that I probably don't have a lot of time left. 
I still miss my Bud very much and the people at the shelter are doing their best to make me comfortable, but I wish that someone would adopt me so I could spend my last few months in a loving home and I could make their lives happier to. 
Until that time I'll keep wishing that maybe someone will take me home with them. 
If you come to visit the shelter remember my name is Zeus and I'm really big but gentle and loving. I'll be waiting for you...
UPDATE JULY 6TH
It was decided that Zeus was in pain and the pain meds were not giving him the relief from his constant pain. The tumor was grown in size and walking now is very difficult for Zeus. 
The vet will come to the shelter on Monday and Zeus will be going to the Rainbow Bridge. It was decided that we wanted him to be in familiar surroundings with his stuffed toys and surrounded by people and dogs that he knew...(we took up a collection for the extra charge for the vet to come to the shelter..The vet refused to accept any payment for this)
Although he wasn't adopted for his last month or so many volunteers visited him on a daily basis and took him for short walks. Others took him on car rides (he loves car rides). Others would play with him he loved his toys. If he went for a walk or car ride he would take his stuffed toy with him. 
Some of the volunteers would take him home for an overnight...He loved that. 
My contribution was bringing him scrambled eggs 3 or 4 times a week...He loved his eggs..
Tomorrow I'll be bringing him steak and eggs and spending a lot of time with him...
I'm sure that Reba will miss him since they are right next door to each other. 
Hopefully Zeus will be spending his after life  at the Rainbow Bridge till his ''person'' joins him..
RainbowBridge.com
Just this side of heaven is a place called Rainbow Bridge.
When an animal dies that has been especially close to someone here, that pet goes to Rainbow Bridge. There are meadows and hills for all of our special friends so they can run and play together. There is plenty of food, water and sunshine, and our friends are warm and comfortable.
All the animals who had been ill and old are restored to health and vigor. Those who were hurt or maimed are made whole and strong again, just as we remember them in our dreams of days and times gone by. The animals are happy and content, except for one small thing; they each miss someone very special to them, who had to be left behind.
They all run and play together, but the day comes when one suddenly stops and looks into the distance. His bright eyes are intent. His eager body quivers. Suddenly he begins to run from the group, flying over the green grass, his legs carrying him faster and faster.
You have been spotted, and when you and your special friend finally meet, you cling together in joyous reunion, never to be parted again. The happy kisses rain upon your face; your hands again caress the beloved head, and you look once more into the trusting eyes of your pet, so long gone from your life but never absent from your heart.
Then you cross Rainbow Bridge together....
Author unknown...