A Few thoughts on the democratic debate/ Round 1
By:
vic-eldred
•
4 months ago
•
14 comments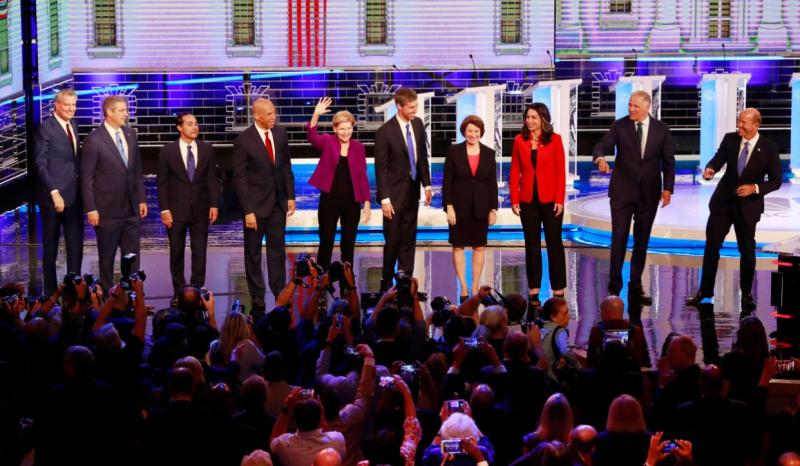 These are the things I've done for New York and I want to do them for the whole country".....Bill De Blasio
It's a little hard to gauge how these ten candidates performed. I am after all a life long Republican trying to evaluate liberal democrats. What I consider good and bad may not be how liberals see it. As for the overall performance of the group, I think it's fair to say that if a candidate named Donald Trump was on that stage last night, he probably would say "I can see your'e all having a bad night."

Remember a candidate only needed 1% to get in.

There were no big moments, no gaffs and no knock out punches.

I have to give my highest mark, a C, to former HUD Secretary Julian Castro who took some good shots at Beto O'Rourke, for some reason?  Maybe the state of Texas isn't big enough for both of them. He was the first to bring up the inevitable scene of the drowned migrant and his young daughter who died clinging to him. It seems Castro wants to make changes to US Immigration law, specifically dumping section 1325 which makes it a misdemeanor to illegally enter the country. In other words OPEN BORDERS. He then challenged O'Rourke to join him. It was hard to hear O'Rouke's fumbling response because Castro kept talking over him.




Then we had De Blasio promising to make the whole country akin to the City of New York . De Blasio gets a D.

Liz Warren told us how she would stand up to Senate Leader Mitch McConnell.  Warren gets a D.

Rep Tulsi told us of her military record and why the US should stay out of unnecessary wars. She talked down Rep Tim Ryan on the middle east.  Another D.

Sen Cory Booker looked like he was doing a screen test for the play "I Claudius".   Spartacus gets an D-

Gov Jay Inslee seemed overwhelmed.   An F  

Both Rep Tim Ryan and Beto O'Rourke were outclassed by their opponents .  F & F

Former Maryland congressman John Delaney looked like the rank outsider and was treated as such by the moderators.  F and done!


In conclusion:

President Trump said he would watch this debate. If he did he's sleeping soundly tonight.



Article is Locked