Fox News host presses WH adviser Stephen Miller on 'Send her back!' chant at Trump rally
Via:
tessylo
•
5 months ago
•
5 comments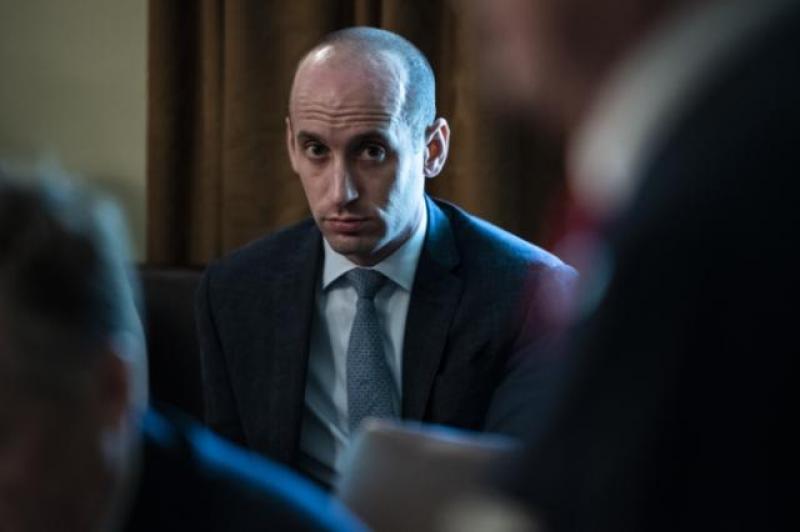 S E E D E D C O N T E N T
Fox News host presses WH adviser Stephen Miller on 'Send her back!' chant at Trump rally
Kadia Tubman
18 hours ago
WH advisor Stephen Miller defends Trump's attacks against four Dem lawmakers that were condemned as racist
White House adviser Stephen Miller in an interview with Fox News host Chris Wallace Sunday defended President Trump's attacks against four Democratic lawmakers of color that were condemned as racist by  Democrats  and  civil rights groups .
"I think the term 'racist,' Chris, has become a label that is too often deployed by the left Democrats in this country simply to try to silence and punish and suppress people they disagree with, speech that they don't want to hear," Miller said.
Trump stirred controversy when he called for Ilhan Omar, Rashida Tlaib, Alexandria Ocasio-Cortez and Ayanna Pressley to " go back " to the "crime infested places from which they came" a week ago. All the women who make up the self-proclaimed " Squad " are American, and, excluding Omar, all were born in the United States.
The Squad hit back at the president, who has consistently been  called out as racist  by Democrats, and accused him of "stoking white nationalism."
Trump deflected claims that his tweets were racist and  declared  the four lawmakers "hate our country," and urge them to leave the U.S. if they "are not happy here."
"I fundamentally disagree with the view that if you criticize someone and they happen to be a different color skin that that makes it a racial criticism," Miller said. "If you want to have a colorblind society, it means you can criticize immigration policy, you can criticize people's views, you can ask questions about where they're born and not have it be seen as racial."
"And can you also say 'go back' where you came from?" Wallace interjected, referring to a campaign rally at which Trump attacked each congresswoman and rallygoers  chanted "Send her back! " in reference to Somali-born Rep. Ilhan Omar.
Stephen Miller (Photo: Jabin Botsford/Washington Post via Getty Images)
House Democrats, outraged by the event, warned that Omar's life was " in imminent danger ." But Miller argued that "with the 'Send her back' chant," the president was clear he disagreed with what happened at his rally.
While Trump  disavowed  the chants, Wallace pointed out that "he let it go on for 13 seconds and it was only when the chant diminished that he started talking again."
"He said nothing there or in his tweet after the rally that indicated any concern about the chant," Wallace said.
Miller deflected the argument, saying, "the core issue is that all the people in that audience and millions of patriotic Americans all across the country are tired of being beaten up, condescended to, looked down upon, talked down to by members of Congress on the left in Washington, D.C., and their allies in many corners of the media."
He criticized Omar, who had been  accused of downplaying the 9/11 terror attacks  earlier this year, and Ocasio-Cortez, who called migrant detention facilities at the border " concentration camps ."
"As an American Jew," Miller said, "I am profoundly outraged by the comments of Ocasio-Cortez. It is a historical smear. It is a sinful comment. ... And those are the comments, Chris, that we need to be focusing on."
Wallace pointed out Trump's track record of sharply criticizing the U.S. both as a presidential candidate and commander in chief as well as his inflammatory comments such as connecting  Mexican immigrants to crime , implementing policies like the Muslim travel ban, and  demanding  the birth certificate of the first black president — all of which Wallace said "is not protecting the American people. That is playing the race card."
"I've never called any of his tweets racist, but there's no question that he is stoking racist divisions," Wallace said.
"The core element of the president's philosophy is 'America first,'" Miller responded. "Saying that America needs to improve to get closer to an America first ideal as the president did as a candidate, criticizing Obama, criticizing our trade deals, our foreign policy deals, our immigration policies, is out of love for America."
"These four congresswomen detest America as it exists, as it is currently constructed," he continued. "They want to tear down the structure of our country. They want it to be a socialist open-border country."
Miller added: "There's a gigantic, enormous distinction between Donald Trump saying 'I'm going to get on the world stage and put America first at every single thing we do' versus a view that says 'America should never come first and American citizens should never come first,' which is their view. And that's what we're going to take to the ballot box."
On Sunday, Trump  doubled down  on his criticism of the Squad, despite calls for both sides to " tone down their rhetoric ," saying, "I don't believe the four Congresswomen are capable of loving our Country."