Trump says 'I don't know' how map was altered to show Alabama in Hurricane Dorian's path
Via:
tessylo
•
3 months ago
•
235 comments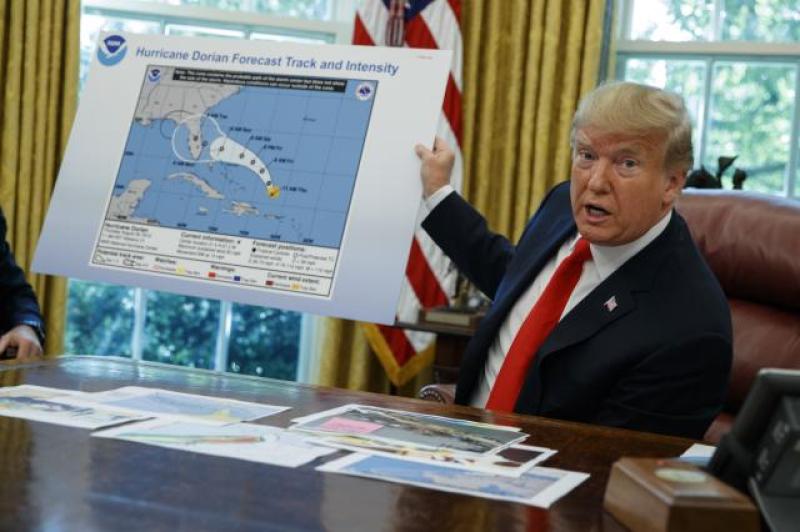 S E E D E D C O N T E N T
Trump says 'I don't know' how map was altered to show Alabama in Hurricane Dorian's path
Dylan Stableford
15 hours ago
Trump says he doesn't know if a map of Hurricane Dorian's path was altered
During a briefing on Hurricane Dorian in the Oval Office Wednesday, President Trump showed reporters an enlarged map displaying what he said was the initial forecasted path of the storm.
President Trump talks with reporters after receiving a briefing on Hurricane Dorian. (Photo: Evan Vucci/AP)
The map, which was displayed on a posterboard, appeared to have been altered with a marker, extending the storm's path to include Alabama. Over the weekend, Trump had mentioned Alabama as one of the states that could be affected by Dorian.
The National Weather Service said the state was in no danger from the storm.
In  a tweet Monday night , the president bristled at the suggestion by ABC News reporter Jonathan Karl that his forecast was wrong.
Taking questions from journalists at a separate event on efforts to combat the opioid epidemic Wednesday, Trump was asked if he knew if the map had been altered.
"No," the president replied. "I just know, I know Alabama was in the original forecast. They thought they would get it as a piece of it. It was supposed to go — actually we have a better map than that which is going to be presented where we had many lines going directly, many models, each line being a model, going directly through. And in all cases, Alabama was it."
He said there had been a "95 percent probability" of Dorian's path going through Alabama, "but then it made that right turn that a lot of people didn't expect."
The storm, which is being blamed for at least seven deaths in the Bahamas, is now expected to skirt up the southeastern U.S. coast and make landfall as far north as the Carolinas between late Wednesday and early Thursday.
Trump was asked if the map he displayed was altered using a Sharpie, the president's pen of choice.
"I don't know, I don't know, I don't know," he replied.
Dennis Mersereau, a weather blogger and Forbes magazine contributor,  noted on Twitter  that it is a violation of federal law to falsify a weather report.
According to  18 U.S. Code § 2074 , "whoever knowingly issues or publishes any counterfeit weather forecast or warning of weather conditions falsely representing such forecast or warning to have been issued or published by the Weather Bureau, United States Signal Service, or other branch of the Government service, shall be fined under this title or imprisoned not more than ninety days, or both."
_____