Why is Trump still in the White House and not the city DUMP?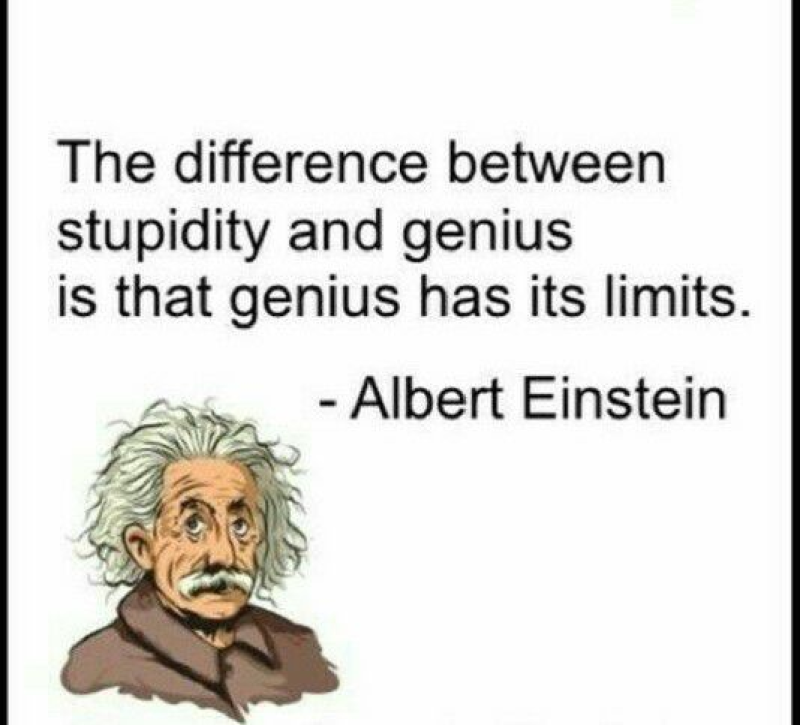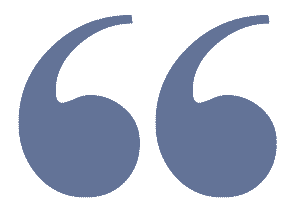 "Inquiring Minds Want To Know! The other kind don't give a SHAT." - Jonathan Livingston Pigeon-Poo, "Doctored"
Why Is Trump in the WH?  
Every second, every minute that inadequate, incompetent, insane imbecile is in office this nation teeters further and further to the  Right  tumbling towards total dysfunction.   
  The CRISIS that the world faces is not Hunger, the Environment, Global Warning, Terrorists, or, Liberals educated at East Coast Ivy League Universities.  
  No, it is  Donald J. Trump , the  ASS - i -dental president, this ignoramus installed in the White House illegally with the aid of Putin (a ruthless, former KGB Chief for East Berlin) now, a murderous Russian dictator.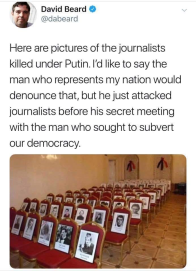 Putin is NOT America's ally, as the Maroon in the WH claims. He is the head of a country that has had American's blood on its hands for decades! (Korea, Vietnam, Afghanistan, Iran, Iraq,  etc. )  
 
The list of countries and wars where the US and Russia have been in combat with each other, directly, or, indirectly, in some form, or, another stretches back to Russia's Communist roots. (Of, course, Trump, doesn't know anything about this. No one told him!  
Why is that Orange Psychopath in the WH? Why is Donald J. Trump, a former REALITY TV STAR embraced by the working poor, addled-headed, white-hair seniors, and, the " so-called ," Religious Right?  
 
Who are responsible for allowing this demonic monster to rule this nation for three and a half years, as brutally as Nero did a Burning Rome?  
Trump, the "Stable Genius," embraces Putin (a ruthless murderer) ignores our allies, his own advisers, and, is bereft of history, and/or compassion.  
  Yet, Evangelicals, Born-Again, Up-Side Down and Backwards, " Talking-In-Tongue,"  so-called Christians believe that  GOD   appointed Trump president, that "the Donald" might carry out God's commandment to  "Usher in the END OF TIMES!"   WTF?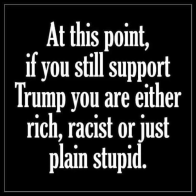 Really, folks, who in their "Freaking-Fracking-Right-Awful Mind would seriously believe such a NONESENSICAL, fairy-tale?   
Check the polling records, folks.   
GOD DOES NOT VOTE.  
Do you know why?  
Because GOD is not a REGISTERED VOTER !  
 
No matter who you are, no one, even, GOD, is allowed to cast their ballot without being registered to vote in a  particular  precinct.   
 
At all polling places, VOTERS must present photo I.D., or, proof of their identity via a Utility bill in their name, Military I.D., or, student I.D, preferably with a photo, and address, before casting a ballot.  Otherwise , Republicans monitors, on the scene would have the world's largest " sh *t  Conniption ".  Fox TV Nut Works News would be all over it like "White on Rice."  
Are Evangelical Right-Wing, "so-called," CHRISTIANS, suggesting that  GOD , not, Russian Spies,  HACKED  the 2016 election to install a known sexual predator, common criminal and International CON-MAN in the Oval Office?  
It looks, to me, that, if one believes that "End of Times"  fantasy , one must admit that Trump is right on time.  
 
"The Donald" is rapidly destroying everything that was good and decent about this country.  
Never before did we "lock kids in cages."  
Never before, in the history of our country, did a President use profanity, threats, attack the press and encourage his rabid, unsophisticated, knee-jerk followers to violence, then, publicly announced that he would "paid their legal expenses!"  
What say you,  "Brothers &  Sistas  of the Corn-Hole Degeneration,"   who spend your entire waking day playing that damnable Devil's game, "CORN HOLE," when you should be out looking for a job that doesn't exist?  
Give it your best shot, Mates!  
Tell me, please,  newsTalkers .com , why, anyone would think a REALITY TV PERSONALTY is the perfect choice to lead this nation?  
  Leave your pithy, "snarky", inciteful comments. Those are the best ones.  
At 78.4 years, I am rapidly approaching my "EXPIRATION DATE,"  show a little kindness to a fellow rebel  rouser why anyone who support this NUT JOB in the White House.