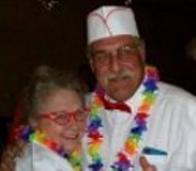 05/18/15 02:38:44AM
@dowser
Family is wonderful!
My dear Cousin Charlie, Charles O. Bruce, Jr., passed away last month, and his family had a memorial service for him, and I hosted a brief family reunion for all of us. Cousin Charlie's father was, of course, Charles O. Bruce, Sr., whose father was Thomas Madison Bruce, who was the son of Thomas Vandever Bruce. Thomas Vandever Bruce was the brother of my Great-great grandfather, William O. Bruce.
William O. Bruce had three daughters, Hallie Ann, Mary Francis, and Ludia Thomas. Mary Francis married Charles Early Hutchison, and had three children: William Combs Hutchison, Sophronia Lucille Hutchison, and Ida Mae Hutchison, my darling little Grandma.
Clear as mud, right?
Anyway, Cousin Charlie's family, his son, "Chuck", the III, and his sister, dear Cindy, whom I've never met before, and Chuck's other children, "Chad", the IV, Ashley, Patti, and Uh, the names escape me, met with us at the Smith-Berry Winery on the Drennan Road in New Castle, KY, for a brief reunion. I think we're all 3rd or 4th cousins, several times removed. Cousin Billy, Uncle Combs' son, drove down from Dayton, OH, and his son's wife, my dear cousin Sandi, came in from Lafayette, IN, and we all had a wonderful time! There were 26 Bruces there, or Bruce descendants, and it was great!
I didn't take any pictures, as I seemed to be busy making sure everyone had plenty to eat and drink. But my dear cousin Sandi took pictures, thank heavens, and shared them with me! This is at the peak of the party, my husband, John, is in the purple shirt, sitting next to Chad, his girlfriend, Chuck, his wife's mother, (who is DARLING), his father's former business partner's wife, and Chuck's wife, then Ashley, and back to my husband.
I had planned on 6 tables, but they only set up 3, don't ask me why, just a small glitch... The tables were covered with white table cloths, and each one had a square of the Bruce family tartan on it, with two bouquets of flowers from the Scottish moors. They were silk... I had tied a small bit of my great-great grandmother Sophronia's hand made lace to each one, as a gift. These were for the family to take home with them.
You can see Sophronia's picture hanging in the background!
They looked prettier in person, rather than in this picture! But they were greatly appreciated!
The gift tags read, with love, Sophronia, because I know she was there in spirit, and I wished to honor her.
Her life makes me sad.
Anyway, I had prepared CD's of all the family pictures in my possession, so that anyone that wanted all the family pictures I have can have a copy as well.
My Grandma used to tat lace, and this was unbelievable to everyone... So was Sophronia's quilt!
I think I've posted pictures of the quilt before, but in case you missed it-- Sophronia my gg grandmother made this quilt in 1851, and it won 1st prize at the state fair. In the 1980s, the Smithsonian chose it as part of a collection to travel to Europe and tour in a special showing of America's quilts. Not only did Sophronia make the quilt, she made much of the fabric of the quilt, from carding the wool, to weaving the cloth, to dying it with home-made dyes, and sewing it. It forms a 10 point star and its overall view in the book does not do it justice, as far as the quilting actually goes...
This is from the book, American Quilts. I love this picture, but you cannot imagine all the details of the quilt from this photo.
This is one HUGE quilt, and fits a queen sized bed, or a double bed of the day that had a trundle bed beneath. I also took the crazy quilt, which Sophronia and her three girls, (Hallie, Mary Francis, and Ludia), worked on.
They did not use embroidery thread on this quilt, they used silk quilting thread. The fabric used were just their clothes. Silk, taffeta, velvet, etc. It must have been fun to wear such beautiful clothing!
I had taken the two family picture albums that are in my possession, and the CDs that had the scans of the pictures. It seemed that everyone really appreciated those, too.
The black notebooks were filled with pictures, post cards, birthday cards, etc. of loose pictures.
I had also taken the one little notebook I had that shows the list of members of the Mt. Gilead Methodist Church in 1935. You can see Mrs. W. O. Bruce's name, as well as her children, Will Bruce and John Bruce. This was not Sophronia, but W. O.'s second wife, whom we always called Miss Josie, because she was the governess of the three girls. Under John Bruce's name is the name of Ludia Batts, and her son, Eugene. Lori, her great-granddaughter was unable to come...
Mt. Gilead was built by my 4 greats grandfather William O. Bruce, in 1812.
I learned that the Bruce family came to KY in 1808, and built the church in 1812. I also learned so much more! The church was an active congregation until the mid 1970's and stood, on it's original plot, until about 4 years ago. The cemetery needs to be restored as it is totally grown up... GGG grandpa John Bruce is buried there, with his wife, Harriet.
William O. Bruce, the first one in KY, was married to Sara Vandever, and had 7 children or so, of which the oldest was John Bruce, who married Harriet and had my great-great grandfather, also William O. Bruce. No wonder Grandma got confused about the generations! The first William O. in KY was the son of Elijah, whose father, mother, brother, and sister died when William O. was young. He went to live with his father's younger brother, Joel, who had 7-8 children, and taking his inheritance, bought the approximately 12,000-15,000 acres in Henry County. Joel was a Revolutionary War veteran, and HIS father, also William O. was born in Scotland. We can't seem to get beyond that.
This is my dear cousin Sandi, who is from Alabama, and married cousin Billy's son, William. Next to her is my dear cousin Billy, Combs' son.
They are so darling! I love them very much! I gave Billy one of his baby pictures, at 3 months of age, that he didn't have, and another picture of him on a horse that pulled Grandpa Hutch's buggy.
Then, there is my family. The blue potato dumpling is me, and my hair is doing its rainy day dandelion thing. My husband and son, whom I love so much!
I am wearing Sophronia's watch chain, that she wore around her waist, and her bracelet. I was going to wear her mourning pin, which, we finally figured out, contains her mother's hair! Nancy Sandford Combs. She passed away in 1853, the same year that Sophronia had her first child, a girl named Severin, who did not live long.
Poor Sophronia!
I hope you like these pictures, and I want to thank all of you for listening to me have angst over all this! I took roses and placed one on each of my family's graves, after the memorial, to send them love. I think I'm going to install a gravel floor in my kitchen. It was so handy to pour out the leftover tea and lemonade onto the "floor" of the barn!
Thank you, so much, all of you, for everything!

More pictures, old ones, below:
Sophronia Ann Combs Bruce. The pin she is wearing is in my possession, and was for her mother.
William O. Bruce, my great-great grandfather, named for his grandfather, also William O. Bruce.
He was mean. I am grateful to him, but he was mean to Sophronia.
Hallie Ann Bruce Oldham, Ludia Thomas Bruce Batts, and Mary Francis Bruce Hutchison, my great-grandmother. My great-great grandfather called them Faith, Hope and Charity
These are the Bruce Boys. They are W.O.'s and Miss Josie's sons, John and William, and they obviously hate their ruffles! Neither one married, and they died in 1967 and 1969.
Cousin Charlie's father, Charles Oldham Bruce, Sr.
My dashing great-grandfather, Charles Early Hutchison. He was a laughing, smiling man of great kindness! Everyone in the family called him Early.
My sweet little Grandma, Ida Mae Hutchison Scherer at age 5, in 1896.
Standing, Grandma, her brother Combs, and her sister Lucille! They are in front of the "new" car, which was a prized possession, only to be used on Sundays. The buggy did just fine, most days... This is the car that had a flat tire, and Grandma Hutch said she didn't understand why the car won't go anymore. The tire was only flat on the bottom!