A State Of Emergency Is Not The Answer To A Sustained Threat
PARIS — Faced with barbarity, can't our democracies choose not to seek safety only by sacrificing the very foundations of our society of law and freedom? By muting our deepest aspirations, are we not playing into the hands of terrorism?
 By Frédéric Sicard President of the Paris Bar
Even though most anti-terrorism specialists and a special parliamentary commission agree that a state of emergency is not an effective tool in the fight against terrorism, calling instead for more technical, human and financial resources to seek information and justice, the French government has once again chosen to extend a state of emergency in response to the terror aroused by the tragedy in Nice.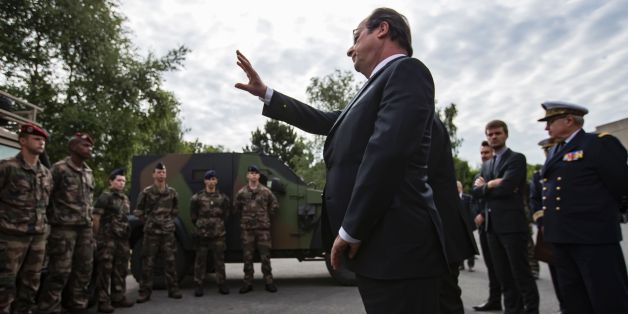 IAN LANGSDON VIA GETTY IMAGES
This will do nothing but lead to a regime in a permanent state of crisis, one that's characterized by lasting restrictions on rights and freedoms, democratic resignation and draconian measures. It is the same approach we've seen in the United States after the country's passage of the "Patriot Act," successive administrative detentions, and electronic monitoring of the planet. Add to that our cozy relations with regimes that are known to ignore human rights, on the basis that they can help us fight real terror.




We must fiercely resist all attempts to destroy the society so reviled by the terrorist.




 

 
If the long struggle we have committed to against radicalism and terrorism, which requires constant vigilance, does not fail to permanently change our ways of being, it might push us to become what the enemies of freedom want us to become: a people bent in on itself, close to others, barricaded behind walls of increasingly draconian laws, month to month, year after year.
Especially since this security policy has failed. It hasn't prevented the recent attacks, and it has still bred jihadists.
In France, the state of emergency that has mobilized 10,000 troops for more than eight months since November has resulted in 3,694 searches, only 7 percent of which have resulted in prosecution for violations of weapons or drug laws, 477 house arrests, 67 penalties, 56 detentions and only six cases brought by the terrorism prosecutor of Paris, according to the Interior Ministry. A meager balance sheet, in light of an ever more intense threat. An escalation that opens the door to all the excesses and fractures within French society. A situation that has been denounced for months, thanks to the vigilance of lawyers, sentinels of our freedoms.




The abandonment of entire neighborhoods to social despair has led to an entire generation of French people who have grown up marginalized and frustrated.




 

 
Our policies are being guided by an insidious process in which administrative authority is taking over the judiciary. Exceptions are becoming common. But what has history taught us? Two things: that all special laws are subsequently diverted from their original purpose and that regimes that deny the legitimate aspirations of the people for individual freedoms always end up disappearing.
Faced with a critical societal choice, our leaders and those aspiring to be our leaders would do well to  ponder the words of the Norwegian Prime Minister  in the wake of the Oslo bombings and on the island of Utøya in July 2011: "The answer to violence is more even more democracy, even more more humanity."
We must fiercely resist all attempts to destroy the society so reviled by the terrorist. This is the best answer. For what these new terrorists want is the end to the very strength of our society, namely our ability to consider the individual in his singularity, and to ensure his free expression.
They want to cause fractures between the different components of our society and thus lead to its implosion.
Those who call for a strengthening of our legal arsenal are too quick to forget this. As if we had no choice but to fall forward into a downward spiral of increasing security, one guided only by a need for intelligence, infiltration and analysis, one in which justice is beefed up to enforce newly passed laws.
The abandonment of entire neighborhoods to social despair has led to an entire generation of French people who have grown up marginalized and frustrated. These areas of despair have become a breeding ground for Islamic extremist propaganda, and should be addressed through appropriate economic and social policies, not by measures taken under the influence of emotion.
We should not deny the things that constitute the very nature of our society of laws, that which the terrorists aim to destroy. The state of emergency remains a poor response to a lasting threat. Our nation was built from the Capetian kings around the notions of freedom and justice. To forget this basic truth is to renounce the very identity of France and to allow barbarism to triumph.
This post first appeared on  HuffPost France . It has been translated into English and edited for clarity.
[  Link to original HuffPo article  ]