Girlfriend's 'controlling' list of 22 rules for boyfriend goes viral: 'She sounds crazy'
S E E D E D C O N T E N T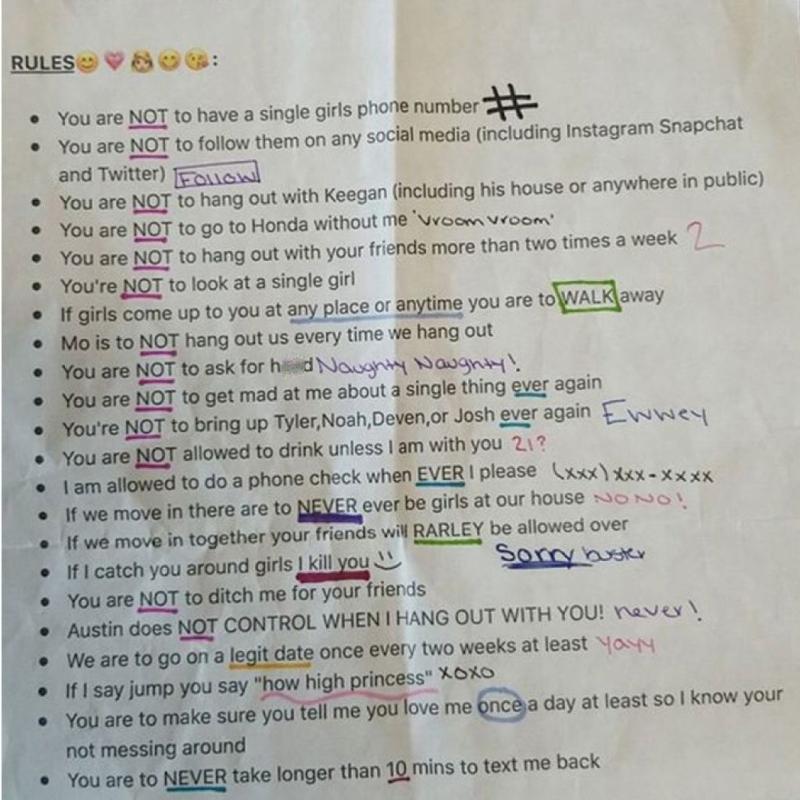 Sounds like a bridezilla in the making.
While it isn't that uncommon for couples to have unspoken rules to ensure a happy relationship, one woman took it to the extreme by drafting a lengthy contract detailing 22 requirements for her boyfriend to sign.
The list was first shared on Twitter by a guy who found it in a used car he had purchased, but he then deleted it because people thought it was his own girlfriend who had made it and she was being harassed, according to The Daily Mirror.
Run!!!" one person wrote.
"She sounds crazy but it also sounds like he cheated and she took him back," someone commented.
"A classic example of what abusive behavior in women can look like. This isn't cute or sweet or just for anyone's own good, this is controlling," another person wrote.
This isn't the first time a surprisingly strict list has gone viral. Last month, a bride's "rules and regulations" for her upcoming wedding shocked Reddit users, including stipulations such as "kindly refrain from upstaging the bride on her big day — oh, and no admission without a gift of $75 or more."