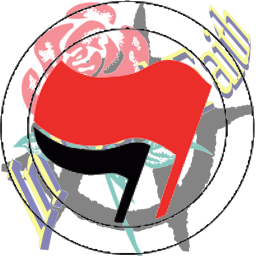 File: Israeli border police and soldiers block Palestinian protesters in the occupied West Bank [EPA]
As I was riffling through my RSS feeds this morning, I bumped into an al Jazeera article entitled Boycott, Divestment, Sanctions: What is BDS?  Everything you need to know about the Boycott, Divestment and Sanctions movement, and what's being done to combat BDS.
I am wary of everything in al Jazeera, but I think it useful to have a radically different point of view on Middle East news. There's some pretty good, straightforward reporting... but there is also a great deal of heavily biased "reporting": basically propaganda masquerading as "news". A particular form of "fake news".
When the title concerns something intrinsically polemic, like BDS, my "fake news smell test" filters are on full alert!
The article led with the photo and title you see above. 
It's a very interesting photo, actually... if you take the time to really think about it. What does it show? A protester with a Palestinian flag, some well-armed soldiers (neither of the two whom we see in detail has his finger on the trigger), a bystander doing nothing... and in the background, a kid typing on his smartphone.
What does the photo tell us?
  - There are Palestinian protesters with sloppy hand-made signs about BDS. 
  - The protesters are not arrested by the soldiers; at worst they are prevented from going... somewhere.
  - The soldiers are not on high alert.
  - The people nearby are downright relaxed.
What may we conclude?
  - The "protest" is no big deal, either for the soldiers or the bystanders.
  - For a "no big deal", an al Jazeera photographer (or at least a stringer) was present.
  - The article is a puff piece, created specifically to supply a photo to al Jazeera.
  - We may wonder what would happen to an analogous protester in Gaza, Riyadh, or Amman...
The interesting thing, in this bit of "fake news", is that the real information is present, on condition that the reader be a bit skeptical and a bit thoughtful. The key in this case is the attitude of the soldiers and the bystanders. Would a person who is already a fan of BDS bother to think about the photo?
I wonder how often we allow ourselves to be wafted along... because the fake news we are looking at happens to be agreeable to us.