Hillary Clinton, Not Trump, Warned Is Target Of US Congress Investigation Into Russia Ties
Category: News & Politics
Via:
clinton-2020
•
5 years ago
•
3 comments

While the leftist American propaganda mainstream media continues to consume itself over allegations of President Donald Trump's associations with Russia, an intriguing  Investigative Committee  ( SLEDCOM ) report circulating in the Kremlin today reveals that Russian officials have been cooperating with the US House of Representatives  Permanent Select Committee On Intelligence  and the  US Senate Select Committee On Intelligence  on a wide-ranging investigation into Hillary Clinton's, not Trump's, ties with Moscow instead.   [ Note:  Some words and/or phrases appearing in quotes in this report are English language approximations of Russian words/phrases having no exact counterpart.]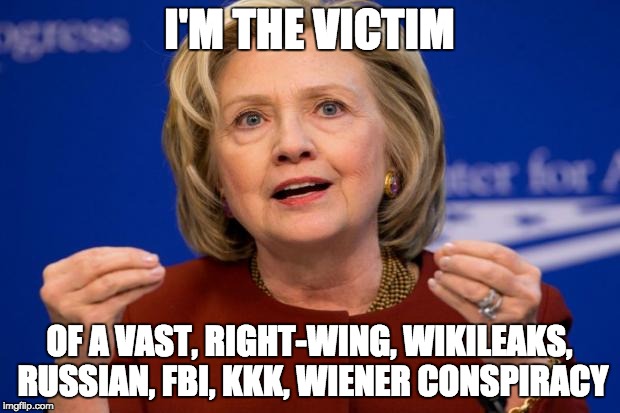 According to this report, in July 2015, President Putin relayed to ExxonMobil CEO  Rex Tillerson  (current US Secretary of State) the Kremlin's " grave concerns " that certain Russian companies were being " pushed to the line " to violate the United States  Foreign Corrupt Practices Act  by Hillary Clinton, her husband, former President Bill Clinton, and their organization called the Clinton Foundation—and that  US Senator Tom Cotton  had identified as being " one of world's largest money-laundering schemes ".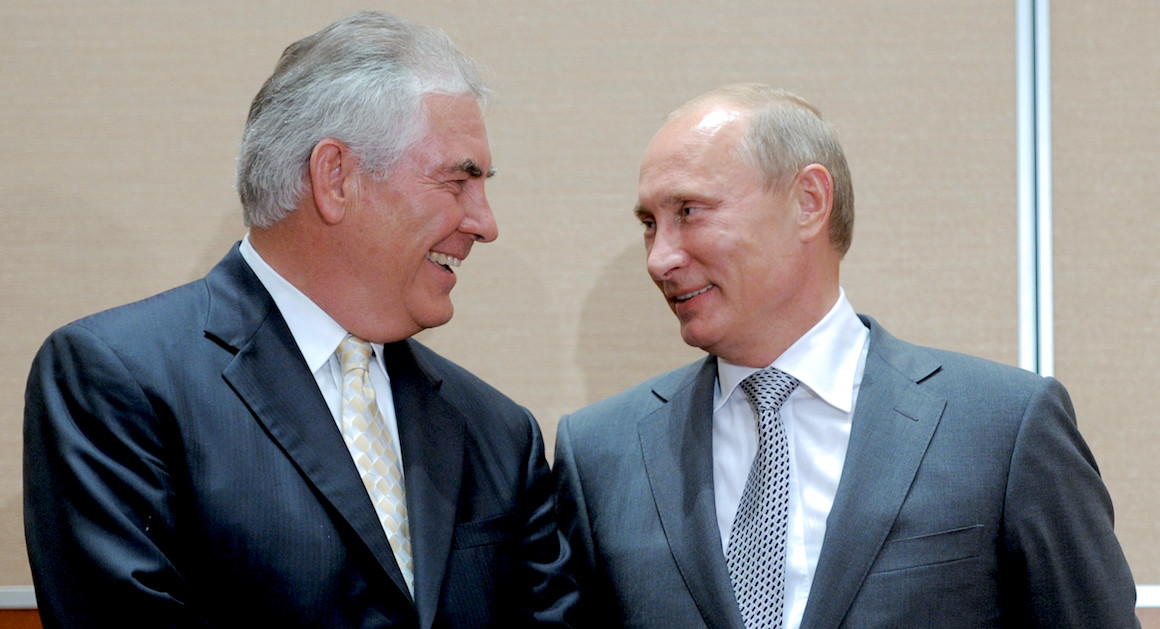 ExxonMobil CEO (and now US Secretary of State) Rex Tillerson and President Putin
With former assistant FBI Director  James Kallstrom  having previously  stated that the Clinton's are a " crime family " , this report continues, the greatest Kremlin fear was that upon her assuming the US presidency, Russia would, in fact, be forced to deal with a " lawless state " overseen by Hillary Clinton.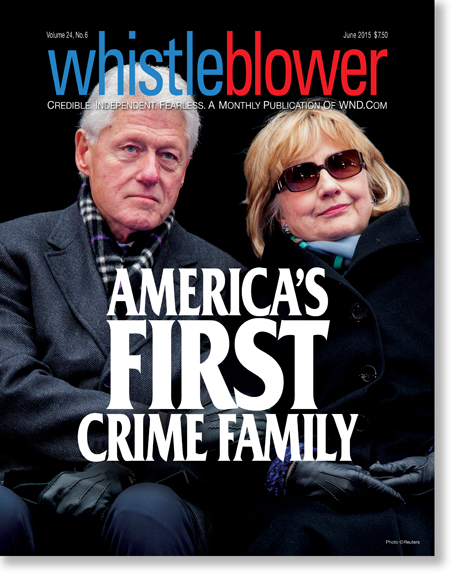 These Kremlin fears about the Clinton's, this report explains, were based on the 2009-2010  Rosatom  (Russia's atomic energy agency)  takeover of the Canadian  Uranium One  company in order for the Federation to gain access to uranium mines in Kazakhstan —but that also  gave Russia control over one-fifth of all uranium production capacity in the United States .
While US Secretary State, this report details, Hillary Clinton  oversaw and approved this transaction —receiving in return for her " favors "  four donations to her Clinton Foundation totaling $2.35 million paid by Uranium One , while her husband, former President Bill Clinton,  received $500,000 for a Moscow speech from the Russian investment bank   Renaissance Capital  that was promoting Uranium One stock .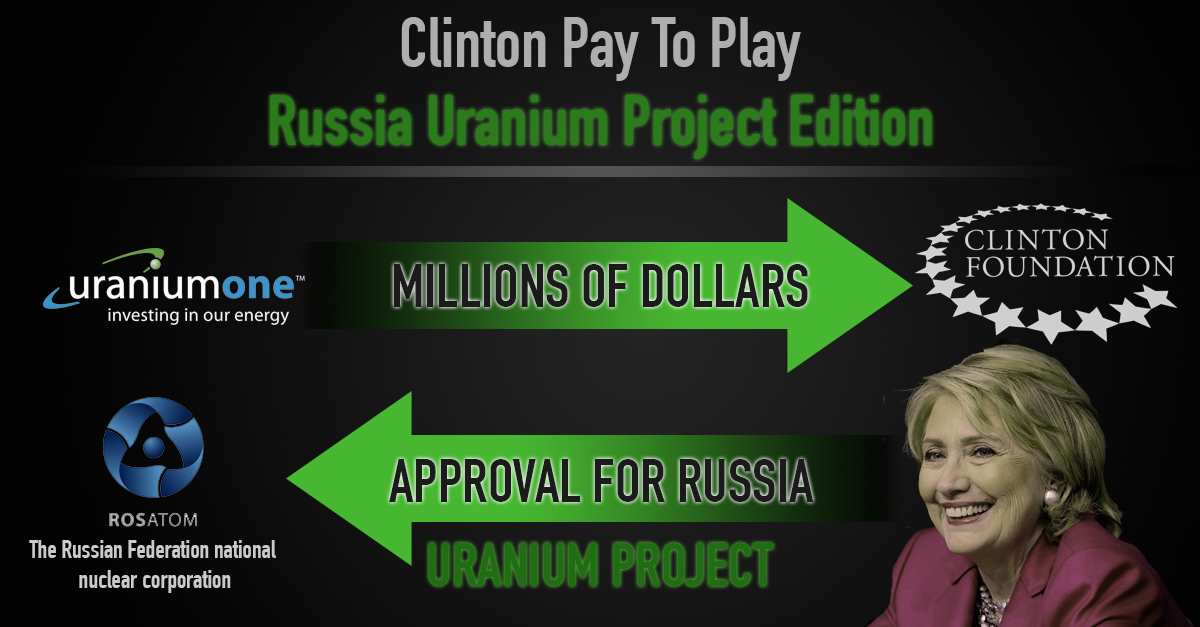 Further benefiting Hillary Clinton for this " deal ", this report continues, was her 2016 presidential campaign chairman  John Podesta  who received from  Renaissance Capital   75,000 shares in the mostly Russian owned energy company  Joule Unlimited , while his brother  Tony Podesta  (Democratic Party " super lobbyist "), likewise,  was paid $170,000 over a six-month period last year to represent  Sberbank , Russia's largest bank, seeking to end one of the Obama administration's economic sanctions against it .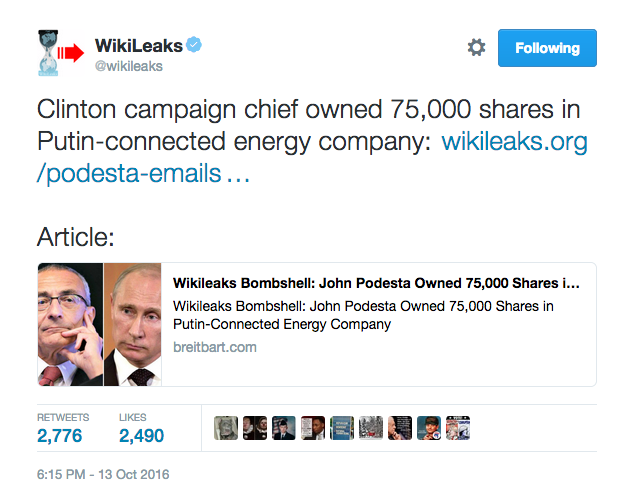 Though both  Russia and Iran had greatly benefited under the Obama regimes 8 years in power , especially since 2012 when President Obama told Prime Minister Medvedev that  after he was re-elected that he would no longer be constrained in making " deals " with Americas " enemies " , this report says, President Putin's fears relayed to then ExxonMobil CEO Tillerson boiled down to the simple fact that Hillary Clinton could not be trusted for anything unless she, her husband, and her cohorts were generously paid.
Upon hearing President Putin's full fears about Hillary Clinton, this report details, ExxonMobil CEO Tillerson relayed them to then presidential candidate Donald Trump, who was going to be Clinton's Republican Party opponent—and who, in turn, established his own investigative group into these Kremlin concerns headed by retired US Army Defense Intelligence Agency  General Michael Flynn  and US Naval Academy Graduate and top US Marine Intelligence operative  Carter Page —both of whom who have extension knowledge of Russian intelligence agencies and procedures.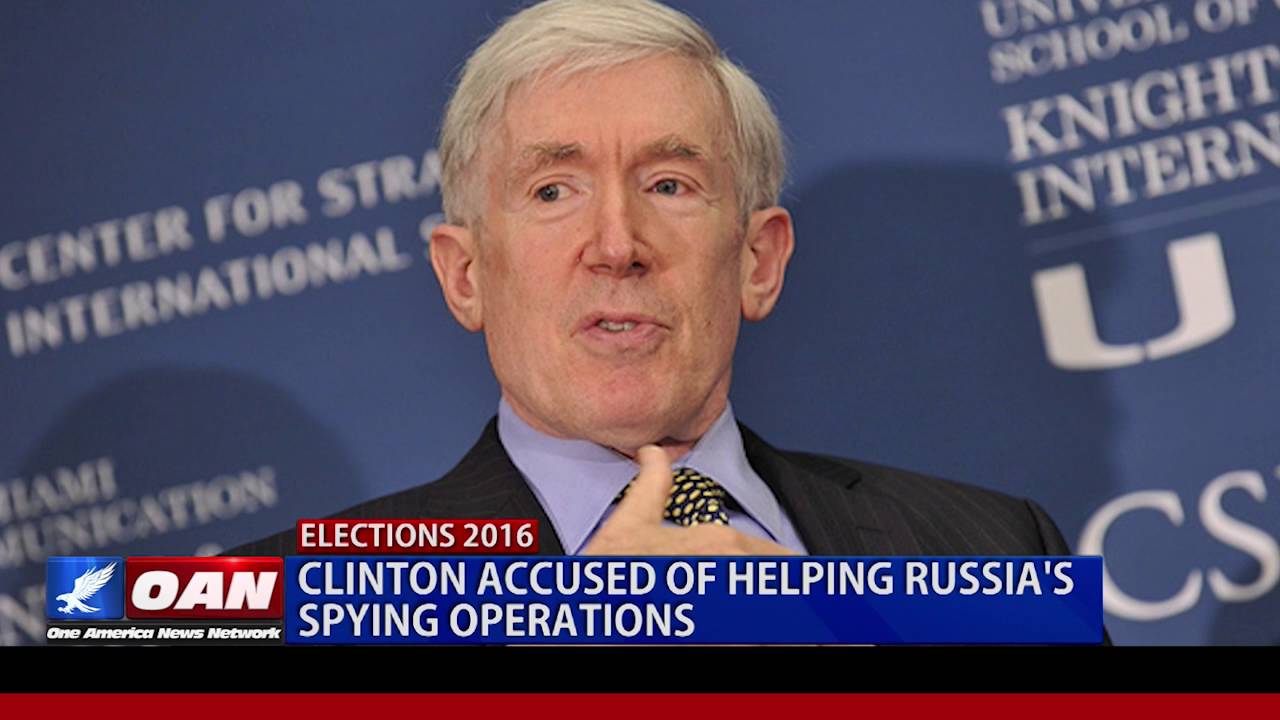 Barely a month prior to his taking office when he could then turn over his evidence of Hillary Clinton's crimes to US Congress investigators, however, this report notes, then president-elect Trump was " blindsided/broadsided " by an attack against him now commonly known as the " Russian Dossier " that made outlandish claims of Trump's and his campaigns involvement with Russian intelligence operatives—and that the Democrats have been using ever since to discredit him with.
http://www.whatdoesitmean.com/index2258.htm