The New Origin of Species
Via:
tig
•
3 years ago
•
334 comments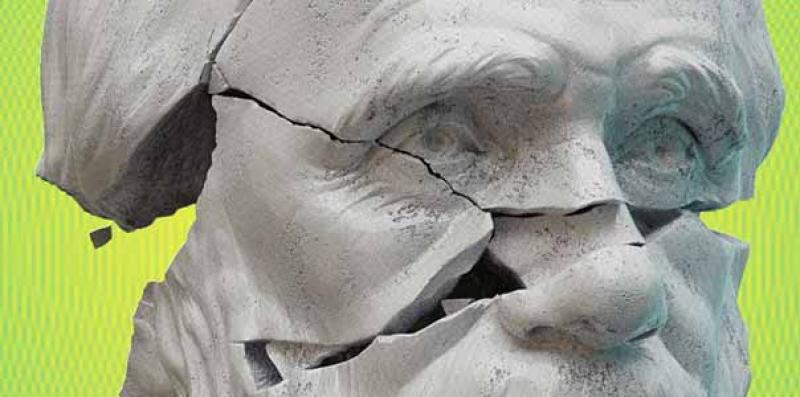 A review of:  The New Origin of Species - Darwin's Work Is Being Undone by Modern Genetics
Answers in Genesis is, without question in my mind, a con outfit.   They routinely put forth articles like this attempting to discredit science so as to push a literal interpretation of the Bible:  Earth < 10,000 years old, dinosaurs coexisting with human beings, etc.
Here is a recent article that illustrates the game played by an organization that works overtime to keep their (paying) flock misinformed (and loyal).    My comments will simply critique select quotes from the article.   Readers of course have access to the full article (and the author's book) for context.
This article is about a brilliant PhD researcher ( Nathaniel T. Jeanson ) - a Harvard graduate - who has been a lifelong Young Earth Creationist and who now seeks to use his knowledge of biology to illustrate that evolution -as commonly understood- is wrong.    Note:  I do not question the credentials or the intelligence of Dr. Jeanson.  I have no doubt this is a very smart individual who understands biology.
Quoting from the article ...
You don't know what you don't know. In his time, Charles Darwin sought to fill huge gaps in his knowledge regarding species. And armed primarily with an 1800s education and his two eyes , perhaps Darwin did the best he could —at least the best anyone could who starts out to explain creation without the Creator. Yet Darwin published  On the Origin of Species  in 1859. Since then, science has exploded astronomically, developing enthralling new fields no one in those pre–Civil War days foresaw. No doubt, a peek at the technology in a twenty-first-century laboratory would have blown Darwin's mind.
First, Darwin does not explain creation .  He explains origin of species .  This is not a subtle point.   Perhaps this an honest mistake by this brilliant man?   Moving on.
The quote in general implies that since Darwin's knowledge was far less than what we know today, his fundamental finding - biological evolution - is no longer valid.   It implies that science today has effectively overturned evolution (but the scientific community does not realize it).   You think I am exaggerating?    Look at the next quote:
In other words, today's men and women of science can scrutinize more biological data than Darwin ever imagined. In fact, in Jeanson's revolutionary book,  Replacing Darwin: The New Origin of Species , he argues that today's ocean of new knowledge has overwritten Darwin's explanations for the origin of species. One of Jeanson's goals for writing  Replacing Darwin  is to point evolutionists to fresh, eye-opening research.
What interesting word choice:  ' overwritten '.   The implication is that Darwin was wrong.   The reality is that science has indeed discovered an amazing amount of evidence that corroborates Darwin's findings.   Corroboration vs overwritten.  Rather big difference.   Let's continue.
...  is to point evolutionists to fresh, eye-opening research.
As if 'evolutionists' are not aware of modern advances in evolutionary biology?   Think I am exaggerating?   Look at the next quote (from Jeanson himself):
"In publishing  Replacing Darwin , I know I'm challenging the scientific views of 97–99% of the professional scientific community . ..."
So think about it.  Is the confusion more likely yours (Dr. Jeanson) or (in effect) the entire worldwide scientific community?    

--- skipping over Dr. Jeanson's biography, his religious calling, his employment at AiG, etc. ---
THE FIELD OF SCIENCE CONCERNED WITH INHERITANCE IS THE FIELD OF GENETICS. CONSEQUENTLY, THE QUESTION OF THE ORIGIN OF SPECIES IS, ULTIMATELY, A QUESTION OF GENETICS.

Didn't Darwin examine genetic data?

Hardly, Jeanson explains: "In 1859, genetics wasn't even a field of science. The term genetics wasn't invented until after the turn of the century. The molecule that we know now as the substance of heredity, DNA, wasn't recognized as such until nearly 100 years after Darwin wrote  On the Origin of Species .
This is sophistry.   He is implying that since evolution ultimately is a question of genetics (it is not, by the way, since that ignores the environment's role in natural selection) that Darwin could not possibly have come up with the right answer.   Darwin did indeed come up with a correct (per current knowledge) explanation of how species originate even though he had no knowledge of genetics.   This is like arguing that Einstein's theory of Relativity is flawed because it predated accurate instruments (e.g. orbiting telescopes) to measure cosmological bodies and subsequent discoveries (e.g. dark energy / matter).   This is not only nonsense, it is offensive.   This is the kind of crap AiG routinely puts out to dumb down the public.
When we graph all these differences in human mitochondrial DNA, we discover that the human family divides into three different groups (see green dots in Figure 2). This is just what we would expect if all humans came from three women who got off Noah's Ark just a few thousand years ago.
How convenient.  The above quote is one of several claims.   Basically, Dr. Jeanson is out to correlate data with his YEC beliefs.  The article does not offer sufficient details, basically just claims.   But Dr. Jeanson is, in effect, claiming that HE -using the same scientific tools and data as the rest of the world's scientists- has found an alternate and valid interpretation that is different than 97-99% of the world scientists and this interpretation, coincidentally, aligns neatly with his religious views of a young Earth.
Without a doubt, Jeanson's  Replacing Darwin: A New Origin of Species  will ignite controversy.
Yes folks, Dr. Jeanson is going to turn all of science on its ear and illustrate that the entire field of biology is wrong.   He will show that all lifeforms are no more than about 6,000 years old and argue (no doubt) that the dating methods (and the evidence) that show life dating back at least 3.5 billion years are all wrong.