Byron York: Is Comey telling the truth about his memos?
Via:
sixpick
•
2 years ago
•
3 comments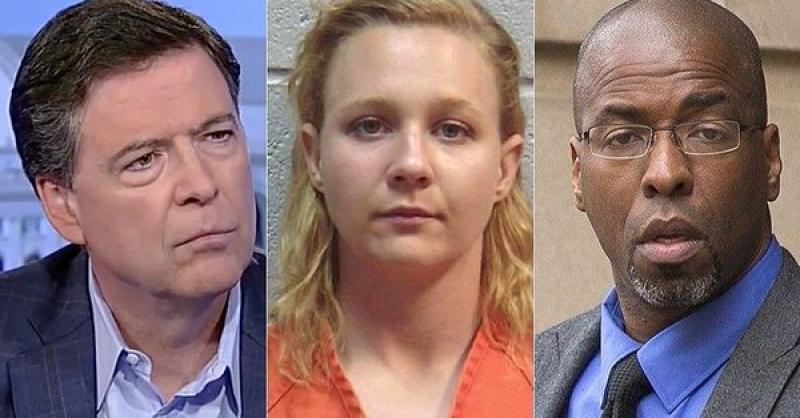 April 26, 2018
As he presses on with his bookselling tour, fired FBI Director James Comey is leaving a trail of confusing statements about how he handled the memos he wrote after conversations with President Trump, including the memo he leaked for the purpose of creating momentum for the appointment of a special counsel to investigate the president.
It has been generally understood that Comey, who says he wrote some of the seven memos on a secure FBI laptop and others on his personal computer at home, gave four of the memos to a friend, law professor Daniel Richman. Fox News reported the number of four memos back in July, 2017, and the Wall Street Journal reported it as recently as this month. "Mr. Comey gave four total memos to his friend Daniel Richman, a former federal prosecutor who is now a professor at Columbia Law School, people familiar with the matter said," the Journal reported on April 20.
In addition, the FBI has recently confirmed the four memos number to congressional committees, according to sources familiar with the matter.
But Wednesday night, during a town hall appearance on CNN , Comey suggested there was just one memo involved, and that he did not leak anything.
"You did leak memos," CNN's Anderson Cooper said to Comey. "Is it okay for somebody at the FBI to leak something — an internal document, even if it's not classified? Isn't that leaking?"
"There's a whole lot wrong with your question, Anderson," Comey responded. "First, I didn't leak memos. I asked a friend to communicate the substance of one unclassified memo. ... One unclassified memo to the media, and it was really important. I was a private citizen. I was not an FBI employee at that time."
After that semantic defense — he did not leak but instead "asked a friend to communicate the substance" of a memo to the press — Comey engaged in some creative accounting for the memos he gave Richman.
Comey explained that after his firing he sent one memo, which he claimed was unclassified, to Richman for the purpose of leaking to the New York Times. Again insisting that was not a leak — just a request to "communicate the substance" — Comey basically repeated the account he gave of events in his book, where he wrote that he "wanted [Richman] to share the substance of the memo — but not the memo itself — with a reporter."
The memo to which Comey referred was apparently the one he wrote after a Feb. 14, 2017, conversation with Trump in which the president expressed hope that Comey would drop the FBI's investigation into fired national security adviser Michael Flynn. "I hope you can let this go," Comey wrote that Trump said. The New York Times broke the story of the memos on May 16, 2017, with a story that included the quote — not just the substance but the exact quote — of Trump's words as Comey recalled them. (The Times also sourced the story to "two people who read the memo," suggesting that more eyes had seen the memo than Comey said.)
A few days before the Times' May 16, 2017, story, the paper also broke the story that Trump had asked Comey for loyalty during a Jan. 28, 2017, dinner meeting. That was the subject of Comey's classified memo from the same day, and the Times' sources were "associates" who had been told about the conversation by Comey.
On CNN, Comey expanded on why he does not believe that what he did qualifies as leaking. "I think of a leak as an unauthorized disclosure of classified information," he said. That is clearly at odds with the general understanding, one shared by Cooper in his questioning, that leaks can be of classified or unclassified information. For example, the Health and Human Services secretary might be preparing a controversial proposal on hospital funding, and an adversary inside the agency might secretly give a draft copy to the Washington Post. That's a leak, even though no classified information is involved.
But Comey insists he did not leak because the information in the memo he gave to Richman to leak was not classified. (There is some disagreement on whether that is true.) Comey also argued that giving the memo to Richman was not a leak because, "I was a private citizen — I was not an FBI employee at that time." FBI officials are not allowed to disclose confidential information, classified or not, simply because they leave the FBI.
But what about the one-memo-versus-four-memos question? On CNN, Comey explained that he gave one memo to Richman to leak . But later, he gave Richman four memos, including the one he gave Richman originally. But he only gave Richman one memo for the purpose of being leaked, and the rest he gave Richman after he, Comey, retained Richman as one of his personal lawyers.
"After I was fired I put together a legal team with three people, one of whom was Professor Dan Richmond at Columbia University," Comey told CNN. "After I had asked him to give this information to the media I separately gave my legal team four memos which were unclassified. They included the one that he had gotten to give the substance of it to give the New York Times."
So Comey gave Richman four memos, but only one at first, and then the other three later, and then as part of his "legal team." And none were leaked, although Comey authorized Richman to "communicate the substance" of one memo, although not the memo itself, to the press, although the memo ended up being quoted in the resulting news story.
Comey made some of the same arguments Thursday night in an interview with Fox News' Bret Baier. "I don't consider what I did with Mr. Richman a leak," Comey said. "I told him about an unclassified conversation with the president."
"That's a leak, isn't it?" Baier asked a bit later. "It's not," Comey responded.
On another occasion, Comey told Baier that he never considered his memos as part of an FBI file, or FBI work product. "I always thought of it as mine, like a diary," Comey said, suggesting it was therefore something he was free to give to Richman.
In all, it's a very complicated story, one in which Comey insists he did nothing wrong, no matter how it looks.