1 in 5 Republicans Think Jan. 6 Attack was 'Justified'
Category: News & Politics
Via:
john-russell
•
2 weeks ago
•
6 comments
By:
calebhowe (Mediaite)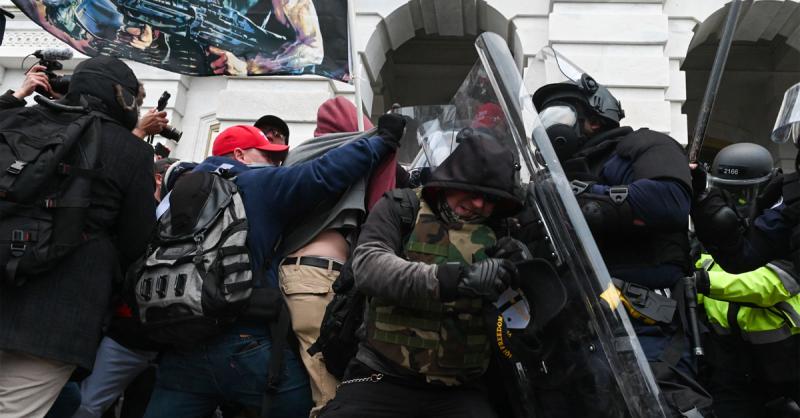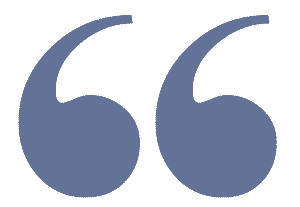 Not only do one in five find it justified, the numbers have doubled since January. A sign that the riot's image is being rehabilitated at least among Republicans.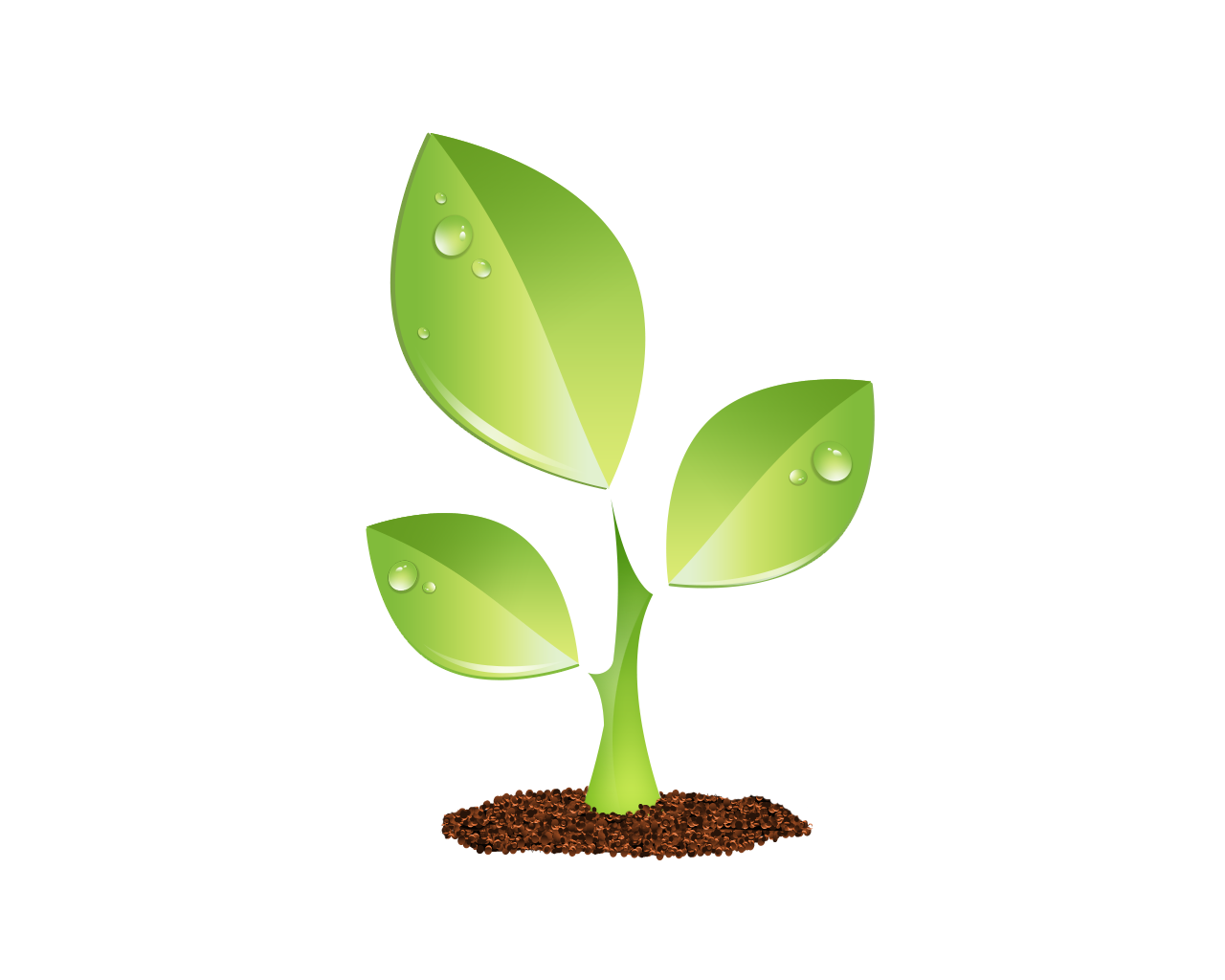 S E E D E D C O N T E N T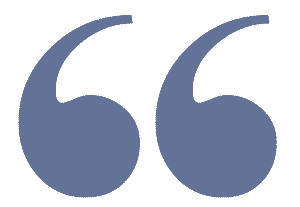 By Caleb HoweMay 29th, 2021, 5:51 pm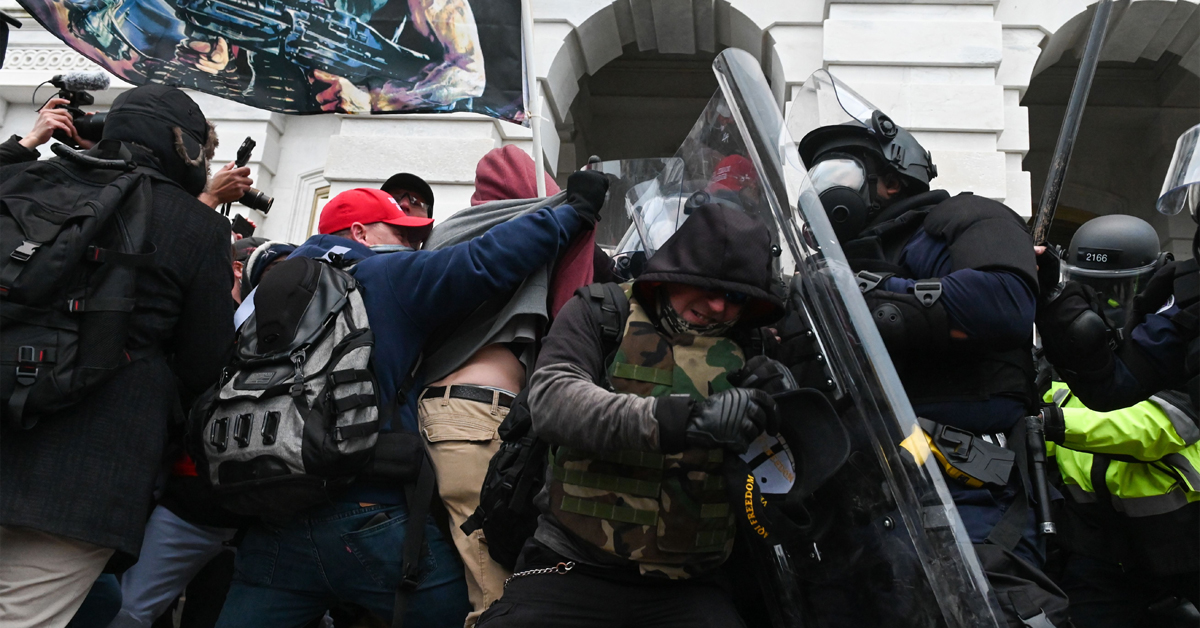 Roberto Schmidt/AFP, Getty
A new Yahoo/YouGov poll out this week reveals that about 20% of Republican respondents feel that the breach of the U.S. Capitol was on January 6 by supporters of former President Donald Trump was a "justified" act. About as many were "not sure" whether or not it was justified.
The numbers represent a trend, when compared to the same question asked just a few weeks after the attack, a possible insight into the progress of messaging.
The poll, released this week, already caught some attention over the fact that over 70% of Republicans put "some" or "a great deal" of responsibility for the attack on "left-wing protesters trying to make Trump look bad", and only 41% said the supporters who carried out the attack bore the blame.
But the question of justification is perhaps an even more telling metric. Beyond merely "who started it" of the day of the violence and mayhem, it ascertains the sentiment behind undertaking that invasion as a reasonable and just cause. And in the case of the Republican respondents, the result was startling.

That's 21% of Republicans, on the question of whether it was justified or not justified, or whether they aren't sure, choosing the answer that the storming of the Capitol was "justified."
In total, 65% of respondents said it wasn't, which is a change from a few weeks after the event, when 80% of respondents said the attack was "not justified."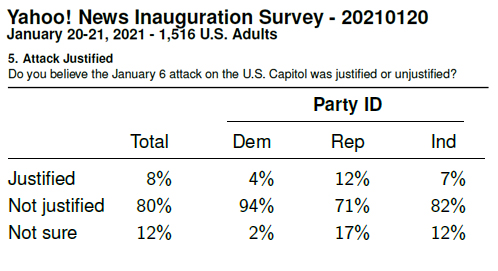 In that January survey, only 12% of Republicans called the capitol attack justified. So the number has almost doubled since that point, putting some perspective on how messaging from the right has been progressing since the time of the attack.
It may also shed some light on the decision by Republicans to block a January 6 commission. Their audience is turning away from sharing national outrage over the assault on our capitol and toward seeing it as a somehow justified action with aggravating leftwing instigation.
Have a tip we should know? [email protected]
Filed Under:
Capitol AttackJanuary 6th CommissionNewsPollingPollsYahooYouGov Previous PostNext Post Previous PostNext Post