Star Trek: Picard - S3 E2 - "Disengage"
By:
Dig
•
3 months ago
•
14 comments
February 23, 2023
'Star Trek: Picard' Season 3 Episode 2 Recap: Who's Your Daddy? 
Jean-Luc Picard makes a shocking discovery.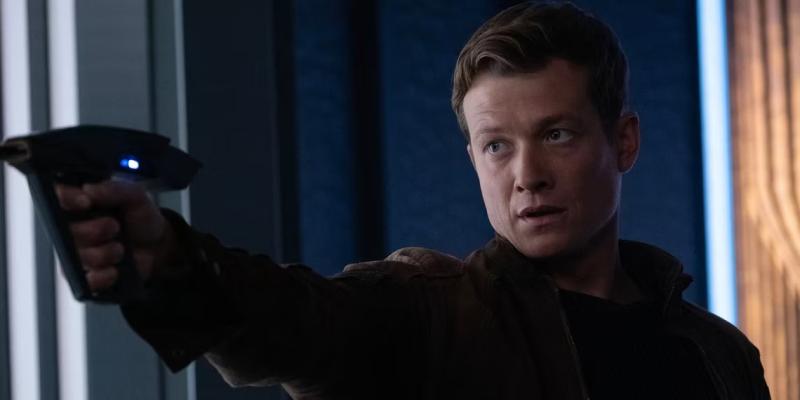 If the premiere of Star Trek: Picard Season 3 left you with any questions about who Jack Crusher (Ed Speleers) is to Jean-Luc Picard (Patrick Stewart) you'll be pleased to know that Episode 2 doesn't beat around the bush. With the upbeat tune of Baby's "Starchild" blaring in the background, the episode opens on a flashback to two weeks ago when Jack got into a spot of trouble for violating an airspace quarantine zone. The rock n' roll of it all very quickly, and brilliantly, showcases the contrast between Jack and Picard, who is very much a character constructed to the tune of classical music.
The flashback also provides a little much-needed exposition and reveals a few key elements about Jack's personality and what he and his mother (Gates McFadden) have been doing since Beverly's last appearance in Star Trek: Nemesis. When the Fenris Rangers board their ship, Jack explains that they're trying to deliver medical supplies to a planet that is suffering from a deadly fever—one that he hints may be part of an engineered pandemic that warlords are using to clear out refugees. The Rangers are skeptical and force him to show them the cargo aboard the vessel, which is largely medical supplies. Even the Romulan ale they have stowed away is used for medicinal purposes. But they also have weapons aboard the ship, which Jack explains they use for bartering, and those weapons also work on bribing the Rangers to let them help the refugees on the surface. Unfortunately, what Jack doesn't realize is that the Rangers are on a reconnaissance mission of their own, and the flashback ends with them reporting back to a mysterious someone that they have found Jack.
---
---
The Ready Room
---
---
Last Week's Season Premiere – Full Episode
Free on YouTube for a limited time