Star Trek: Picard - S3 E3 - "Seventeen Seconds"
By:
Dig
•
3 months ago
•
15 comments
March 2, 2023
'Star Trek: Picard' Season 3 Episode 3 Recap: Bridges Built and Bridges Burned
Emotions run high aboard the Titan.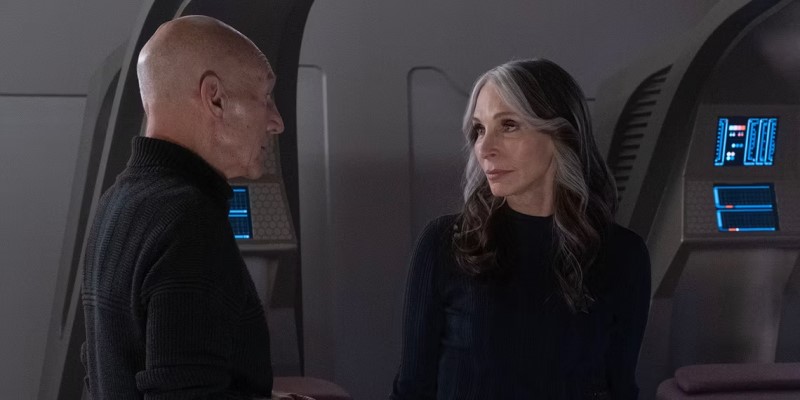 Tensions are mounting aboard the U.S.S. Titan as Vadic (Amanda Plummer) and the Shrike pursue the starship deeper into a dangerous nebula, which prevents them from jumping to warp. But tension isn't the only thing mounting, emotions are too. On the heels of last week's revelation, Picard (Patrick Stewart) and Jack (Ed Speleers) are both forced to come to terms with their newfound connection in Episode 3 of Star Trek: Picard Season 3.
Picard is convinced that Vadic will continue to pursue them, no matter where they go until they surrender, and Captain Shaw (Todd Stashwick) isn't looking to surrender his ship—at any cost. Without any other options, he orders the crew to take the ship deeper into the nebula, in hopes that they might be able to shake the Shrike loose. With the clear and present danger that the crew of the Titan is in, they are quick to glare at Jack and blame him for the attack, especially without knowing why Picard has pushed for Shaw to protect him. Beverly (Gates McFadden) cautions Jack that it's not worth getting mad about because the crew is going to need them because of their medical experience.
---
---
The Ready Room