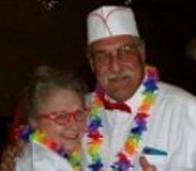 04/13/15 12:53:24PM
@dowser
I have double checked with Perrie, and our one requirement is that we cannot force the general membership to join us-- we can invite, but not dictate. Which makes sense....
I've given this a lot of thought, and have come up with some ideas--
1) Let's pick a day in May that is not associated with any other major holiday/event. As an example, May 1, traditional May Day, was used by the Communist Party in Russia as their day to parade their army through the streets of Moscow. I would prefer no association with the communists in Russia... What about you?
2) May 5 is Cinco de Mayo, which probably isn't a good day, either... Do we want to do this on a week day or a weekend?
3) We have a lot of members, if most of us seeded or wrote one good, fun, interesting, or intriguing, (non-political) article on that one day, we could actually flood the page with niceness. Wouldn't that be fun?
4) If we all support each other's articles, we can keep them up and running for a whole day, changing the tone to one of niceness, or a more regular news site...
5) Any and all non-political articles are welcome! Even political articles are welcome if they are positive and cheerful! We can do this!
Offbeat holidays in May include, (other than the 2 previously mentioned): LINK
May 2 -- Scurvy Awareness Day
May 3 -- Hug Your Cat Day
May 4 -- Star Wars Day
May 6 -- National Nurses Day
May 9 -- National Lost Sock Memorial Day
May 10 -- Clean Up Your Room Day
May 11 -- National Twilight Zone Day
May 13 -- Frog Jumping Day
May 14 -- Dance Like a Chicken Day
May 17 -- National Pack Rat Day
May 22 -- Buy A Musical Instrument Day
May 23 -- Lucky Penny Day
May 26 -- Sally Ride Day
May 29 -- End of Middle Ages Day
May 30 -- My Bucket's Got a Hole In It Day
We can do this once per week, if you like, or just one day, or everyone pick several days and do this! It would be nice to post links to the articles in the comment section, so that everyone knows which articles are ours, so we can be sure to support each other's articles.
What do you think?