By:
Veronica
•
2 weeks ago
•
11 comments
DISCLOSURE:  PURELY FICTION
2 AM and again my 4 year old daughter, Tonya, barrels into my room.  My husband, Ed, groans.  I ask her what is wrong.  Tonya replies "The man in my room won't let me sleep." 
"There is no man in your room," I state.
"There is, there is," she insists.
I sigh and throw my feet over the side of the bed & pad out of the room after her.  I get to her doorway and flip on the light.  There was nothing out of the ordinary in her room.  I look down at her and say, "well, where is he?"
She points to the corner near her closet, "He is right there".  I look again and there is nothing there.
I take her by the hand and lead her to her bed.  "Tonya, there is nothing in here that will hurt you."
But, Mommy - he scares me on purpose."
"Honey, there is no one here, but you and me."  I tuck her back into bed & I see tears sliding down her cheeks as she stares at the corner of her room.  I feel a wave of love fill my heart as I take her by the hand and lead her to the guest room where we spent a restful five hours of sleep.
The next morning Ed says, "We have to do something about her nightly visits."
"What would you like me to do?"  I snapped.
He looks at me and says, "Nothing.  I am going to put up a couple of cameras so we can show her there is nothing to be afraid of."
I looked at him skeptically.  "Do you honestly think she will believe a video?"
"Yes, yes I do - she has my skeptical and scientific mind.  We need hard facts. AND that is what I am going to show her."
Ed spent the rest of the morning installing a camera in her room and one pointing at her doorway.  He explained the process to Tonya every step of the way and I have to admit she seemed to be relaxing a bit.  He told her that the cameras were motion detectors and would only turn on when they sensed movement and that he would set them every night.
The first night passed with no issues at all.  Tonya and I both slept through the night.  I thought to myself - this may work.  A week went by and things were completely settled down and life seemed normal.
Ed and I thought that the cameras had done the trick, until the night of her 5th birthday.  At 2 AM she came screaming into our room and through her sobbing I heard her say, "He said he was going to eat me now that I am 5."
I stroked her hair and held her close.  Ed said - lets go look at the cameras.  So he pulled up his phone app and as he watched the pictures the color drained from his face.  I asked him what was wrong and he simply handed me the phone & took Tonya into his arms whispering "I'm so sorry" into her hair.
I looked at the phone....icicles went through me... there it was... a face in the doorway of my baby's room...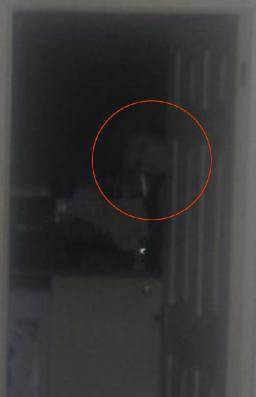 A group to tell scary stories, display paranormal pics  or to relate paranormal experiences with no judgment.
RULES:
No politics 
No judgments (no calling someone's story hogwash)
If you don't believe - don't join
All in the name of fun