By:
TTGA
•
last year
•
11 comments
Back in April of 1999, I found that a pair of Robins had built their nest on the outside sill of my upstairs bathroom window.  When I saw how easy it was to get close up pictures, without disturbing the birds, by pushing the camera lens through the window blinds I decided to make it a project by following the hatching and growth of the young birds. The entire period covered is 28 days between April 22 nd  to May 20th.  I've selected fifteen of the pictures to show various stages of development.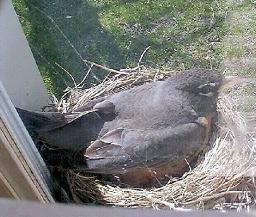 April 22-Female is in the process of laying eggs .
April 24-Four eggs have been laid.  Only three of the eggs hatched.  I found the fourth on the ground.  Presumably, the female accidentally kicked it out.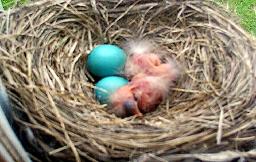 May 5-The first egg has hatched.  Notice that it has down for warmth and eye coverings to protect the eyes while inside the egg.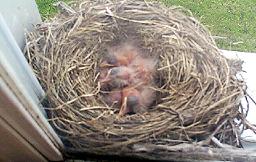 May 7-All three baby birds have now hatched.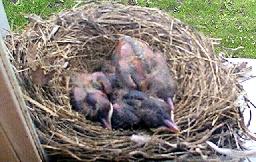 May 10-Most of the down is now gone and the eye coverings have fallen off.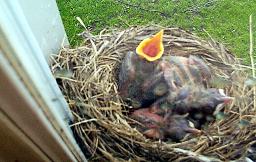 And, they are always hungry.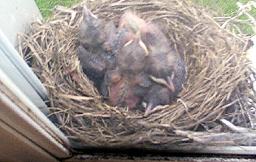 May 11-Resting in the nest, waiting for mom with food.  Note that what appears to be more down is actually the beginning of feather growth .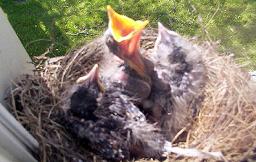 May 13-Hungry again.  What a surprise!!!  Feathers are coming in thicker now.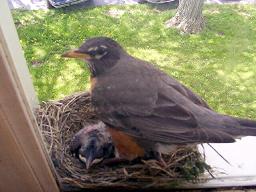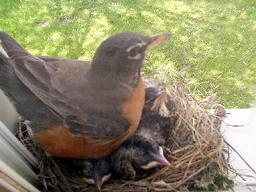 May 14-When not getting food, mom stands by to protect them and keep them warm.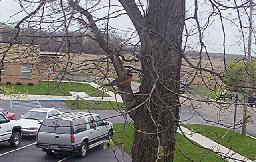 During the whole period while the female has been gathering food, the male has been standing guard in a tree about 30 feet away, ready to draw predators away from the nest.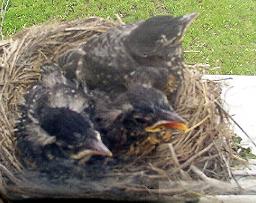 May 17-Waiting for mom again.  The flight feathers are developing rapidly now and the color of the breast is starting to lighten with spots of black still on it for camouflage.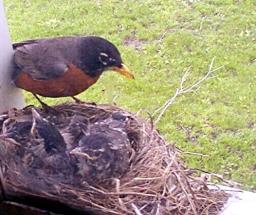 May 17-Mom is back to protect them and she had just fed them.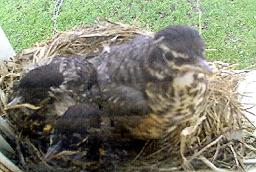 May 18-The young Robins are almost ready for flight.  The breast has assumed an orange/yellow color, still with the black camouflage spots.  As the bird grows further, this will smooth out into the deeper red/orange color that is seen in adult birds.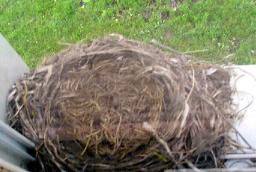 May 20-They're gone.  The mom taught them to fly in the typical method of birds everywhere; she pushed them out of the nest. Since the nest is about 20 feet off the ground, they either fly or die. I didn't find any dead birds on the ground below, so they must have flown.