It's Friday the 13th and Jason Is Pissed Off
Today is Friday the 13th.  Some superstitious idiots think this is an "unlucky" day.  It isn't.  
The 13 original colonies weren't unlucky.
Friday the 13th isn't always unlucky
Famous people born on Friday the 13th include Alfred Hitchcock , Fidel Castro and twins Mary-Kate and Ashley Olsen. Pop star Taylor Swift was not born on Friday the 13th, but she considers 13 to be her lucky number. Oddly enough, she was born on Wednesday the 13th in December 1989, which allowed her to turn 13 on a Friday the 13th in 20
https://www.cnn.com/style/article/why-friday-13-unlucky-explained/index.html
It's Friday the 13th and Jason Is Pissed Off.  Jason wants to kill everyone on NewStalkers.  He fucking hates insulting memes that ridicule him.  Jason saw that THIS meme that was published on NewStalkers.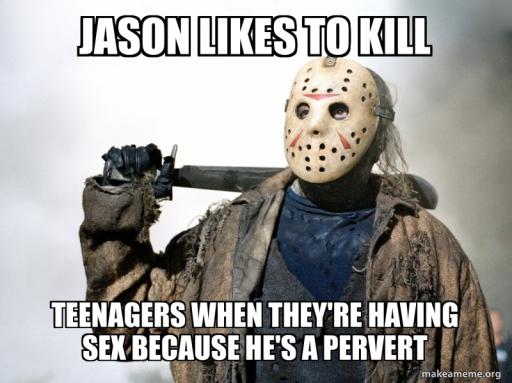 That's just fucking anti-climatic.
Jason considers himself to be the "original stalker" and he thinks any "copycat stalkers" are stab worthy.  Jason thinks anyone on NewStalkers should be sliced and diced.
The Thirteen Club
In the late-19th century, a New Yorker named Captain William Fowler (1827-1897) sought to remove the enduring stigma surrounding the number 13—and particularly the unwritten rule about not having 13 guests at a dinner table—by founding an exclusive society called the Thirteen Club.
The group dined regularly on the 13th day of the month in room 13 of the Knickerbocker Cottage, a popular watering hole Fowler owned from 1863 to 1883. Before sitting down for a 13-course dinner, members would pass beneath a ladder and a banner reading "Morituri te Salutamus," Latin for "Those of us who are about to die salute you.
" Four former U.S. presidents ( Chester A. Arthur , Grover Cleveland , Benjamin Harrison and Theodore Roosevelt ) would join the Thirteen Club's ranks at one time or another.
https://www.history.com/topics/folklore/friday-the-13th