Via:
krishna
•
6 months ago
•
37 comments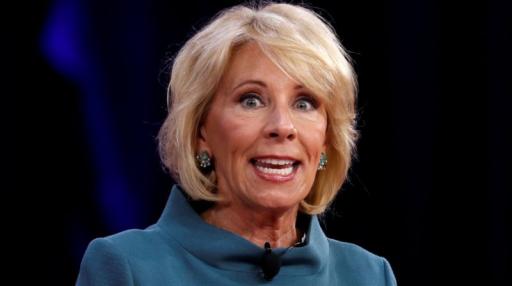 Betsy DeVos Says She's 'Misunderstood,' Then Struggles To Explain Her Own Policies
Education Secretary Betsy DeVos had one of the most contentious confirmation hearings of the Trump administration, with two Republicans voting against her nomination. On Sunday night, she told Lesley Stahl of "60 Minutes" that she's "more misunderstood than anything."
However, in the very same interview, the billionaire advocate for school choice, which allows taxpayer funds for public education to be channeled to other schools, including private religious-based institutions, struggled to provide data backing up her signature issue. 
DeVos claimed that when kids opt to go to private or charter schools, public schools also improve. 
"Total moron" doesn't even begin to describe what an idiot this women is! 
(So the question for NT'ers to answer is: Whose the stupidiest person in The White House?? Betsy DeVoss? Ben Carson? Ivanka Trump? Some other one of Trump's "Not exactly rocket scientists" staff?)