By:
time-lord
•
8 months ago
•
171 comments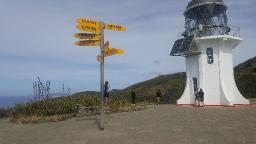 I love to travel and see new places and experience people from different cultures. New Zealand has been on my 'Bucket List' for many years. With each year passing, I see my hair getting whiter and the sound of that 'clanking' bucket behind me becoming ever more distinct. Invariably…'change happened', which cut me loose and set me on a course to New Zealand.
I spent three months in country that first time a year and a half ago. It's a beautiful country with wonderful people. Of course, where ever you have a group of people you will find crime…but I never felt 'threatened' or unsafe, quite the contrary. I spent much time in the campgrounds. There were campers from all over the world coming to these sites and I found people felt totally comfortable leaving their electronics to charge in communal areas for several hours unattended. I myself, left items of value in view laying around within my campsite and I never had a problem. Nor did any of the other campers.
Most of my time in New Zealand was spent at the beach and within beach communities, but I traveled pretty extensively around the North Island, including Auckland. I traveled primarily on the back roads. I soon discovered that if  I pull over…a Kiwi will stop. The "COMMON COURTESY …was both surprising and refreshing…! The first time it happened, I was at a cross road looking at my map. An ole timer and his grandson in an old Nissan pick up stopped to see if I was ok. He happily gave me directions before heading off. The second time, I actually had a over heating issue with my radiator. In order for me to access the radiator, I had to basically disassemble and remove my bed area from the van in order to lift the passenger seat and access the radiator.
A Kiwi pulled in to this access road where I was parked and drove onto his property as I was busily pulling things out of the van. After examining the radiator and fluid level, I could tell that the radiator had a leak…but not severe, yet. My van was set up for living, so I had enough water on-board to fill and top off the radiator. About that time the Kiwi came driving up from his property and stopped. He asked if I was ok, so I explained what was going on and that I had water and that things were probably gonna be ok. Once again, I was impressed with his humanitarian concern for a 'stranger'. Then he took it up a notch…he handed me a slip of paper with the name and number of a guy who would be able to fix the problem. He also included his number and his address just up the road, offering to put me up if I needed a place to stay. WHO DOES THIS ANYMORE…?
It was both surprising and refreshing because this 'humanitarian' value of caring for a stranger was once a value we shared in this country. Doing the 'right' thing…for the right reason. Doing the 'humane' thing, the compassionate thing. What became glaringly obvious to me was…their culture and society enjoyed this sense of unspoiled 'innocence'. An innocence that we as a country and a people once had…but seem to have lost. Like New Zealand, we too were once a 'peace loving' country, but those days have passed. We have become an aggressor nation. An invading nation. A warring nation and a nation that thrives and feeds on the intensity of divisiveness, greed, suspicion and violence. Oddly…it took a trip to New Zealand to remember what we had and realize what we've lost here in the 'United' States.
Bad things happen under these circumstances. Particularly since this country has made itself the "Global Bouncer". Our military strength maintains our world dominance. We refine, advance and define ever changing battle strategy and weapons technology in combat. Weapons and weapons technology is big business as we arm other smaller countries and political groups around the globe. Peace is not profitable and apparently no longer a priority or advantageous to our country's survival and stability.
 "The world is an unsafe place". We've lost our innocence as a nation and a people…and we are rapidly and unconsciously being stripped of our sense of humanity. In our paranoid induced stupor, we actually teach our children not to look at…have eye contact with, smile at or talk to strangers. Children who grow up believing people they don't know are to be feared and treated with suspicion. In the corporate and political world it's dog eat dog take no prisoners. We work and live in an economic paradigm of self consuming scarcity that believes there is NEVER ENOUGH, so everyone is busy getting whats theirs before it's gone.
"Innocence Lost"…There was a time when the office of "President" represented honesty, integrity, leadership, and personal values. Politicians blatantly lie and distort the truth because they know "We the People" EXPECT them to lie and distort the truth…so we allow them to manipulate and lie with impunity. 'Reality' becomes a blurred distortion of what we are led to believe by our government and the corporate media, what we choose to believe and what actually IS...suspicion, betrayal and fear become survival tools. Is this supposed to make us feel more 'safe and secure'…? Or perhaps, when "We the People" feel the most unsafe, suspicious and fearful, we become more pliable "Hobbits" willing to give up our precious and hard fought rights and civil liberties in order to feel safe an secure, warm'n fuzzy. Wake up Hobbits…wake up! Other powers in history have walked this path and it doesn't end well…short term. We learn for awhile then in time forget…repeat. Looks like we might be on the 'downside' of that cycle.
This insight came out of my trip to New Zealand, the country and the Kiwi culture and people. This backdrop became the mirror of reflection about what we once had as a people and a Nation…and what we have lost. Our country, which was once a peace loving beacon of hope, optimism, equality, justice, and prosperity…is rapidly becoming a faint and flickering memory of a more noble past.