North Korea Pushes Back Against Trump Demands
Via:
johnrussell
•
8 months ago
•
50 comments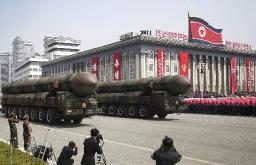 (Bloomberg) -- North Korea abruptly canceled talks with South Korea and warned the U.S. to "think twice" about the fate of President Donald Trump's planned meeting with Kim Jong Un next month, tamping down hopes of a breakthrough at the historic summit.
https://www.msn.com/en-us/news/world/north-koreas-warning-to-us-throws-trump-summit-into-doubt/ar-AAxknIk
North Korea told South Korean authorities just after midnight local time that it was suspending "indefinitely" minister-level talks planned for Wednesday, South Korea's Unification Ministry said. Kim's regime cited U.S.-South Korean military drills and "improper acts" by authorities in Seoul in canceling the meeting, adding: "There is a limit in showing goodwill and offering opportunity."
South Korea expressed regret over the cancellation and urged North Korea to resume talks to discuss implementing last month's peace declaration, Unification Ministry spokesman Baik Tae-hyun told reporters in Seoul. Stocks tied to expectations of a resumption in inter-Korean business fell on Wednesday.
North Korea's move undercuts some of the optimism after Kim agreed to discuss his nuclear weapons program in a first-of-its-kind summit with Trump on June 12 in Singapore. Tensions have built in recent weeks over the steps needed for the U.S. to ease sanctions against North Korea: The Trump administration wants Kim to give up his weapons before getting anything in return, while Kim favors a more phased approach.
Analysts noted the statement from the state-run Korean Central News Agency wasn't signed by Kim or the military, and wasn't likely to lead to a cancellation of the summit. Kim has pledged to publicly dismantle a nuclear test site next week and said he had no need for nuclear weapons if the U.S. ended its "hostile policies."
"Kim really wants this summit," said David Kang, director of the Korean Studies Institute at the University of Southern California. "The whole process has been going so smoothly since January, I would be more surprised if there wasn't a reminder that Kim Jong Un and North Korea have a lot of cards to play."
Kim Jong Un: 'Little Rocket Man' or a Shrewd Operator (Video)
White House Press Secretary Sarah Huckabee Sanders said that officials "are aware" of North Korea's remarks. "The United States will look at what North Korea has said independently, and continue to coordinate closely with our allies," she said.
North Korea has in recent weeks issued repeated complaints about Trump administration efforts to maintain its "maximum pressure" campaign against the regime in the run up to the meeting. The KCNA statement specifically cited the deployment of B-52 bombers, which are capable of carrying nuclear bombs, and F-22 fighter jets as evidence of threatening behavior by the U.S.
"The U.S. will have to think twice about the fate of the DPRK-U.S. summit now on high agenda before a provocative military racket against the DPRK in league with the south Korean authorities," KCNA said Wednesday, using an abbreviation for North Korea's formal name. "We will closely watch the ensuing behavior of the U.S. and the South Korean authorities."