Hi, I'm Reba - You need to hear my story. UPDATE, MONDAY MARCH 18TH
By:
kavika
•
2 weeks ago
•
131 comments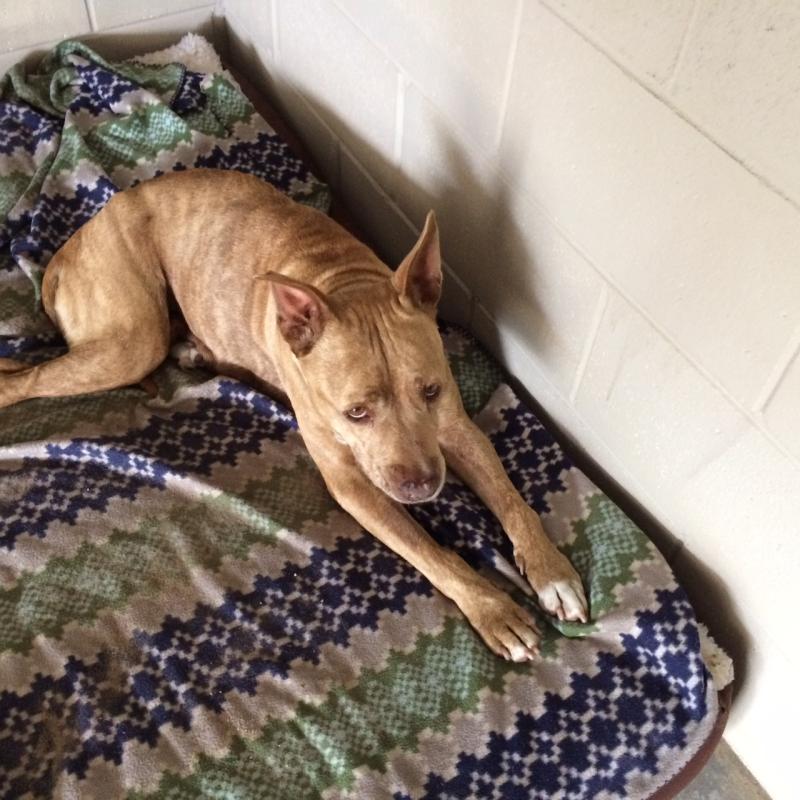 My wife and I have been volunteering at VOCAL, (Voices of Change Animal League) in Ocala Florida. 
I've been a dog lover and owner most of my adult life. Wiki is our mini Doxie and is 11 years old and still thinks she is a puppy. Our sweet girl, Annie, a rescue we found abandoned on the mountain in SW Missouri when she was 8 years old. We had her for 6 years until she was diagnosed with mass cell cancer. Two operations and we couldn't save her. She walked on in May of 2018. Wiki misses her to this day. 
When we lived in Missouri we worked with the local no kill shelter. Since moving to Ocala Florida we are volunteering at VOCAL...
The background of some of the dogs and cats that we shelter and get ready for adoption is truly sad. One cannot imagine how humans could treat these animals so badly. 
This brings me to one dog in particular. Her name is Reba, she is a brindle pit bull around seven years old. She was found wandering on the outskirts of Ocala, vastly underweight, scared and starving. It was obvious that she was used as a breeder. One side of her face was stiff and her bark was strange...We took her to the University of Florida, Gainesville to be spayed and checked out by the vet staff there.  
When they were going to put her under for the operation it was discovered that they could get the breathing tube down her throat...What they discovered were polyps that have closed her throat by 75%....Of course the operation couldn't take place and she was brought back to the shelter. The vets said that she probably had a stroke from the look of her face. This is probably why she was dumped on the street since she wasn't any good to the people that were using her for breeding. 
She will be taken back to UoF, Gainesville tomorrow for the polyps to be checked out. The probability is that they are cancerous which means that she will not have much time left. If the vets feel that she is in pain she will be put down there. If they feel that she still has quality of life she'll be returned to VOCAL and live out what time she has left in a protected, loving environment. 
Reba has been at VOCAL for four weeks and has gained some weight back and is a very gentle loving lady. When I work with the dogs there I try not to get too emotionally involved with them. If I did I'd be bringing them home by the dozens...But Reba struck me like thunder. Perhaps it was the fact that she was used as a breeder and dumped on the street after the stroke with little chance of surviving. Than the polyps in her throat was the next blow. At that point she became my girl, so to speak. 
Years ago I had two pit bulls, sisters and just wonderful dogs...Brandy was a brindle just like Reba. Puki was a brown and white bully..I sure loved those dogs and Reba reminds me of Brandy. So that could be the reason that Reba became my girl. 
I take her for a long walk every day. She loves her walks and you can just feel that she is enjoying them. After the walk we go back to her kennel. She has a bed with a blanket, toys and a crate if she wants to use it. At that time I'll feed her some lunch. Now this is where the fun comes in. On occasion I stop and get a cheeseburger for her. When she sees the bag you can't imagine how happy she gets. Yet when I break up the cheeseburger for her, she takes each bit from my hand with the gentleness of a newborn. 
After she is finished with ''lunch'' I'll sit on her bed and she'll come over and lay down next to me. A minute later she'll snuggle up to me and rest her chin on my arm and soon she is sound asleep. I'll pet her and if I stop she opens one eye and looks at me as if to say, why are you stopping. As soon as I start petting her again she'll doze off. 
I usually spend an hour to two hours every day with her. I'm retired so time isn't that important to me, but Reba has become that important to me. 
Tomorrow will be the day that decides what the rest of her life will be like. I'm hopeful that it is something that can be cured, but I'm prepared for the worst. I'll know the results on Friday. 
Whatever the outcome is Reba will be well cared for with lots of love and attention. After all she is now my sweet girl. 
This is Reba