Hi, I'm Reba - You need to hear my story. UPDATE APRIL 27TH / UPDATE SEPTEMBER 7TH.
Category: Pets & Animals
By:
kavika
•
last year
•
190 comments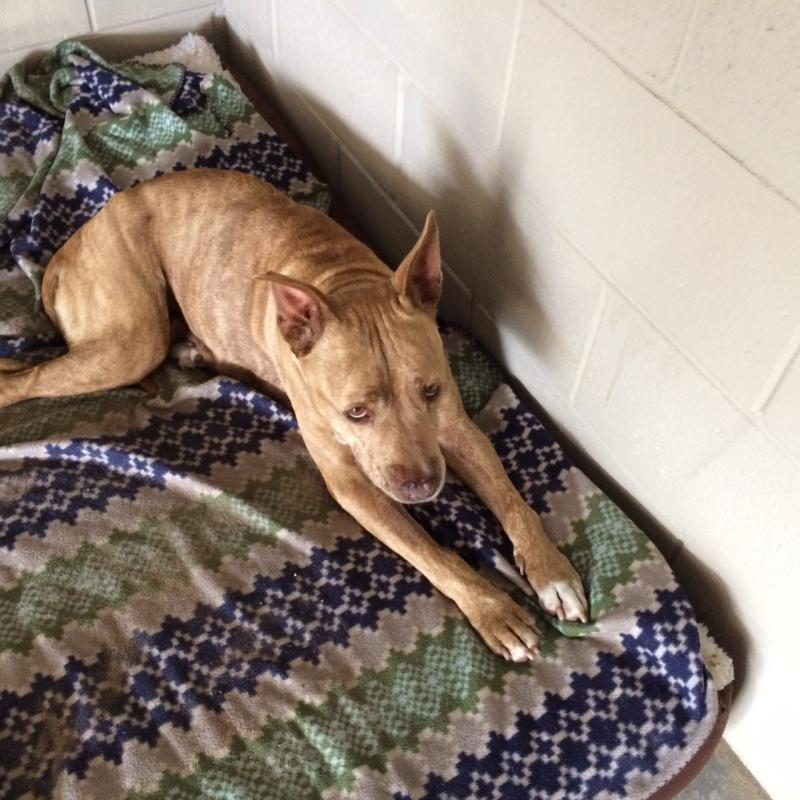 My wife and I have been volunteering at VOCAL, (Voices of Change Animal League) in Ocala Florida. 
I've been a dog lover and owner most of my adult life. Wiki is our mini Doxie and is 11 years old and still thinks she is a puppy. Our sweet girl, Annie, a rescue we found abandoned on the mountain in SW Missouri when she was 8 years old. We had her for 6 years until she was diagnosed with mass cell cancer. Two operations and we couldn't save her. She walked on in May of 2018. Wiki misses her to this day. 
When we lived in Missouri we worked with the local no-kill shelter. Since moving to Ocala Florida we are volunteering at VOCAL...
The background of some of the dogs and cats that we shelter and get ready for adoption is truly sad. One cannot imagine how humans could treat these animals so badly. 
This brings me to one dog in particular. Her name is Reba, she is a brindle pit bull around seven years old. She was found wandering on the outskirts of Ocala, vastly underweight, scared and starving. It was obvious that she was used as a breeder. One side of her face was stiff and her bark was strange...We took her to the University of Florida, Gainesville to be spayed and checked out by the vet staff there.  
When they were going to put her under for the operation it was discovered that they could get the breathing tube down her throat...What they discovered were polyps that have closed her throat by 75%....Of course the operation couldn't take place and she was brought back to the shelter. The vets said that she probably had a stroke from the look of her face. This is probably why she was dumped on the street since she wasn't any good to the people that were using her for breeding. 
She will be taken back to UoF, Gainesville tomorrow for the polyps to be checked out. The probability is that they are cancerous which means that she will not have much time left. If the vets feel that she is in pain she will be put down there. If they feel that she still has a quality of life she'll be returned to VOCAL and live out what time she has left in a protected, loving environment. 
Reba has been at VOCAL for four weeks and has gained some weight back and is a very gentle loving lady. When I work with the dogs there I try not to get too emotionally involved with them. If I did I'd be bringing them home by the dozens...But Reba struck me like thunder. Perhaps it was the fact that she was used as a breeder and dumped on the street after the stroke with little chance of surviving. Than the polyps in her throat was the next blow. At that point she became my girl, so to speak. 
Years ago I had two pit bulls, sisters and just wonderful dogs...Brandy was a brindle just like Reba. Puki was a brown and white bully..I sure loved those dogs and Reba reminds me of Brandy. So that could be the reason that Reba became my girl. 
I take her for a long walk every day. She loves her walks and you can just feel that she is enjoying them. After the walk we go back to her kennel. She has a bed with a blanket, toys and a crate if she wants to use it. At that time I'll feed her some lunch. Now this is where the fun comes in. On occasion, I stop and get a cheeseburger for her. When she sees the bag you can't imagine how happy she gets. Yet when I break up the cheeseburger for her, she takes each bit from my hand with the gentleness of a newborn. 
After she is finished with ''lunch'' I'll sit on her bed and she'll come over and lay down next to me. A minute later she'll snuggle up to me and rest her chin on my arm and soon she is sound asleep. I'll pet her and if I stop she opens one eye and looks at me as if to say, why are you stopping. As soon as I start petting her again she'll doze off. 
I usually spend an hour to two hours every day with her. I'm retired so time isn't that important to me, but Reba has become that important to me. 
Tomorrow will be the day that decides what the rest of her life will be like. I'm hopeful that it is something that can be cured, but I'm prepared for the worst. I'll know the results on Friday. 
Whatever the outcome is Reba will be well cared for with lots of love and attention. After all she is now my sweet girl. 
This is Reba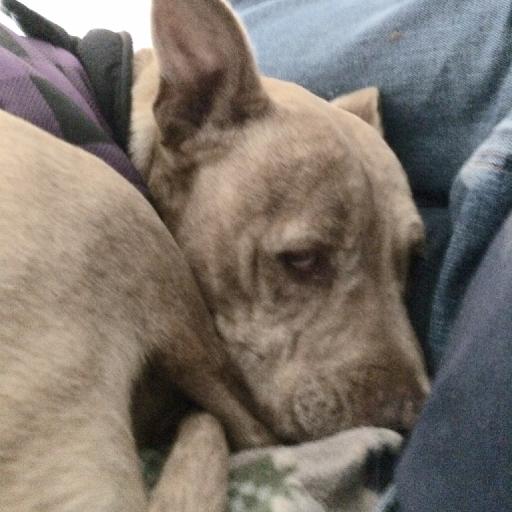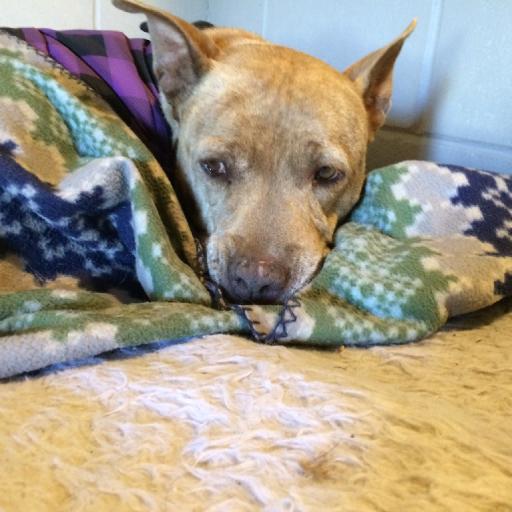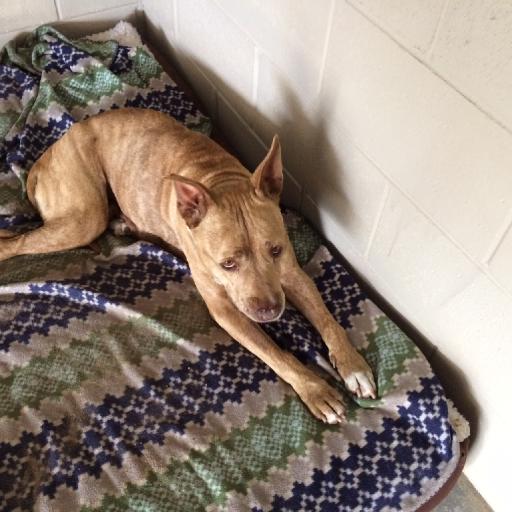 UPDATE ON REBA. APRIL 27TH.
Reba has been through her second round of antibiotics and have improved greatly. One problem remaining is that she has become immune to the current antibiotics and the bacteria remains. The veterinarians believe that she has had this infection for quite some time and that it was never taken care of. She will start a new strain of antibiotics this coming Monday and it will be for 14 days. 
She is developing into the sweetest girl. She love to cuddle and be petted...Yesterday she discovered what toys were. It was an accident that we figured it out, she was being taken for a walk and someone had left a rubber bone (squeaky toy) and she stepped on it and it squeaked...LOL..She thought that was great and quickly picked it up and held it her mouth for the whole walk. After we go back to her kennel she wouldn't let go of it. I started tossing it and she'd race after it and pounce on it, pick it up and bring it back. The she would lay down and have it between her front paws and rest her head on it. I'd toss it and she'd do the same routine. We kept this up for a half an hour. I've never seen her so happy. 
We'd try toys before but not much happened. I don't believe that she had any idea what a toy was based on her background. 
So we found two more squeaky toys for her and she is having a ball with them 
Here are some photos of Reba and her squeaky toys.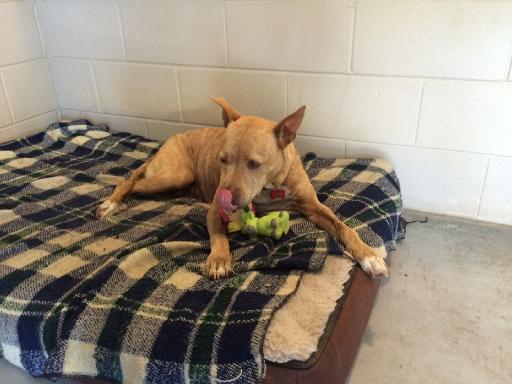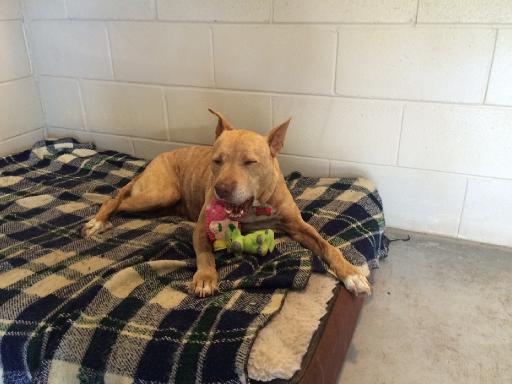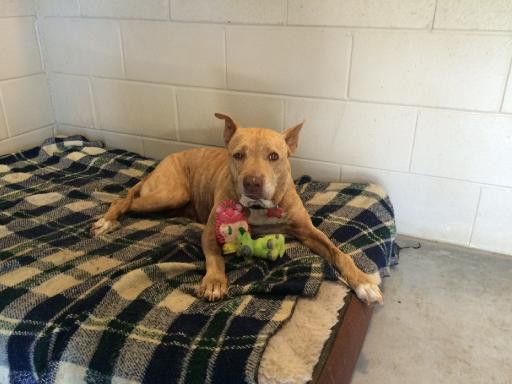 UPDATE AS OF SEPTEMBER 7, 2019.
I everyone, it's me Reba. It's been over four months since the last update so I'll do my best to get you caught up with my life. 
All the medication worked on me and it killed off all the parasites and cured my UTI...I felt much better and starting learning what being a dog is all about. Running, playing, rolling in the grass, eating good food, having toys to play with and most of all someone that really cares for me...My ''Shelter Buddy'' comes to visit me every day for a long time. We take walks and he takes my lease off and lets me run free...Wow, is that fun. 
We also go for car rides and sometimes we stop at MacDonald's for a cheeseburger. I really love it when we do that. I hang my head out the window when we go through the drive-through window and I think that I scared the lady at the window the first time she saw me. I have a big head and part of my face is paralyzed. But after that first time, she talks to me and reaches out her window and pets me...
In the past few months, I got a couple of UTI's but my buddy took me to the vet right away and I got some meds and felt better in a couple of days. 
I've been having a really good time but then my buddy went on vacation and I didn't see him for a week. Something happened in that week because when he came back I wasn't feeling very well...My tummy was upset and I didn't feel like eating much. Then I started throwing up and having to pee a lot. I'm a very good girl and never pee in my kennel but a couple of times I just couldn't hold it and I had an accident. 
My buddy took me for walks but I really didn't feel like walking much and when he took me to MacDonalds for a cheeseburger I didn't want to eat it cuz I don't feel good. 
I thought I was getting thinner but I don't know how to use a scale so it was just a guess. 
I was spending more and more time just laying around. I know that my buddy was getting worried so he took me to the vet a couple of days ago. I get really scared when I have to go to the vet but my buddy stays with me and that helps me stay calm...I'm a big old pit bull but we get scared too. Especially since I've never had a home and was abused a lot until the last six months. But Vocal and my buddy have changed my life so much.
Anyhow, after a couple of days my buddy sat down and talked to me. He doesn't think that I understand him, but us dogs are pretty smart and I know what he is saying to me.
He said that the vet found that my kidneys are not working and are in failure. That is causing all the problems that I'm having now. He said that there isn't much that can be done and my kidneys are just going to quit working soon. 
He also said that I had lost 10% of my body weight, about five pounds. So I guess I was right about the weight loss.
Then he said that my body was shutting down. I'm not sure what that really means but I think it's not good.
Anyhow, we went for a walk today, a very slow walk cuz I don't have much energy. Then we sat in the shaded area and I laid down in the sand, and he petted me until I fell asleep. After a while, he woke me and we went back inside to my kennel and I laid down and fell asleep again. 
I dream good dreams now that I'm safe and have friends. I hope that I have lots more good dreams cuz my life is so much better, but I think that I'm not going to be with my best buddy much longer. Us dogs know these kinds of things.
Here are some photos of me after I got well. I'm having so much fun. 
This is me rolling in the grass. I never did that before but I discovered what fun it is.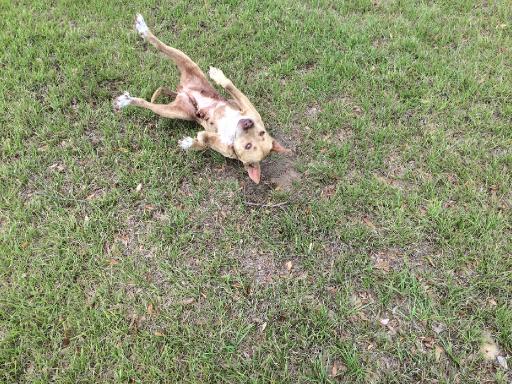 This is me in the car with my buddy at MacDonalds having a cheeseburger.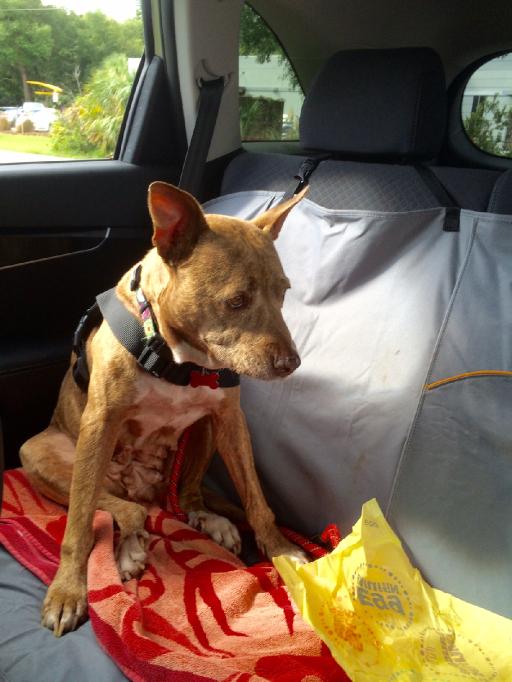 I've also learned to be around other dogs without fighting. I was scared from being on the street for so long and I had to fight to survive. I don't have to do that anymore. I walk really good on a leash too...I'm really proud of myself.
I'm very tired so I'll have to sign off now. I hope that my buddy comes to visit me tomorrow, I really love that and maybe we can take a car ride. That would be fun cuz I can sit in the back seat and stick my head out the window. 
Now sure how many more car trips I will be able to take, it's getting harder and harder to get around...Now my buddy has to lift me into the car. He never had to do that before, I could just jump right in. 
Bye for now, maybe in a few more days I can talk to all of you again.