A brilliant idea helped make Chickasaw man a billionaire
Via:
1stwarrior
•
4 months ago
•
2 comments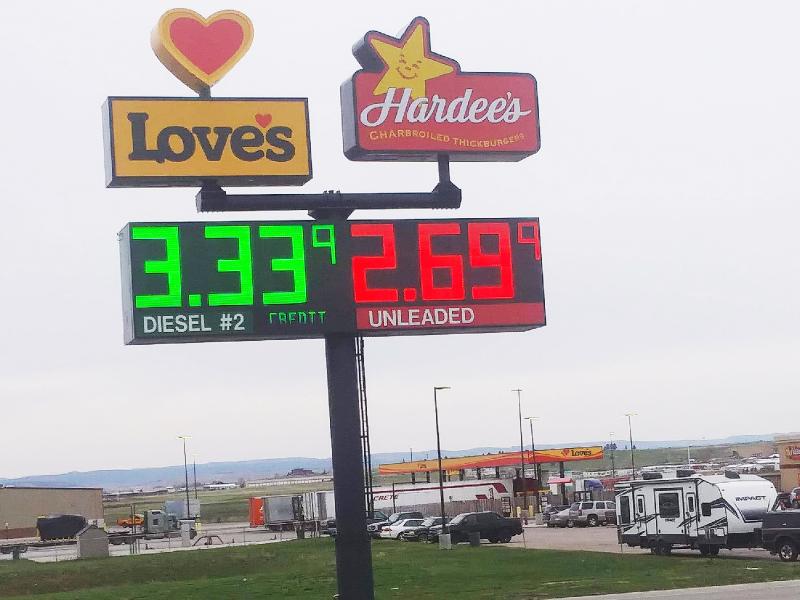 S E E D E D C O N T E N T
BOX ELDER— Six miles east of Rapid City at Exit 67, there is a Love's Travel Shop and Country Store. There is a Hardee's attached to the Love's, and what was once an isolated field of roadside grass, is now the busiest spot on any given night in the town of Box Elder. Most of the people who stop at Love's have no idea that this enterprise had a modest rags-to-riches beginning, 55 years ago in a small Oklahoma town, and that the man who started it all, 81-year-old Tom Love, is a member of the Chickasaw Nation, and at present, according to Bloomberg's Billionaires Index, has amassed a personal fortune in excess of $5 billion.
You can Google "Richest Native Americans," and you won't get Tom Love, or any other person. You will get Indian tribes instead, as if no individual Indian can become rich and incidentally be an Indian, he must bow to the casino wealth of entire tribes. There are wealthy tribes, and there are impressive tribal business empires, but it is odd that society at large does not readily recognize the success of individual people, or that tribes do not generally honor and promote them like they do an Indian athlete, actor, activist or musician.
It seems to have been ingrained in both tribes and the society at large, that Indian success can never be validated by a crass capitalist or singularly significant entrepreneur. Neither has any problem acknowledging the accomplishments of the non-Indian rich, like the Gilded Age Robber Barons: Carnegie, Gould, and Hearst, or iconic and eccentric financial geniuses like Howard Hughes, Warren Buffet, Ross Perot, Steve Jobs, and Bill Gates, and controversial, hype-fueled, celebrity wheeler-dealers-turned-president, like Donald Trump. But Indians are generally dismissed as fish lucky lottery winners, benefiting from treaty sovereignty, reservation bumpkins easily duped by scam artists like Jack Abramoff.
The Oglala Sioux Tribe does have casinos, so does most every tribe, but the majority of their members still struggle, needing government assistance. Their counties are still among the poorest in the nation. Those monies seldom trickle down to establish a comfort level for the enrolled members.
In Killers of the Flower Moon, author David Grann details how over a dozen Osage were murdered for their oil wealth, and attorneys and whistle blowers attempting to uncover the crimes, were also murdered. Then there is the sad history of Jackson Barnett, an Oklahoman Creek Indian born in 1856. His allotment sprouted some oil wells, and he was making about $15,000 a month, which in 2019 dollars would be about half a million, and so he was called "the World's Richest Indian." However, the government would only allow him a few hundred dollars a month to live on, deeming he had to provide a reason for needing the rest of his money. As his fortune grew, he was married to a non-Indian gold digger, and she spent a lot of energy trying to scheme that money out of him, but in the end, Barnett grew to old age and never had a chance to spend his money, decide where he would invest it. Whether the government rightly protected him, or used their ward of the state responsibility to control his money, is debatable.
What isn't debatable, is that after all tribal members became American citizens in 1924, they had constitutional rights. They had control of their own assets and bank accounts. Still, despite enterprising business success stories, a curiously small amount of fame and honor went to successful Indians. Even Indians like Oglala tribal member, Tim Giago, who started Indian Country Today, and who was directly associated with media, and founded the Native American Journalist's Foundation, could not be readily acknowledged by society for his individual vision and accomplishment. His name does not even appear in the small list of notable Oglala on Wikipedia.
This bias is perhaps driven by the need to maintain a romantic perception of who and what a notable Indian should be. But if we focus on the most neglected Indian success stories, we tend to find they are business connected.
There is a Famous Dave's restaurant in Rapid City, and over in Sioux Falls. There are 185 Famous Dave's locations, in 33 states. The first Famous Dave's was opened in Hayward, Wisconsin in 1994. It was started by Dave Anderson, an Ojibwe and Choctaw Indian, and a former assistant secretary with jurisdiction over the BIA and the Office of Indian Education. By every metric Dave Anderson is an Indian success story. He took a single restaurant and transformed it into an iconic chain worth over fifty million.
As successful as Anderson has been, there is another Indian who has been a hundred times as successful— Tom Love. Long ago, two unrelated Chickasaw families with the same surname, Love, intermarried. Some rose to prominence, built cattle operations, owned businesses, started up banks. But by 1964, Tom Love really had no financial legacy concerning that storied Love past. He had just gotten out of the service, had no job, was not sure where life would take him. But what he had was the love of a good woman, Judy, and they had a couple kids, and both knew they needed to do something to provide for their family. Love borrowed $5,000 from Judy's parents, and Judy's parents had no idea their son-in-law, with invaluable assistance from their daughter Judy, over the course of the next five decades, would turn that $5,000 into five billion.
That empire, indeed, started small. It started with an abandoned filling station in Watonga, Oklahoma.
"I leased it on the cheap and that's how we got started," Love told American Trucker Magazine. "That location was not a Love's store. It was just a very low-grade filling station."
Over the next eight years, Tom and Judy acquired other filling stations, and they were making money, but the business model was not especially innovative. But two things happened in the early 1970's that would change that. Depending on the source you read, the Loves either came up with the convenience story idea in 1972, two years before the 1974 energy crisis and Arab oil embargo, or as a response to the threat 1974 posed to their business model.
In any event, Tom said, "We had an Arab oil embargo in the early 1970s. It made our model of filling stations very vulnerable. We couldn't find fuel. It was really nip and tuck. One of the signal entrepreneurship moves that we made in our company history was discovering the small 24-hour food store. Convenience stores at that time didn't have fuel. So, we came up with an idea that if we married the two together, a small food store with gasoline, it might work. We also introduced self-service gasoline. We knew we'd found something. It was really a Eureka moment."
Most of us never knew a time when a gas station didn't have a convenience store inside, or when we didn't pump our own fuel. But until the Love family invented this business model about 55 years ago, you drove up to a filling station and passed over a cord, which dinged a bell inside the station, and an attendant would come out, and pump your gas. If you wanted refreshment, you could find a pop and candy machine, and maybe a small area with something for a headache or Band-Aids for a cut, but that was about it. Only a few stations had a magazine rack, and the bathrooms were generally located outside, and you needed to get a key to use them, and once inside, the odor was strong and the buzzing flies kept you company.
"I didn't have any expertise at all; it was learn as you go," said Love of his new concept for a travel stop. "When we moved into small food stores, I had to find a guy who knew what he was doing. And I did. His name was Larry Dillard. He really put the organization structure together that let us grow the numbers and keep it under control."
The business model that Love was applying was going to transform the industry, until no filling stations remained from the time when the Love's first started on their journey.
In a 2004 interview with Chickasaw TV, Love said: "We've reinvented (the company) in a major way about five times. But it's basically the same ownership. The company is owned by my family, my wife Judy, and our four kids, three of whom are involved in the company, and we've grown the company pretty aggressively. We're in 26 states from Florida to Oregon, and have plans to continue an aggressive plane of growth over the next several years. The opportunities for Love's are astounding. The company currently employs between 3,500 and 4,000 people, we're engaged in building a national network of premier highway stores, that's what we do, and our customer is Americans on wheels."
In the fifteen years since that interview, Love's has expanded to 41 states and now employs more than 21,000 people. By the time people read this article, the company could have expanded that much more. Love said he gets most of his profit from truckers, providing them with 24-hour service, including tires and some maintenance, but as Love's become more omnipresent on the landscape, eventually every type of customer will find occasion to pull in, either for gas, or food, or supplies, or a thousand and one other reasons any Love's location probably services daily.
The torch will soon pass onto another generation of innovative entrepreneurs, but the Love family shows that Indians can find huge success in the world at large on their terms. The strategy of getting Indians to individually internalize the working habits of the dominant culture, to assimilate them into the population, is the strategy of a bygone era, and if still assumed to be happening, without consideration of individual merit, and individual circumstance, serves to keep Indians powerless wards of a nanny state. Tribal sovereignty and independence should never be at odds with individual excellence and productiveness.
In 2019, the Chickasaw Tribe inducted Tom Love into the Chickasaw Hall of Fame. While Love will be remembered for his innovative business model, for inventing and popularizing the concept of gas station convenience stores, and self-service gas pumps, his real legacy will be far different then Jackson Barnett's sad fate; Love amassed his own fortune based on a brilliant idea, an idea built into an empire through hard work, in a competitive business world where he received no protection or preference.