Pelosi and Ocasio-Cortez clash drags on, threatening Democratic unity
Via:
kdmichigan
•
5 months ago
•
13 comments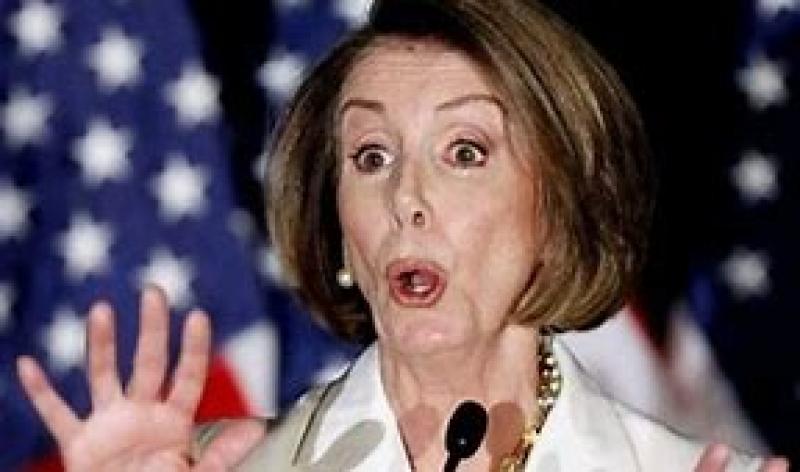 "What a weak argument," said Rep. Lacy Clay (D-Mo.), who is facing a primary backed by a group closely aligned with Ocasio-Cortez. "Because you can't get your way, and because you are you getting pushed back, you resort to using the race card. Unbelievable."
S E E D E D C O N T E N T
An internal battle among House Democrats took on new life Thursday as lawmakers turned against each other over questions of race, with the latest flare-up ignited by controversial comments from Rep. Alexandria Ocasio-Cortez and her chief of staff.
Speaker Nancy Pelosi and her lieutenants tried to move on but Democrats from several different factions within the party dug in, refusing to set aside lingering tensions that first broke into the open two weeks ago during a massive blowup over a border funding package.
The harmony between the two wings of the caucus is in jeopardy as moderates and progressives struggle for control of the agenda — a clash that Democratic leaders have sought to avoid since gaining the House majority — and threatens their chief priority: taking on President Donald Trump.
"There is a generational difference and an ideological difference, both of them defined by the urgency to do something immediately," said Rep. Raul Grijalva (D-Ariz.), noting one undercurrent is the ever-widening divide between the rank and file and leadership over impeaching Trump.
New fault lines developed Thursday from what was initially a generational spat between Pelosi and a group of younger progressive upstarts that flared up over the weekend. Some members of the Congressional Black Caucus criticized Ocasio-Cortez and one even accused her of "using the race card" for suggesting this week that Pelosi was "singling out" women of color to criticize.
"What a weak argument," said Rep. Lacy Clay (D-Mo.), who is facing a primary backed by a group closely aligned with Ocasio-Cortez. "Because you can't get your way, and because you are you getting pushed back, you resort to using the race card. Unbelievable."
And her chief of staff, Saikat Chakrabarti, has come under fire for a flurry of tweets criticizing Pelosi, endorsing primary challengers to Democratic incumbents and comparing moderate Democrats to pro-segregationist lawmakers from decades ago.
After weeks of squabbling, some Democrats are concerned that the rift could have lasting implications. The caucus is gearing up to navigate through three weeks of tricky issues, from former special counsel Robert Mueller's testimony to new immigration legislation.
"We have a job to do and just being in the thick of wanting to beat this president, there's nothing more important than that," said Rep. Eric Swalwell (D-Calif.), fresh off a short-lived presidential bid. "Anything that we do that's not focused on beating Donald Trump could hurt us."
But members also recognize they're caught up in a defining moment — the movement versus the matriarch.
"The lesson is that we are in a very different world right now. And a freshman doesn't necessarily have to sit back and mind their own business," said Rep. John Yarmuth (D-Ky.). "When you have 4 million followers on social media, you are a force that has to be respected. But if you have that power, you also have to understand what you want to do with it, and if it's to blow things up, that's not helpful."
Asked about Ocasio-Cortez's comments, Pelosi suggested the New York Democrat and other freshman progressive women in her so-called squad may be upset that the speaker chided members — and their staff — in a private caucus meeting Wednesday.
"They took offense because I addressed, at the request of my members, an offensive tweet that came out of one of the member's offices that referenced our Blue Dogs and our New Dems essentially as segregationists," Pelosi said, referencing a now-deleted tweet by Ocasio-Cortez's chief of staff.
"How they're interpreting and carrying it to another place is up to them," Pelosi added. "But I'm not going to be discussing it any further."
Pelosi's comments follow a days-long public spat with Ocasio-Cortez, which started when the speaker questioned how much influence Ocasio-Cortez and her allies, Reps. Ilhan Omar, Rashida Tlaib and Ayanna Pressley, actually have. Ocasio-Cortez fired back, first in a series of tweets and then in an interview with The Washington Post accusing Pelosi of being "outright disrespectful" for the "explicit singling out of newly elected women of color."
Congressional Progressive Caucus co-chair Rep. Pramila Jayapal said she plans to raise her concerns with Pelosi in an upcoming meeting about broader issues — specifically how singling out freshman women of color like Ocasio-Cortez works to "diminish progressive power" in the caucus.
"I don't think the speaker is used to having a group of members who has bigger Twitter followings than her. I don't think most of us are," Jayapal said in an interview Thursday.
"God, it totally resonates with me, absolutely," Jayapal said when asked if she agreed with Ocasio-Cortez's comments about being singled out as a woman of color. "We women of color have faced this for such a long time... We are in a body of mainly old white men. You don't get to be here without having dealt with that,
Chakrabarti, meanwhile, was strongly criticized for his tweets, claiming that moderate Democrats were responsible for oppressing minorities.
"Instead of 'fiscally conservative but socially liberal,' let's call the New Democrats and Blue Dog Caucus the 'New Southern Democrats.' They certainly seem hell bent to do to black and brown people today what the old Southern Democrats did the 40s," Chakrabarti wrote in the tweet.