The Most Dangerous American Idea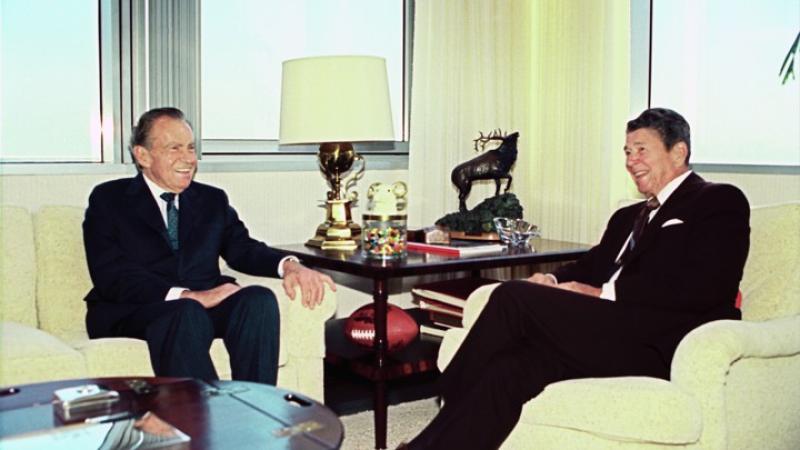 No belief in the history of the United States has been more threatening to democracy than the certainty that only white people are fit for self-government.
S E E D E D C O N T E N T
Last week,  the historian  Timothy Naftali revealed  a 1971 conversation between Richard Nixon, then the president of the United States, and Ronald Reagan, then the governor of California, in which Reagan referred to African United Nations delegates as "monkeys" who are "still uncomfortable wearing shoes." Reagan was expressing anger over those African nations that voted to recognize the People's Republic of China as the legitimate government of China, rather than Taiwan, which had held the seat since the UN was founded, in 1945.
The bald racism of the remarks makes it hard to look beyond the words themselves and focus on the worldview they expressed. Reagan and Nixon were declaring their belief that the African delegates were rendered unfit for participation in world affairs by virtue of their ethnic background, a perspective that inevitably reflects on the rights of black people in the United States. No belief in American history has been more threatening to democracy, or consumed more American lives, than the certainty that only white people are fit for self-government, and the corresponding determination to exclude other citizens from the polity. A man acting on that belief last weekend drove 600 miles  from Dallas to El Paso, Texas, to kill 20 people , in the name of stopping an "invasion" of Texas by the people who have lived in Texas since before there was a Texas.
It's also a belief that continues to shape American politics, one held by the current occupant of the White House. President Donald Trump's  racial conception of American citizenship , and his denigration of nonwhite  immigrants from "shithole countries,"  is but an extension of Reagan's and Nixon's logic. It forms the moral core of much of Fox News's programming, which warns white Americans day in and day out that their country is being stolen by minorities. And it justifies the long-term efforts of Republican elites to rig democracy to their advantage, by  limiting or diluting the political power of nonwhite Americans through gerrymandering and disenfranchisement. The significance of Reagan's and Nixon's remarks is not simply what they said. It is that their conversation shows that, although Trumpism is in some ways unique, what Americans confront today is not nearly so alien to their history and culture as many might assume.
.........It may seem a strange irony that self-styled champions of individual liberty like Nixon, Reagan, and Barry Goldwater consistently backed white-minority governments in Africa. That support was inconsistent with a belief in the fundamental democratic rights of all human beings, which all of them espoused. But it was consistent with the belief that black people could not govern themselves, whether in South Carolina or South Africa. Just like Greeley during Reconstruction, Nixon and Reagan saw the struggles African nations faced emerging from colonialism as symptoms of black inferiority.
"During decolonization, African leaders were trying to figure out how to run a country, how to bring in revenue, how to settle tensions between ethnic groups and regional blocs, how to build political institutions," Seay said. "With a few exceptions, colonizers had allowed for very limited development of political institutions."
Many black Americans and black Africans in the 1950s and '60s saw their struggles as linked. As the historian Mary Dudziak writes in  Cold War Civil Rights , during the 1960 election, John F. Kennedy hoped to win black votes despite his tepid civil-rights record by supporting the independence of African nations. At the 1963 conference of the Assembly of Heads of State and Government, African leaders adopted a resolution expressing "deep concern aroused in all African peoples and governments by the measures of racial discrimination taken against communities of African origin living outside the continent and particularly in the United States of America." In 1964, Malcolm X told the Organization of African Unity, "We, in America, are your long-lost brothers and sisters," and implored African leaders to use their influence on behalf of black Americans.
African diplomats who visited the United States were also forced to personally contend with segregation, until just a few years before Nixon and Reagan's conversation. Before the Civil Rights Act of 1964, African dignitaries in Washington, D.C., would not have been able to eat at a restaurant, go to a movie theater, or visit a barbershop in suburban Maryland or Virginia, both Jim Crow states. Dudziak cites Dean Rusk, the secretary of state under Kennedy, recalling an incident in which a black diplomat was forced to eat outside an airport restaurant where all the white passengers were eating, during a layover in Miami.
"The delegate received a folding canvas stool in a corner of the hangar and a sandwich wrapped with waxed paper," Rusk wrote in his memoir. "He then flew on to New York, where our delegation asked for his vote on human rights issues."
That context helps explain how the People's Republic of China won its vote, and why the African delegates would have refused the entreaties of the United States. But racism often involves assuming that people different from you could not possibly be as logical or rational as you; it was easier for some American leaders to dismiss Africans as backward than to try to understand the role U.S. policy had played in losing African support to Beijing.
The conversation between Nixon and Reagan records sentiments that, before Donald Trump, presidents typically expressed in private. But it also shows that racist presidents can be restrained by Americans committed to equality under the law. Nixon's manipulation of white resentment and fear helped him win two elections. But politics still compelled him to administer the 1968 Fair Housing Act * . Ronald Reagan opposed both the Civil Rights Act of 1964 and the Voting Rights Act of 1965, but he failed in his attempts as president to water down  the renewal of the Voting Rights Act in 1982 , which was strengthened over his objections. Trump's racism and nativism is no more impervious to the ability of the American people to constrain it through politics, should they choose to do so.
Nixon died in 1994. Reagan died in 2004. Neither lived to see Barack Obama, a Kenyan American, become the first black president of the United States in 2009, lift the nation out of a recession, pass the greatest expansion of the welfare state since Lyndon Johnson, and avenge the worst attack on the United States since the Civil War. Although his presidency had many flaws, Obama did not resign in disgrace. He did not secretly sell weapons to Iran to  fund death squads  in Central America  in violation of federal law . He did not  prey on a White House intern  in the Oval Office. He did not lead America into the worst foreign-policy debacle in its history,  a needless war  that killed  hundreds of thousands of people . He did not preside over a  historically corrupt administration , aid a foreign  attack on American democracy , obstruct an investigation into that attack, or surround  himself with a hive of future convicts .
I am not saying, to borrow Nixon's language, that these white men couldn't govern; I am saying they had a hell of a time. Now, that must demonstrate something.