Category: Op/Ed
By:
vic-eldred
•
5 months ago
•
33 comments
"Eliminating the 60-vote threshold on a party line with the thinnest of possible majorities to pass these bills that I support will not guarantee that we prevent demagogues from winning office," the Arizona senator said. "Rather, eliminating the 60-vote threshold will simply guarantee that we lose a critical tool that we need to safeguard our democracy from threats in years to come."
Ever since the debacle in Afghanistan it seemed that Joe Biden had sunk to the lowest level he could go, yet he keeps hitting new lows. This week has got to be rock bottom. With the Omicron variant spiking across the country with the highest rate of hospitalization and news of inflation hitting a four decade high, Joe Biden ventured out to Georgia, where he was shunned by Stacey Abrams. There he made a divisive, offensive speech in support of the radical democrat goal of federalizing elections. The speech was widely criticized by democrats and Republicans alike. Thursday was even worse. The House of Representatives under Nancy Pelosi had quickly passed voting bills and sent them over to the Senate. There Senate Majority Leader Chuck Schumer attempted to push a vote on changing Senate rules in order to scrap the filibuster so democrats could pass their power grab voting bills with a simple majority. Schumer did it without even knowing if he had the votes and he had a member out sick to boot. Senate rules require members be present in order to vote. Kyrsten Sinema rose to the occasion and announced her intention to keep the filibuster alive. Later that same day the Supreme Court ruled the Biden administration had absolutely no authority to to force employers to require that workers either have to be vaccinated or undergo regular testing for COVID.


The week:

The Supreme Court halted enforcement of Joe Biden's employer mandate, ruling that his administration doesn't have the authority to force employers to require that workers either have to be vaccinated or undergo regular testing for COVID. It marked the second time the nation's highest court unwound a pandemic policy of the Biden administration, again concluding that federal officials exceeded the power given to them by Congress. The Court blocked his eviction moratorium in August. Biden is now urging business to use his policy anyway, in spite of what the Court ruled.

"Although Congress has indisputably given OSHA the power to regulate occupational dangers, it has not given that agency the power to regulate public health more broadly," the court wrote. "Requiring the vaccination of 84 million Americans, selected simply because they work for employers with more than 100 employees, certainly falls in the latter category."

A small consolation was that the Court permitted a vaccine mandate on people employed at health care facilities that receive federal funding through Medicare and Medicaid. That measure affects about 10 million workers.

Earlier in the week health officials testified before congress. In a Senate hearing on Tuesday, Sen Rand Paul once again grilled Dr Fauci on reports he sought to quash "fringe" epidemiologists' coronavirus strategies. Sen Paul also asked Fauci to address accusations that he is at least tangentially culpable in the creation of viruses through gain-of-function research.
"Fauci funded the lab," Paul would later tell Fox News host Martha MacCallum. "He tried to obscure the idea that he was giving money to the lab and then he steadfastly, for two years, said it wasn't gain of function, that they weren't taking viruses that don't exist in nature, creating them and creating viruses that are so dangerous that they could actually wipe out a portion of humanity."

Almost emblematic of their advice over the past year, CDC Director Rochelle Walensky wore a double mask and Dr Fauci wore none.


In other news:

The latest Quinnipiac Poll now has Joe Biden's job approval at 33%.

Stewart Rhodes, 56, the leader of the anti-government group, the Oath Takers, was taken into custody by federal officials in Little Elm, Texas, on Thursday, after a grand jury returned indictments against him and a core group of 10 Oath Keeper members, accusing them of planning and carrying out the insurrection to stop the certification of President Joe Biden's election victory. Noteworthy would be his message to his followers that Trump wasn't doing anything and somebody had to take action.

Iran released an animated video on Thursday depicting the assassination of former President Donald Trump. The video titled "Revenge is Inevitable" opens on what is meant to be "Trump's House" in Palm Beach, Fla. The video then shows Trump playing golf in his iconic red "Make America Great Again" baseball cap while surrounded by four other players. Do they really want to make Trump a martyr?

In a recent article and a series of tweets, the USA Today newspaper offered America a shocking glimpse of what an attempt of presenting pedophilia as "normal" actually looks like. Staff writer Alia E. Dastagir. cited "experts" as saying pedophilia actually refers to the "attraction to minors" and not the perpetration of "action"; the latter "action" being child molestation and rape. Does anyone remember when I predicted this would happen?  The piece was taken down amid the national outrage.

A federal grand jury in Maryland has indicted Marilyn Mosby, the state's attorney for Baltimore City, on two counts of perjury and making false statements on mortgage applications that she allegedly used toward the purchase of two vacation properties in Florida, according to a case unsealed Thursday. You may recall the renegade, radical DA who overcharged six Baltimore Police officers who arrested 25-year-old Freddie Gray in 2015. We call that Karma!

Michigan Governor Gretchen Whitmer's administration undercounted the COVID-19 deaths in the state's long-term care facilities by 30%, according to a state auditor general report.  Democrats!

Last but not least is the news that inflation under Joe Biden has reached 7%, a 40 year high.


What have we learned?

First Doug Schoen, the former advisor to Bill Clinton and a life long democrat admitted that although he didn't like Trump, Trump's policies worked and Joe Biden's have been a disaster. Schoen wants to resurrect Hillary Clinton as a national candidate. 

Since 2020 $190 Billion has been provided to keep schools open to no avail and no accountability for how that money was spent.

We have shortages of health care workers in our hospitals, yet it is sure to get worse via vaccine mandates for health care workers. The new so called "strategy" has the federal government buying a half billion test kits, which will arrive later this month and deploying military medical teams to six hard hit states. There will also be KN95 masks sent out, many of which will be marked with "made in China."

These words of wisdom from Kamala Harris: "We must together. Work together. To see where we are. Where we are headed, where we are going and our vision for where we should be. But also see it as a moment to, yes. Together, address the challenges and to work on the opportunities that are presented by this moment." She sat down for a brief interview today with a very friendly host. She told him 'It's time for us to do what we have been doing and that time is every day."

Here we learned that it's ok for Nancy Pelosi to hand pick every member of a committee, including the minority members. Just like the Mueller team, every one of them is a card carrying Trump hater.


Cartoon of the week: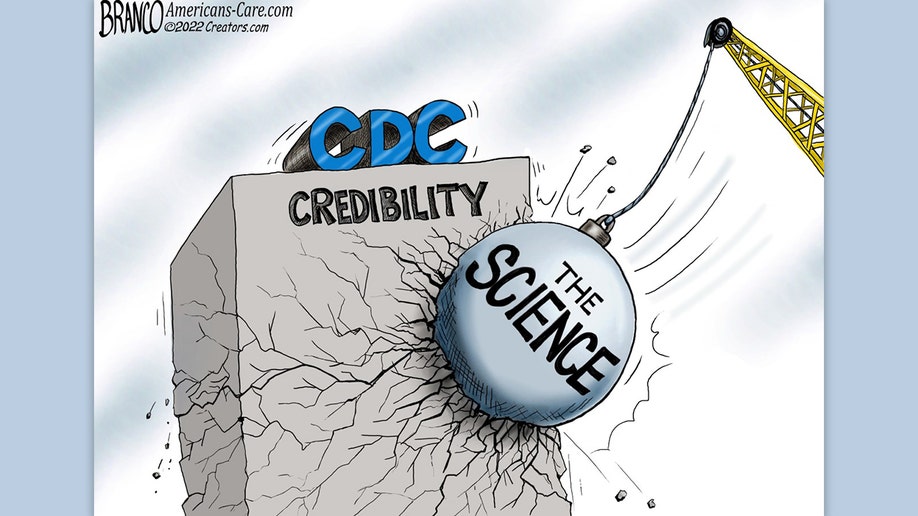 Honorable Mention:

Kyrsten Sinema