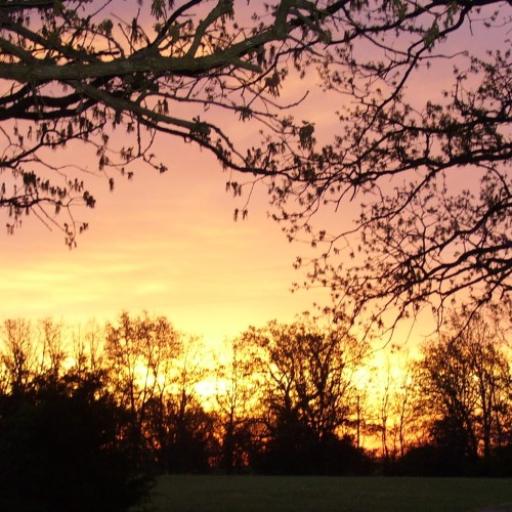 2023 – Another Year, Another Garden
I don't know how often I'll be able to post updates, which are pic-heavy and time consuming, but I thought I'd try to blog another garden this summer. 
Quick reminder: I don't claim to be an expert, and I'm not trying to grow heaps of stuff to fill a root cellar or anything. This is just a hobby for enjoyment and exercise – and a few fresh veggies, of course. 
And we're off...
Here's how things looked on January 25th.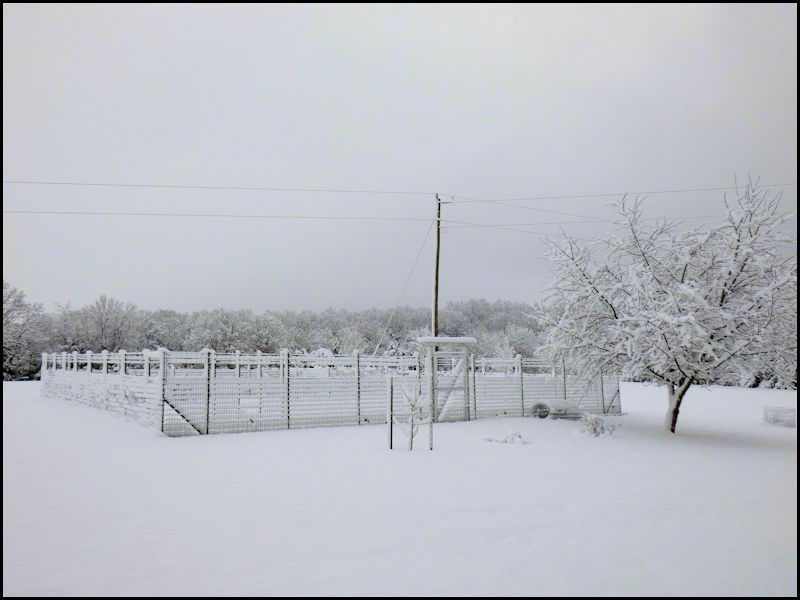 And here's how things looked exactly three months later, on April 25th, as I was about to work in this year's soil amendments. I planted some peas in March, and they were coming up in the back under a few trellises, but I didn't get any photos of them at the time.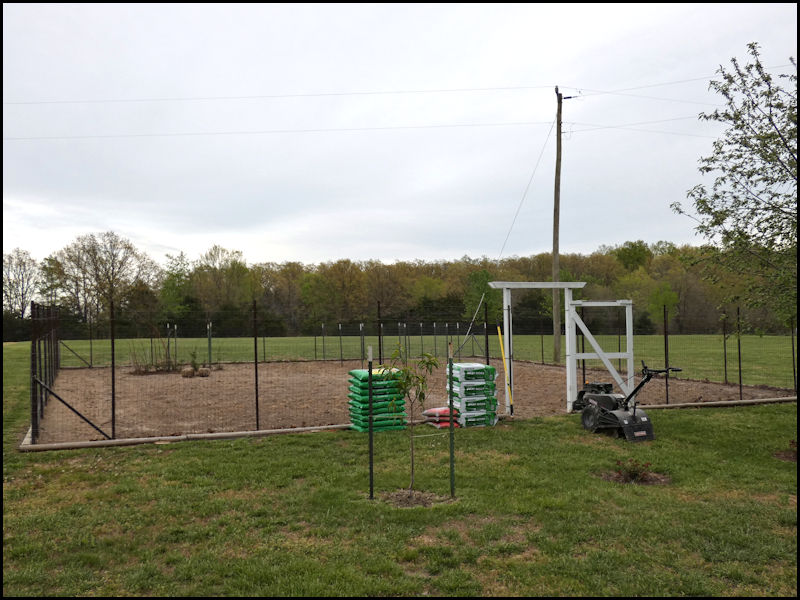 April is when the wrens return...
...and I was picking asparagus all month long.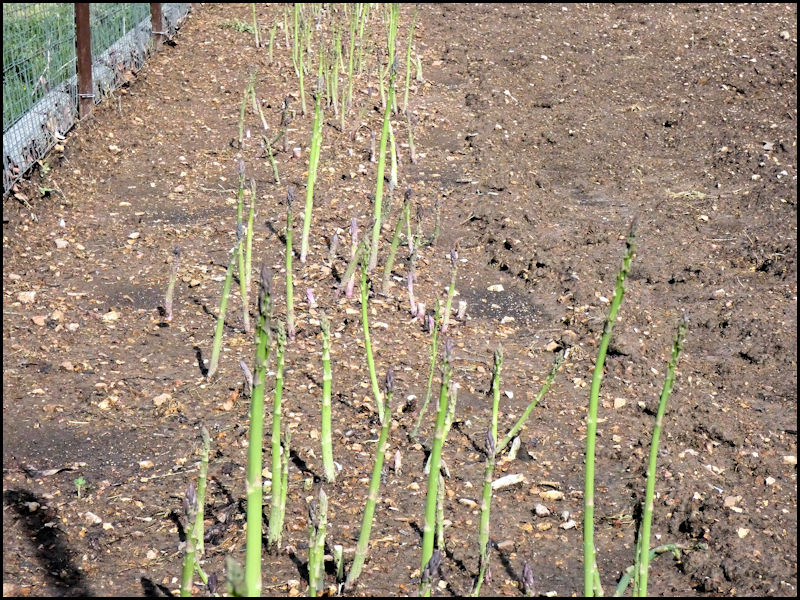 A short time later, the first week of May, snowballs were blooming over my homemade bird fountain and baths.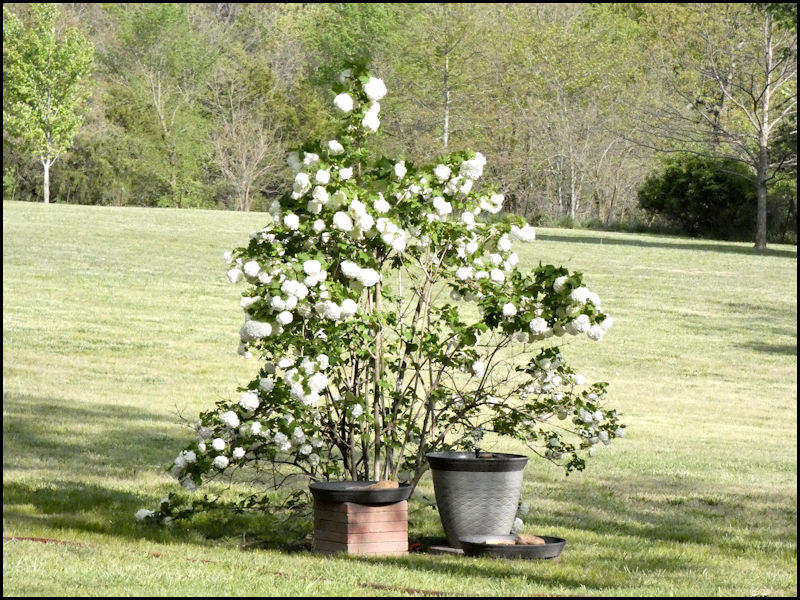 Of course the squirrels use them, too.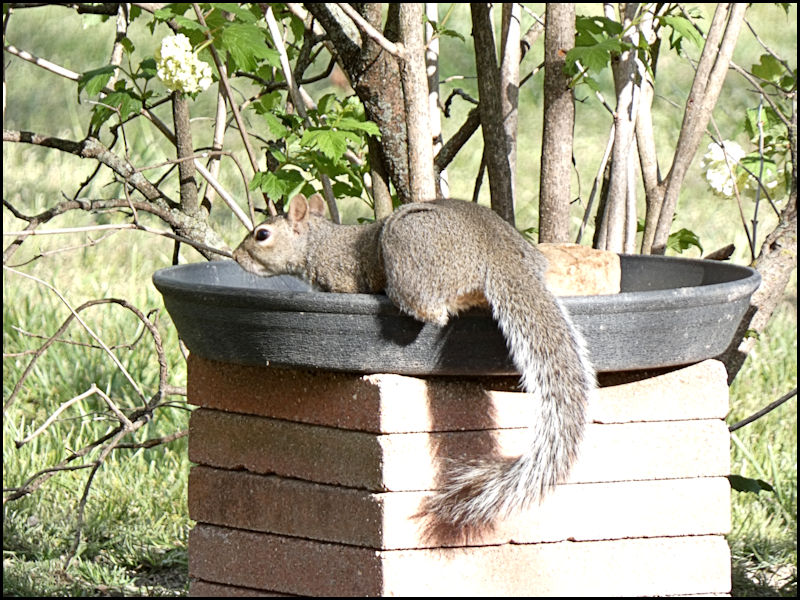 And then it was time to plant potatoes. I know people say to plant them on or around St. Patrick's day, but that just sounds crazy to me. I've been starting them in early May, with great results.
Here I had some fast-growing Red Norlands on the left (just from Walmart), and some of my own seed potatoes on the right – slower-growing Goldrush russets that I special ordered, left over from last year's garden. They sat in that bucket in the garage for 8 months, with nothing but a crumpled paper bag over them to catch moisture and keep light out. Not one of them rotted. I was impressed.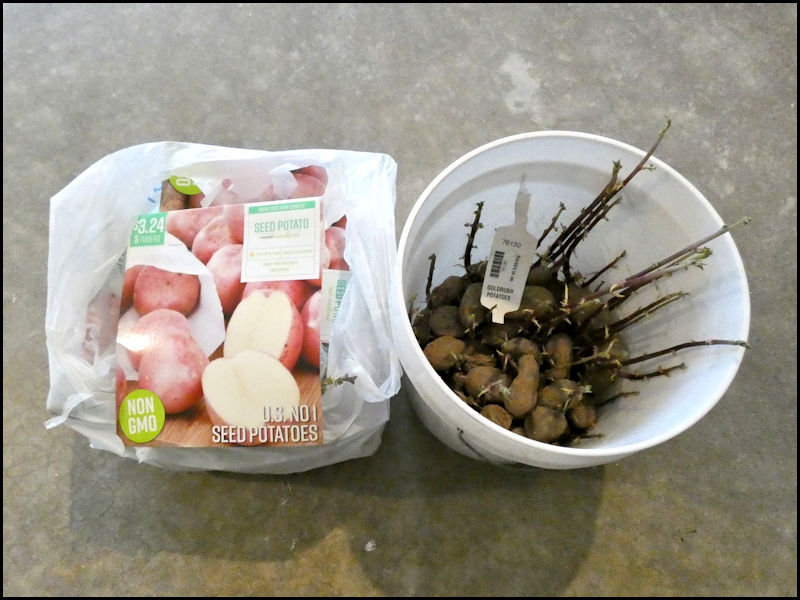 I started by measuring out the rows and marking them in the soil with a hoe. My soil is rather clay-heavy, so I use extra amendments for potatoes – Miracle Grow potting mix, play sand, and straw left over from the previous year's outdoor fall decorations.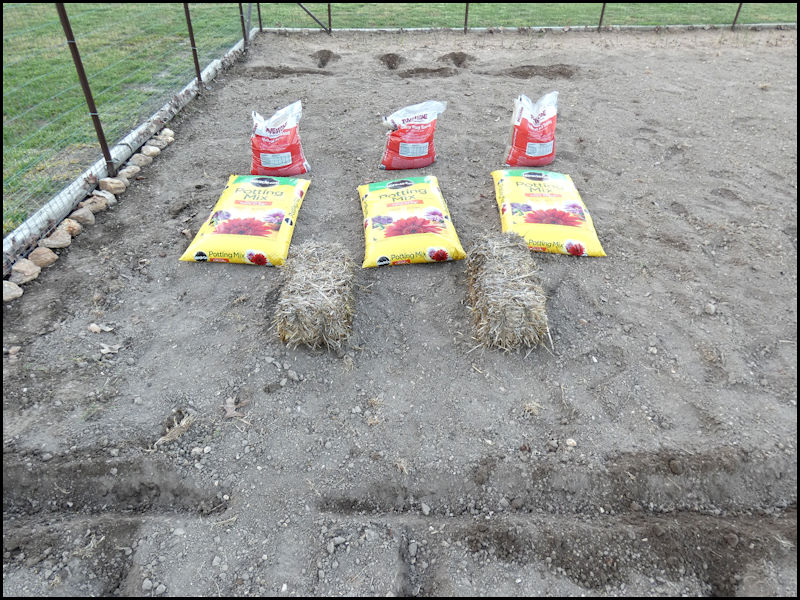 I spread it all out on the rows...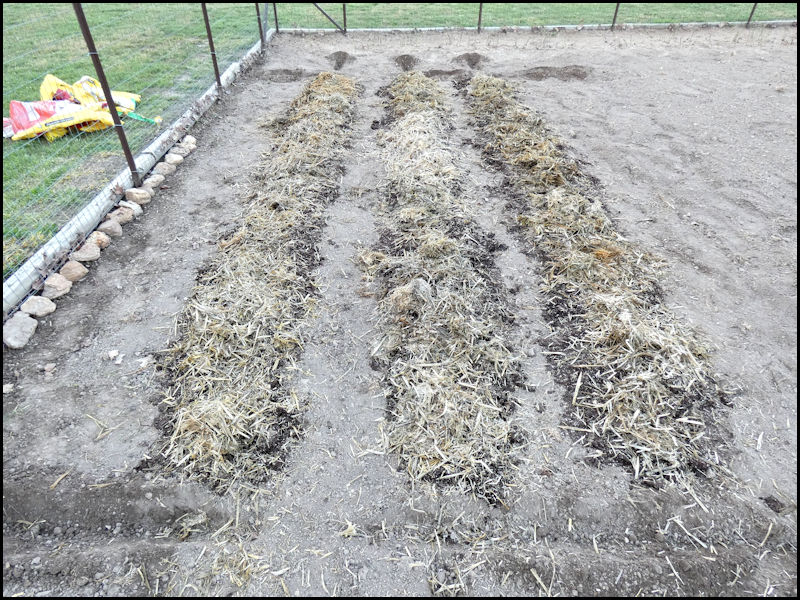 ... and then I tilled it in, raked it up, and pulled roughly five-inch-deep furrows under row lines.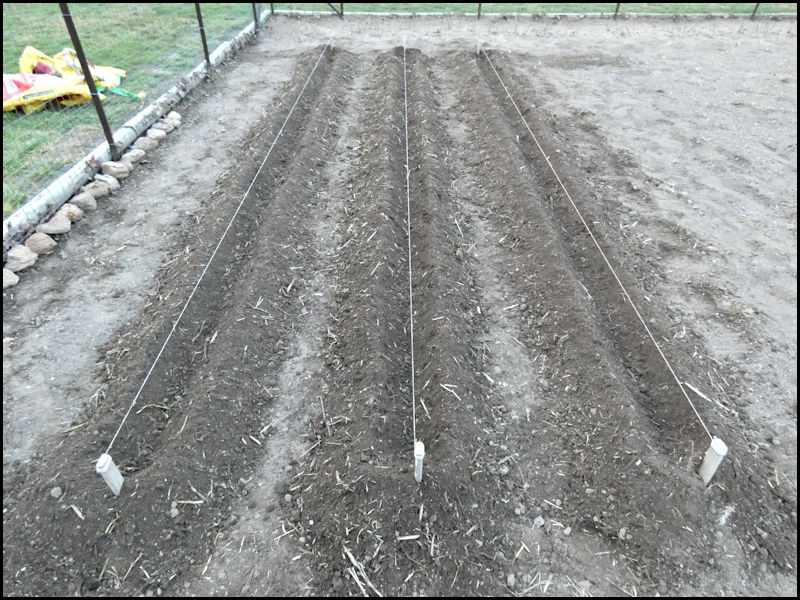 In went the seed potatoes.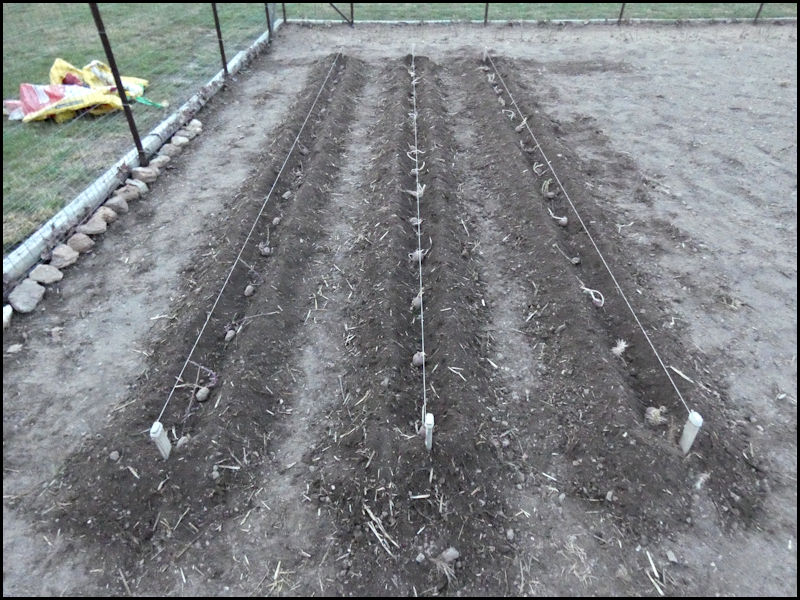 And finally, covered over and done. It got too dark on me and I had to use a flash.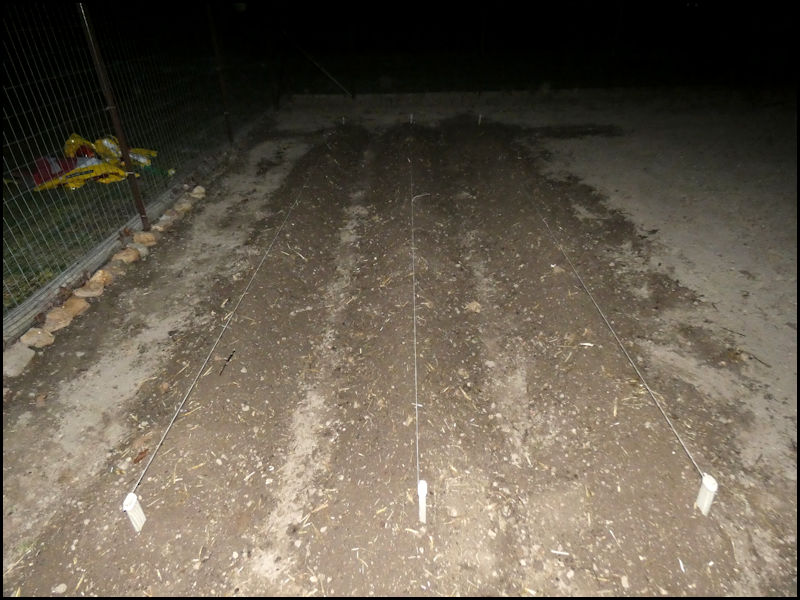 And here we are at the end of May – yesterday, the 26th, to be exact.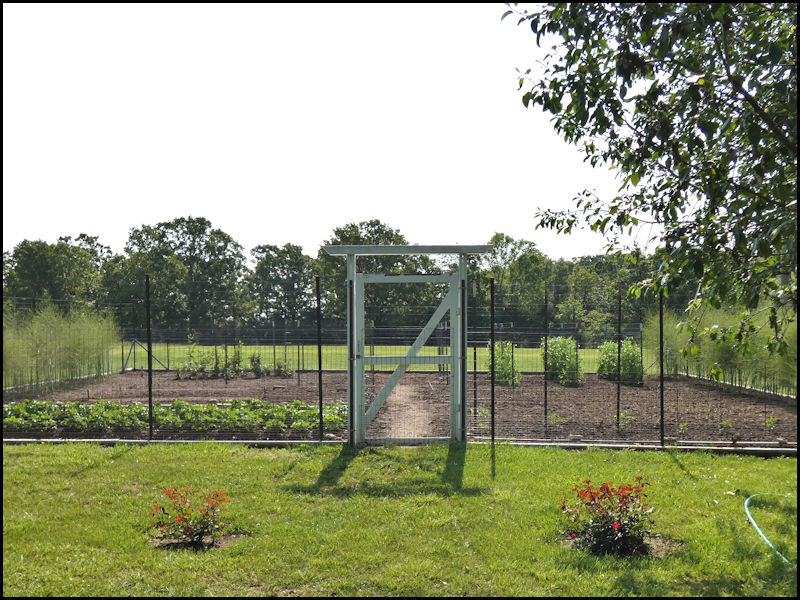 Here's a peach tree I planted last summer. Looking great so far.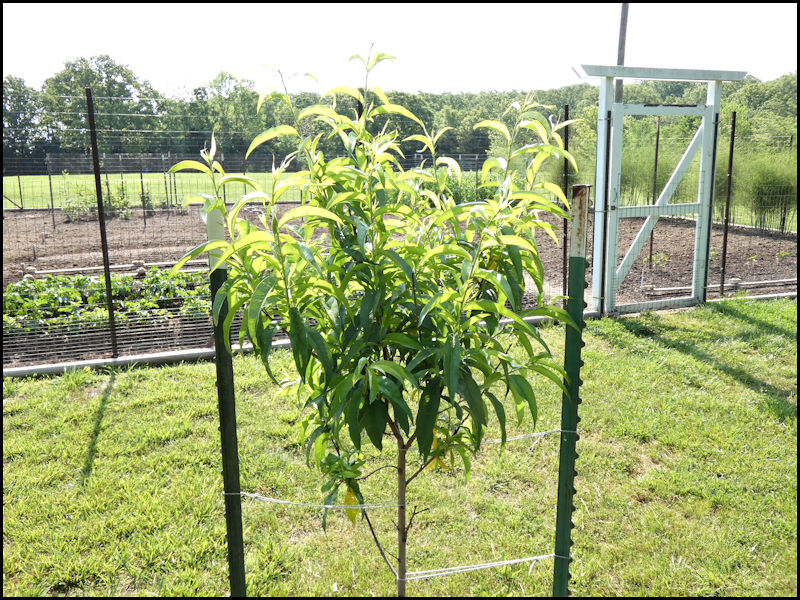 This is the starting plan for this year. 
The left side. Check out those potatoes, about three weeks after planting.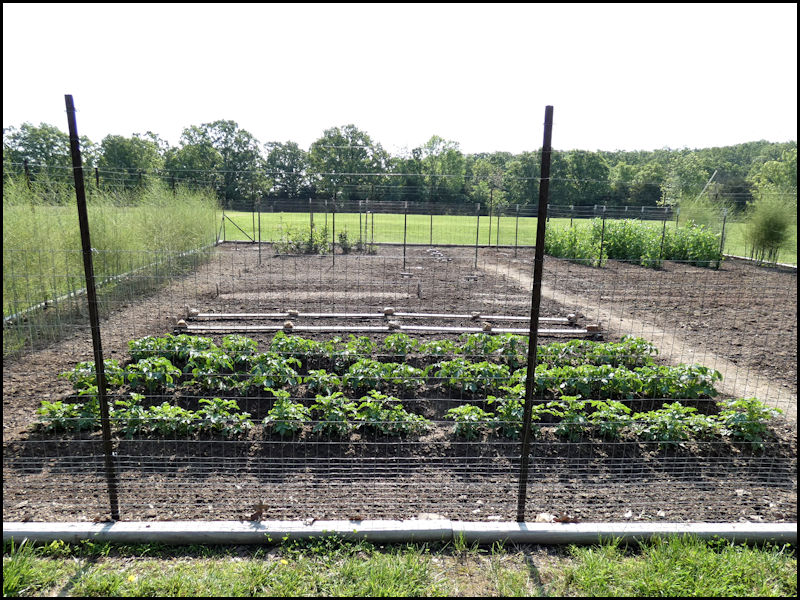 You can tell the faster-growing reds are the two rows on the right.
Everything else on this side is planted, but hasn't come up yet. The boards are a germination aid for shallow seeds. They keep the sun off the soil right above the seeds, so it stays damper, longer. The boards are removed when the plants come up.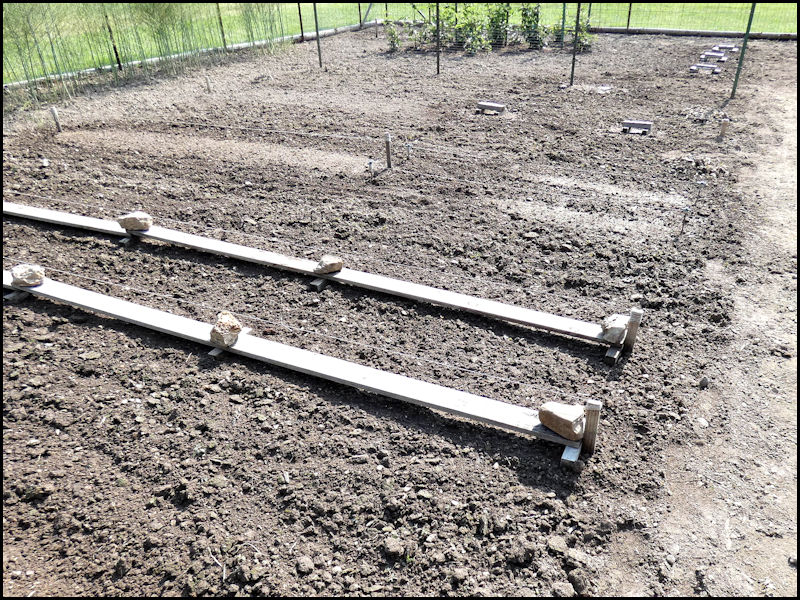 The right side.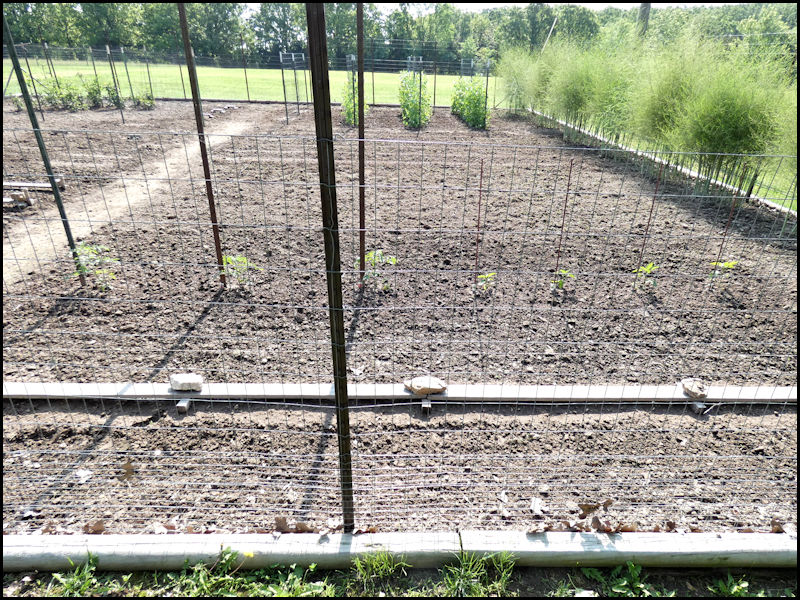 Tomatoes and peppers with stakes, and a row of a carrots on the right. I'm only doing three tomatoes this year.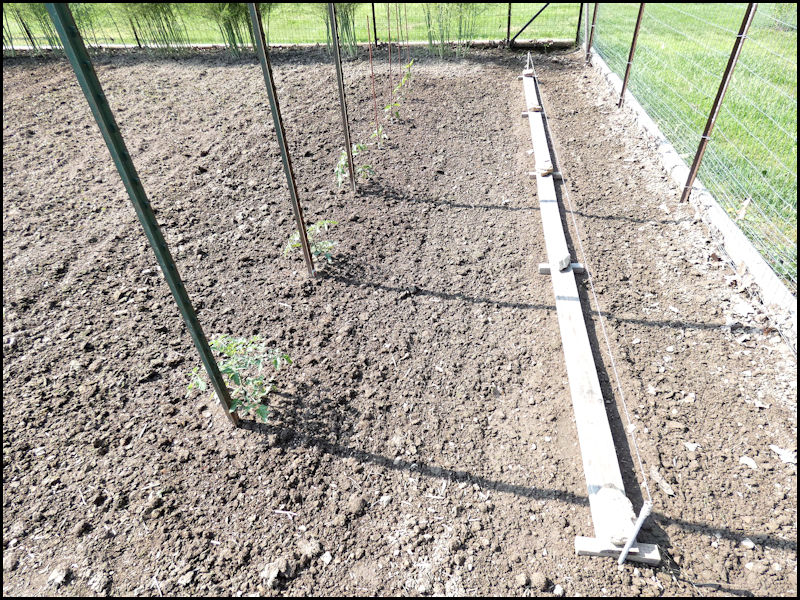 Here's the first planting of corn (five rows, not up yet), and three trellises of peas. The empty trellis on the left has cantaloupes under it, but they've just barely started coming up.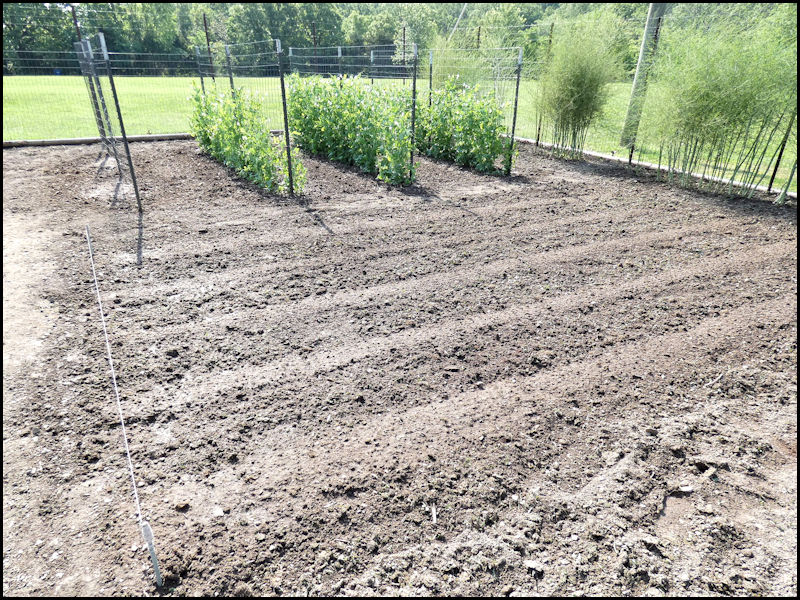 I always special order a specific variety of corn, and for the first time ever I got screwed on the quantity I received. That's supposed to be a packet of 200 seeds, and I usually get a few more than that, but this year I was 20 seeds short. In place of those 20 seeds I got a pile of broken pieces and dust. What a bunch of crap. Not a huge deal, though. I'll still get plenty of corn.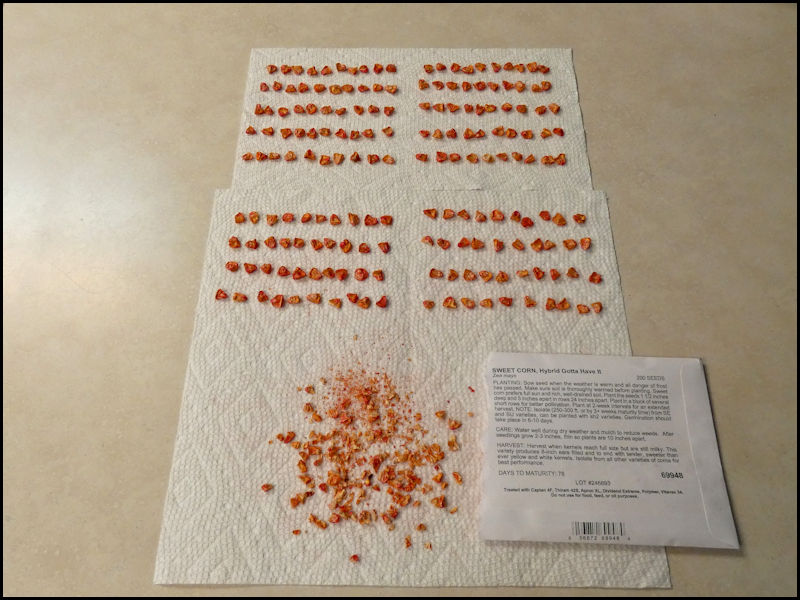 I haven't grown okra in years, so I figured it was time again. Just three plants, but as you'll see, that will be more than enough for several pots of gumbo, and okra and tomatoes, too. Again, the wood is just to keep the sun off the soil where the seeds are germinating.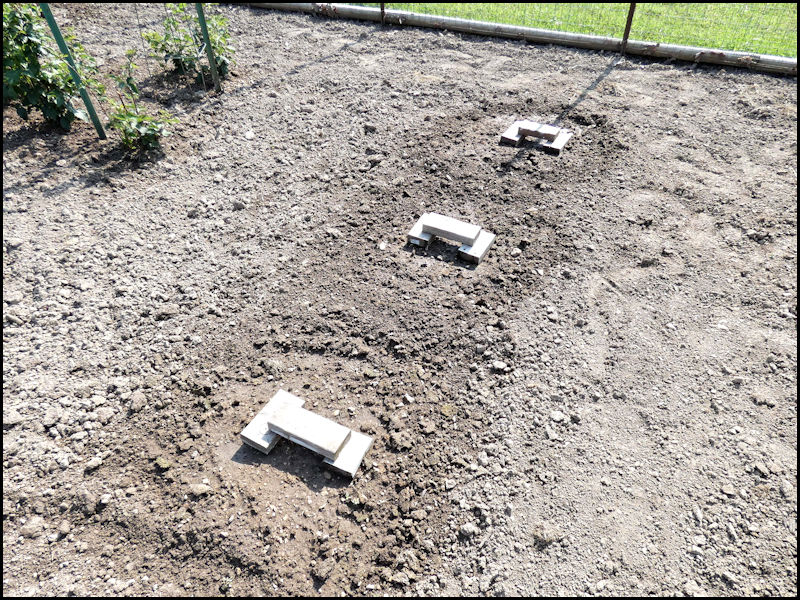 There probably won't be many blackberries this year. They seem to go through a cycle in which they grow big for a few years and then die back. Looks like this is a year for regrowth. Most of the old growth was dead this spring and had to be cut out.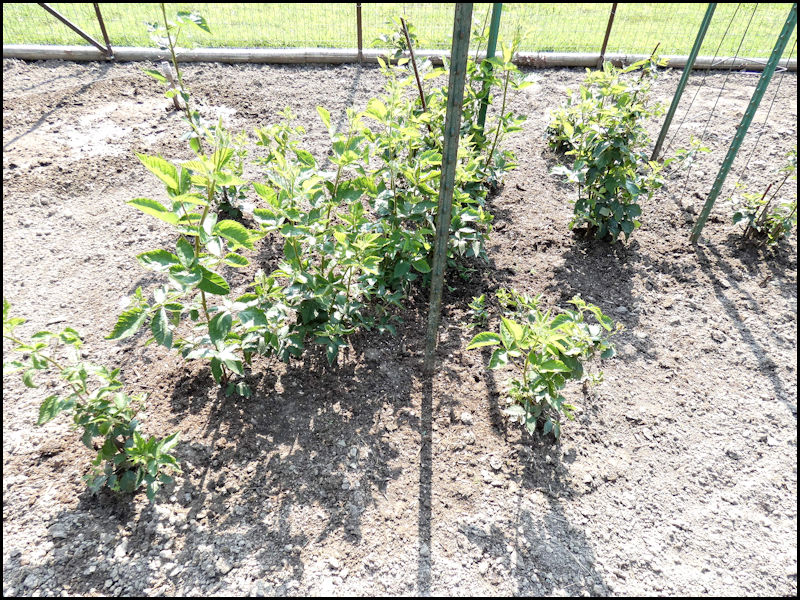 I'm going to try putting butternuts in a corner this year. I'm curious about how well they'll do running up the fence. This may be a mistake, but we'll see.
Believe it or not, I still have four in decent shape from last year's crop. They've lasted as long as the seed potatoes did, about 8 months. It was a fantastic year for them. I got over fifty from three plants. They just kept going and going. This year I considered only planting one, but I was worried about pollination, so I went with two.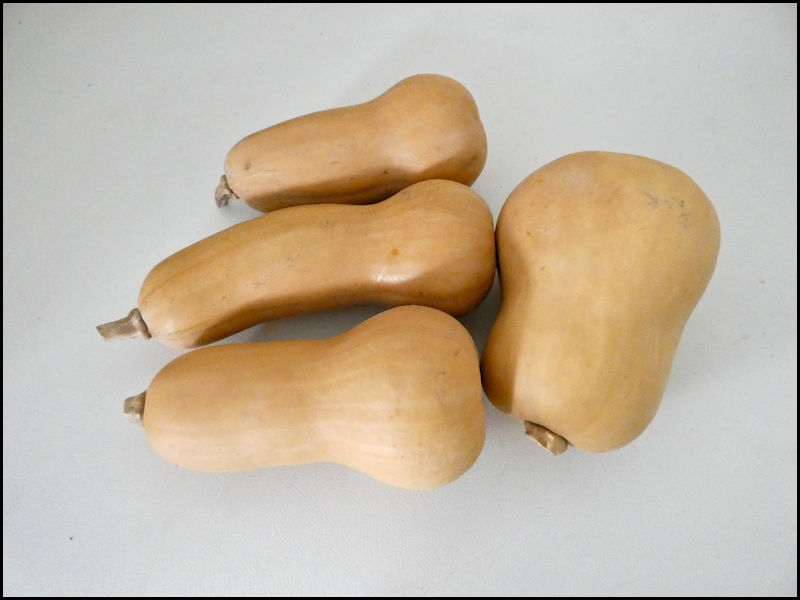 Here's a closer shot of some of the peas.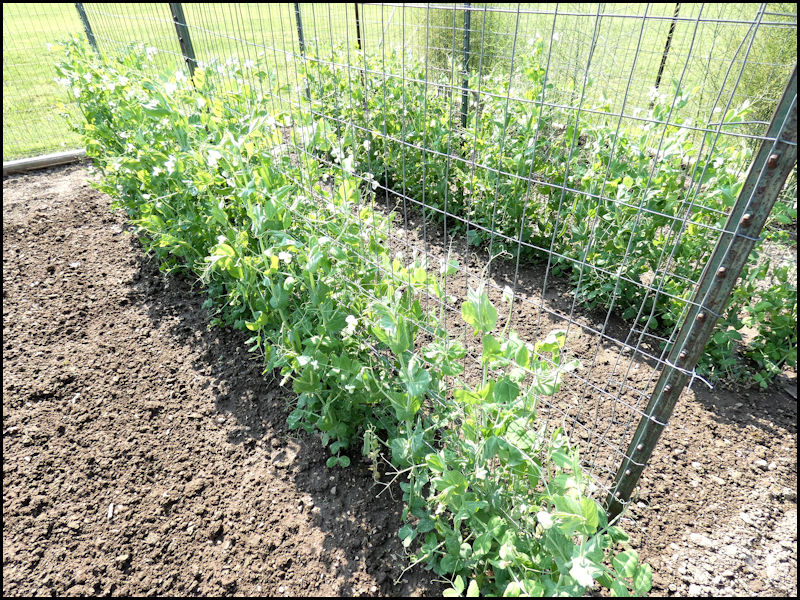 A few pods are starting to come on.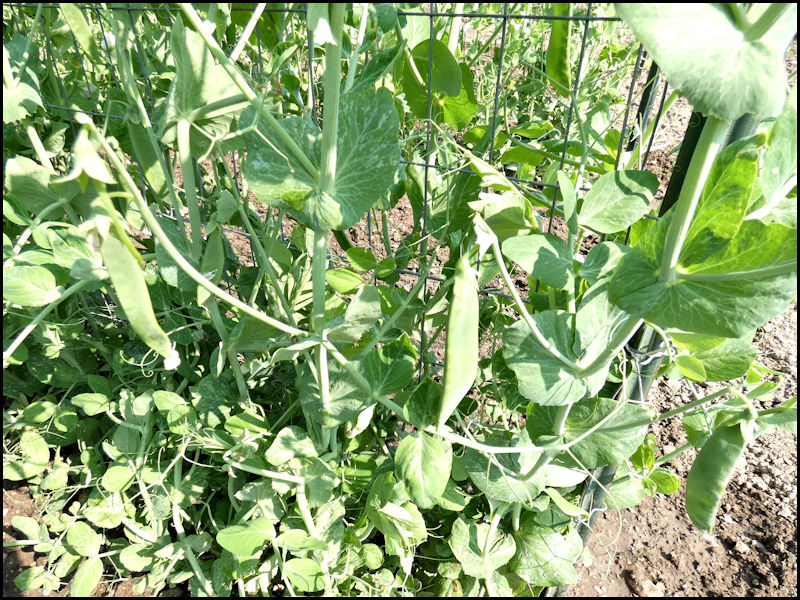 Here are a couple of blueberry bushes that were started a few summers ago, different varieties for pollination purposes. They're growing slower than expected, and that might be a pH thing with my soil. I've been trying make it more acidic around them since last summer. Hopefully, that'll help.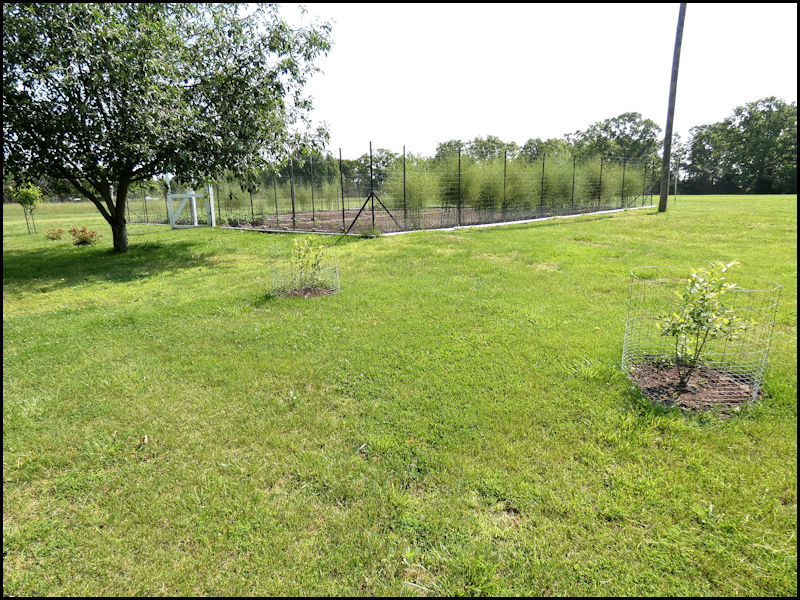 They may be growing slowly, but they're making berries. Still, I can't wait for bigger bushes and a bigger crop.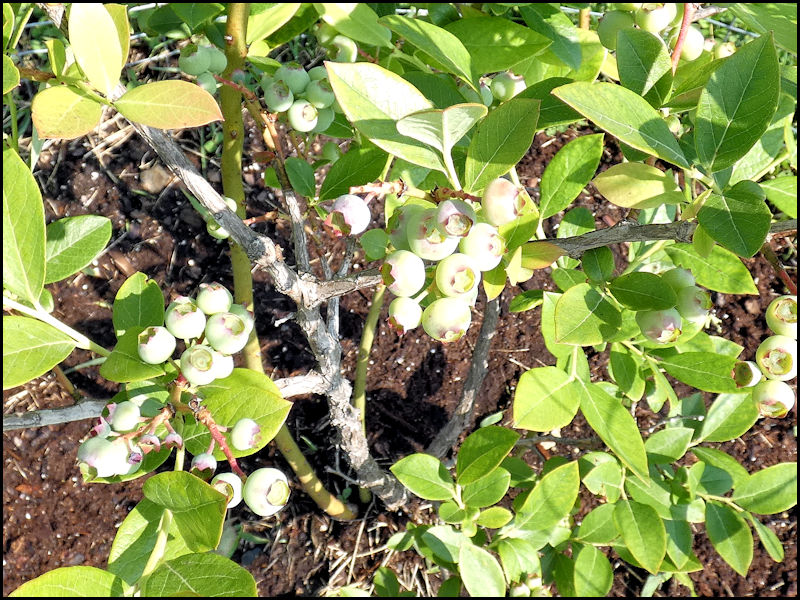 Here's the small side plot in the back yard, with watermelons planted in it this year. Just one hill for a couple of plants. I should get four to six melons from them. The extra wire is because something got over the outer wire and was digging around in there right before I planted. I suspect a raccoon.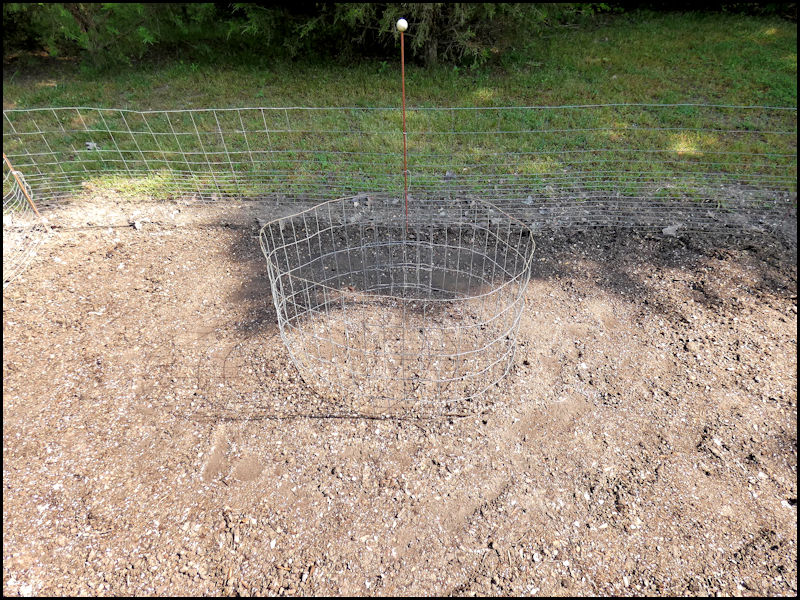 A house wren, singing away. I have five birdhouses with mating pairs in them this year. They're one of my favorite summer birds.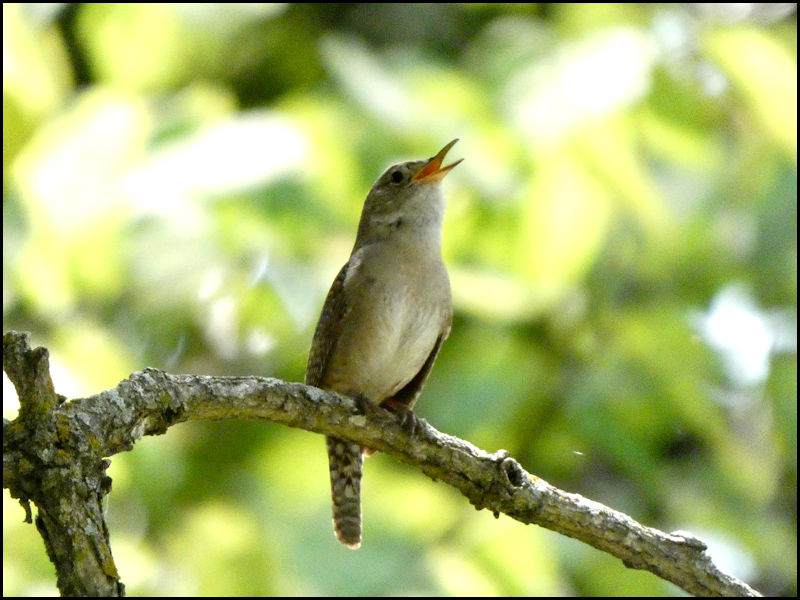 The early spring flowers are done, and now it's time for lilies.
There were flying squirrels at the platform bird feeder last night. Cute little things, but they're nocturnal, skittish, and hard to photograph. I've done it before and have figured out a method. I set the camera up on a tripod and then vacate the area, using the Wifi remote setting to control the shutter from a distance with a tablet. They're afraid of light, so I have to observe with a flashlight mostly covered up by a hand, letting only a little light slip through my fingers to know when to take a shot. But seeing things a person wouldn't normally see makes the hassle worthwhile.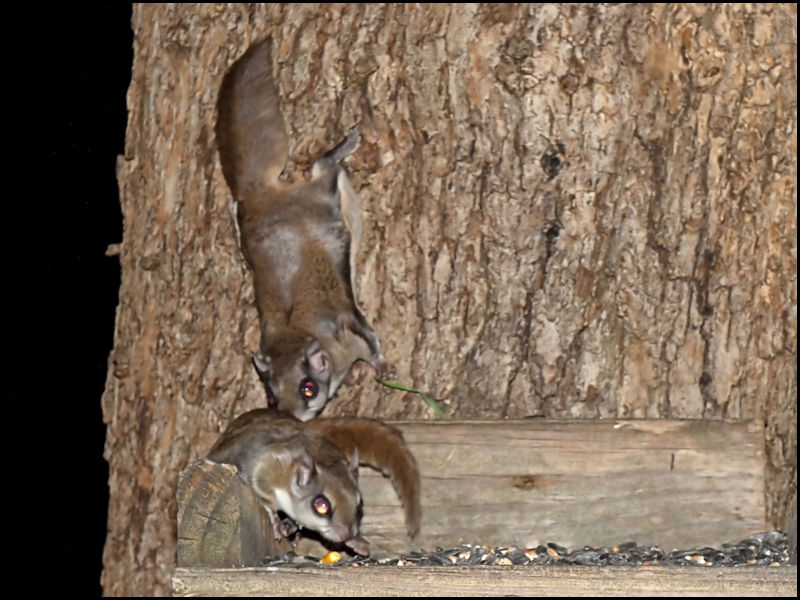 That's all for now. Thanks for dropping by.