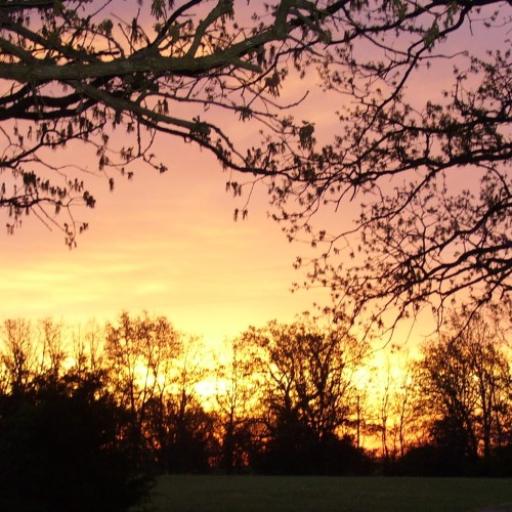 June 23, 2023
I'm sorry that it's been almost a month, but everything other than the tomatoes and potatoes are growing slower than normal this year, and I didn't really want to post an update when nothing much had changed. There's finally enough to look at now, though.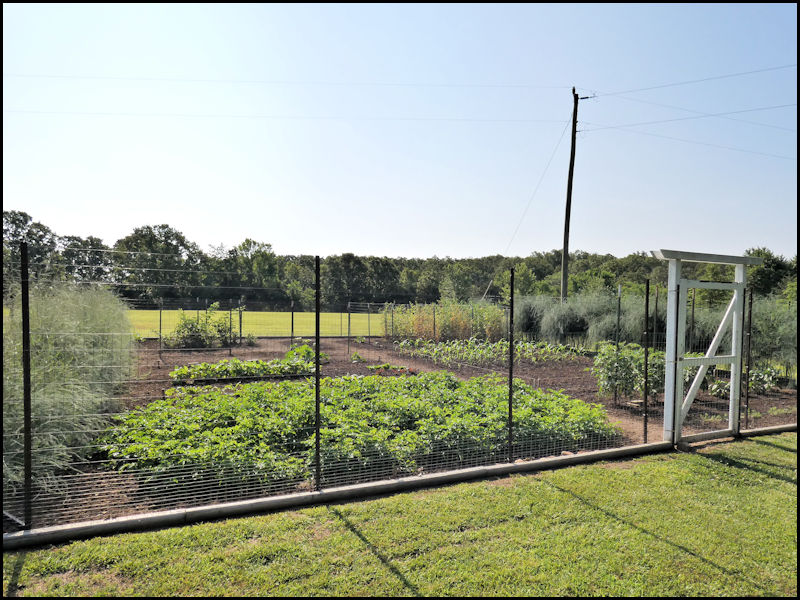 The potatoes have been going gangbusters.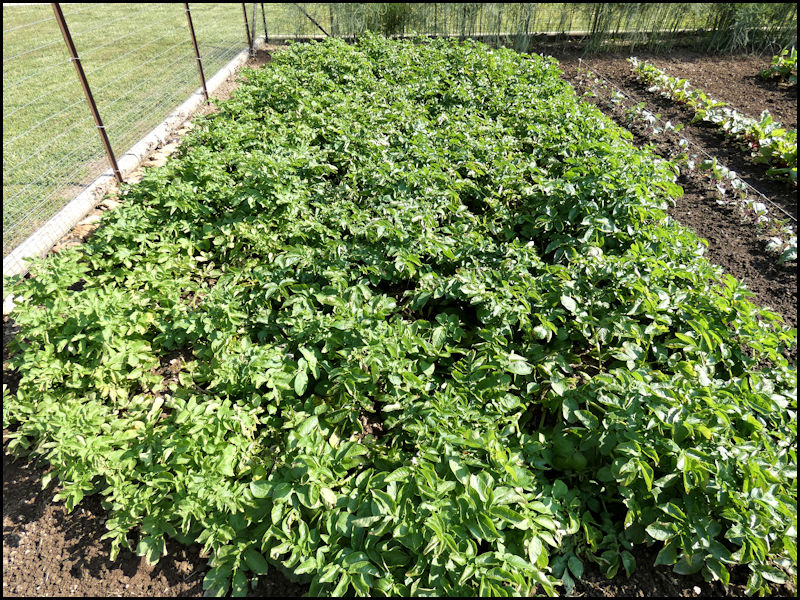 The reds are flowering here and there.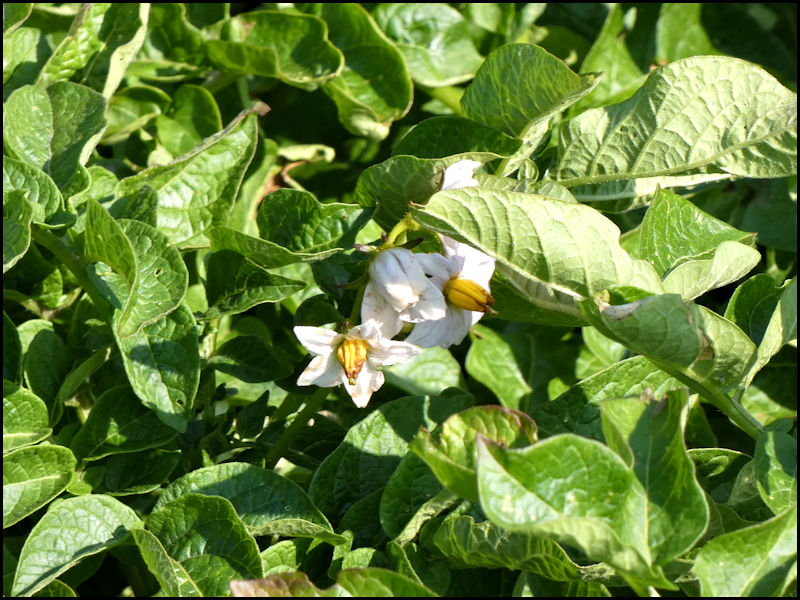 Kohlrabi and beets are just above the potatoes.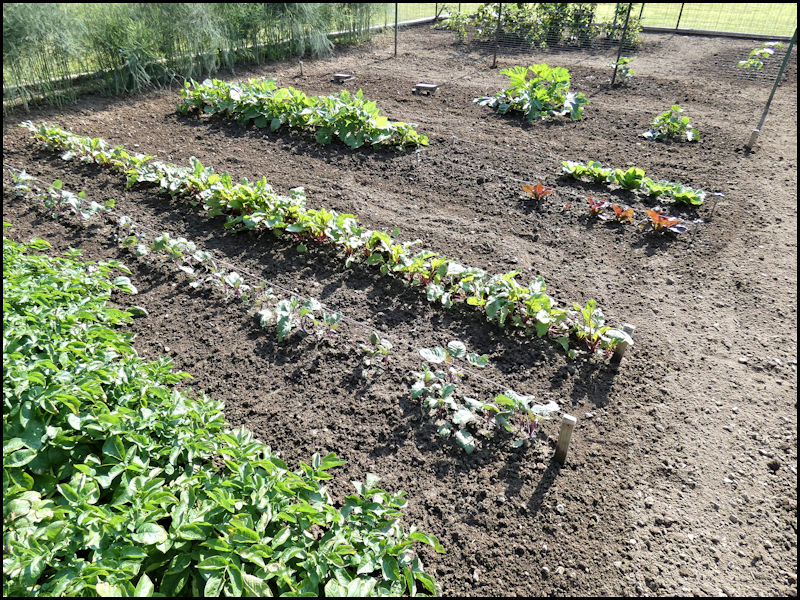 Then there's some red and green romaine. I'll rotate more through here as the summer goes on.
The green beans. Just a small batch for the summer. I'll plant more later for the fall.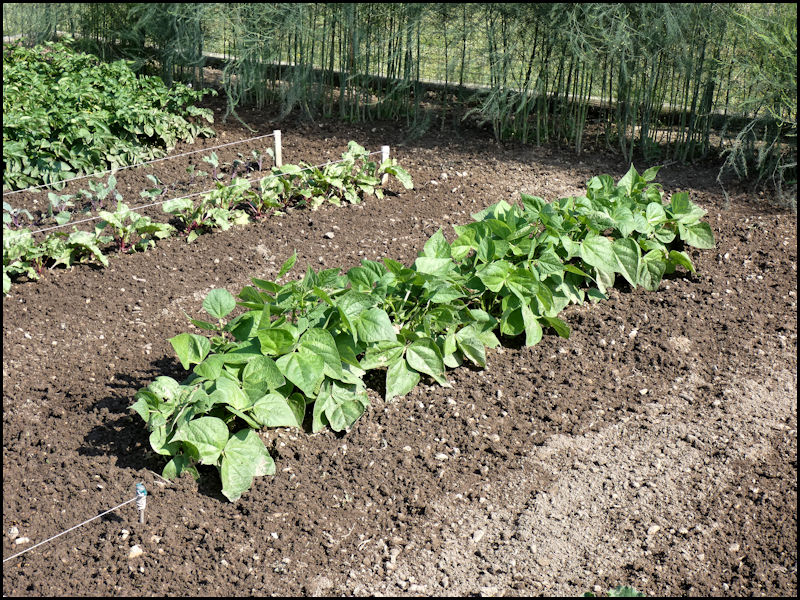 Here are the first two zucchinis. I made a mistake by leaving the shade wood on the ground next to them when they came up, and squash bugs moved in under it, damn near killing the plants before I figured out what was going on. As you can see, one has recovered better than the other, but they should be all right now. I have two more started next to them as well.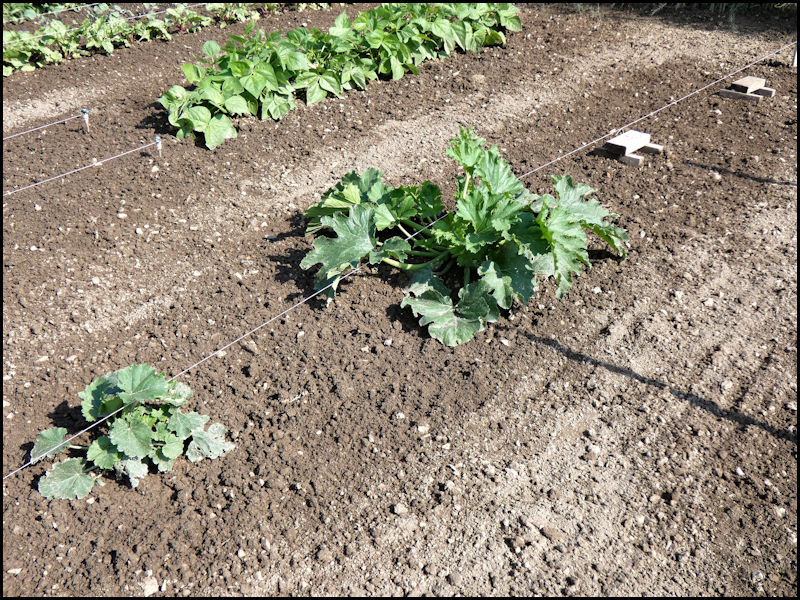 Here's a cucumber plant. I don't understand why it's growing so slowly, but like I said it's certainly not the only thing.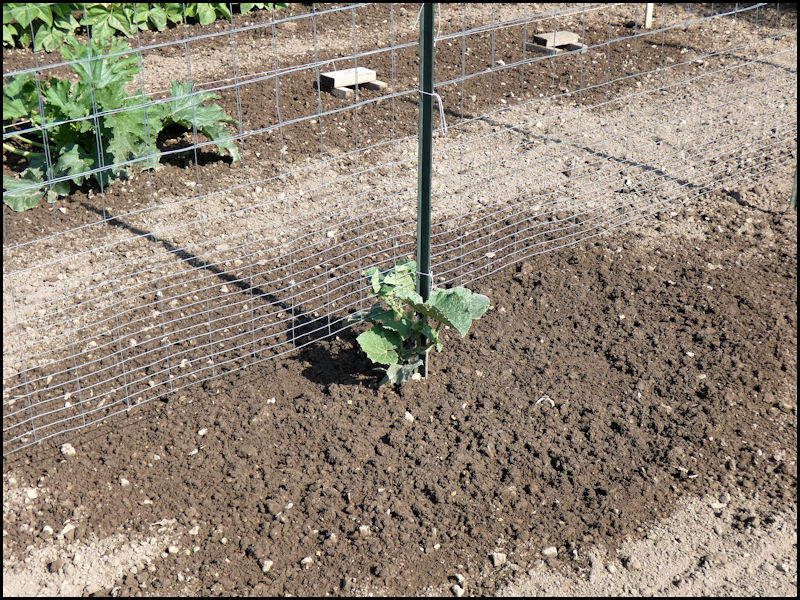 On the other side we have the tomatoes and peppers. I'm pruning the tomatoes to five vines per plant this year. The wood between them is for marigold seeds. I had marigolds between them last year and they seemed to keep aphids away, so I thought I'd do it again. I should have started them earlier, but it slipped my mind.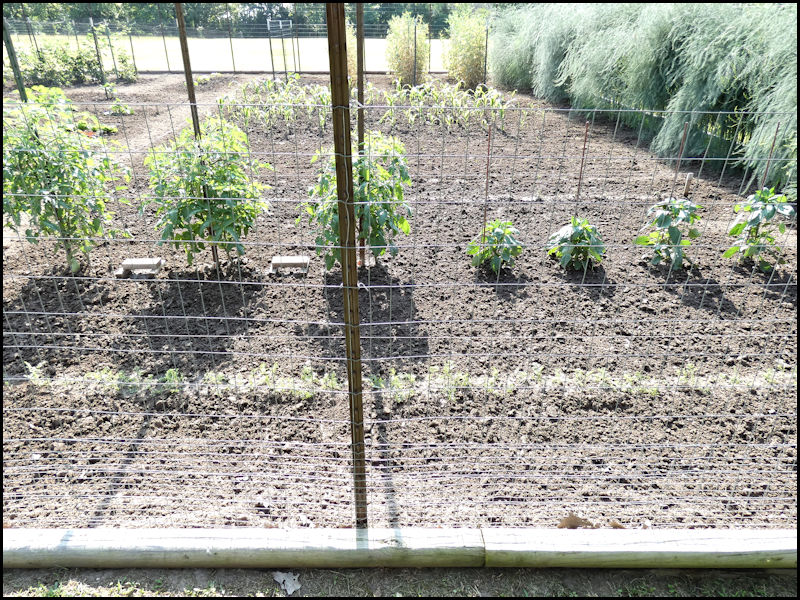 The first tomato is a cherry, the other two are regular. That's a row of carrots on the right. Not very visible yet.
Some green cherry tomatoes. I can't remember the variety. A bird must have stolen the plant ID marker I had in the ground next to it, because it is certainly missing. Probably part of a nest somewhere.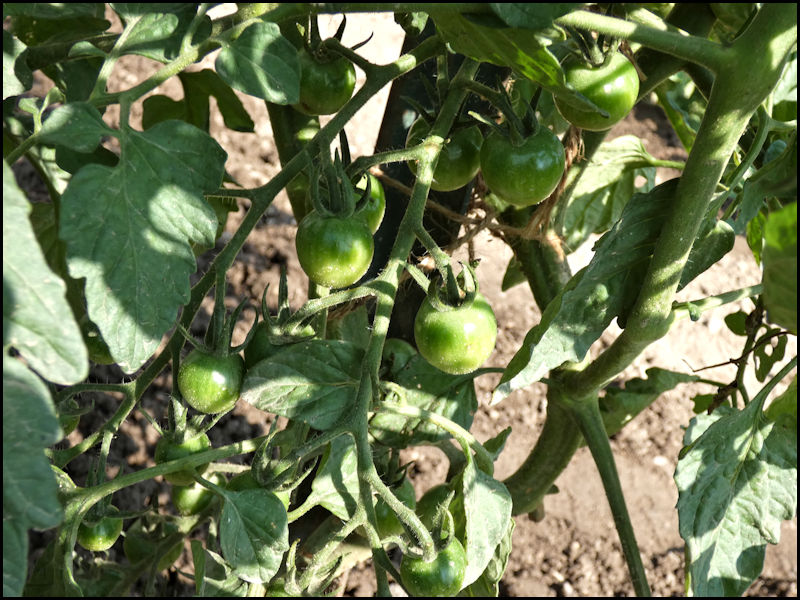 And some green regulars. I think these are Best Boys.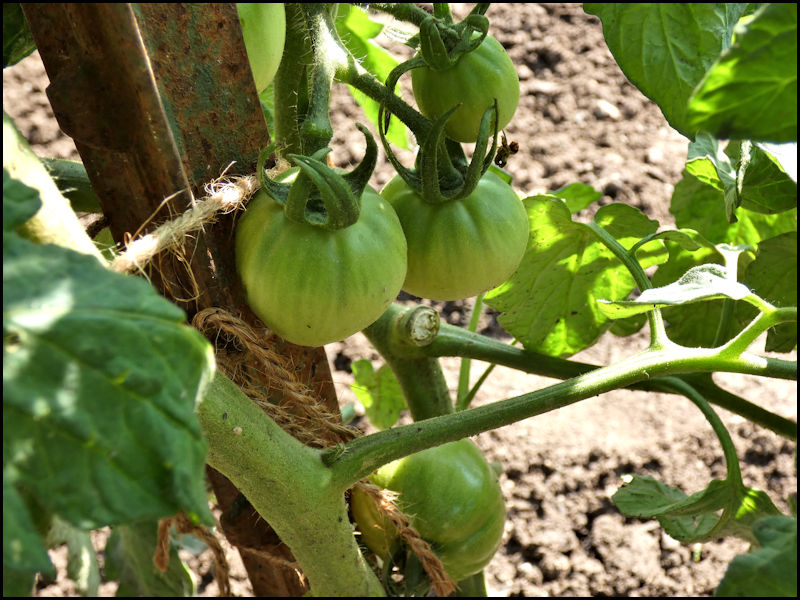 I had more seed potatoes from last year than I needed for what was planted earlier, and because I had less corn seed than normal, I planted another row of potatoes. They're under the line on the right of the image.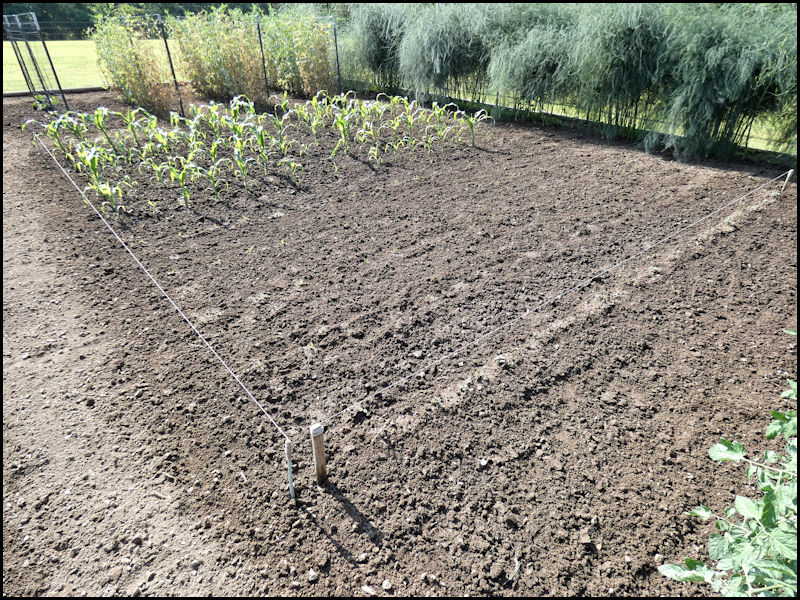 They were getting pretty old and dry, but they seem to be coming up just fine. I'll rake soil up on them as they grow. I didn't have any extra soil amendments for them, so I'm considering this an experiment.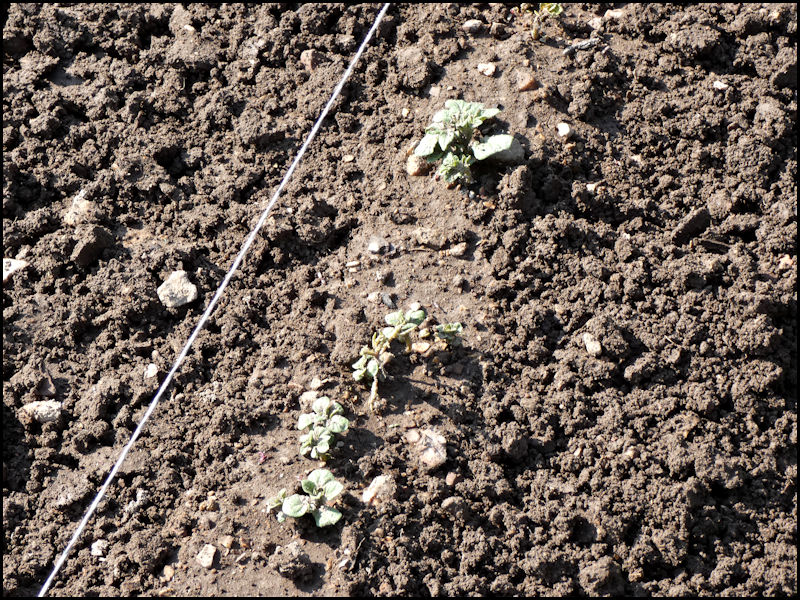 The second corn is coming up in the no-longer-empty area next to the first corn.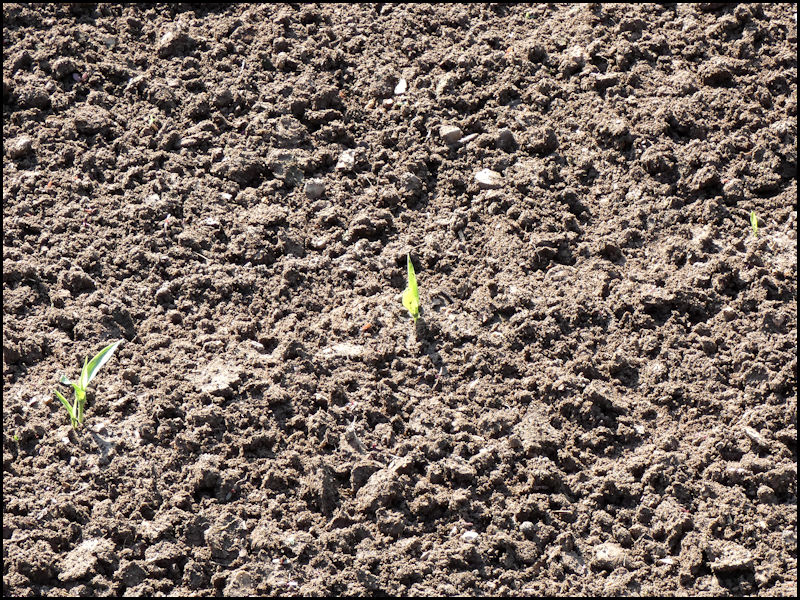 Here's the first corn. Another thing growing slower than expected, and rather unevenly. I don't know why. I hope it works out.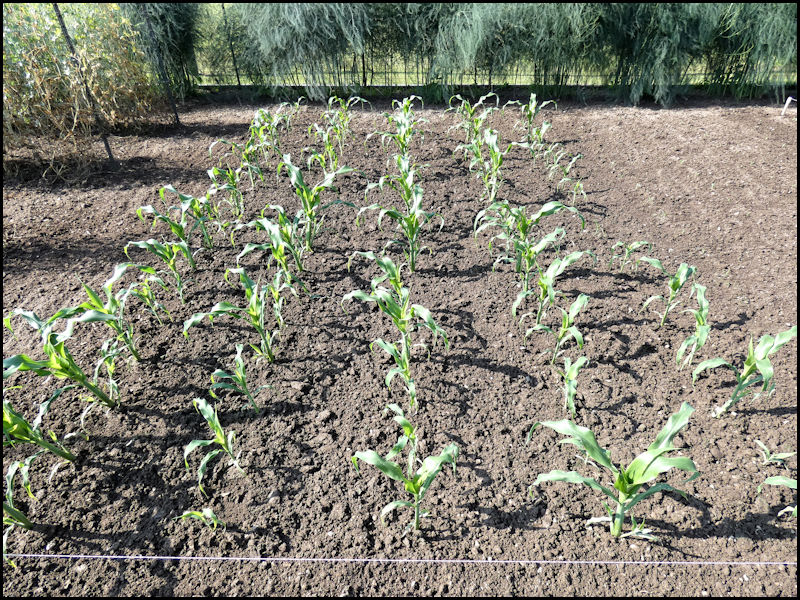 The peas are done and dying off now.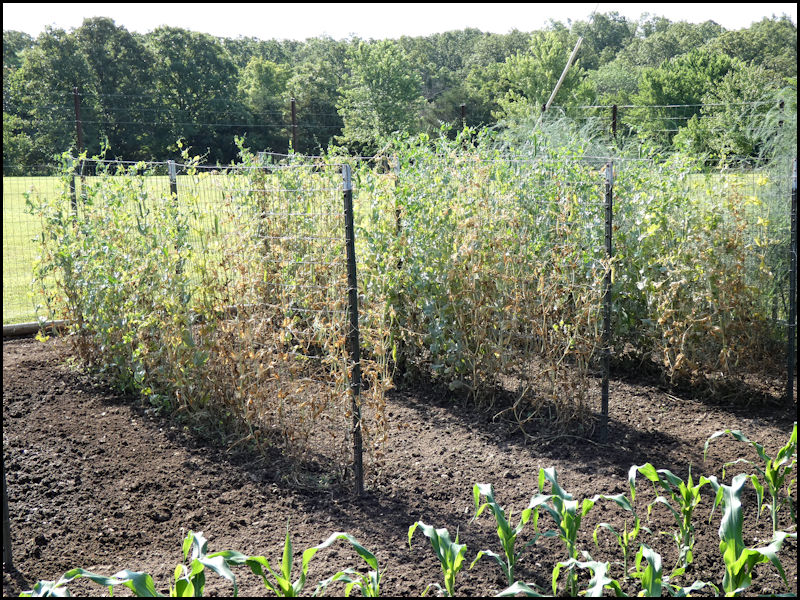 Here's what they looked like shelled.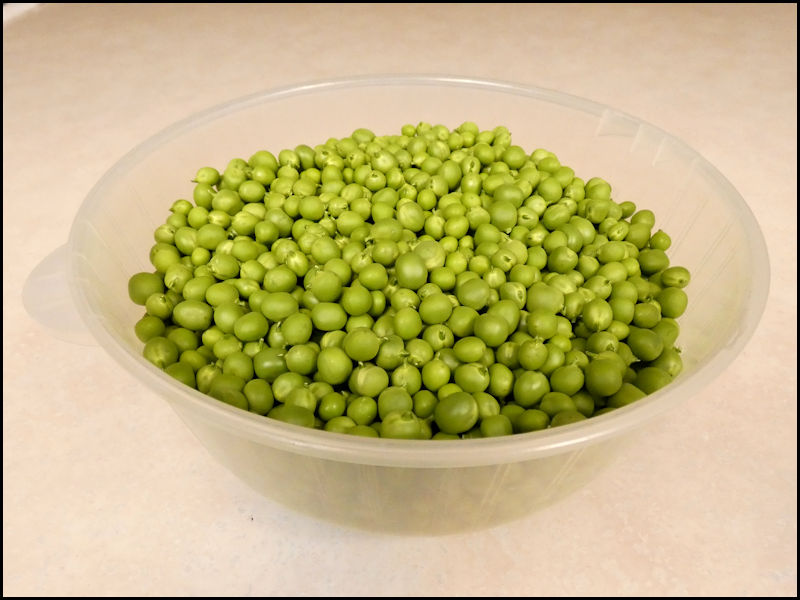 Here's 3 of about 10 quarts I got from them, so about 2 1/2 gallons.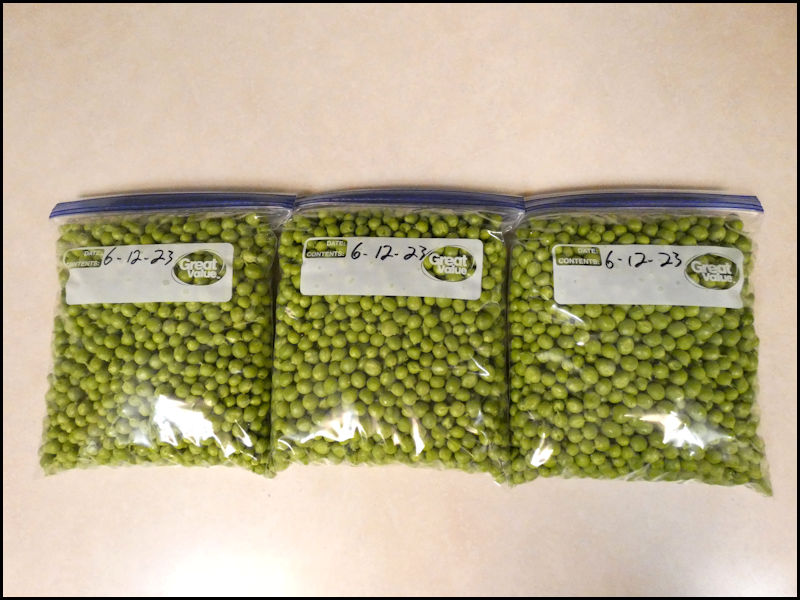 Here are the cantaloupes, another slow grower this year.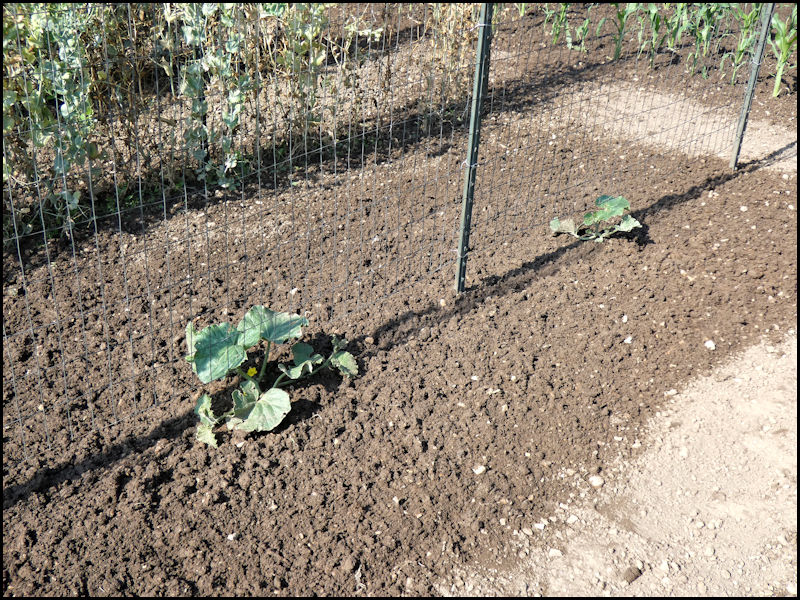 Flowering already, too. Go figure.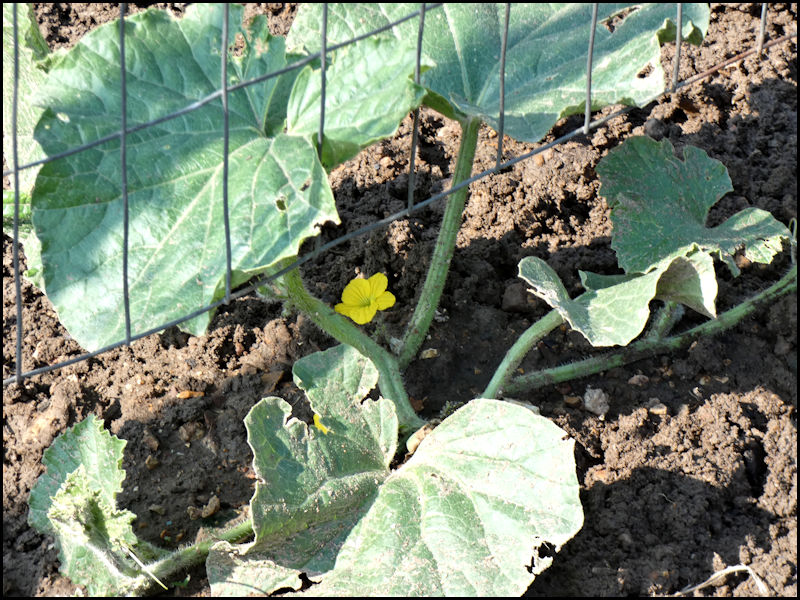 The okra. Still small, but it'll probably explode before long.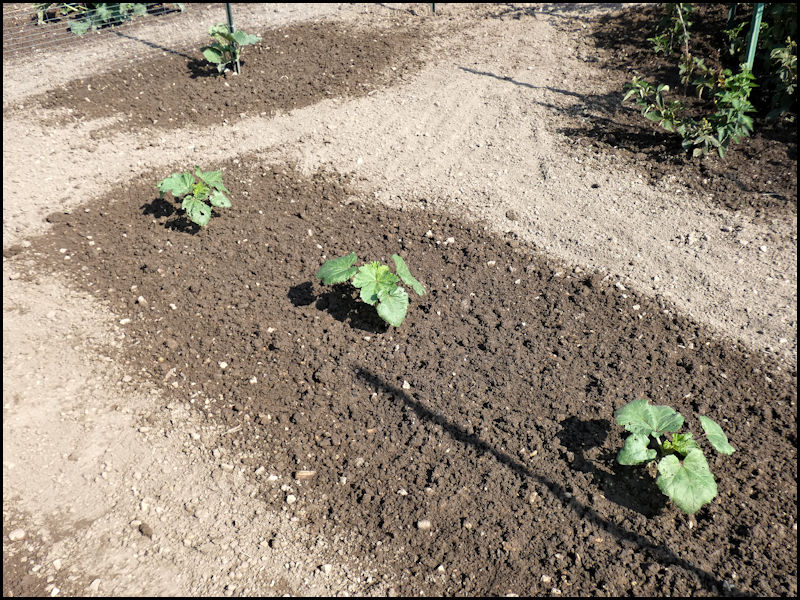 The blackberries.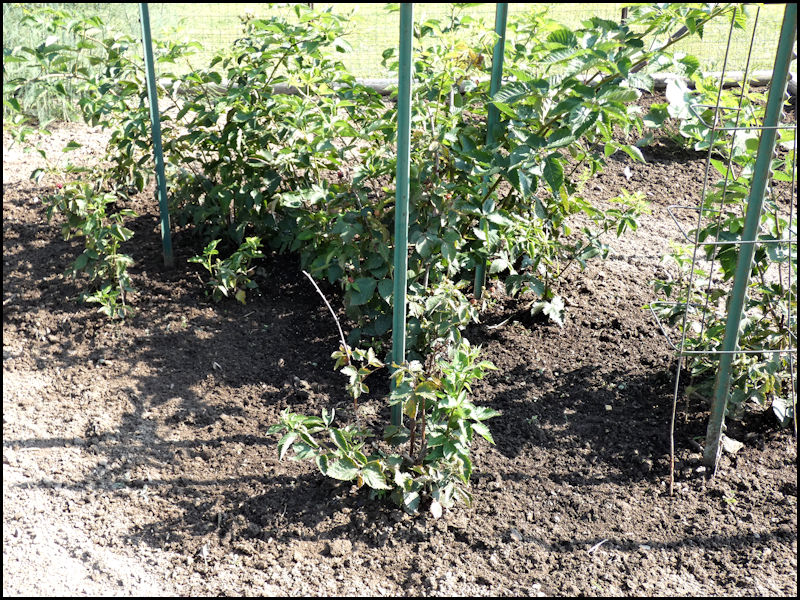 There definitely won't be many this year, but some are coming on.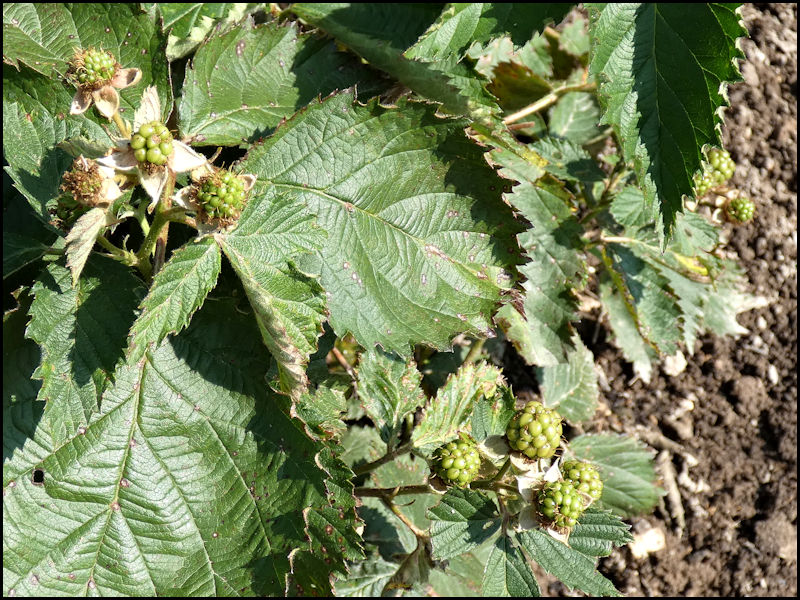 The butternuts.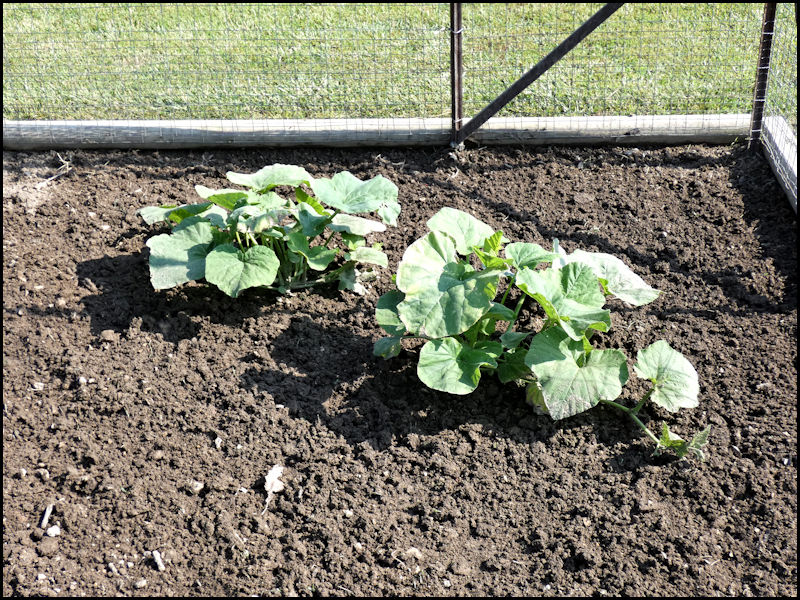 One of the blueberry bushes.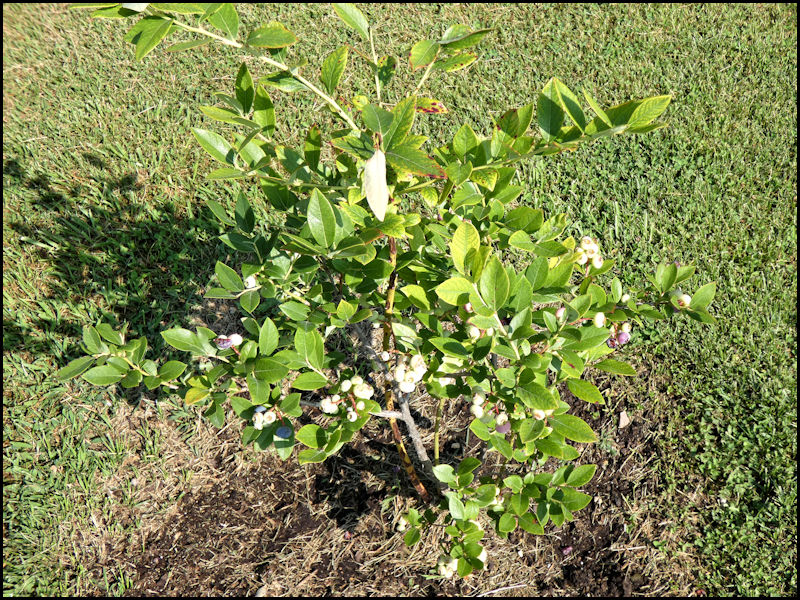 Starting to ripen.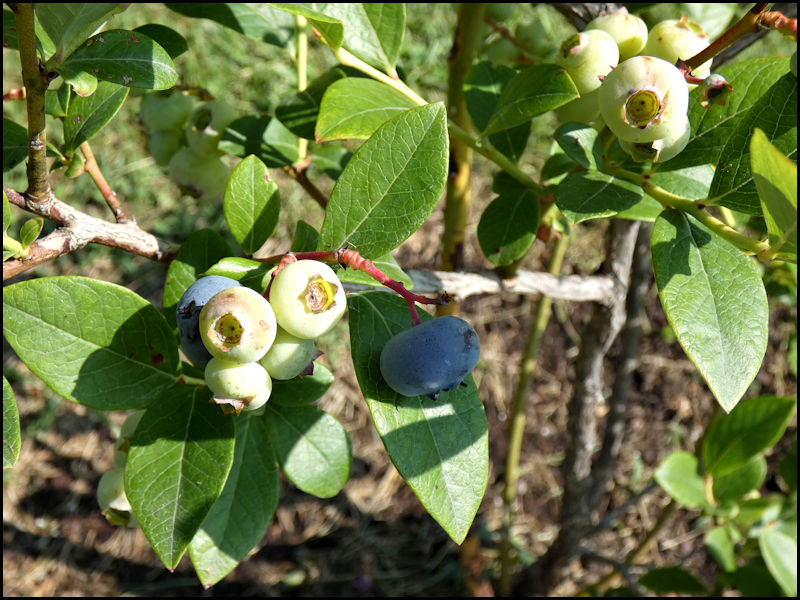 And yet another slow grower – the watermelons in the backyard side plot. They should be much bigger than this. I think this was actually bad seed. I've planted maybe 15 seeds on the right so far, and none of them have come up. I've reseeded it again, but I may have to settle for those two plants on the left.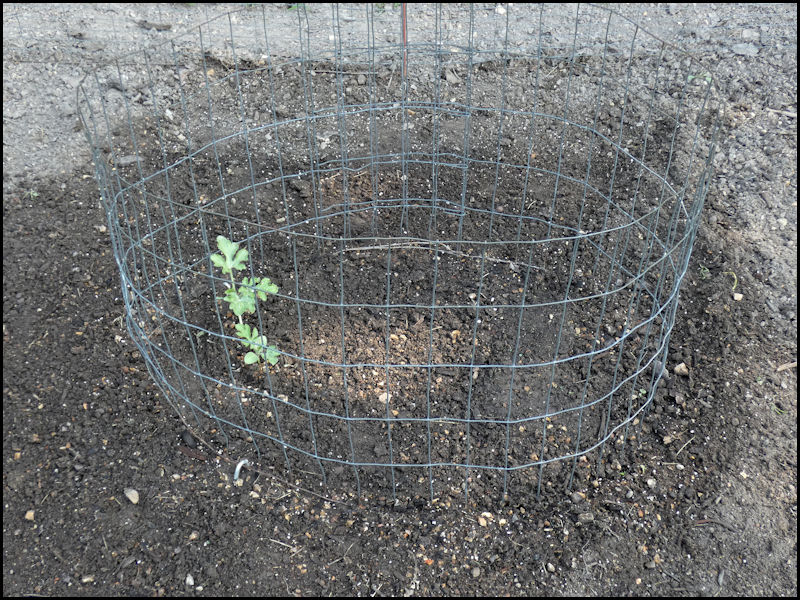 Here's a birdhouse in the apple tree, with a couple of small apples in the upper right. Wrens are in the birdhouse.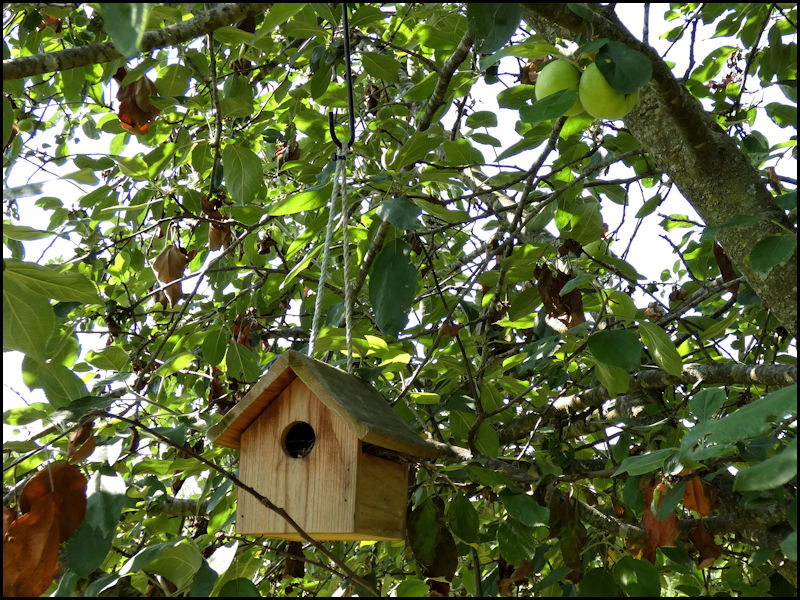 If you noticed the lack of apples and the dead leaves in the image above, this may be why – Yellow-bellied Sapsucker woodpecker damage. I think the tree is sick. I hope it recovers.
I have two new ones planted, though. They went in the ground last year. Red Delicious and Enterprise varieties.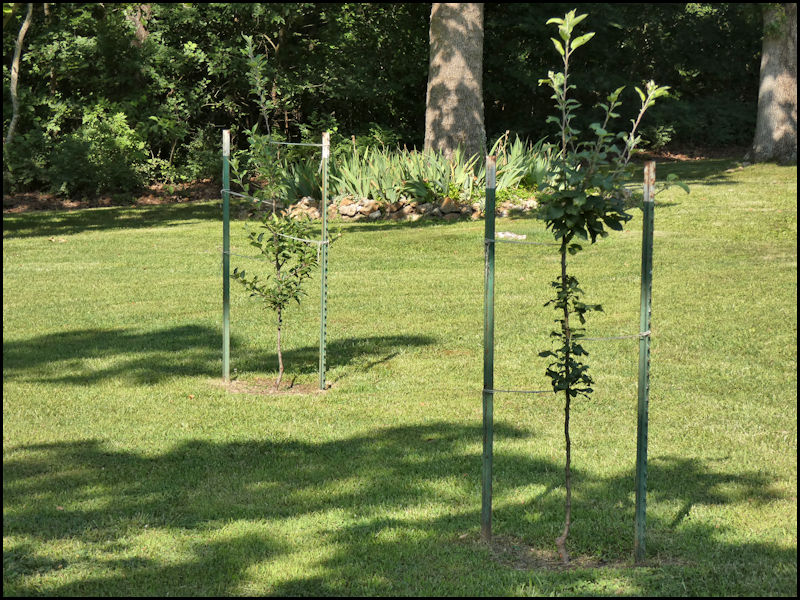 Here's another look at their placement in the yard from a different angle. They're in the lower right, down by the little frog and turtle pond.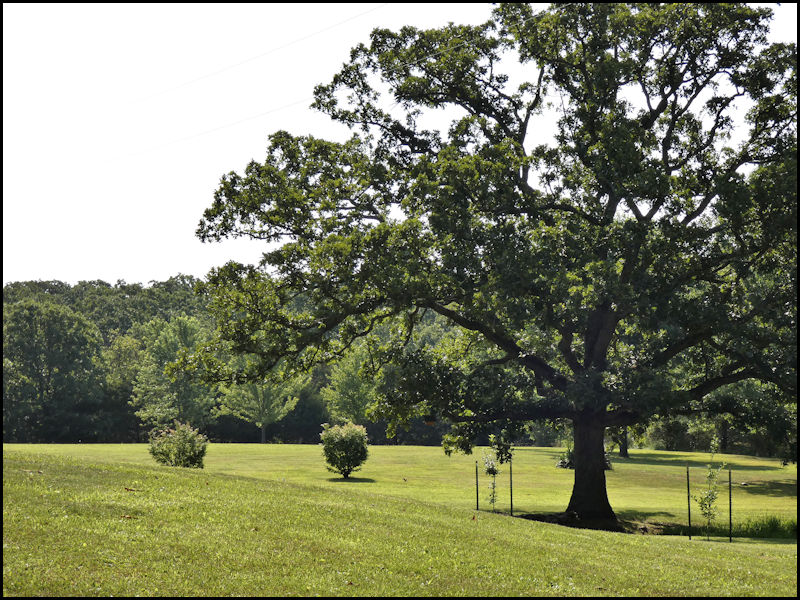 Speaking of turtles...
I think this one is a Red-eared Slider, but I'm not positive.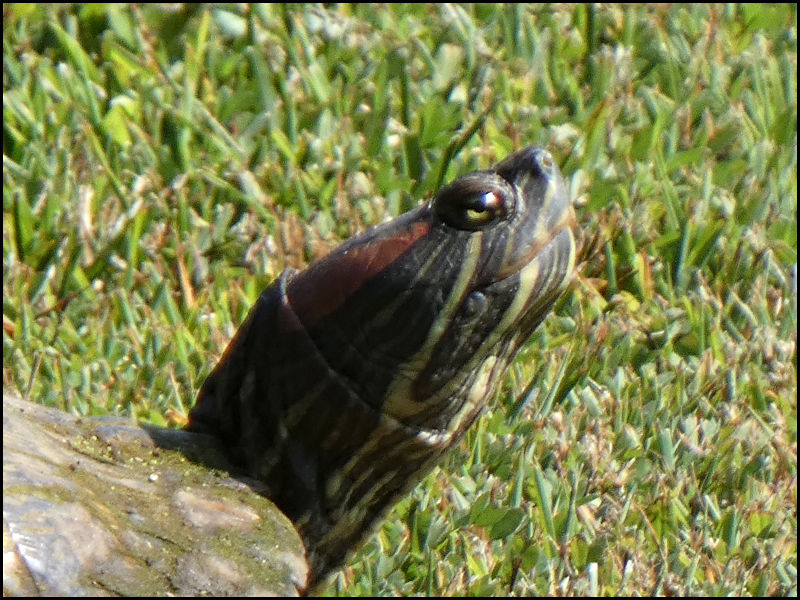 They lay eggs in the yard. Snapping turtles do it, too.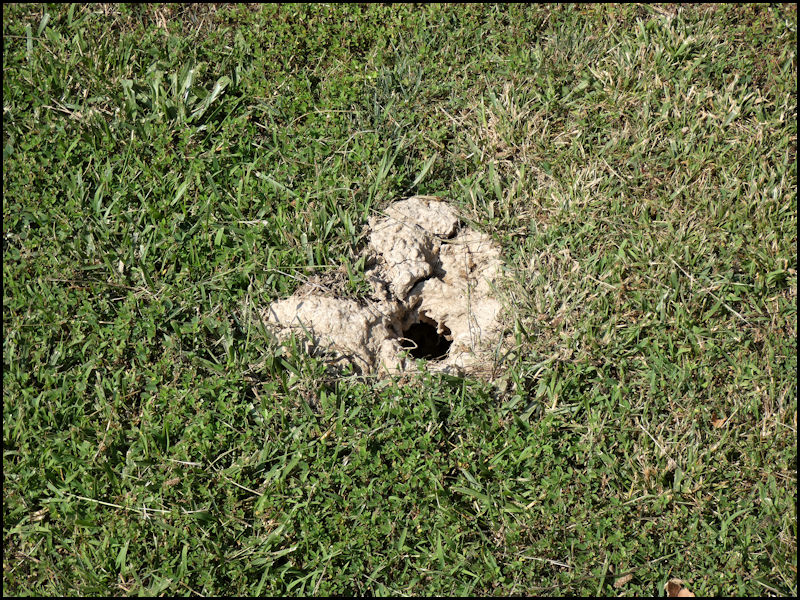 Some kind of Dahlia. I can't remember which.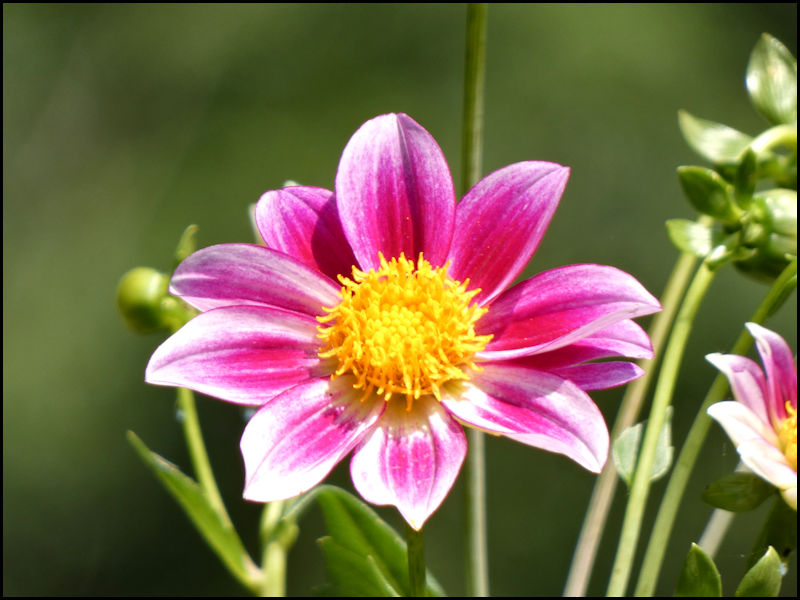 Purple Clematis, growing up a couple of twine lines on one side of the porch.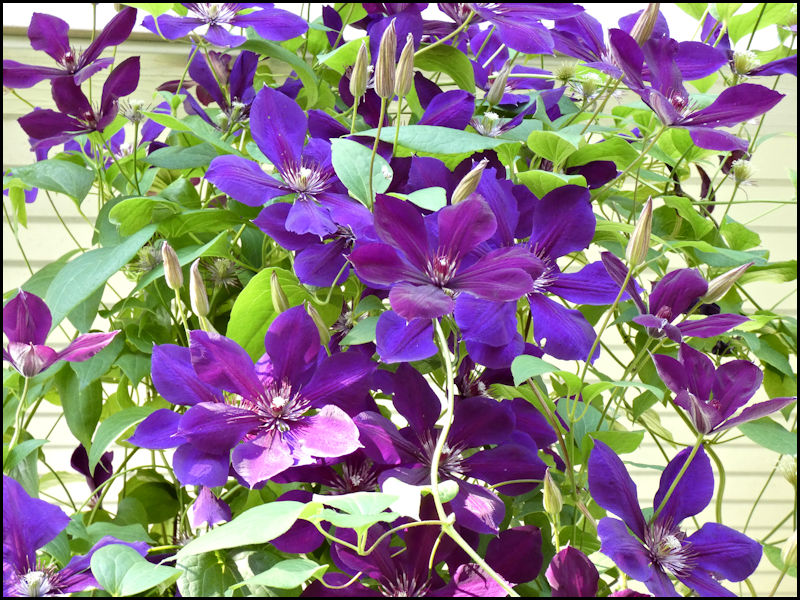 A hummingbird, with a hanging begonia in the background.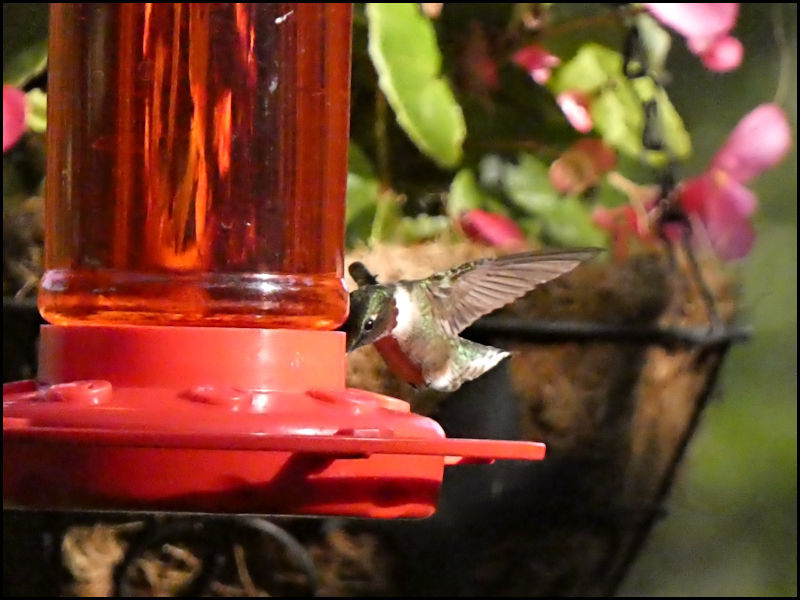 Honeybees like hummingbird nectar, too.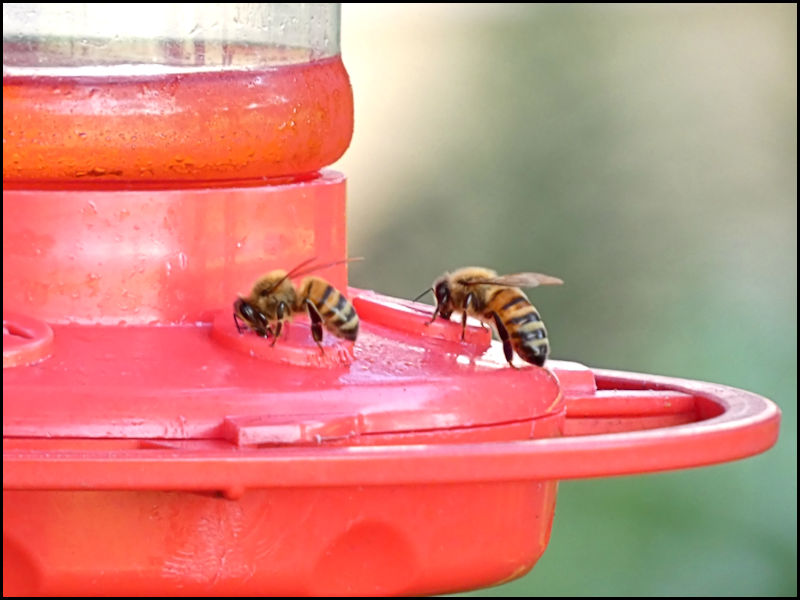 A Blue jay making off with a whole peanut.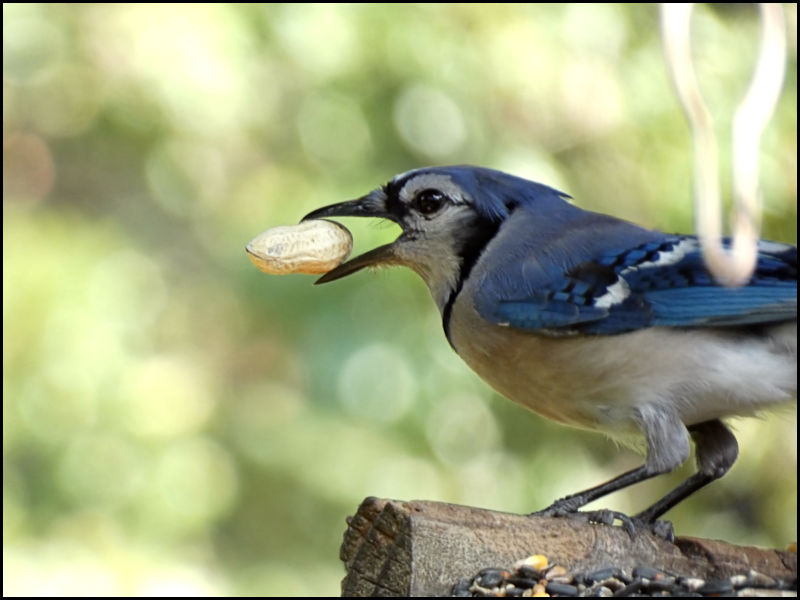 I haven't been lucky enough to catch any wren chicks fledging from their birdhouses this year, but they were all over the place for a few days. I think this was the first morning out of the nest for these two.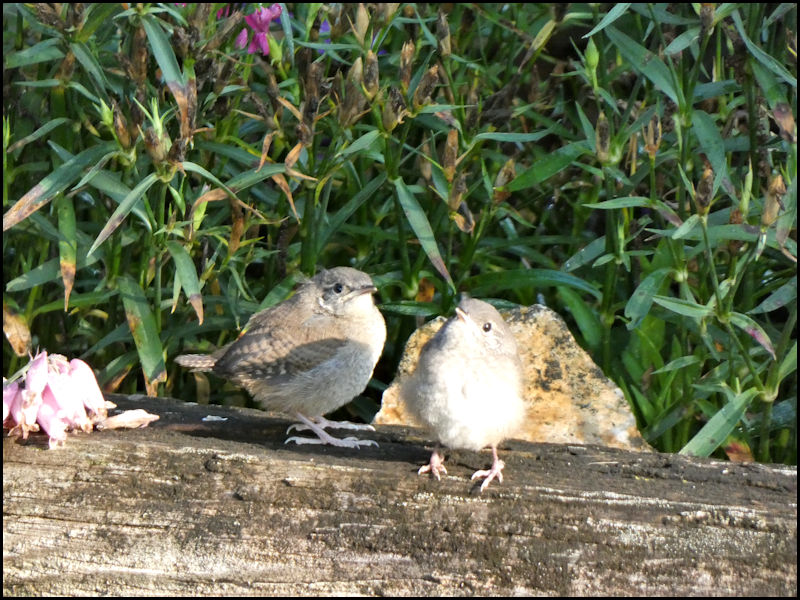 Their parents were still feeding them.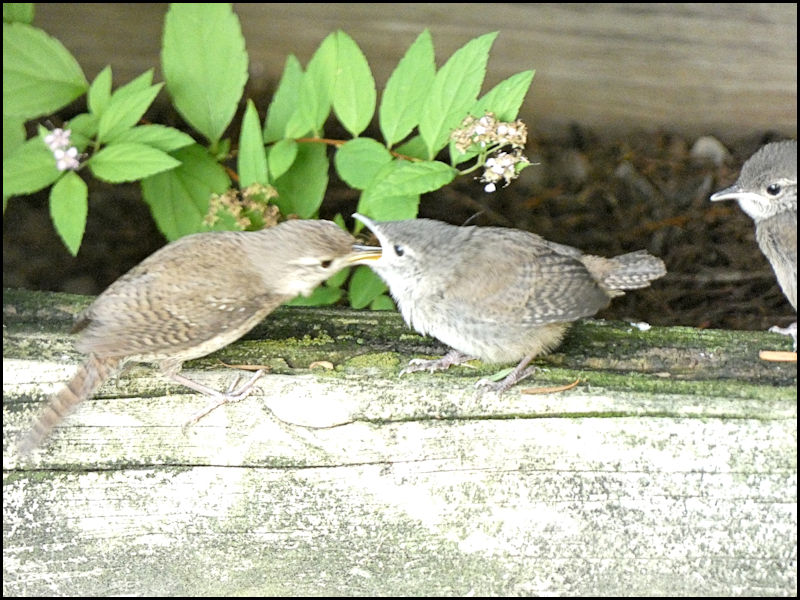 A gray squirrel.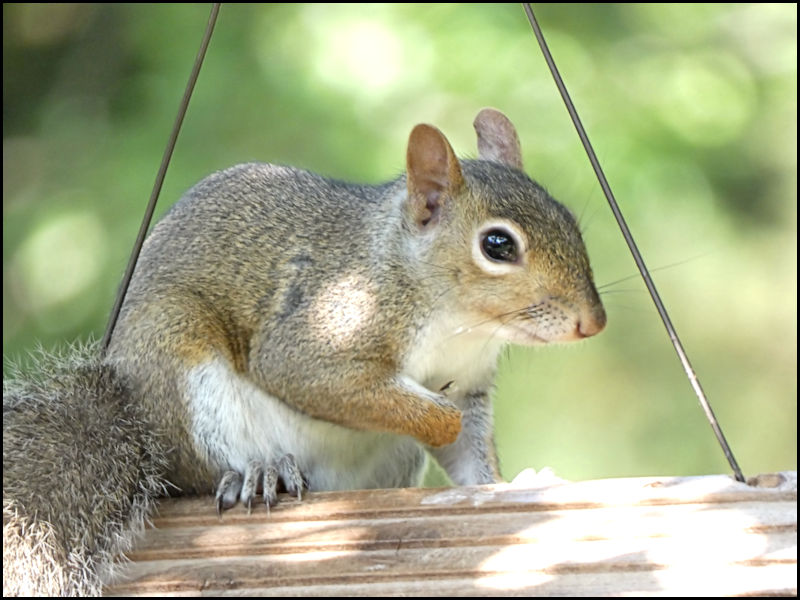 A chipmunk.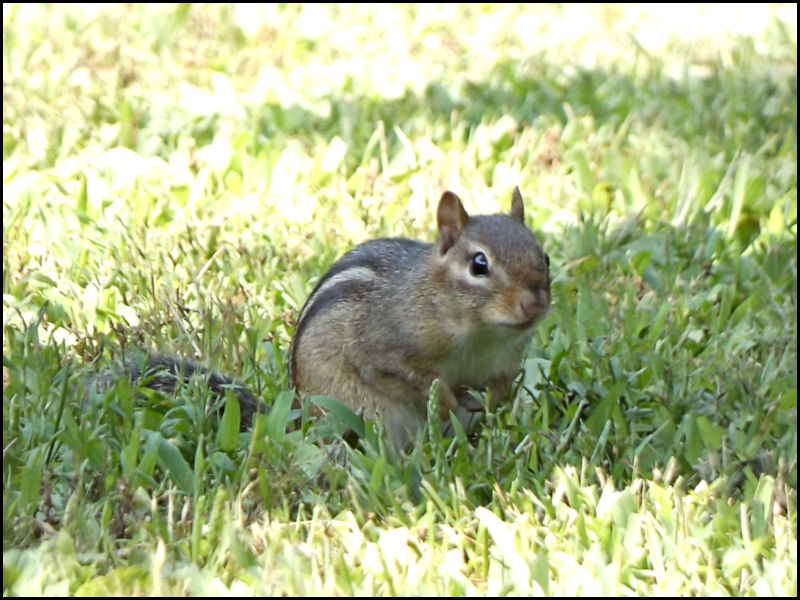 A hungry bunny.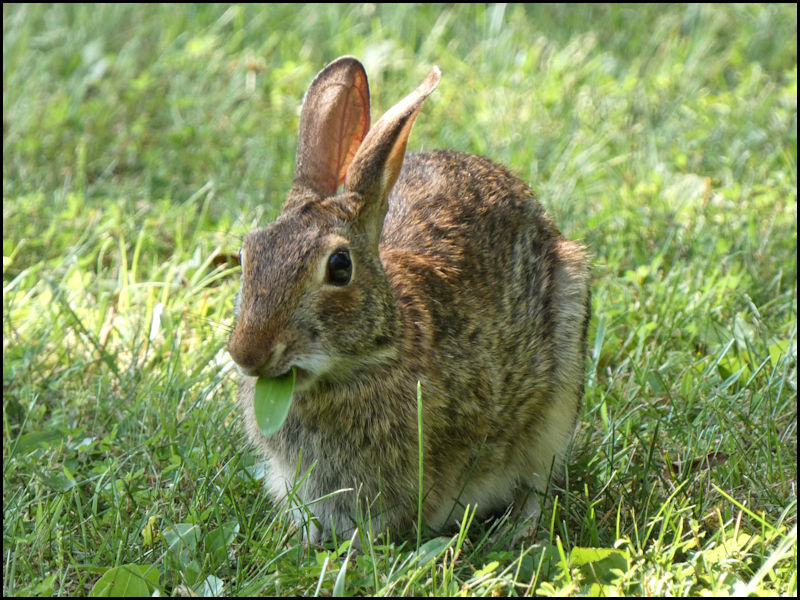 Polly and her daily back-scratching-in-the-sun thing.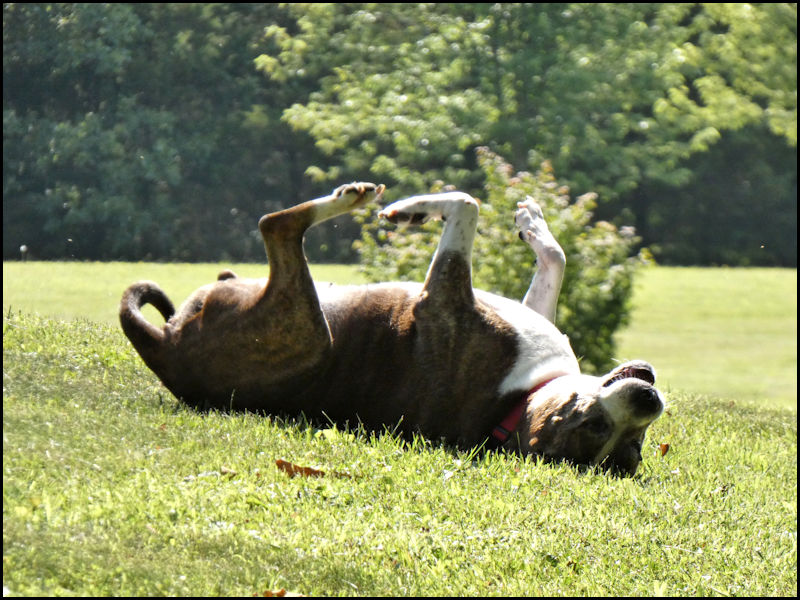 And introducing... Buddy McFussypants!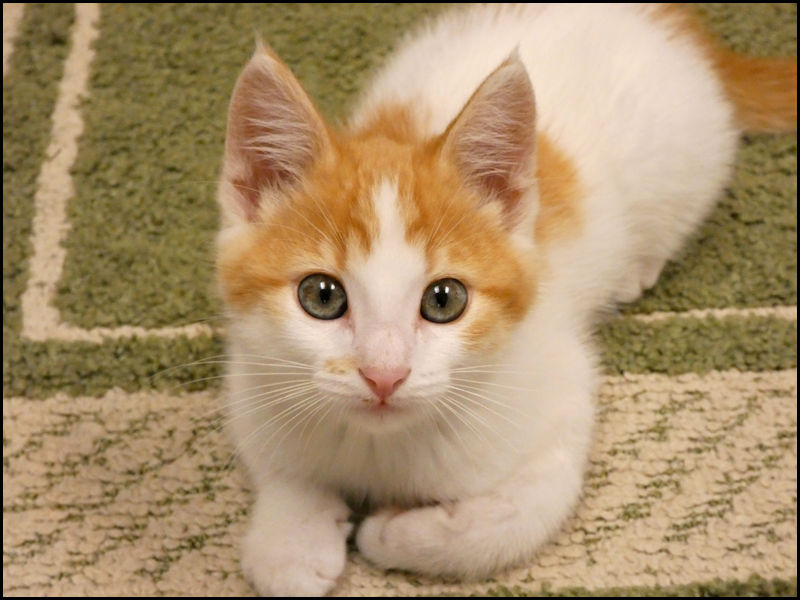 He was dumped here on the night of the 6th, and was so tiny. This was taken that first morning, and he only weighed about a pound.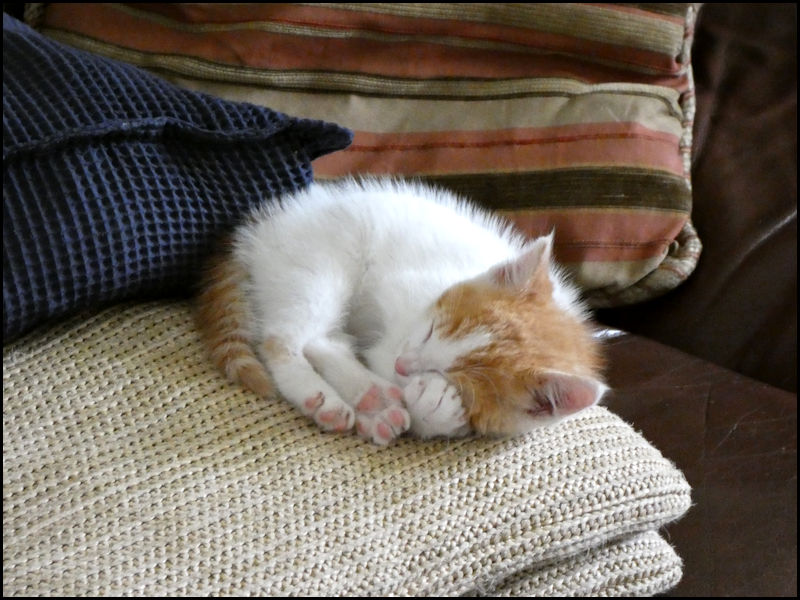 He's growing faster than the garden, though. He's up to about three pounds now. Here's a short video.
That's all for now. Thanks for dropping by again.