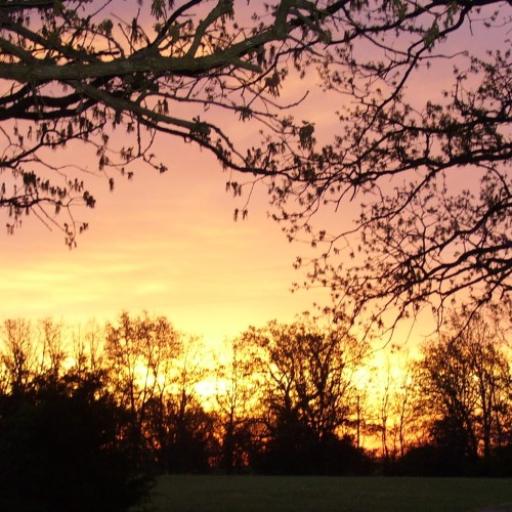 July 9, 2023
Well, it looks like this year's garden is shaping up to be a showcase of things that can go wrong. So far, anyway.
It was a dry spring, which is almost unheard of in my region.
A lot of things weren't growing properly in the beginning, and took forever to get going.
The corn came up a little spotty and has been growing unevenly.
And now... Bugocalypse 2023!
This was June 28th, and there were blister beetles all over the potatoes. The bastards! There must have been thousands of them. It was as if a big swarm had landed in the garden overnight.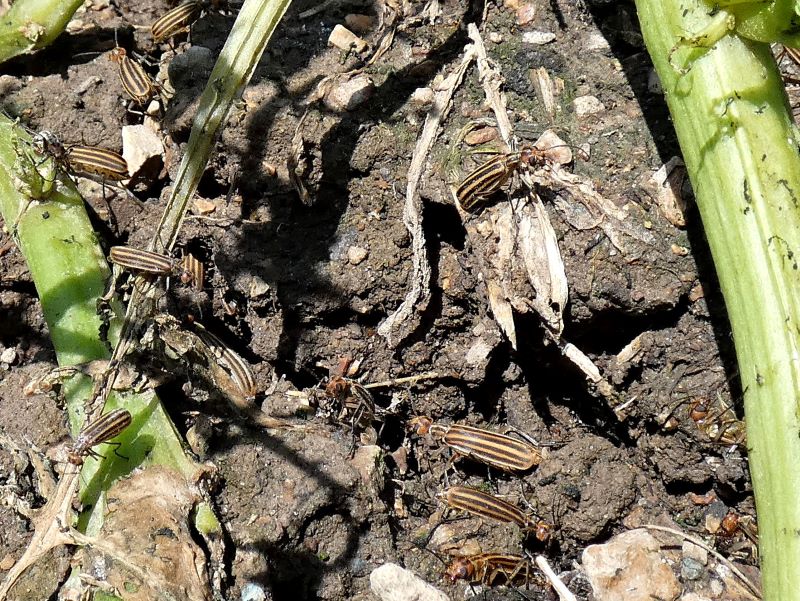 For reference, this is how they looked 5 days earlier, in the previous update.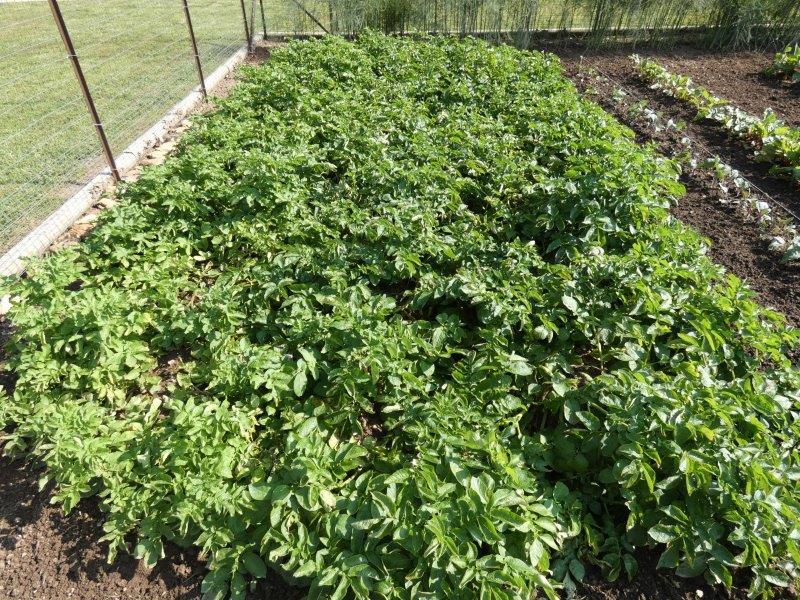 And this is what they looked like on the 28th, after I broke out the chemical weapons and went to war. They did not look like this the night before when I watered. It didn't take the vile pestilence very long at all to eat most of the leaves.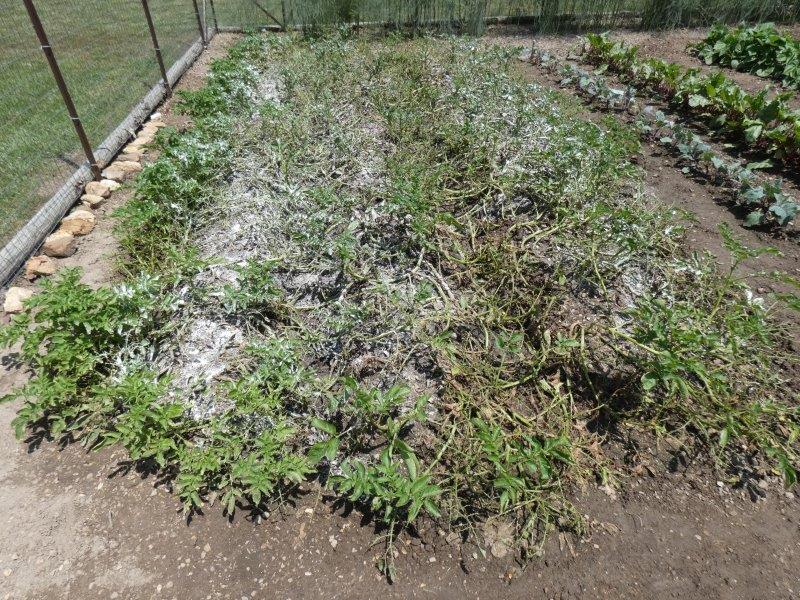 Luckily, the Sevin dust I tried on them worked. I don't know what I would have done if it hadn't. Here's several of them running for their lives after the application. They were doing this all around the potatoes.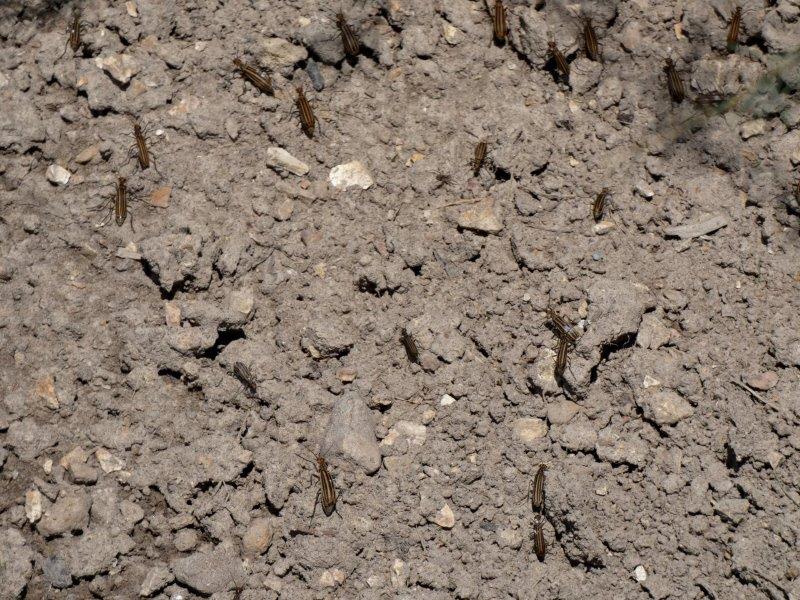 But they didn't make it very far. Here are some that barely made it to the beets before going belly up, literally. There was also a tomato hornworm making a run for it. Must have been somewhere in the potatoes, too. It got squashed right after I took this.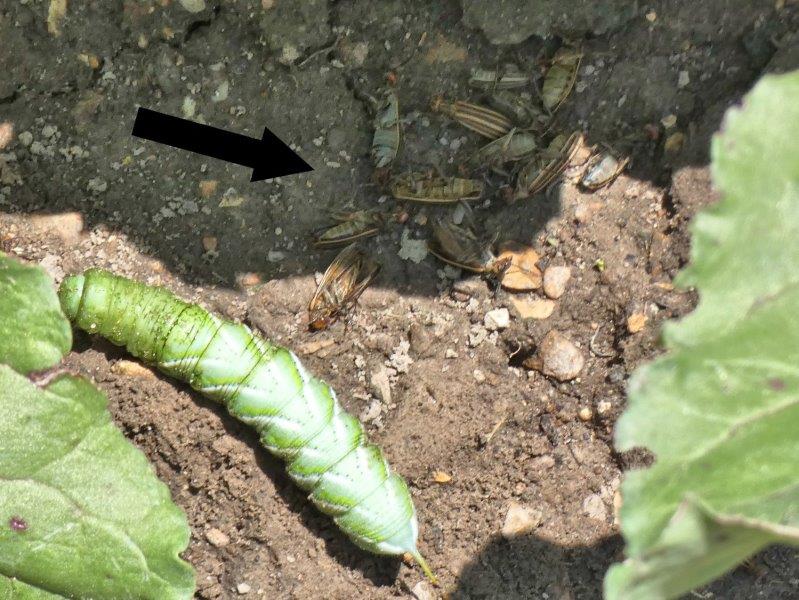 Here are several that I smashed with the butt end of a 2x2 as they were running. This kind of thing always makes me wonder how people handled stuff like this back in the day before insecticides, when many depended on what they grew for sustenance. It must have been a nightmare for them.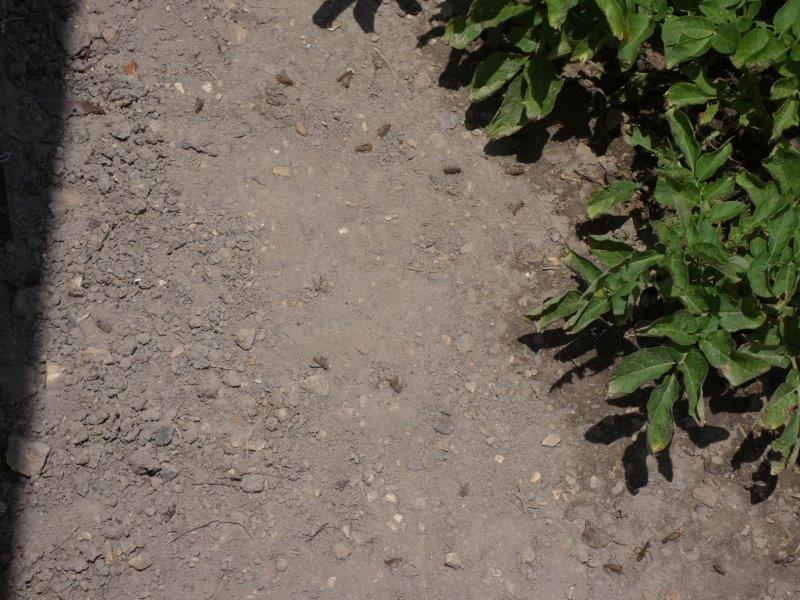 While all of this was happening, a Zebra Swallowtail was trying to suck moisture out of the ground nearby, oblivious to the frantic warfare going on just a couple of rows over.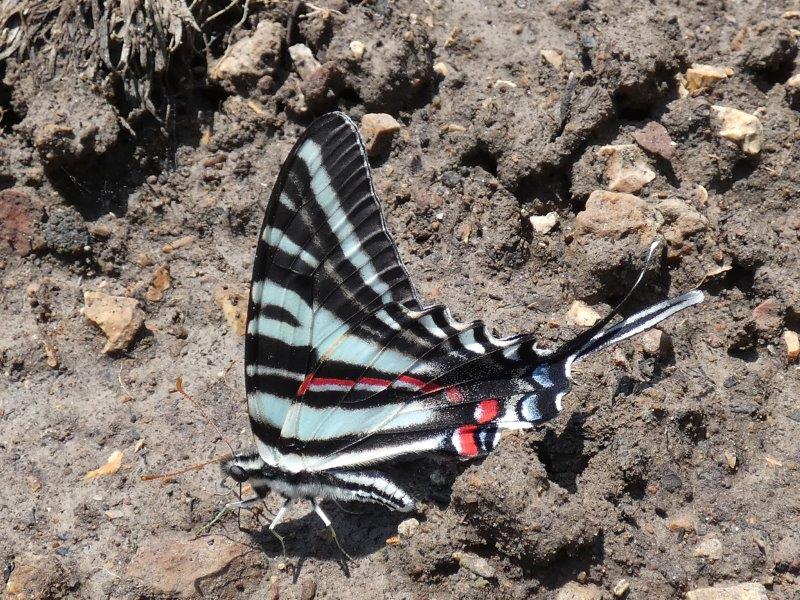 Once the potato leaves were gone, these became obvious. They're potato fruits, if anyone hasn't seen them before. They look a lot like tomatoes, being in the same family, Solanaceae, along with peppers and eggplant. They're poisonous to eat, but you can collect the seeds in them for growing more potatoes if you want. You might have problems with sexual crosses, though. Pretty sure that's why growing clones from seed potatoes is generally the preferred method. That, and the fact that it's just so easy and reliable.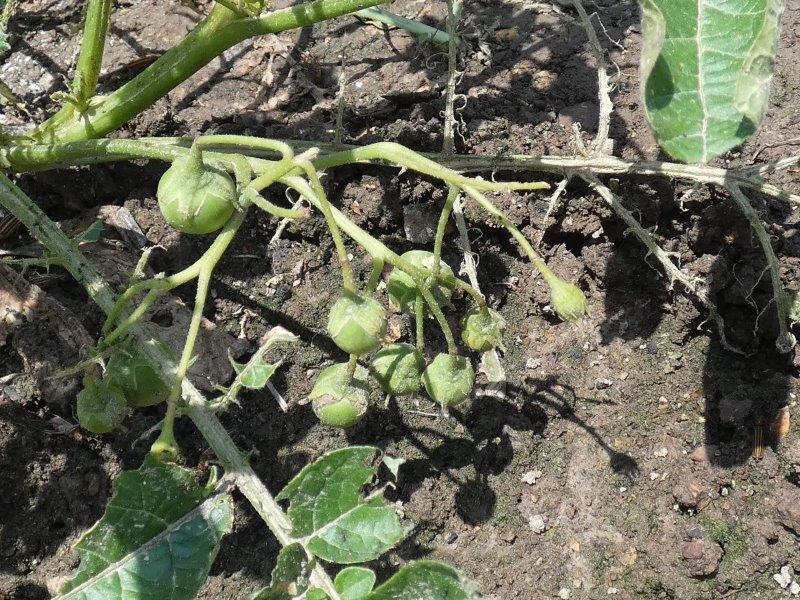 And here we come forward to yesterday evening, July 8th.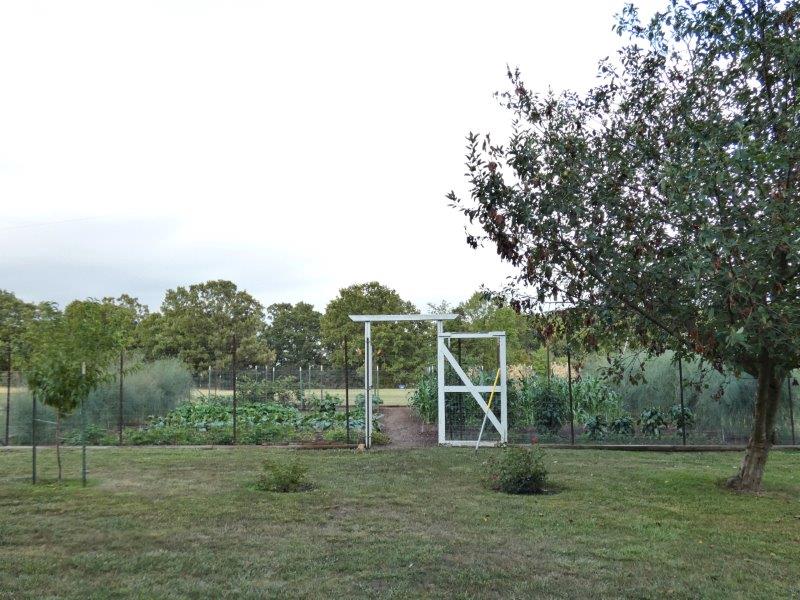 The left side.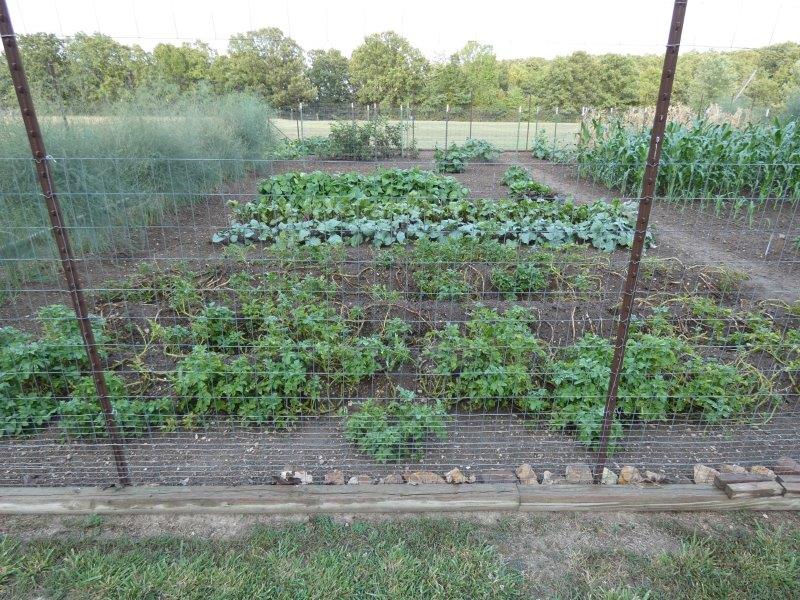 Here's how the potatoes look now. They're trying to regrow leaves and recover. Some of them are doing better than others.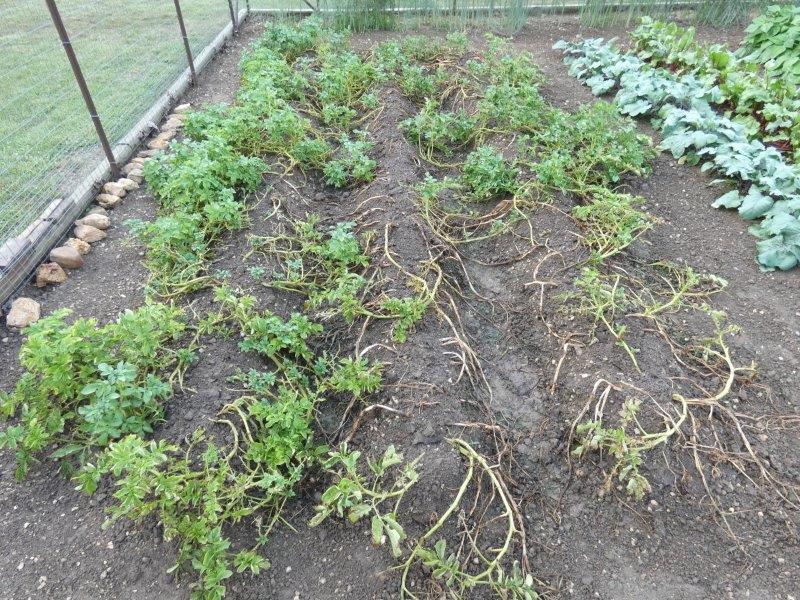 Kohlrabi and beets. The kohlrabi isn't close to being ready yet, but the beets are.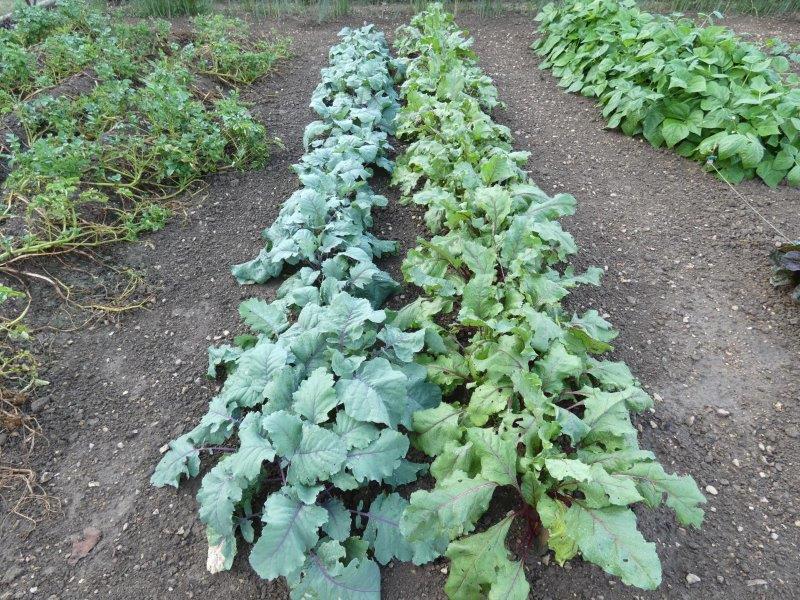 Romaine lettuce and beans. I need to hurry up and plant some more of the romaine, but I've been lazy about that. I guess I'm just not that into it. Honestly, I prefer iceberg lettuce, but of course I can't grow that in the heat.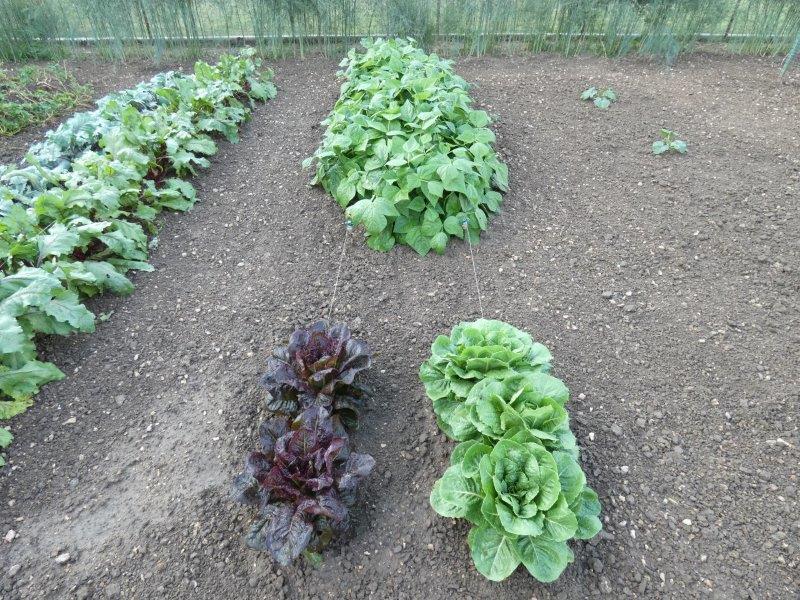 Here's some of the romaine cleaned for the fridge.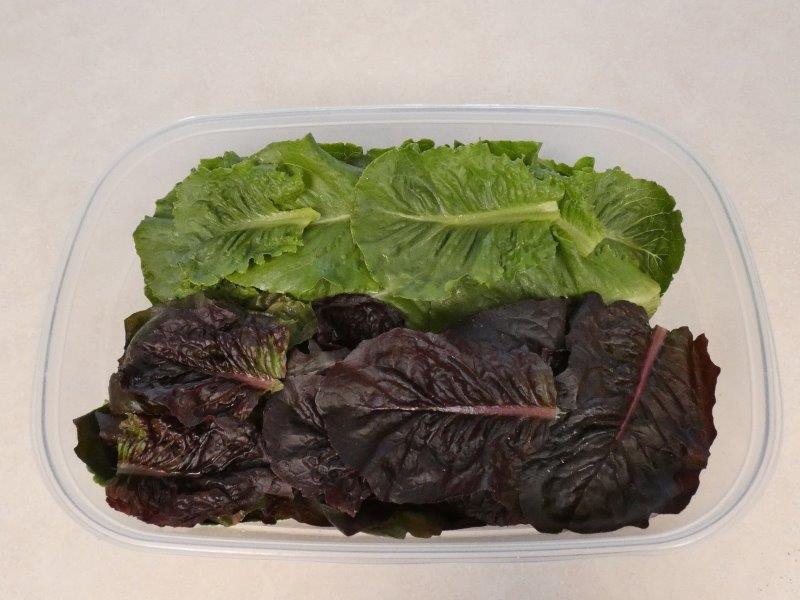 The beans are starting to flower.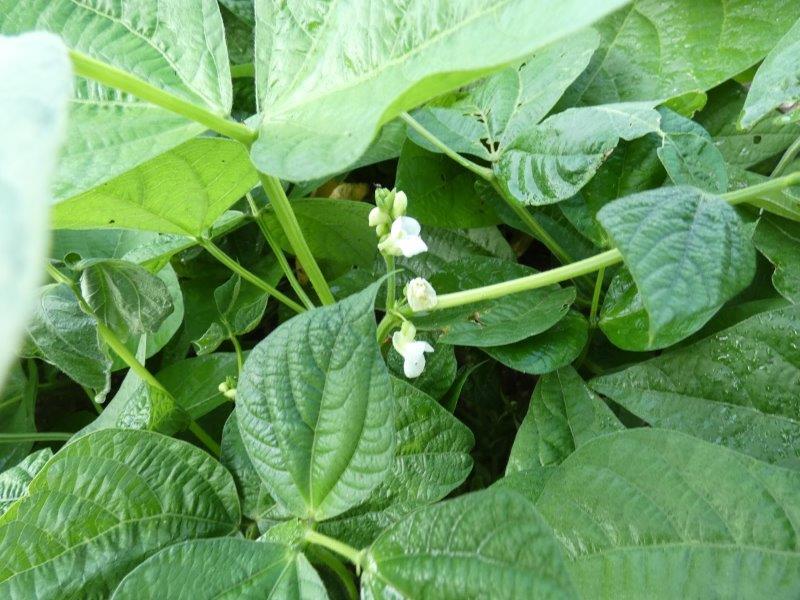 And yet another bug problem. The squash bugs have been bad this year. Here they've killed the biggest zucchini I had at the time, just as it was starting to produce. This was from a few days ago. The plant is gone now. I pulled it.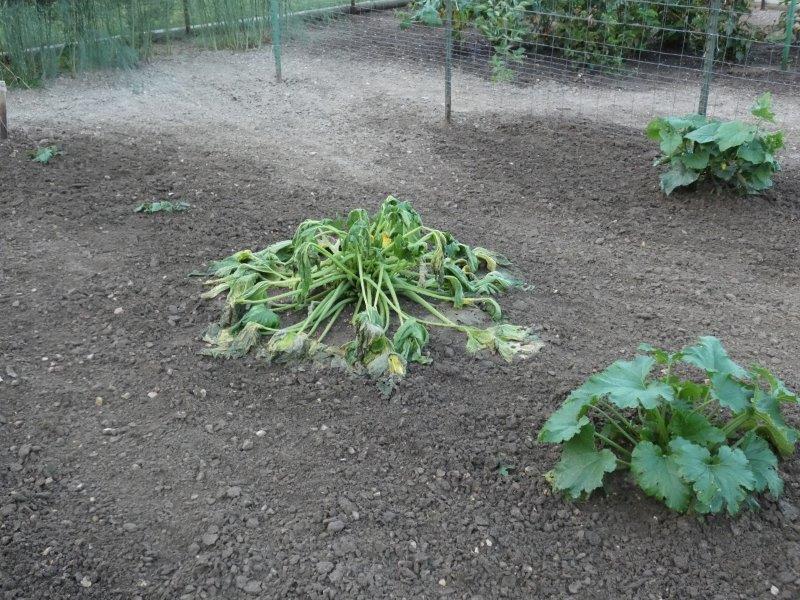 Here's what the little sapsucking demons look like. They are consistently my worst pest from year to year. Sevin doesn't kill them, so I have to spray the plants well to flood the base when I'm watering, and when the bugs run for higher ground I flick them off and turn squash bugs into squashed bugs. Unfortunately, it's not a foolproof method. They usually win in the end.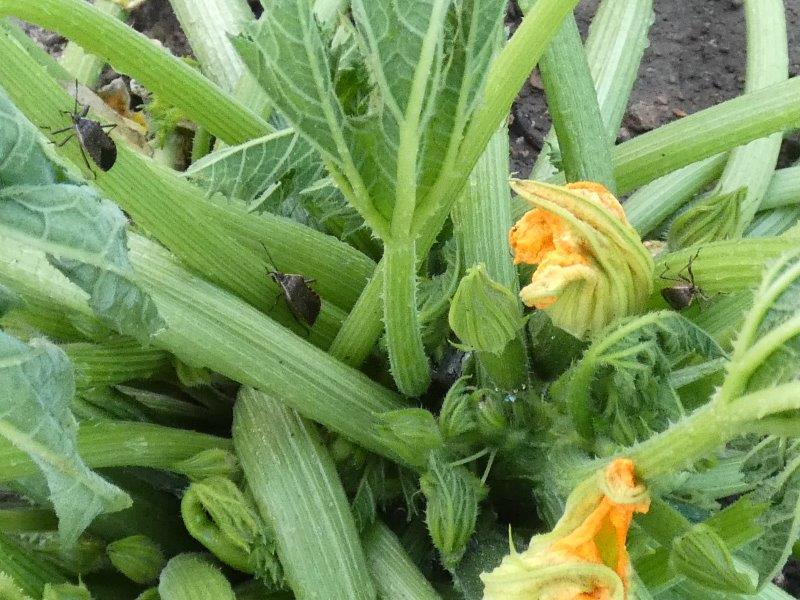 Here's one on the romaine lettuce for some reason. Weird, because they don't tend to eat this stuff. Maybe he was just exploring, looking for more squash. His journey ended prematurely, I'm afraid.
Here's the second of the first two zucchinis. Still alive for now.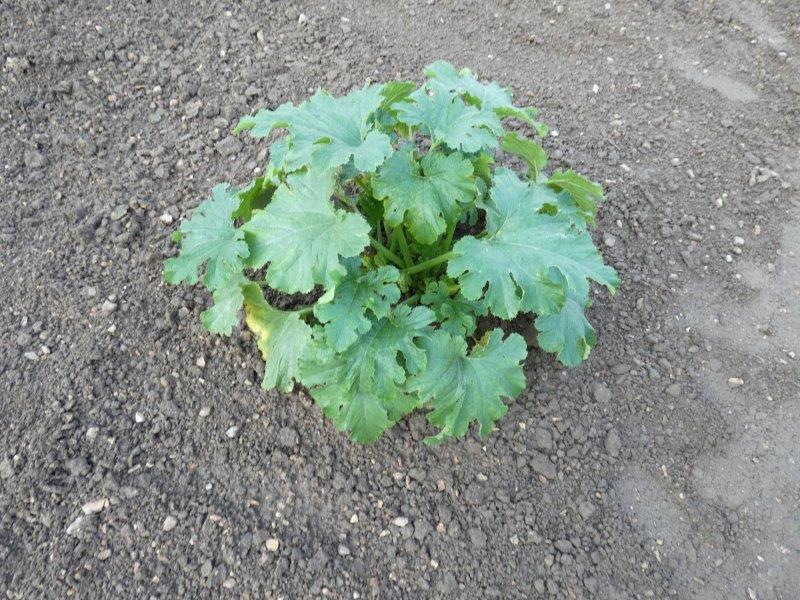 It's just now starting to produce.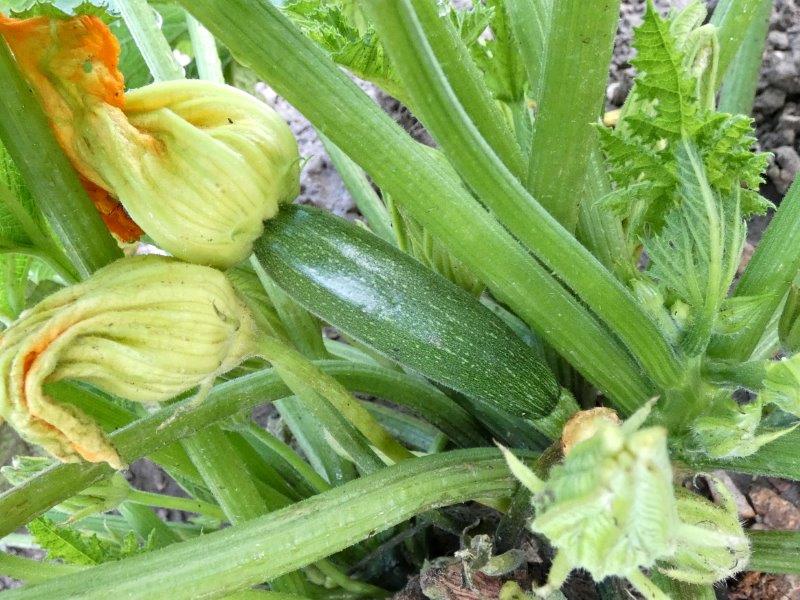 And here are two new ones, about a week-and-a-half old.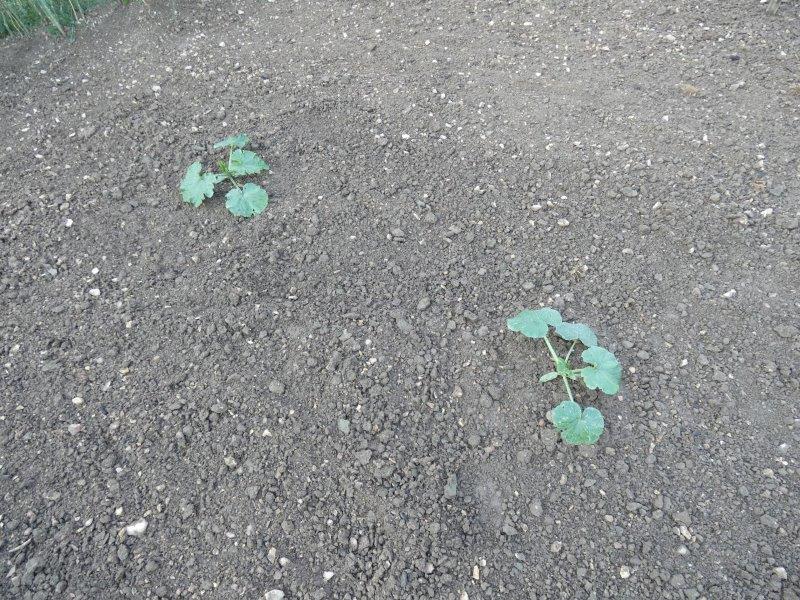 Here's the cucumber, still growing slower than usual. It's finally starting to vine out and flower, but there are no fruits of any appreciable size yet.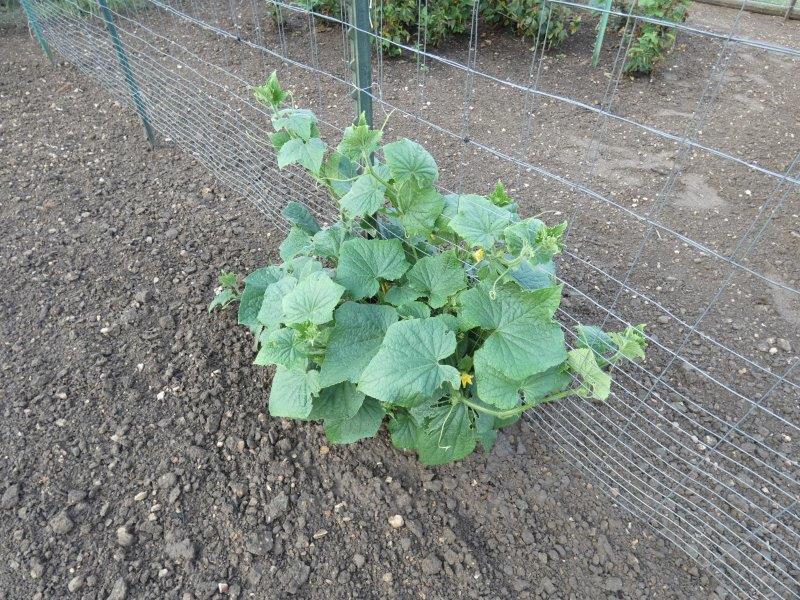 The blackberries.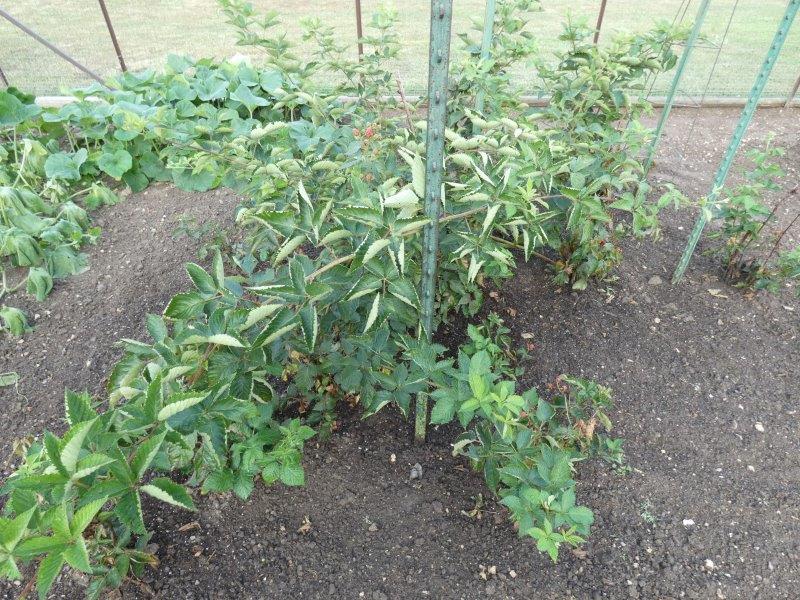 The few berries on them are starting to ripen.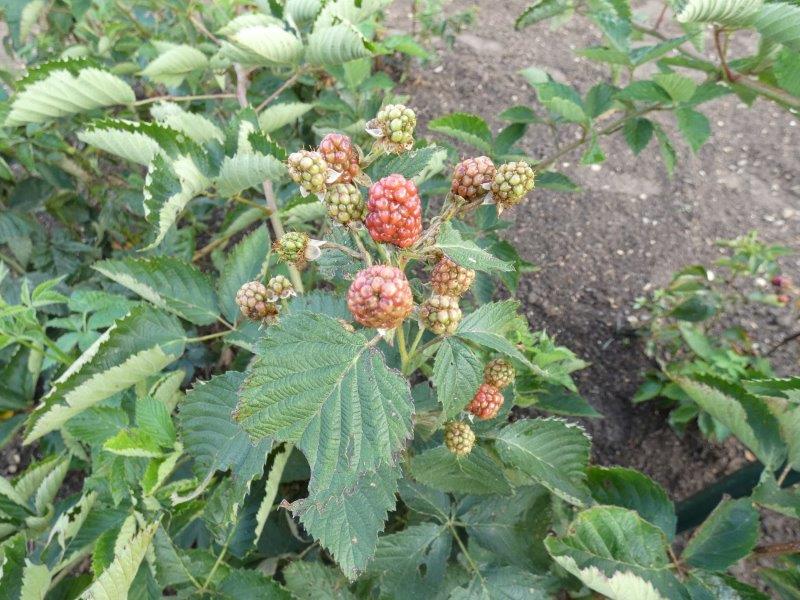 Okra in the foreground. Doing fine I suppose, but not flowering yet.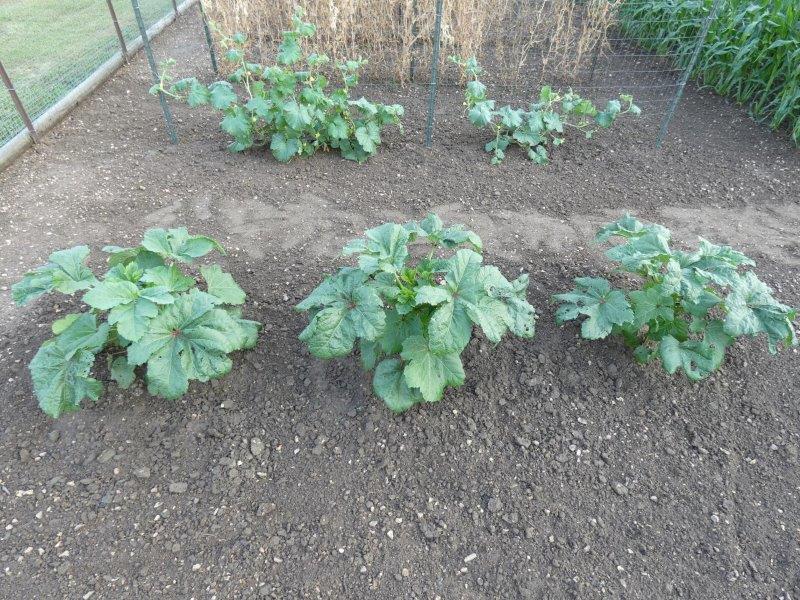 The butternut squash. One of the two plants is under attack. Can you see the evidence?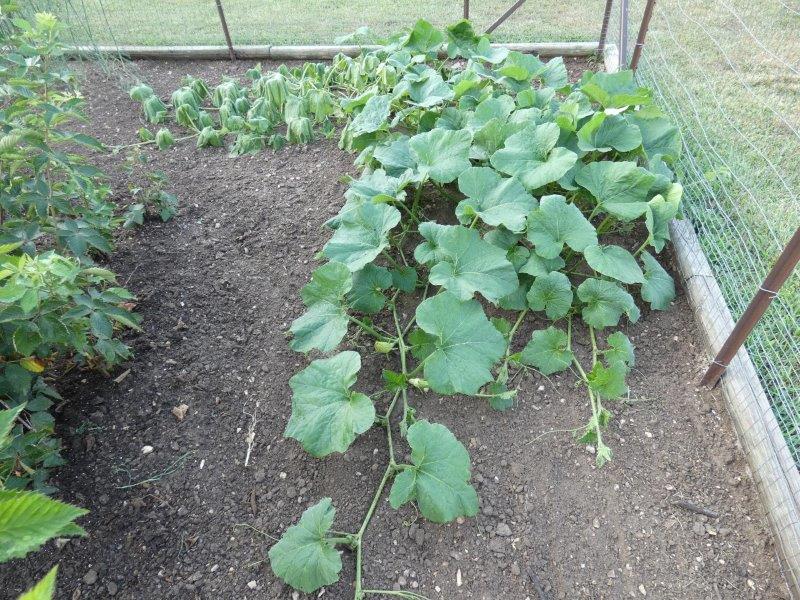 Yup. One of them is dying off. Squash bugs again. This is a bad sign because butternuts don't usually succumb to them. I don't think I've ever lost a butternut plant to squash bugs before, even when they're infested with them. This sucks.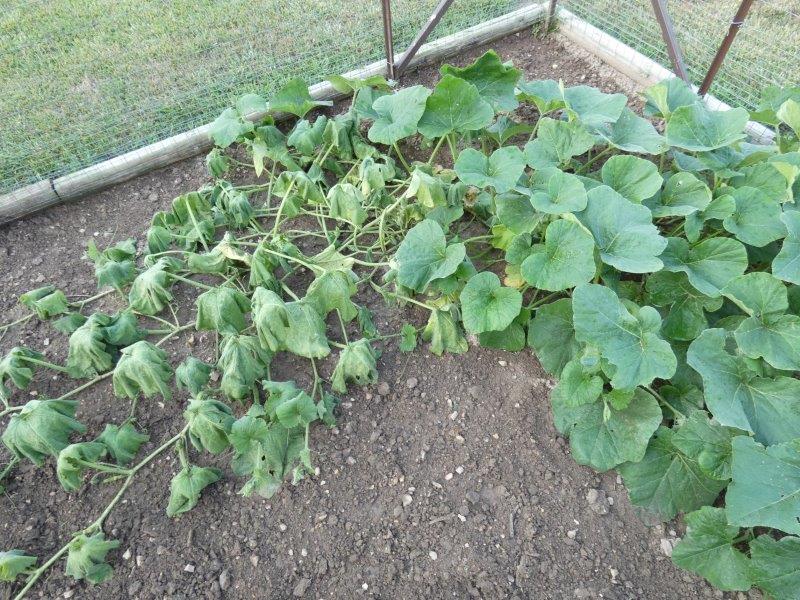 The other one is flowering and starting to set fruit. I hope I can keep it alive.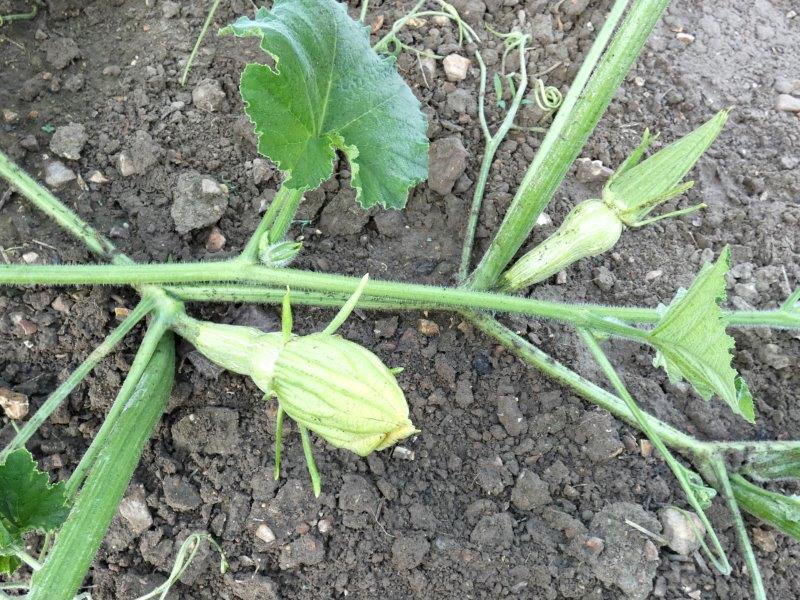 Something took a bite out of this one. I have no idea what. It's not what squash bugs do, and turtles or rabbits shouldn't be able to get inside the fence. It's a mystery for now.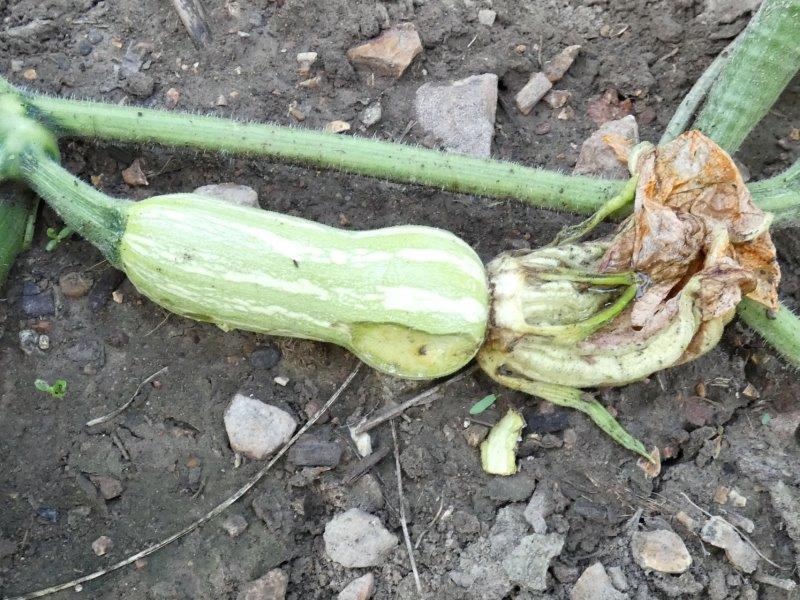 Here's the other side of the garden.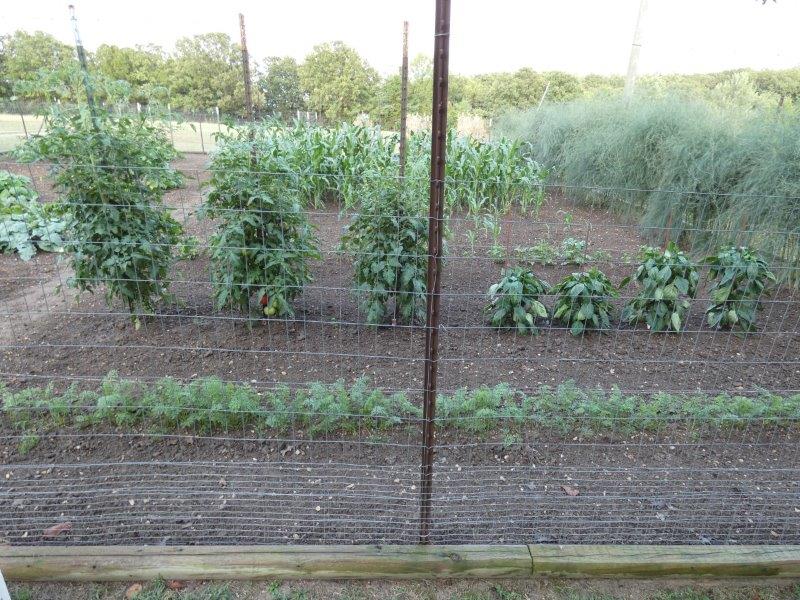 The tomatoes are looking good. So are the carrots, finally. They should almost be ready by now, but no.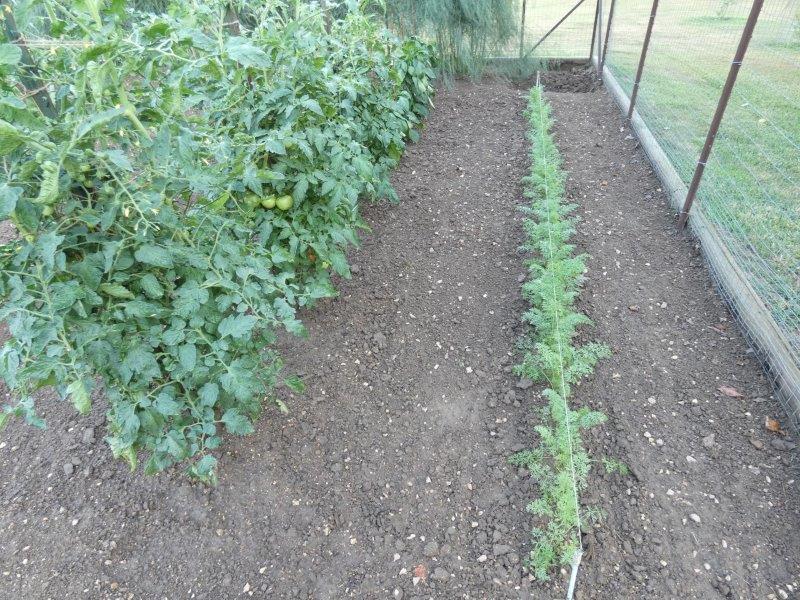 Tomatoes.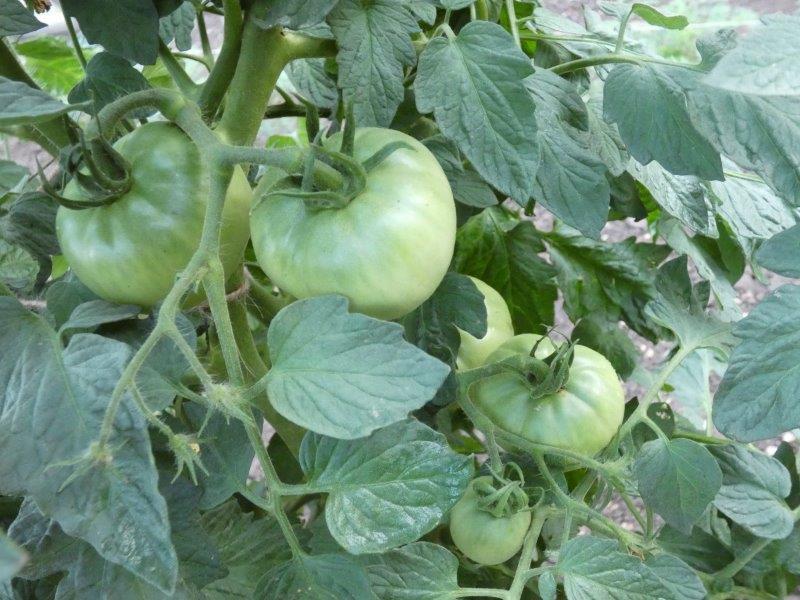 Lower ones are starting to ripen.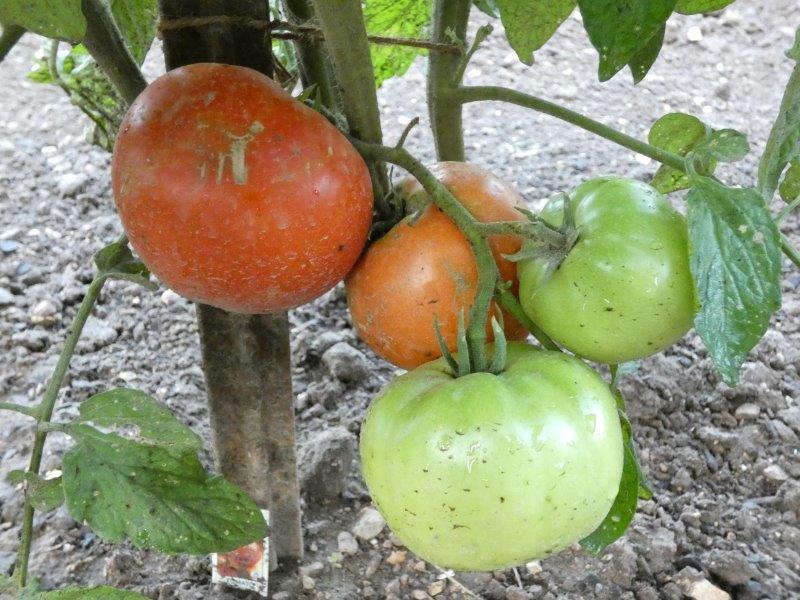 Cherry tomatoes.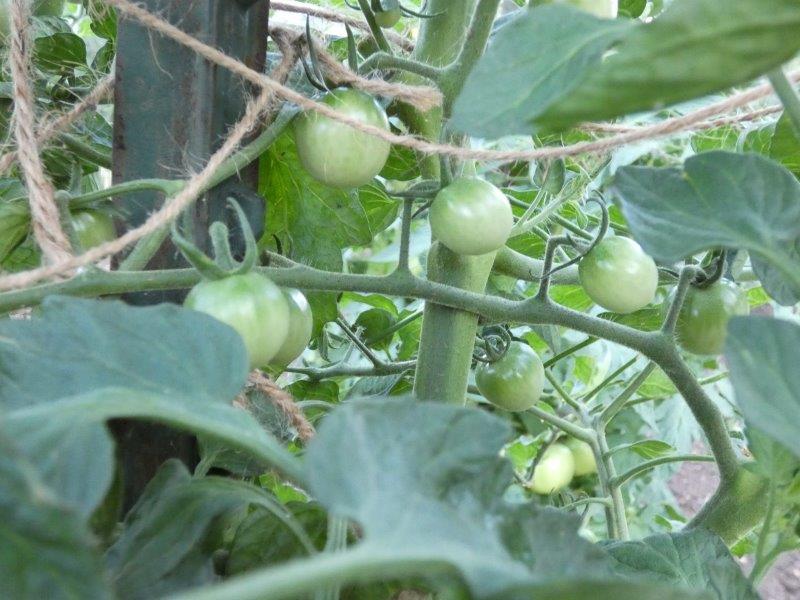 Also starting to ripen down below.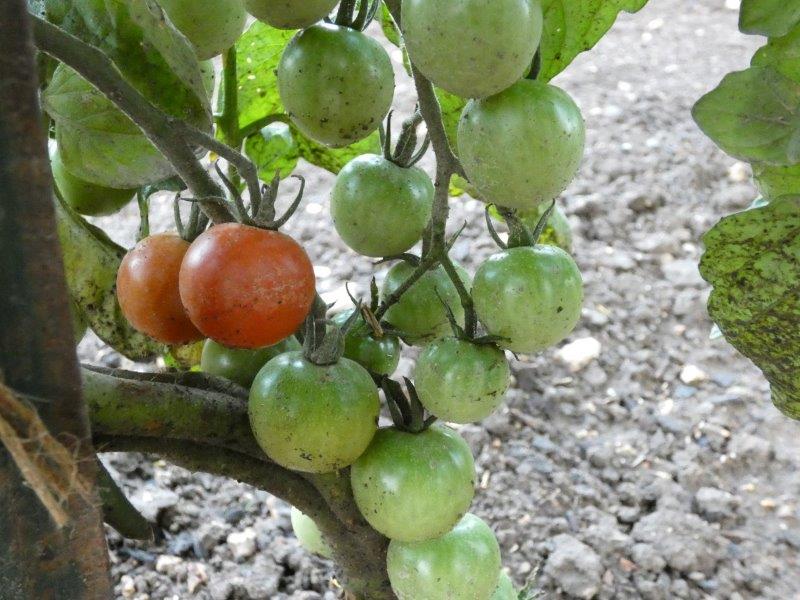 The marigolds I planted between the tomatoes have come up. Flowers are easier to grow than vegetables, in my experience.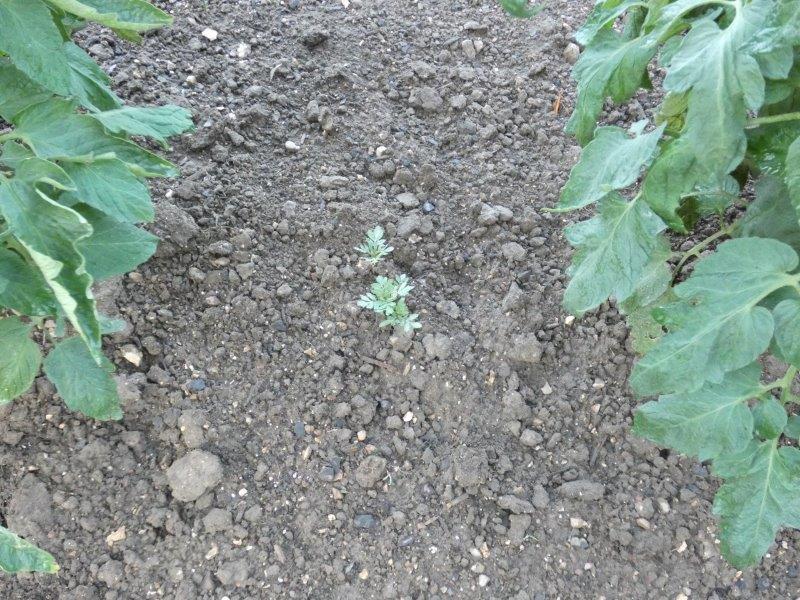 Bell peppers.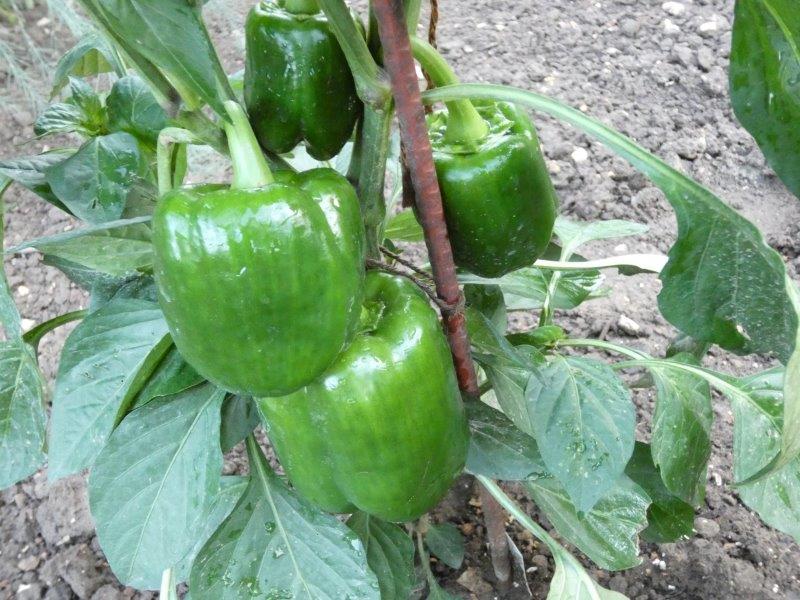 More bell peppers.
The second russet potato planting is doing well. You can't really see it in this shot, but I've raked soil up on them now, giving them maybe 5 or 6 inches to grow in. I may rake more up on them in a few days, before the leaves get too big.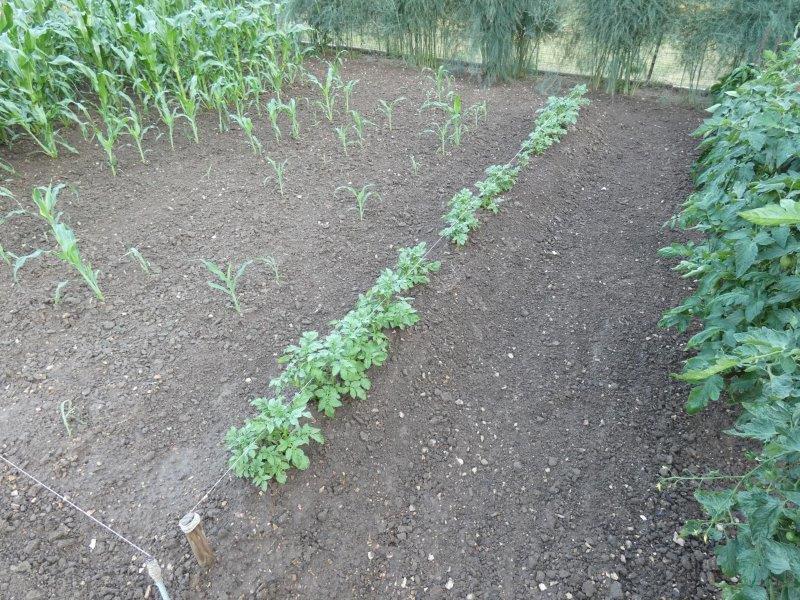 Ready for a laugh? This is supposed to be the second planting of corn. What a joke. It came up well, but then it started disappearing. I can't be sure, but I suspect birds. Corn first emerges as a little green spike that might resemble a little green caterpillar to them, and I'm always seeing birds hopping around on the ground in the garden. I'm going to have to figure out some way to keep things off the corn when it's small next year. Floating row cover, maybe. I don't know if this batch is even going to be able to pollinate itself, what with all the gaps. I guess we'll find out.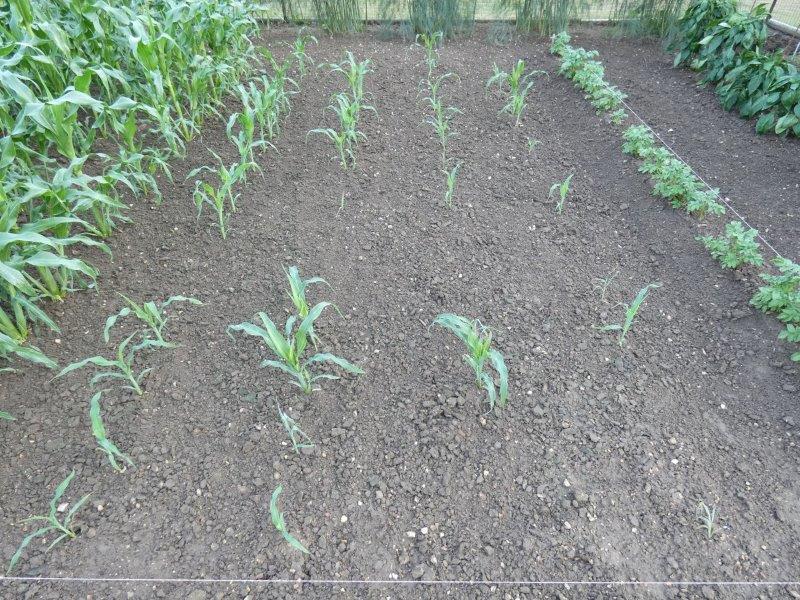 Fortunately, the first planting is doing much better. It's still somewhat uneven, but the shorter ones are catching up. Hopefully they'll all be silking out at roughly the same time.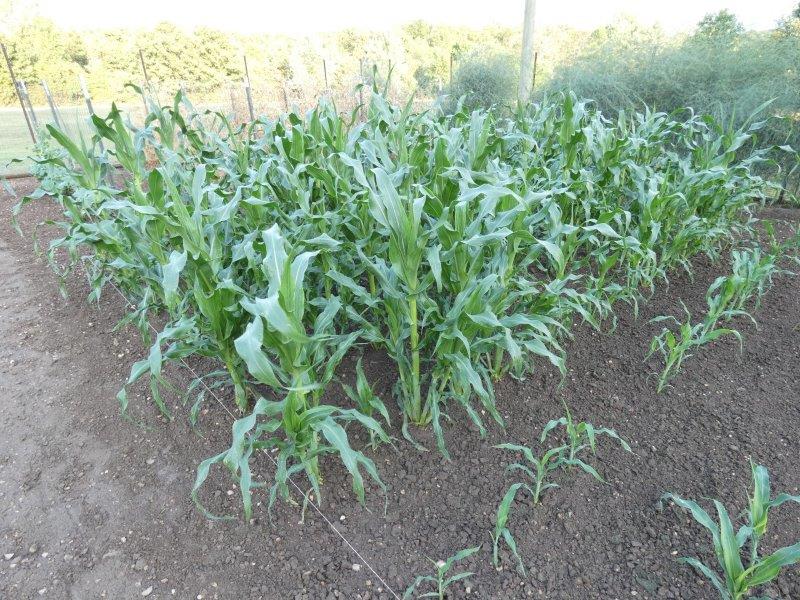 Here are the trellised cantaloupes, finally starting to vine out. Dead peas are still on the other trellises in the background. The deader and drier they are, the easier they are to clear away. I'll get to that soon, and I'll be planting something else in their place. No fall peas this year, so probably more beets and carrots. Definitely another cucumber.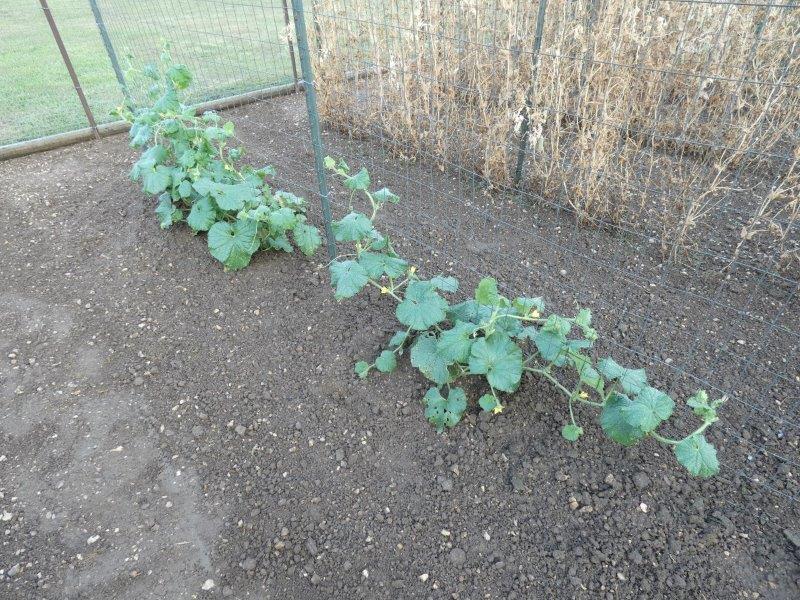 The cantaloupes are already setting fruit. See the little baby one in the middle of the image?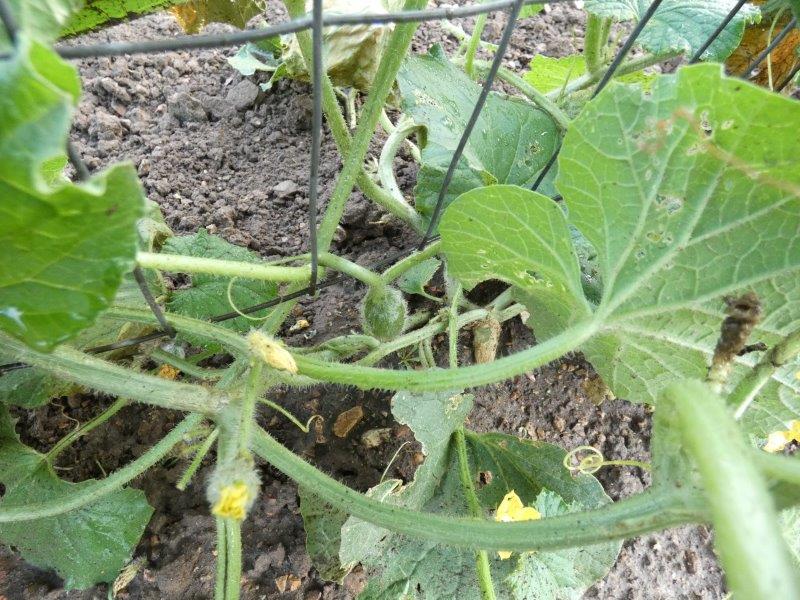 Here's a couple of apples outside the garden.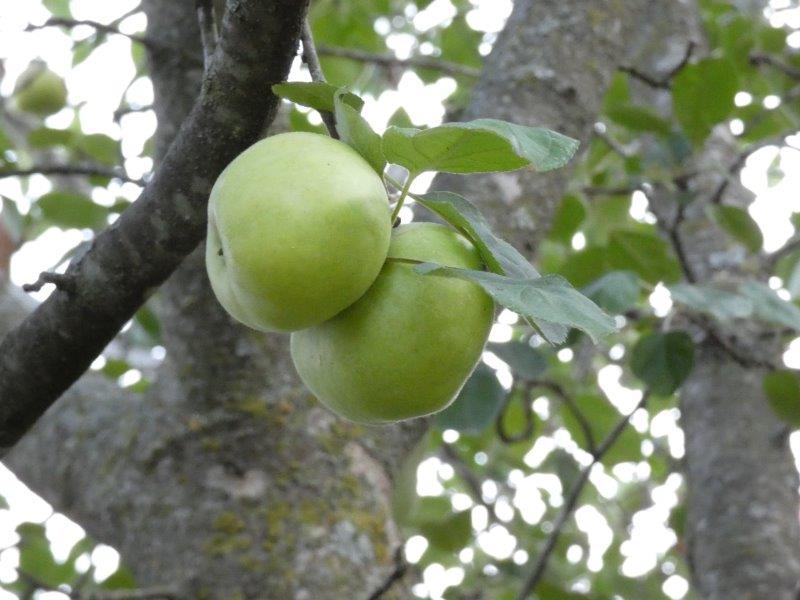 They've started to fall.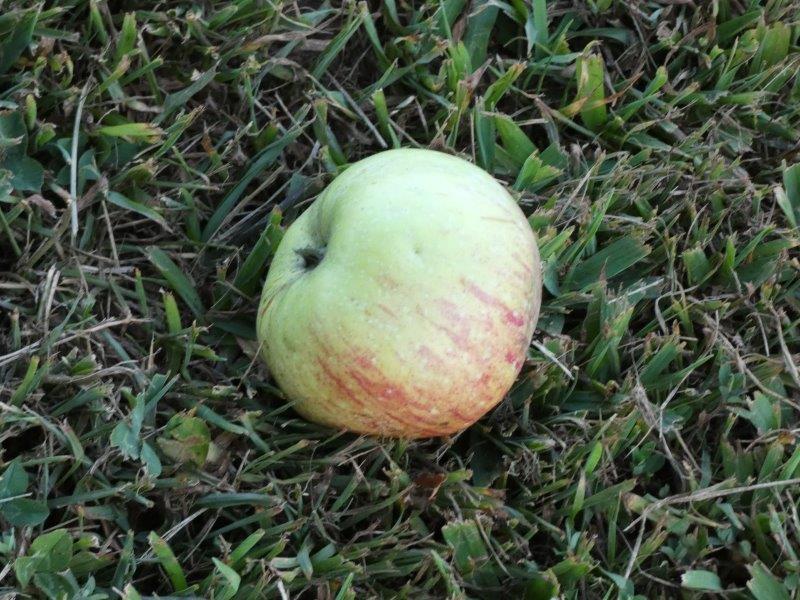 Here are the watermelon plants in the separate side plot, still growing slower than they should be.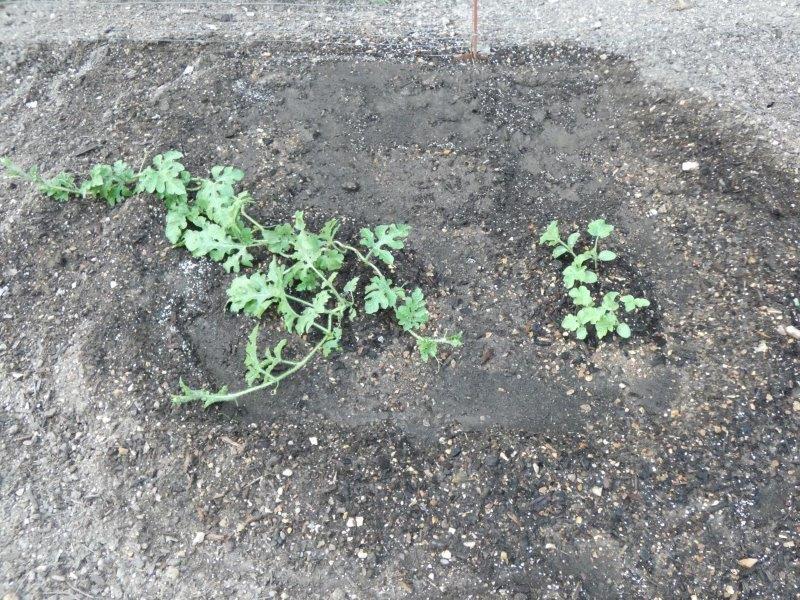 After several tries I finally got some to come up on the right side. None of probably 15 seeds came up before, so I dug out a pack of last year's seeds and tried 4 in one place, along with 4 more of this year's seed in another. Every one of them came up this time. Every last one! I just don't get it. I'll thin them to 2 plants before long. Hopefully they'll have enough time to make melons before the sunlight starts to get weaker in the late summer and fall.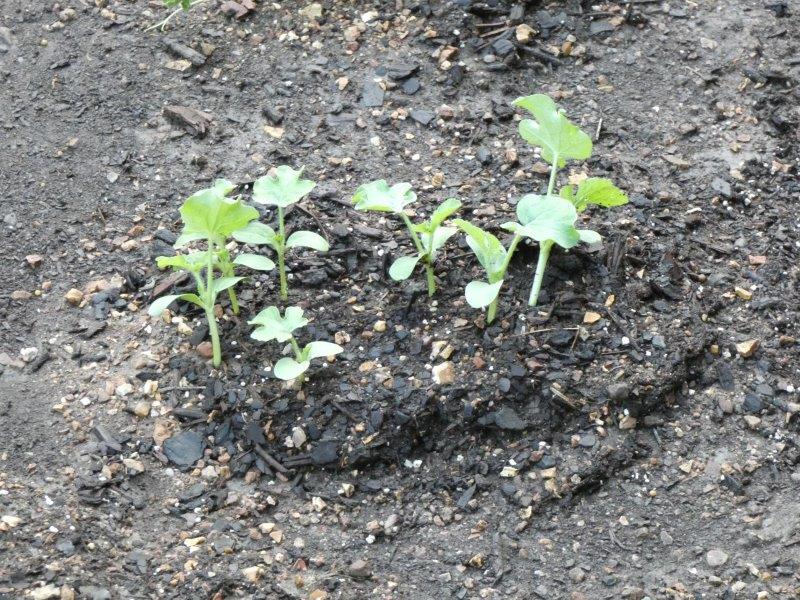 Here's Buddy, doing great. His growth rate finally slowed down. He went from one to about three pounds in the first two-and-a-half weeks, but only gained another half in the next two. I was wondering if I was going to have a monster on my hands there for a while, lol.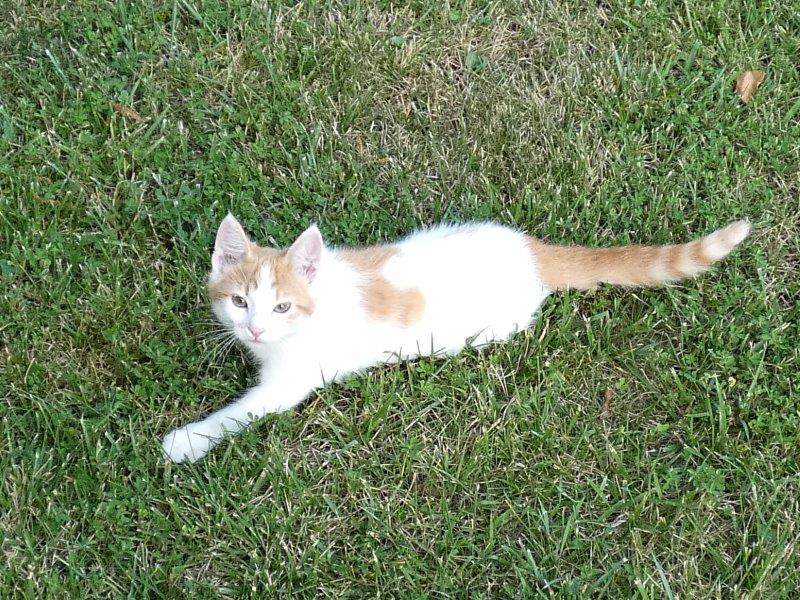 He's been exploring everywhere. Here he is in a partial-shade flower bed.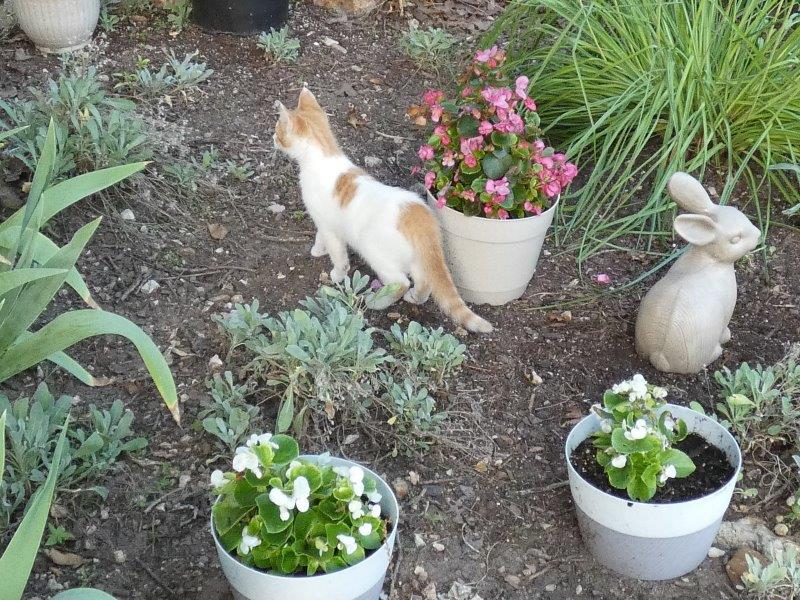 There's a wren house in the tree above that flower bed. One brood has already come out of it this year, and the wrens are apparently trying for another, which is unusual in my yard. This one is watching Buddy on the ground below.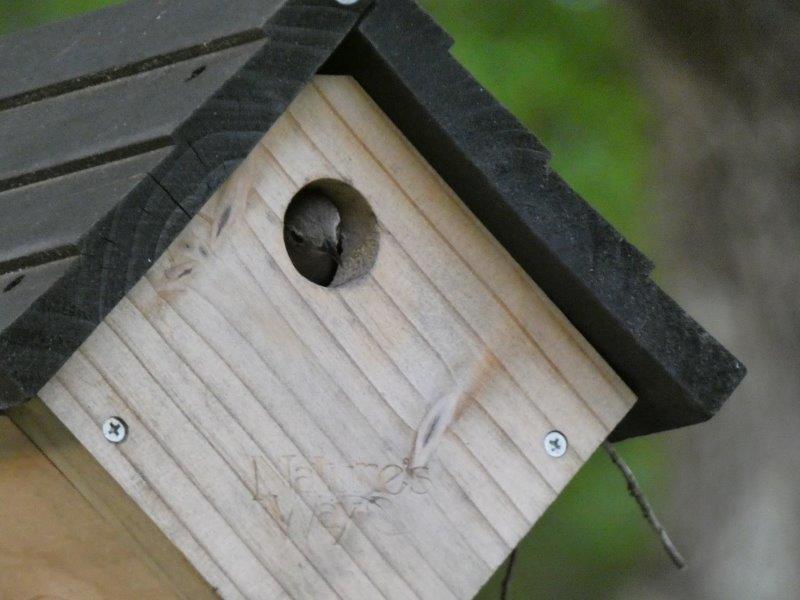 Here's how much he grew in about a month.

Here's July's full moon rising last week. My camera didn't do it justice. It looked huge to the naked eye.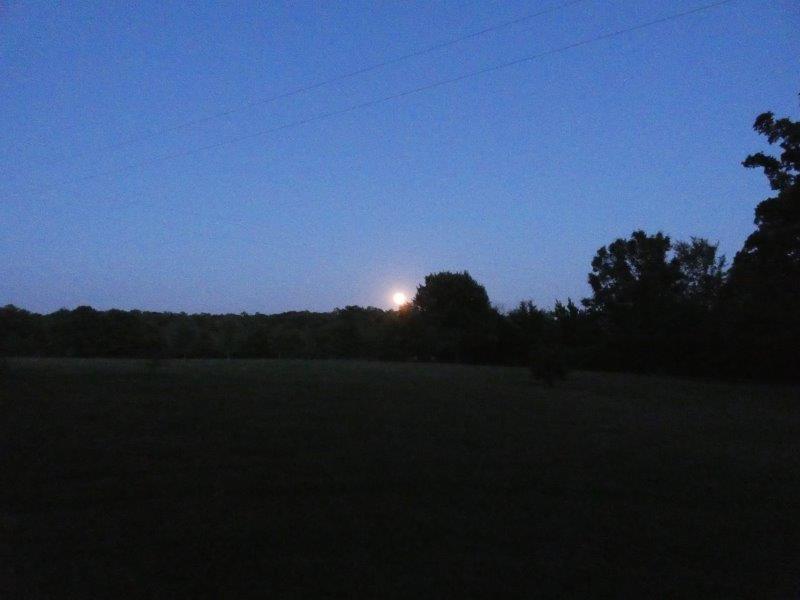 I zoomed in when it was a little higher, but still low enough to have that yellowish on-the-horizon color.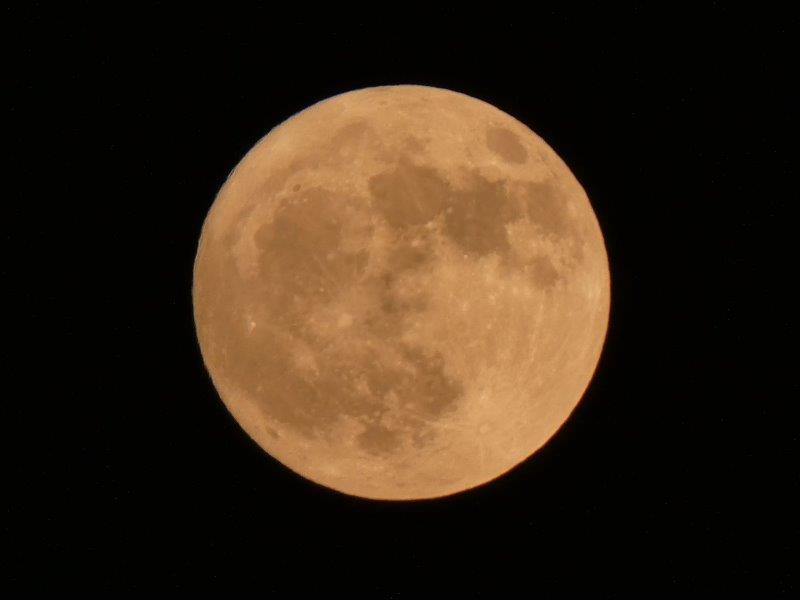 Here are some beets I picked last night. If you think you hate beets but have never had fresh ones, you should try them. Fresh beets are astonishingly better than the canned ones you might get at the store, and they're super good for you.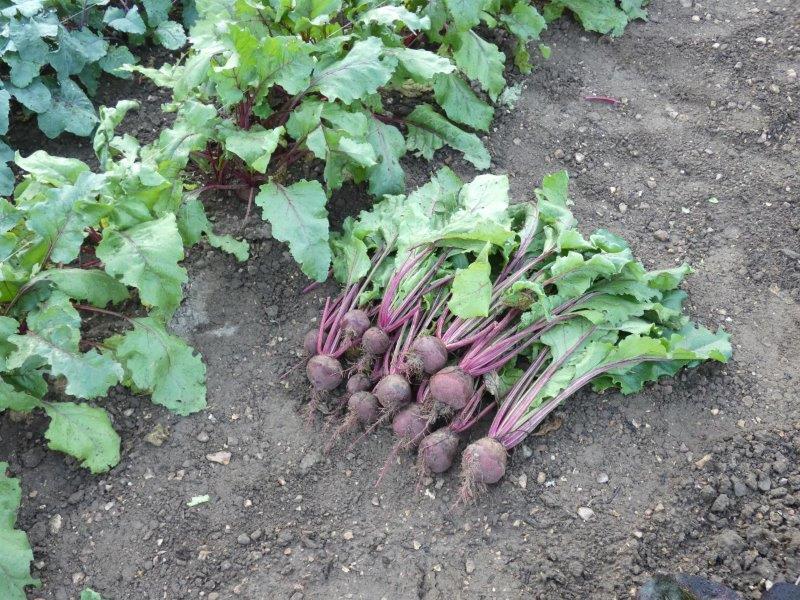 Here's how to cook them (one way at least, the way I do it). Just wash them and cut the tops off, leaving about an inch of the stems attached. Don't peel them or cut into any part of the beet itself, or the juice will bleed out while cooking. Cover them with water in a pot and cook at a low boil for an hour or so. Maybe longer for larger beets. The only goal is to soften them all the way through.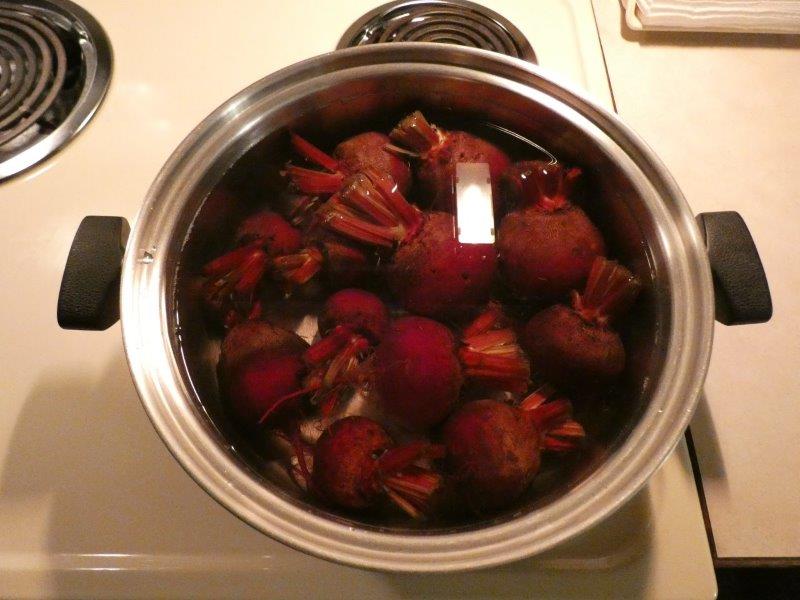 As they cook they begin to look like an evil witches brew, with weird black stuff accumulating on the pot and any utensils placed in the water. It makes you wonder who ever thought these things might be good to eat in the first place, lol. But it's not a problem. It washes off.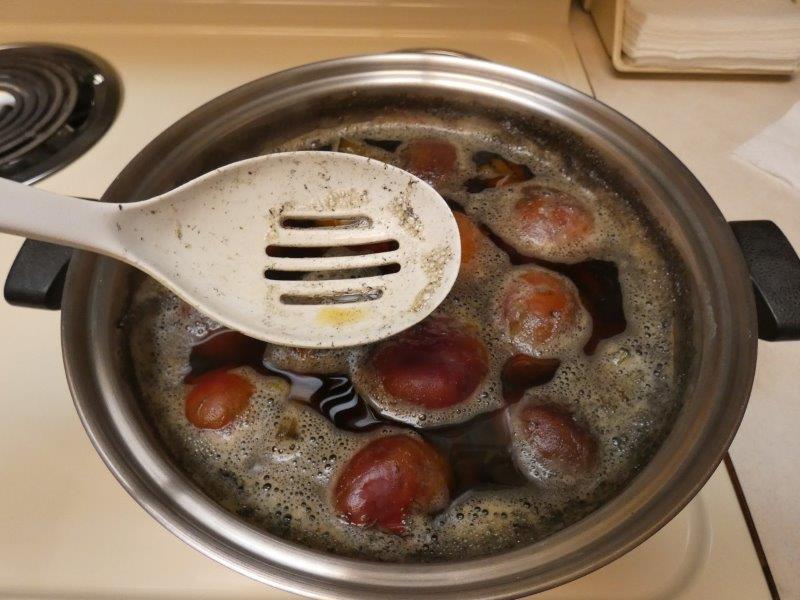 When you think they're done, scoop them out and place them somewhere to cool for a while.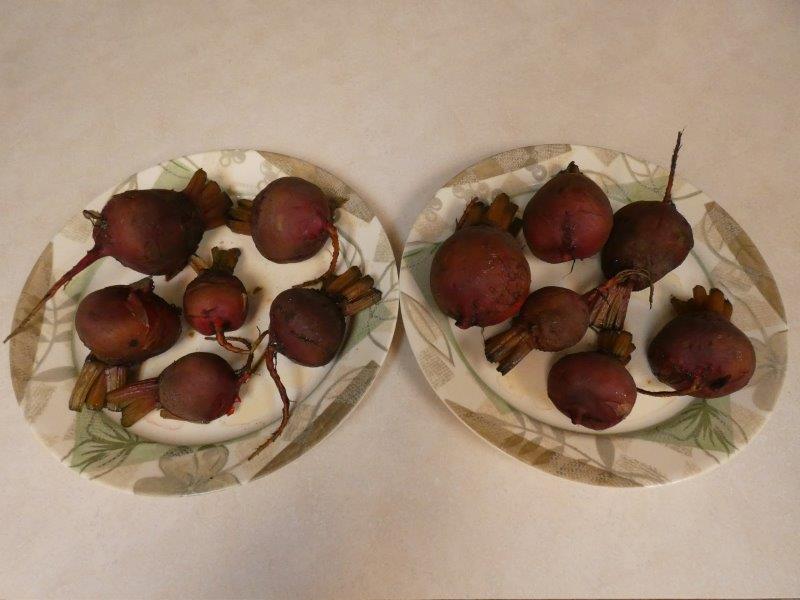 When cool, just peel, rinse, and cut them up. The skin comes off easily. Most of it just pulls off with your fingers. Eat them hot or cold. Try salt and butter on them when hot, or a little vinegar drizzled over them when cold. Add the cold ones to a salad if you like. It's good stuff, I'm telling you.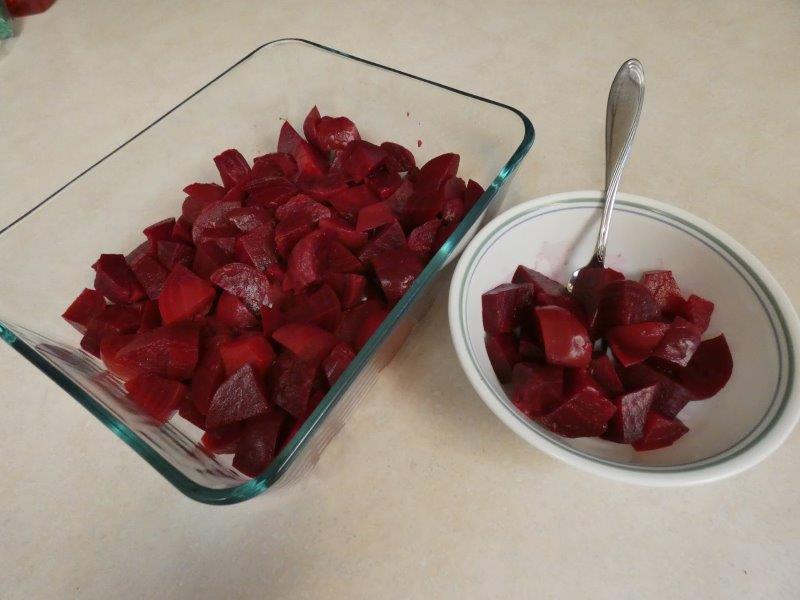 That's all for now. See you next time.