Photographer finds joy in dark nights
By:
By CHEN LIANG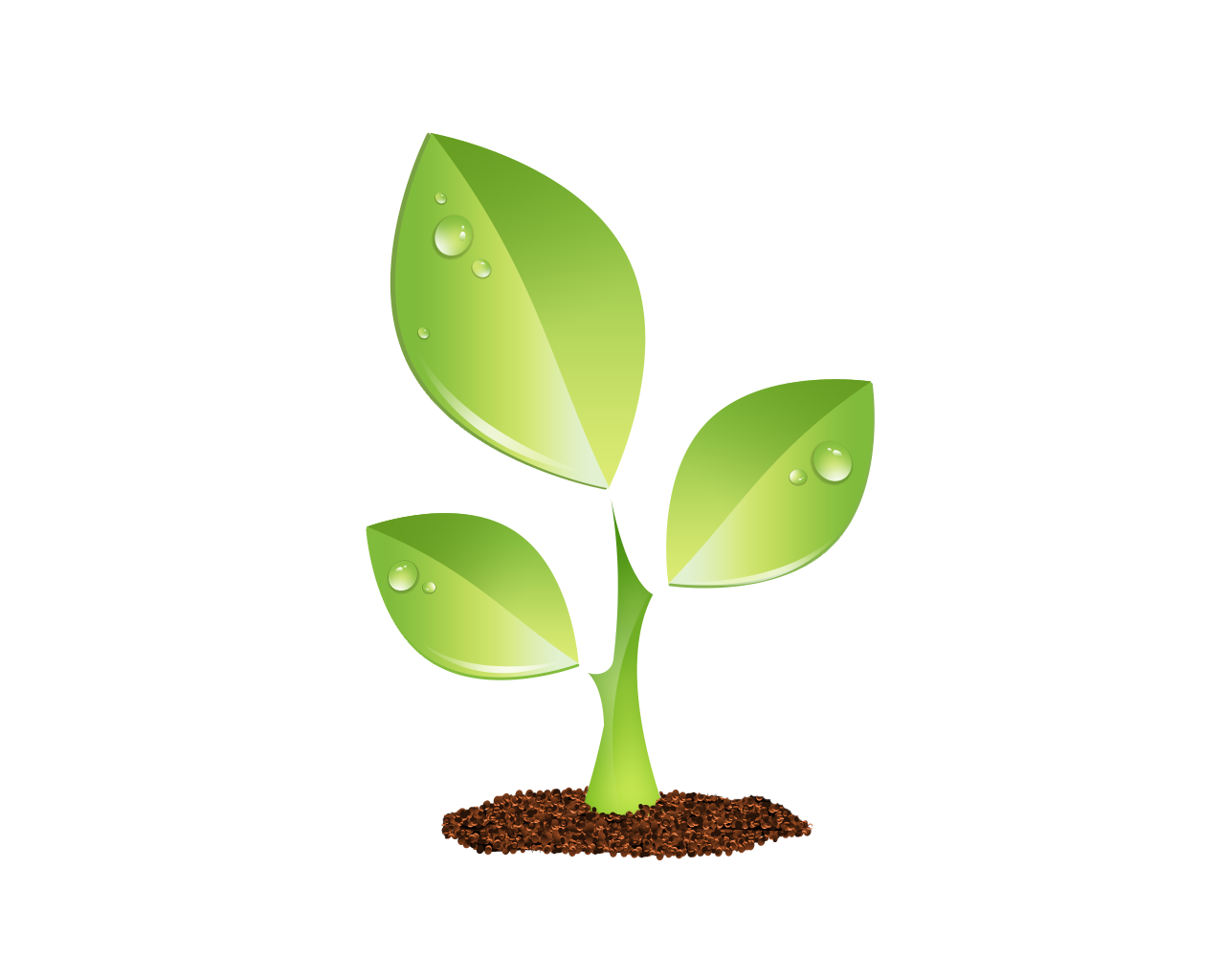 S E E D E D C O N T E N T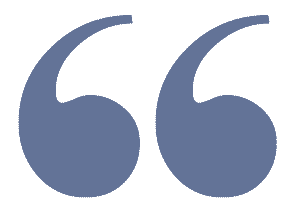 Photographer finds joy in dark nights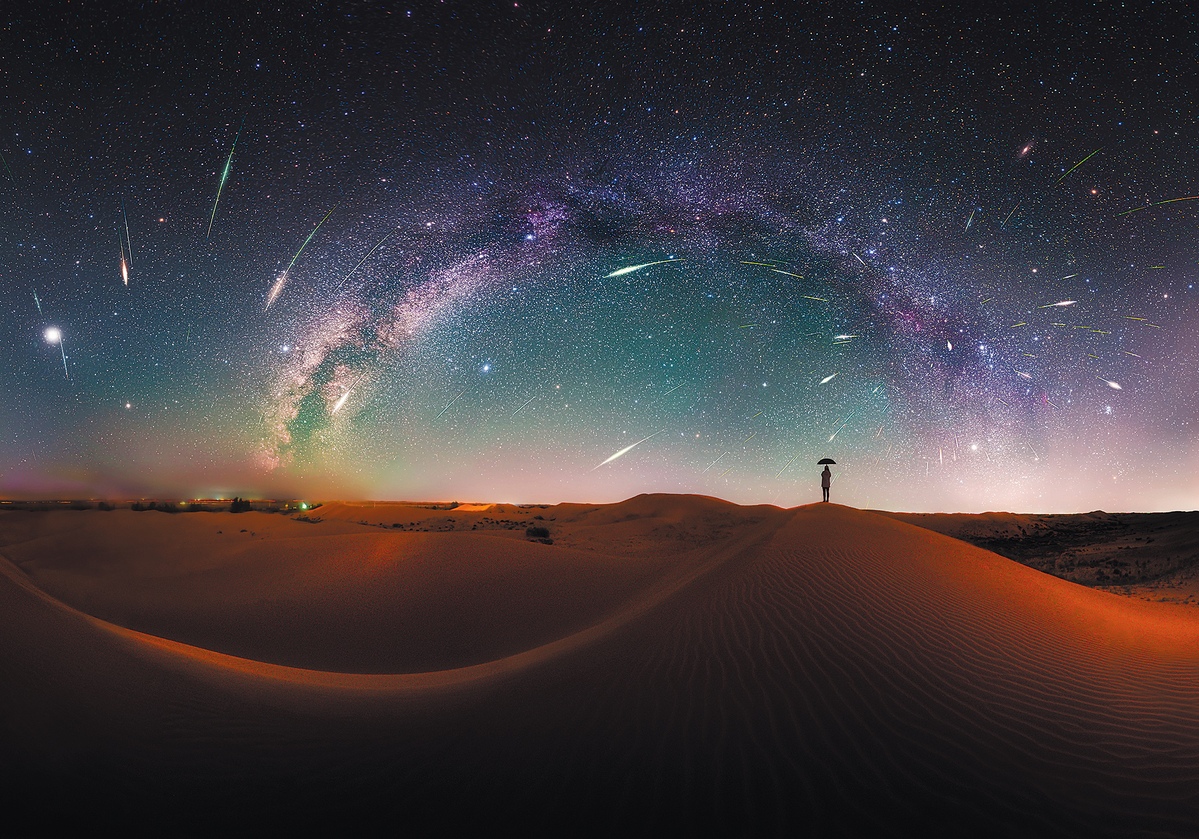 Angel An's astronomy photo: A Date with Perseids Meteor Shower in the Desert. CHINA DAILY
Chinese photographer An Jiu was among the winners of the Astronomy Photographer of the Year 2023 awards announced online on Sept 14.
An, who also goes by the name of Angel, was honored for Grand Cosmic Fireworks, an image she took of sprites that topped the prestigious event's "Skyscapes" category.
Sprites are an extremely rare phenomenon of atmospheric luminescence. Triggered by lightning, the electric discharges are actually plasma that appear as fireworks. They are spotted from the ground, appearing as high as 9 kilometers above the Earth.
An's prizewinning photograph was taken from a mountain pass in the Himalayas at an elevation of more than 5,000 meters, in the Tibet autonomous region on May 19 last year.
Her work is currently on display as part of a special exhibition at the National Maritime Museum in London, along with over 100 other winning and short-listed photos from the annual competition, which showcases the world's greatest space photography.
When the winners of the awards were announced at the ceremony at the Royal Observatory in the Greenwich section of London, An was on a mountain road in Cape Sounion, Greece, where she was filming a short-video documentary series and taking astronomy photos.
"I finally won an APOY award, often considered as the Oscars of astrophotography. It has been seven years since I started my journey to chase the stars," An posted on her WeChat Moments.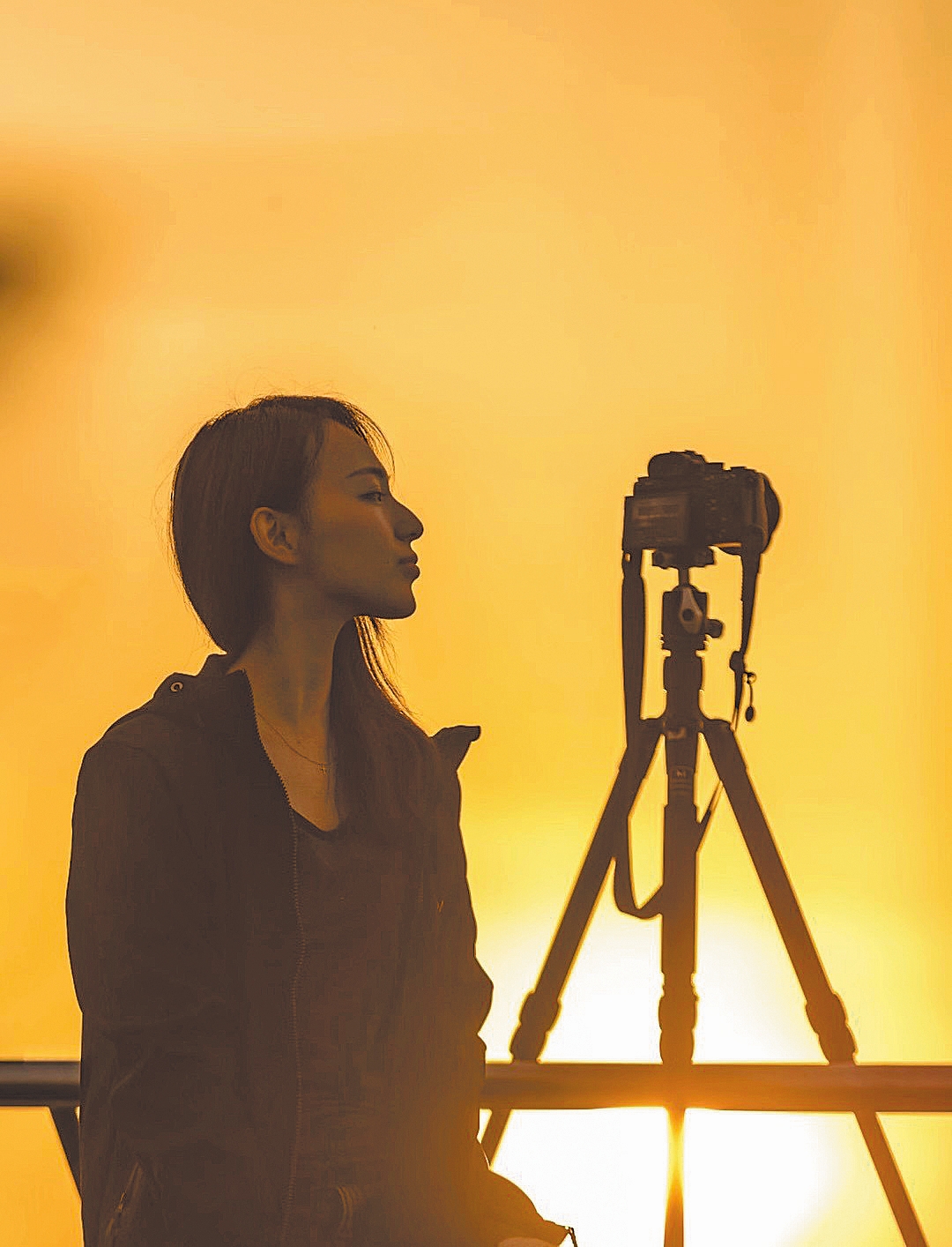 Angel An. CHINA DAILY
"I still remember setting this goal for myself back in 2019, when I was nominated for the Royal Observatory's Photographer of the Year. In the process of chasing this goal, I realized that the journey is far more important than the result. Finding meaning and purpose is not an easy task, but it allows us to confront the existential emptiness and make the most of our limited time to experience everything."
The award has added her to the list of China's best professional astrophotographers. Although barely 30 years old, she has also become a social media influencer on content related to astronomy and, because of her work, a seasoned globe-trotter.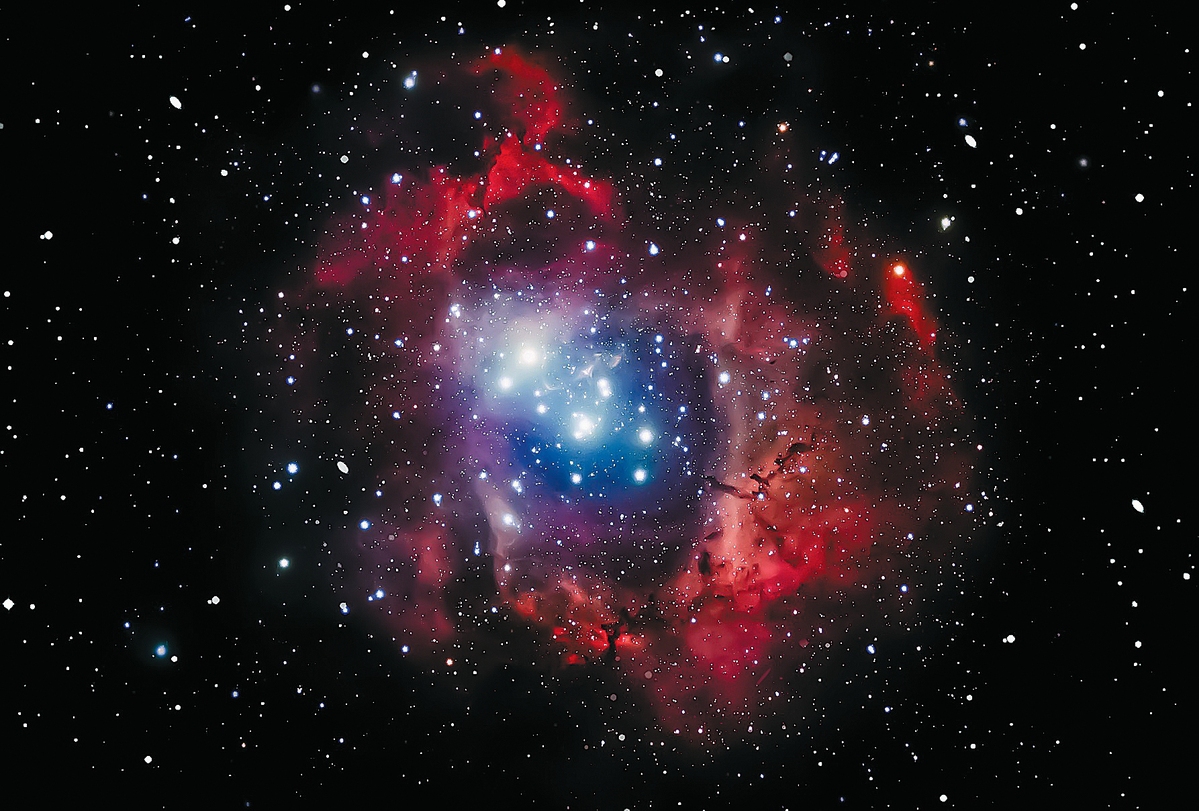 Angel An's astronomy photo: The Ultimate Romance of the Cosmos: The Rosette Nebula. CHINA DAILY
Meeting galaxy and stars
An's journey began at a stargazing outing organized by two astrophotographers in Beijing, she told China Daily.
Working at a consulting company after graduating from college, she felt pressured by her job and pessimistic about the future, which led her to think about quitting.
When she joined the outing on the outskirts of Beijing, she saw the night sky clearly for the first time in her life and took her very first astrophoto — a picture of star tracks.
She instantly fell in love with stars, dark nights and astrophotography. "Facing the galaxy in the dark night, I felt as tiny as a speck of dust," she said. "It was kind of faraway and yet so close. The pressure I felt from work was released, and I was sort of cured."
She started learning more about taking proper astrophotos with various cameras and lenses, and about how to process her photos with complicated computer software.
"I needed to use a couple of different types of software to edit the photos well, and it took me a long time to master them," An said. "It was frustrating at the beginning. To be honest, I nearly had a meltdown during the process."
Not long after the stargazing outing, she quit her job and began pursuing a career as a professional astrophotographer.
She overcame resistance from her parents, who live in Jiangsu province. "My mother refused to talk to me for a month," An said. "She worried about my livelihood and safety, and now, she's mainly concerned about my health."
A fast learner, she soon mastered her equipment and software, and the quality of her photos improved. She became one of the first members of the China StarVision Alliance, a platform for nearly 1,000 Chinese astronomy photographers and businesses related to dark sky tourism that was founded in 2020.
In the winter of 2018, she went to Murmansk, Russia, to take photos of the northern lights. It was her very first stargazing trip to a foreign country.
During the trip, she managed to take some excellent photos of the lights. Her success led her to explore dark skies in other parts of the world, including Iceland, Norway and Greece.
Obviously, some of her mother's worries were not groundless, An conceded. A petite woman, she often travels alone, driving around at night to capture images of the heavens.
She has experienced several moments of peril during her excursions: She was once surrounded by stray dogs while photographing the northern lights in Russia; she tumbled and almost fell off a cliff while recording a meteor shower in Scotland; her car got trapped in heavy snow in Norway, and she had to wait to be rescued. She also encountered wolves while taking photos of sprites in Tibet.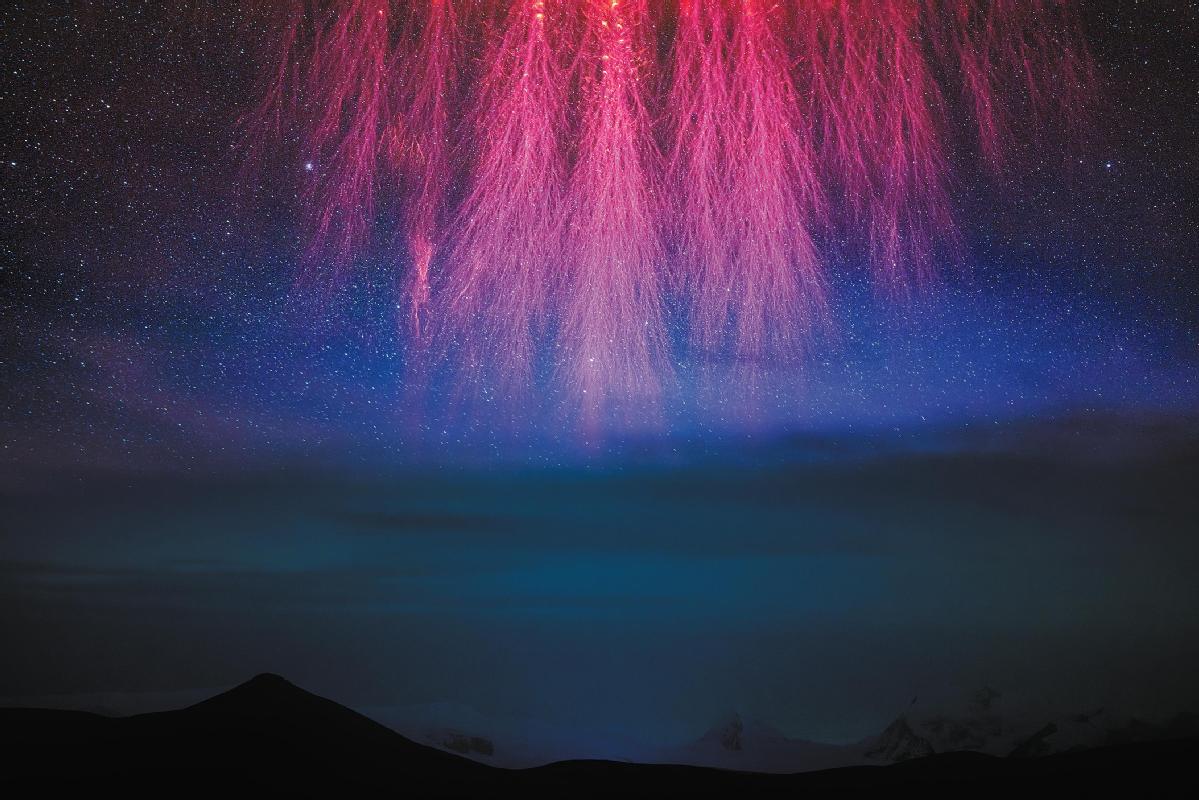 Grand Cosmic Fireworks, by Angel An, won her the Astronomy Photographer of the Year 2023's "Skyscapes" category award. CHINA DAILY
Online influencer
It wasn't long before An's photos made her a hit on social media, transforming her into a Generation Z icon and role model for independent women.
She began appearing in magazines and receiving endorsement deals, and she was invited to be a guest on some TV shows to serve as a stargazing guide for such celebrities as film star Zhou Xun.
An now has 4 million fans across various social media platforms and has achieved financial independence. "Because of my commercial income, I was able to afford to upgrade my photographic equipment and fund my travels," she said.
More importantly, she said, she can "influence more people with my photos, vlogs and short-video documentaries".
"I want to introduce more people to the beauty of the night sky. I want to be a messenger to convey the wonders of our universe," she said.
In 2019, she started thinking about designing an astronomy exhibition. After three years of preparation, her Cosmology Elements show, featuring a collection of photographs, films and other related installations, debuted in December in Shanghai. It was moved to the Beijing Times Art Museum in July and will run until the end of the National Week holiday next month.
An has contributed four of her photo collections to the show. One of them is named Under One Sky, a collection of astrophotos she took from 2017 and 2022, and it consists of not only images of night skies that she shot in hundreds of cities, but also the stories behind them.
"By capturing these moments, seeing light cast from objects light-years away, and photographing for hours to expose more light through the lenses, I keep throwing myself into the wild to document all kinds of spectacular surprises from the sky," she wrote in the introduction of the work.
Many of the photos she captures are originally in black and white, and she later uses software to colorize them, she said. She said her works can help viewers visualize the chemical composition of deep space objects and provide information on how stars and planets form over time.
"Through this exhibition, I hope everyone becomes curious about the stars and starts to contemplate the origins and unseen future between the universe and humanity by looking up at the night sky," she said.
Meanwhile, an album of her astrophotos will be published next month.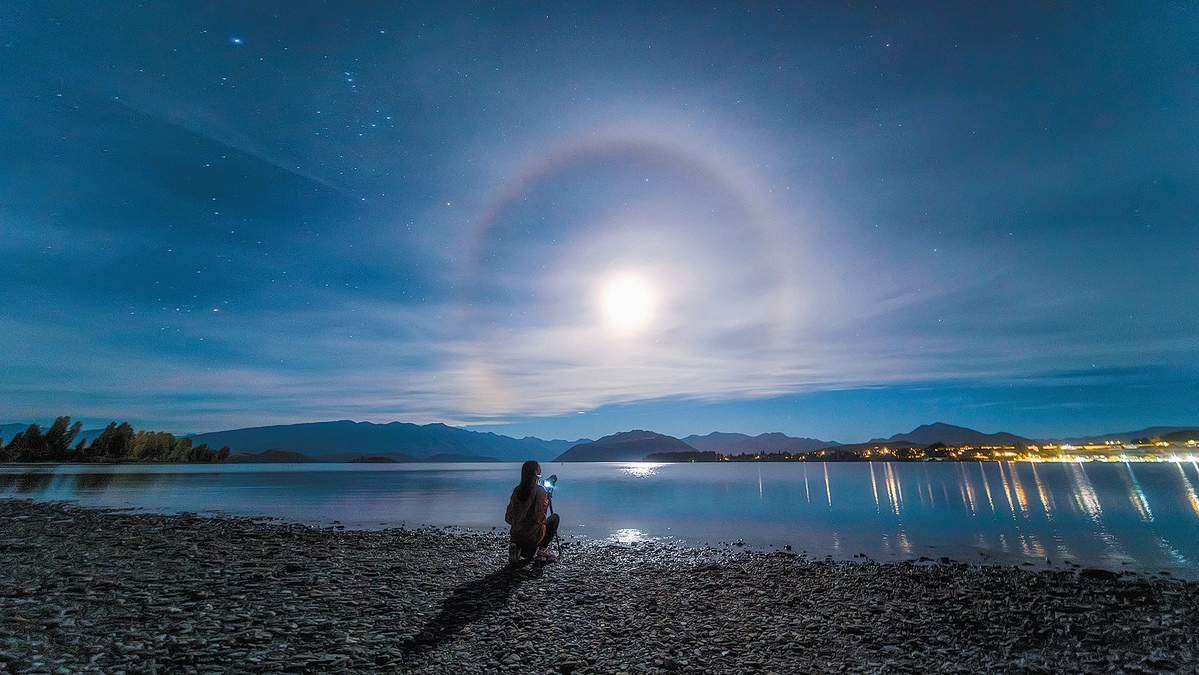 Angel An's astronomy photo: Moon Surrounded by a Double Halo over Lake Wanaka. 
Always prepared
Though she now works as a curator in Beijing, she still spends a lot of time traveling overseas taking astrophotos and shooting documentaries about her trips.
In March, she went to the Arctic to capture a geomagnetic storm. In the ensuing months, she traveled to Iceland to film a documentary, Australia to shoot a total solar eclipse, South Africa to take unique photos of the southern night skies, and the Xinjiang Uygur autonomous region to snap Perseids meteor shower. This month, she traveled to Greece, England and Scotland.
Since 2017, she has been to nearly 30 countries and 100 cities in China and abroad.
"I feel at ease in the wild and under the dark night skies, never lonely or afraid," An said. "I'm always prepared to go out to take photos."
She believes she won the APOY award because she was better prepared than fellow photographers.
Usually, an astrophotographer will use three sets of cameras and lenses to work in the wild — one for photos, one for videos and one for time-lapse work, An said, usually using wide-range lenses.
"But on that day, I prepared a fourth set of cameras using a 135-millimeter lens," she said.
"That's a long-range lens for astrophotography. With a very narrow angle, it's almost impossible to capture sprites flickering in the night sky. But I was lucky. The set worked and managed to capture the red sprites in vivid detail. For the first time, we can view the natural wonder at such a close range through the photo."
Red Box Rules
RED BOX RULES:  AN IMPORTANT REMINDER
From time-to-time, I should remind all members of NT, etc., that when posting photos, artwork, etc., it's important, when posting, that you own, and/or legally represent the licensing, copyright, etc., of what you post, and TO PROTECT YOUR WORK, TO INCLUDE YOUR COPYRIGHT SYMBOL/INFORMATION; and/or, WHEN POSTING COPYRIGHTED PROPERTY BELONGING TO PARTIES OTHER THAN YOURSELF, TO …
• BE SURE YOU HAVE PERMISSION TO POST, TRANSMIT, etc, SUCH PROPERTY, and,
• IF/WHEN SUCH PERMISSION HAS BEEN GRANTED, TO PROPERLY AND CLEARLY ATTRIBUTE THE COPYRIGHTS TO THEIR RIGHTFUL OWNER(S).
VERY IMPORTANT … IN THE FUTURE, I WILL REMEMBER TO POST THIS CAVEAT REGULARLY.
Thanks, A. MAC