Jane Austen's 10-pound bank note, not without irony, is revealed
Jane Austen's 10-pound bank note, not without irony, is revealed

By Michael Schaub, Los Angeles Times, July 18 2017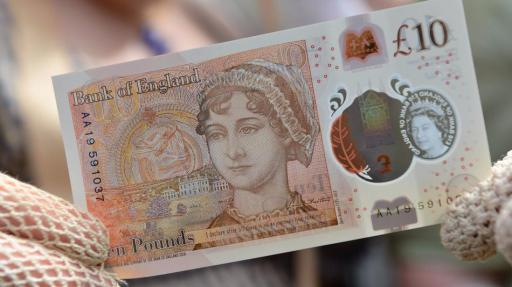 Jane Austen on the 10-pound bank note. (CHRIS J RATCLIFFE / AFP/Getty Images)

Jane Austen has been gone for 200 years, but she's getting back in circulation. A new 10-pound note featuring her image was unveiled Tuesday by the Bank of England.

Austen is the first female author to appear on a British bank note. But she's the third British writer to appear on the 10-pound note, joining Charles Dickens and Charles Darwin.The note, which will enter circulation Sept. 14, was unveiled at Winchester Cathedral on the 200th anniversary of Austen's death at age 41, the Guardian reports.

The bank note also features images of Queen Elizabeth II; Austen's writing desk; her brother's house, Godmersham Park, which is said to have inspired many of her books; and Elizabeth Bennet, the hero of one of her most famous novels, "Pride and Prejudice."

It includes one quote from one of Jane Austen's books, "Pride and Prejudice": "I declare after all there is no enjoyment like reading!"

That line is not as simple as it seems. In the novel, it is spoken by Miss Caroline Bingley, Bennet's rival for the affection of the serious and wealthy Mr. Darcy. The Guardian notes that the choice of quotation is odd: Bingley isn't actually a fan of literature — she's pretending to be a book lover to catch Darcy's attention.

Austen was born in 1775, and her literary career began in earnest with the 1811 publication of the novel "Sense and Sensibility." "Pride and Prejudice" followed two years later, and she would go on to publish "Mansfield Park" and "Emma" before her death in 1817, possibly from Addison's disease.

The portrait of Austen was commissioned in 1870 by the author's nephew, James Edward Austen Leigh, and based on a drawing by Austen's sister.

After the Austen-themed banknote was announced in 2013, it drew criticism from Austen experts who thought the image of the author was "airbrushed" and "prettied up."

Paula Byrne, an author who has written three books about Austen, called the portrait on the bank note a "19th-century airbrushed makeover." She told the BBC, "It makes me quite angry, as it's been prettied up for the Victorian era, when Jane Austen was very much a woman of Georgian character," Byrne said. "The costume is wrong and the image creates a myth Austen was a demure spinster and not a deep-thinking author."