Category: Fields and Streams
Via:
community
•
7 years ago
•
1 comments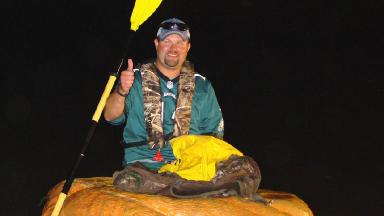 Rick Swenson gives the thumbs-up Oct. 15 after completing his record setting pumpkin paddle on the Red River from Grand Forks to Oslo, Minn. Swenson paddled nearly 25 miles in 13 hours and 40 minutes. (Brad Dokken photo)
The giant pumpkin
Rick Swenson's quest to set a Guinness World Record by paddling a giant pumpkin nearly 26 miles down the Red River from Grand Forks to Oslo, Minn., is one of the more unusual and more enjoyable stories I've covered in some time.
Not exactly outdoors in the traditional sense, but it's not every day you see a person paddle a giant pumpkin down the Red River.
Swenson, of Fergus Falls, Minn., grows giant pumpkins as a hobby and decided to go for a pumpkin-paddling record as a way to one-up a friend who also grows the gargantuan gourds in Lancaster, Minn., and drops a pumpkin on an old car every fall.
Once the paperwork is complete and everything verified, Swenson should have his world record.
I couldn't help but laugh when I met Swenson the afternoon of Oct. 14 at the north boat ramp in Grand Forks. He had the pumpkin he planned to paddle on a flatbed trailer and stopped to check the boat ramp for the next morning's launch.
Just in case the pumpkin split a seam—or whatever it is giant pumpkins do when they malfunction—he had a backup pumpkin, as well.