Rock Bottom: Rudy Giuliani Is One Week Away From Waxing His Back in the Middle of a Sweetgreen | Vanity Fair
Category: News & Politics
Via:
jbb
•
2 months ago
•
2 comments
By:
Conde Nast (Vanity Fair)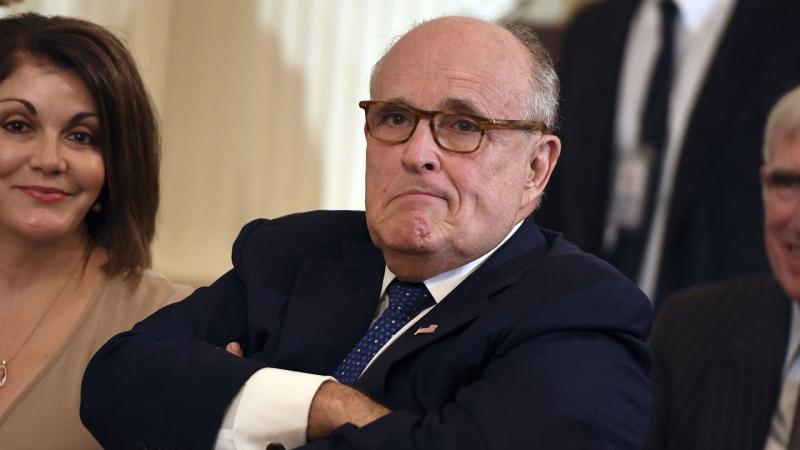 From "America's Mayor" to "the guy who thinks it's normal to shave in the middle of a crowded restaurant."
S E E D E D C O N T E N T
From "America's Mayor" to "the guy who thinks it's normal to shave in the middle of a crowded restaurant."
By Bess Levin
August 24, 2021 By SAUL LOEB/Getty Images
One of the most burning questions of the last decade does not concern the existence of UFOs, or who shot Kennedy, but Rudy Giuliani and what the hell happened to him. Once "America's Mayor," Giuliani has spent the last half a decade hitting rock bottom over and over and over again, each time falling so far and so hard that no one would dare imagine things could get any worse but somehow do. A very brief list of situations the former mayor turned Trump attorney turned cautionary tale has found himself in recently includes but is not limited to:
Showing up in a scene from Borat Subsequent Moviefilm: Delivery of Prodigious Bribe to American Regime for Make Benefit Once Glorious Nation of Kazakhstanwith his hand down his pants
Holding a press conference outside of Four Seasons Total Landscaping, the one next to the crematorium and sex-toy shop, instead of the Four Seasons Four Seasons
Holding a press conference with what appeared to be hair dye dripping down his face
Having his home and office raided as part of a criminal probe into his Ukraine dealings
Being the subject of an unrelated Department of Justice probe into his Turkey dealings
Having his law license suspended in New York and D.C. for election-fraud lies
Losing his bid to dismiss a $1.3 billion lawsuit against him for said election-fraud lies
Reportedly going broke because the man for whom he routinely humiliated himself won't lend him any cash or give him the time of day
All pretty bad and truly cringeworthy! Arguably less bad and significantly less cringeworthy than shaving in the middle of a restaurant where people are consuming food, which yes, is a thing the former mayor for some reason decided to do over the weekend:

Rudy Giuliani was blasted on social media after Donald Trump's former personal lawyer was seen shaving as he ate at an airport restaurant. Video of the bizarre incident was shot by traveler Nick Weiss at New York's John F. Kennedy International Airport and reposted by actor Michael Rapaport, who had some harsh words for the former mayor of the city. "Look at these disgusting filthy nasty slob (Rudy Giuliani) shaving in a restaurant at JFK yesterday. You nasty pig you

#Rudy

," he wrote.

Is Rapaport being a bit harsh? Maybe. Is this absolutely one of the most bizarre decisions Giuliani has made in his 77 years on earth, including the time he married his second cousin? Most certainly. Is this literally one of the weirdest places to choose to do personal grooming that involves hair removal? That's an incontrovertible fact. (Let it be known that, according to the person who shot the video, the shaving occurred a few steps away from a "really nice" bathroom. Let is also be known that even if a bathroom wasn't nearby, this still wouldn't be acceptable.)
Twitter content
View on Twitter



Mr. Giuliani was spotted inside the Delta One lounge, which is available to first and business class passengers using the airline. There he ate a bowl of lobster bisque, before he was brought some chocolate brownies, Mr. Weiss told DailyMail.com.




Then, instead of going to the bathroom to carry out his personal grooming, M.r Giuliani brought out his electric shaver and began tidying himself up on the spot.



We'd say that things could not get any worse for Rudy (or unsuspecting fellow diners in his future) but history has taught us that that's not the case. In other words, if you see him walk into a restaurant where you're enjoying a meal sometime soon, get the hell out of there—someone is about to sit down to a porterhouse and treat his calluses.
If you would like to receive the Levin Report in your inbox daily, clickhereto subscribe.
In other Giuliani news…
One of his old Ukraine pals is expected to cop to committing crimes this week, and potential plea-deal evidence could implicate the former mayor this week. Per NBC News:

A former associate of Rudy Giuliani is expected to plead guilty to federal campaign finance charges, court documents show. The man, Igor Fruman, a Ukrainian-born businessman, pleaded not guilty to the charges brought by New York federal prosecutors in October 2019. But the case's court docket says a "change of plea" hearing is scheduled for Wednesday. An attorney for Fruman did not immediately respond to a request for comment. A spokesperson for the U.S. Attorney's Office for the Southern District of New York declined to comment.


Fruman and his business partner, Lev Parnas, were carrying one-way tickets to Vienna when they were arrested at Dulles International Airport outside Washington two years ago. An indictment unsealed the next day accused the pair of making illegal straw donations, including $325,000 to a pro-Trump political action committee. Federal prosecutors accused the two men and a third, Andrey Kukushkin, of participating in a scheme that involved making political donations funded by an unidentified foreign national who was nervous about "his Russian roots and current political paranoia about it," according to the indictment…. Federal prosecutors say the two also engaged in a scheme to force the ouster of the U.S. ambassador to Ukraine in the original indictment but not in the superseding indictment filed last September.

NBC News has reported that Fruman and his business partner were helping Giuliani hunt for dirt on Donald Trump's political opponents in Ukraine, even as they were also pitching potential partners on a business deal with Ukraine's gas company.



Parnas and Kukushkin pleaded not guilty to charges against them. According to NBC News, the court docket does not indicate if Fruman is expected to cooperate and turn over evidence as part of the expected plea, but if you're Rudy Giuliani, you're probably quite concerned he might.
Hawaii governor politely asks tourists to stay the hell away
The COVID situation is not great and out-of-towners are making it worse. Per TheWashington Post:

Hawaii Gov. David Ige pleaded with tourists from around the world on Monday to not visit the islands through at least the end of October, as the state grapples with an influx of coronavirus cases from residents and vacationers who brought the virus with them. Although the governor's announcement does not prohibit travelers from visiting Hawaii, Ige (D) said at a news conference that he is working with airlines, hotels, and other tourism-related businesses to "do what they could" to curb tourism to the state except for people traveling for essential business. Restaurant capacity has been restricted, and access to rental cars is limited.


The governor urged travelers to curb their visits to Hawaii while the state's hospitals are at capacity as a result of the highly transmissible delta variant. Although nearly 55% of the state's eligible population is fully vaccinated—a rate higher than the national average—the delta variant in Hawaii, as it has elsewhere, has increased hospitalizations…. The announcement comes as hundreds of out-of-state health-care workers are being flown in to help overwhelmed hospitals during the fourth wave of the pandemic. Hawaii will receive $46 million in federal funding for more than 500 traveling health-care workers to be dispatched at hospitals statewide. The Queen's Health Systems—which declared an "internal state of emergency" Friday after a spike in COVID-19 patients forced the island of Oahu to set up a 25-bed tent outside a West Oahu hospital—welcomed 81 out-of-state health-care workers to its hospitals Monday, the Star-Advertiser reported.



"Our nurses are tired, and we don't have enough of them to manage the numbers of patients that are coming in across all the islands," Jill Hoggard Green, president and chief executive of Queen's Health Systems, told The Washington Post. "We have a huge number of COVID patients coming in that need high-level respiratory support, mechanical support for breathing, whether it's a ventilator or high rates of oxygenation." Ige suggested that he might have to shut down the state if the surge continues to hit Hawaii's hospitals. "If the number of cases continues to grow exponentially as it has in the last 10 weeks…then we will have to take action to limit and ensure that the hospitals aren't overrun," he told reporters.