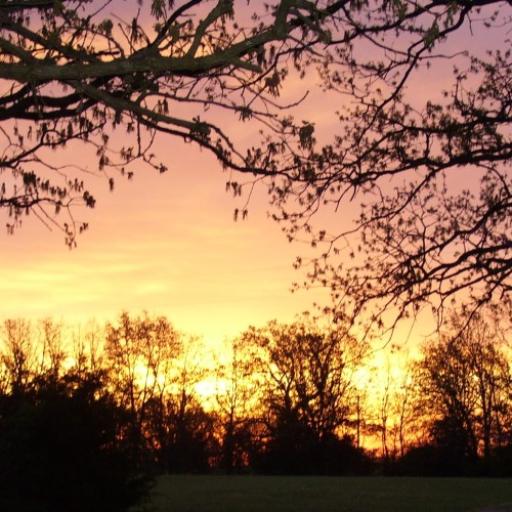 The Garden Chronicles - Week 8 1/2
This is several days late because week 8 turned out to be the wettest yet. I think the ground stayed completely saturated for at least 4 days straight. It killed the tomatoes and the eggplants, and finally got to the peas (not so indestructible after all). One trellis of peas is definitely stunted and yellowing, but the other fared much better, somehow.
Unfortunately, the onions and potatoes have about had it. The lettuce and the first batches of turnips, beets, and kohlrabi all seem stunted, and the beans and chard never even came up (pretty sure they germinated and then drowned). I think about half of the peppers will need to be replaced.
What a spring.
Some good news, though: This year's freaky month of May has finally ended, and the way-too-frequent rain seems to have ended right along with it. Also, the greenhouse still had plenty of plants, so I picked up some new tomatoes and eggplants, and I finally managed to plant the corn.
---
-- Sunday --
---
Corn planting prep. Before tilling.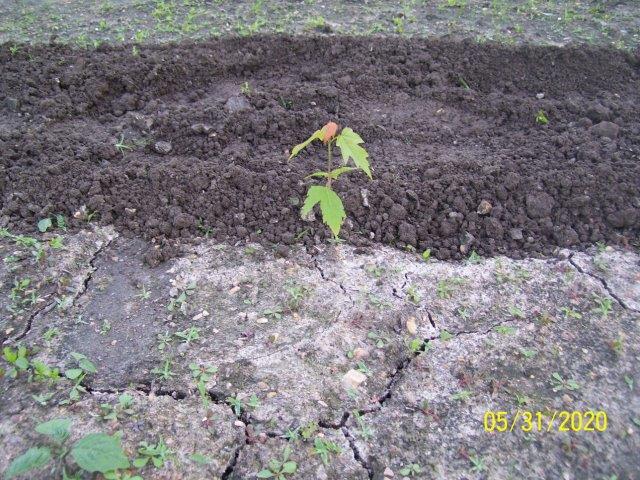 First tiller pass, a maple seedling, various other weeds, and mud cracks.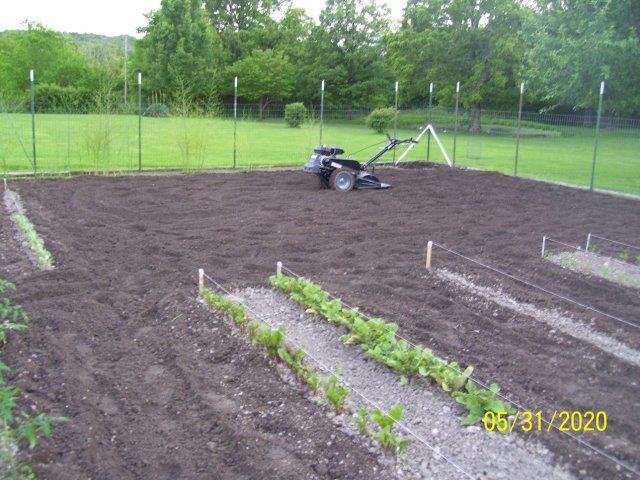 After tilling it was getting late, so I raked it smooth and called it a day.
---
-- Monday --
---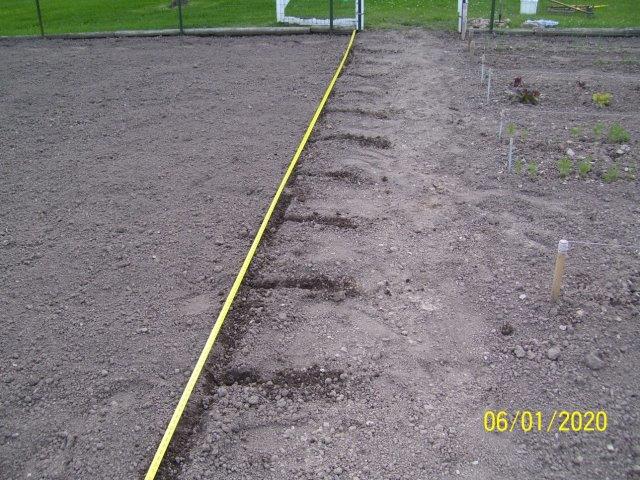 Here's how I plant corn. First, I scratch measurement marks in the soil.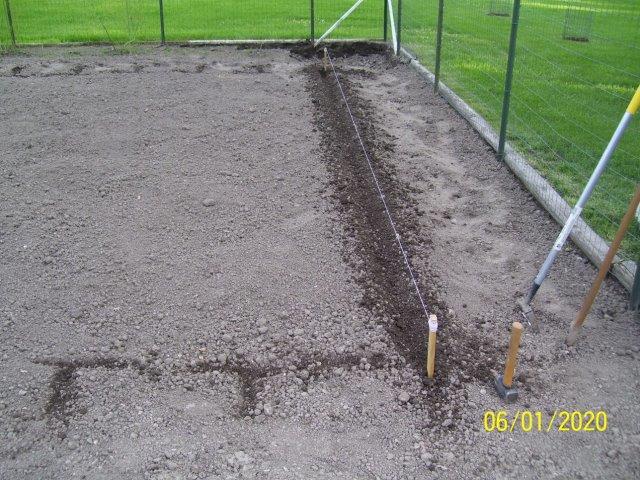 Then I drive a guide line in at the first mark, and start making furrows.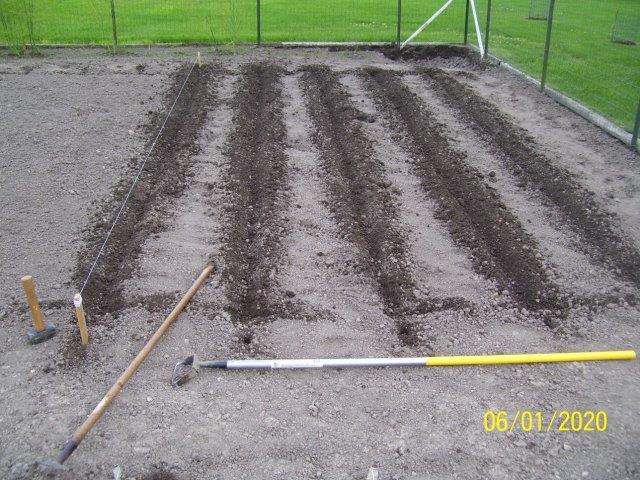 After each furrow, the line gets moved to the next mark.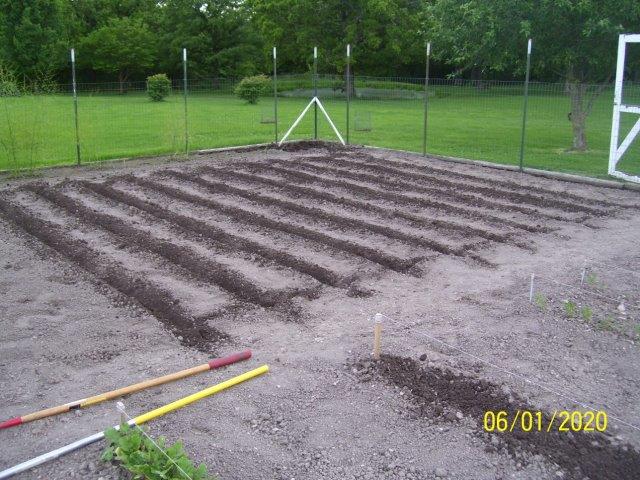 Done and ready for seeds. The furrow at the bottom right is for replanting beans.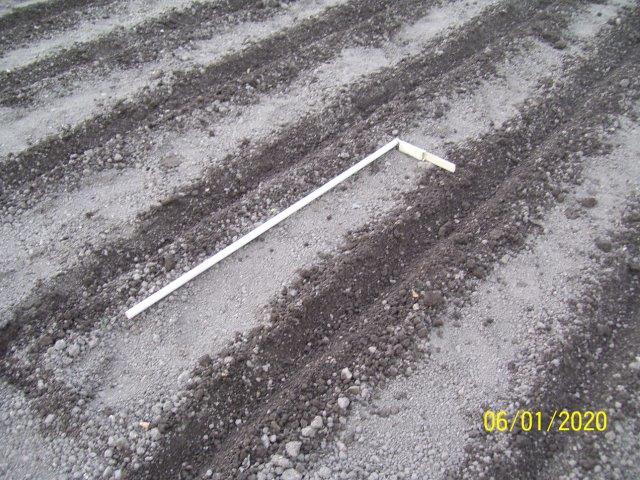 I rig up a simple corn planting tool like this every year. It's a piece of PVC pipe with a 6" vice grip clamped to one end, and a paint stir stick taped to the vice grip. I drop a seed through the pipe and measure off of it with the stick to determine the placement of the next one. Almost perfect seed spacing, and no bending over.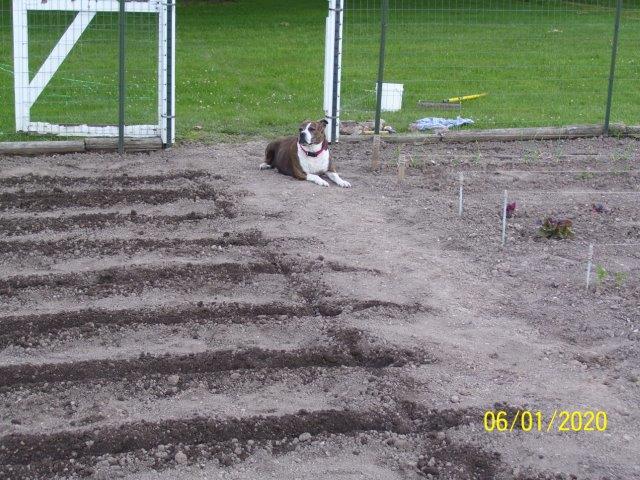 Polly approves.
---
-- Wednesday --
---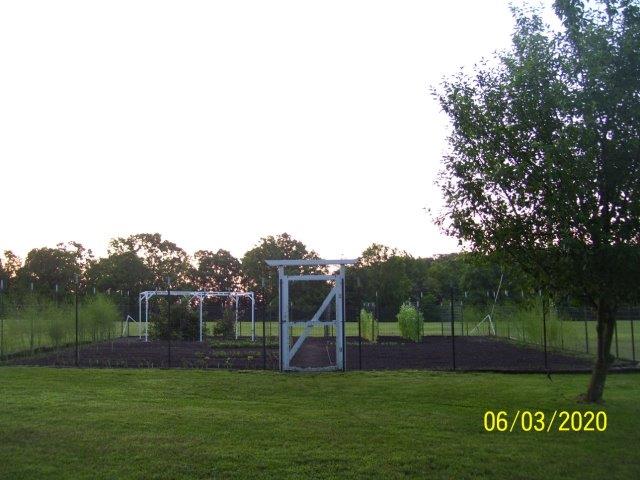 I got out early in the morning to take the rest of the pics.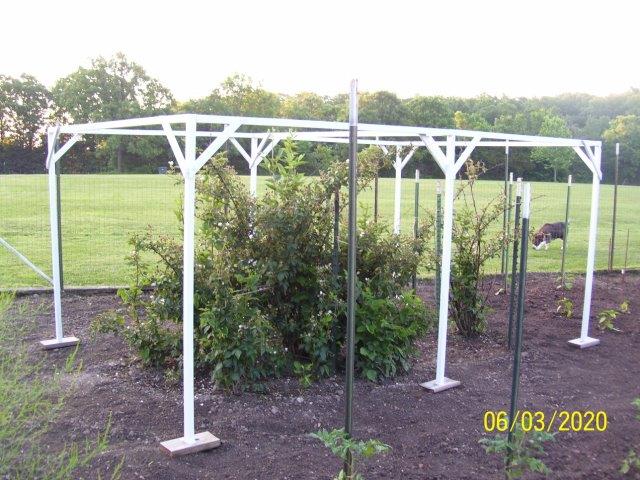 This is a frame I made a few years back for bird netting to protect the blackberries while they're ripening. All the connections are marked for quick and easy assembly every year. The netting isn't on it yet, but will be soon.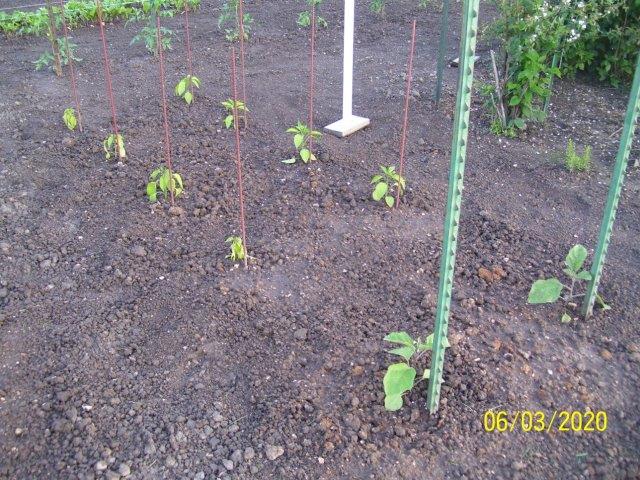 New eggplants and the peppers, about half of which are looking sickly after the long soak.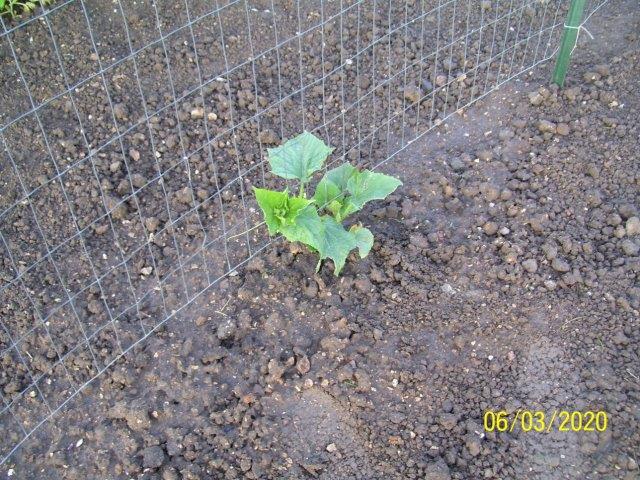 A cucumber plant that's actually growing. Go figure.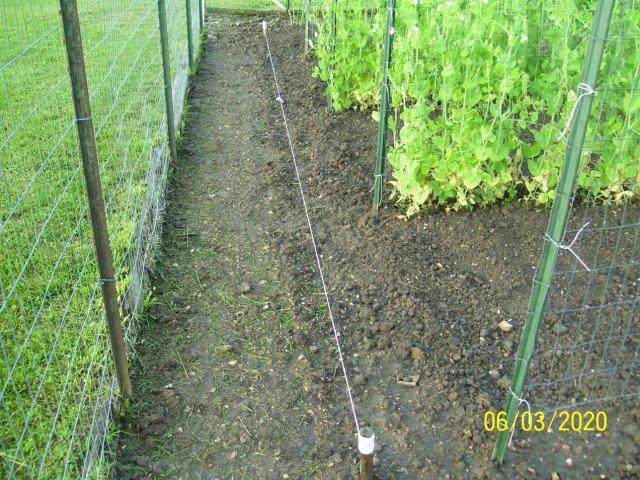 Empty chard row. I'll have to replant.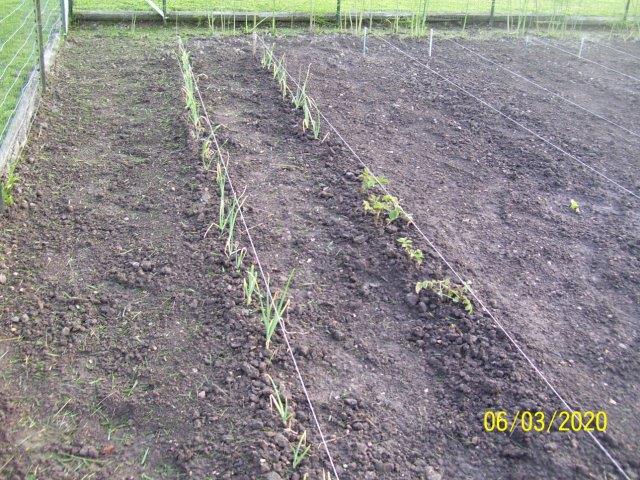 I've lost several onions, and the remaining ones are all yellowing at the tips. The potato sample is down to 4 sickly plants.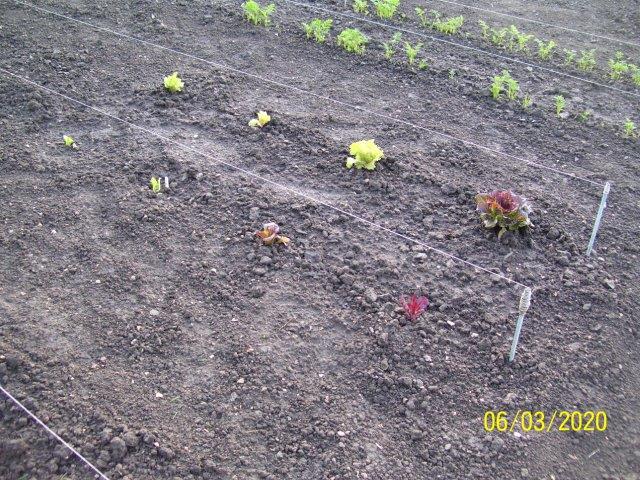 The lettuces look healthy enough, but haven't grown much at all. Those are spotty carrots above them.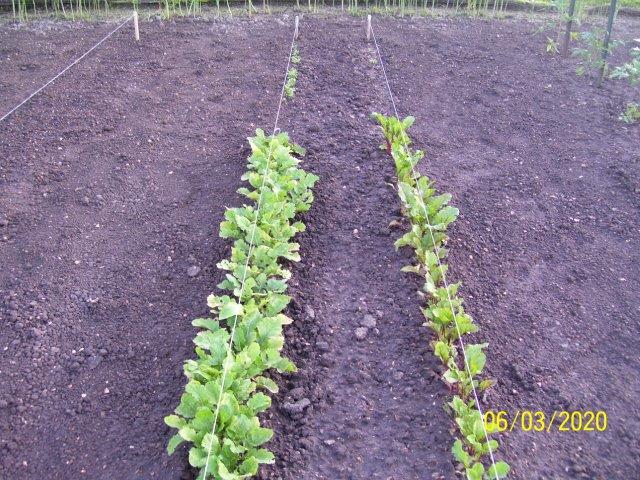 Turnips and beets. I'm thinking both should be twice this size by now. Second batches coming up behind them.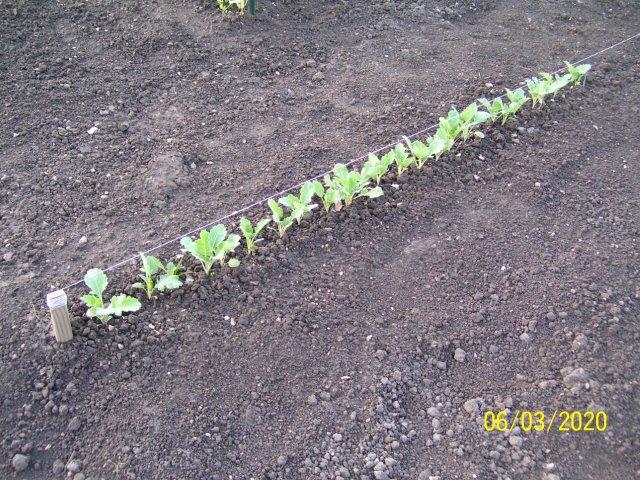 Kohlrabi. I've never grown these before, but I suspect they should be bigger as well.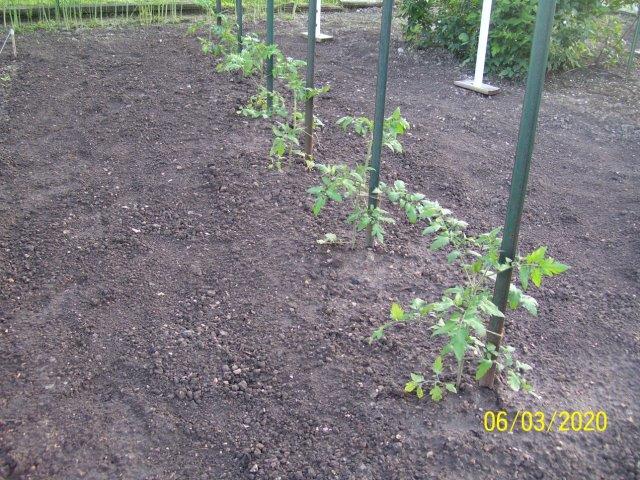 Replacement tomatoes.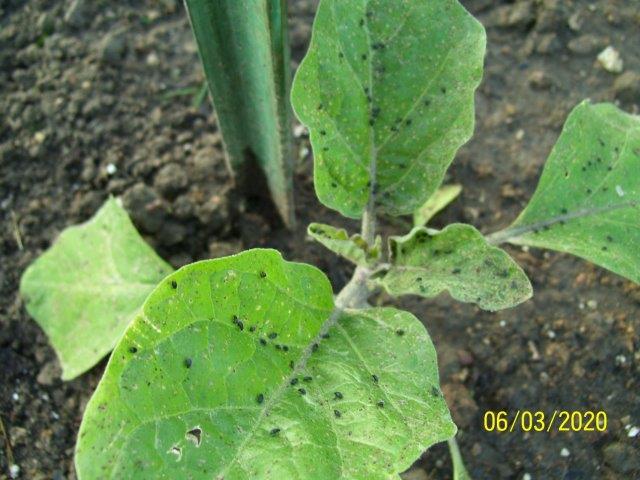 Rain killed the first eggplants, and now flea beetles are attacking the new ones.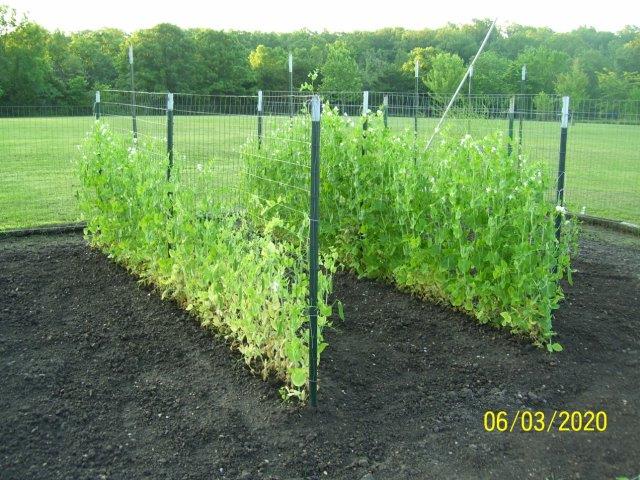 The rain finally damaged the peas. Mostly on that one trellis, though.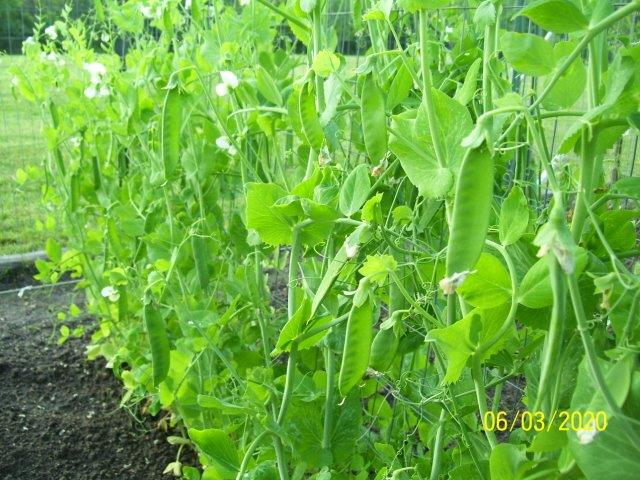 The other trellis still looks pretty good. Both are setting pods now.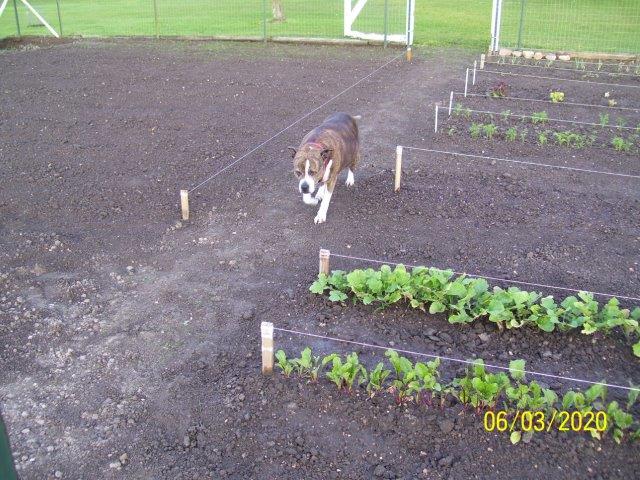 The chief inspector arrives.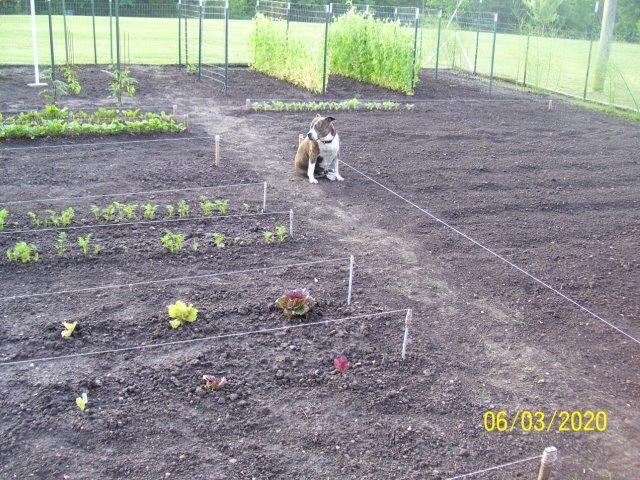 She's like, "It'll have to do."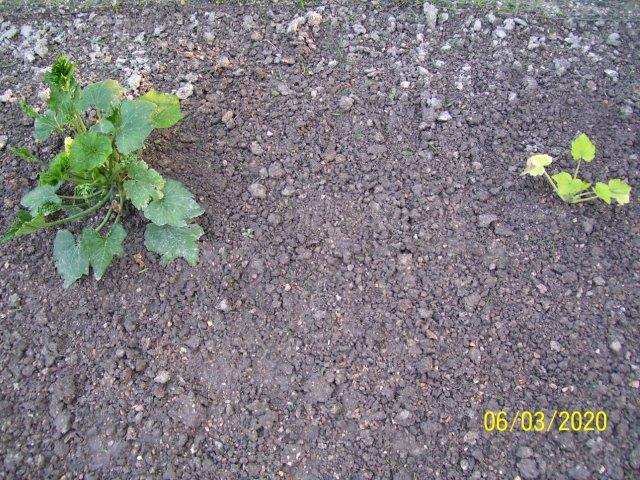 It's nice and warm now, so I'll be direct seeding zucchini from here on out. The transplants are having a heck of a time this year. That second one might get pulled if it doesn't green up and start growing.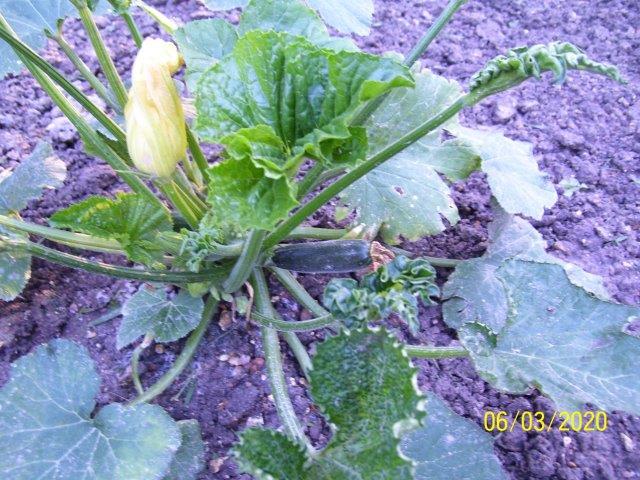 Yup, that's a baby zucchini. It'll probably rot and drop off, though. That always seems to happen to the first ones, for me at least. I don't know if I've ever seen leaves curl like that. Must be because of all the stress this one's gone through.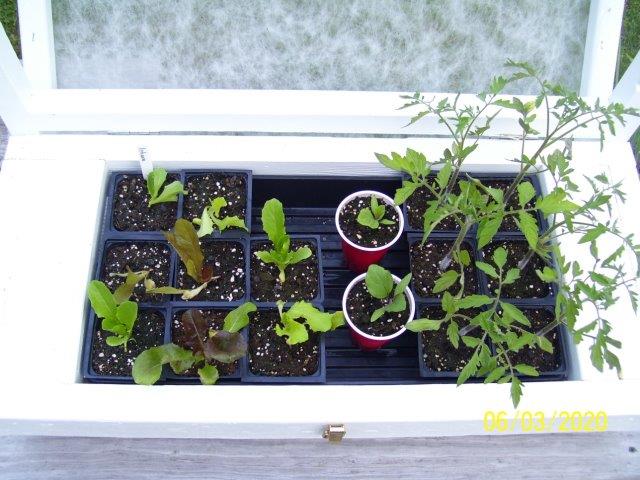 The planter. Same stuff as before, just a little bigger now.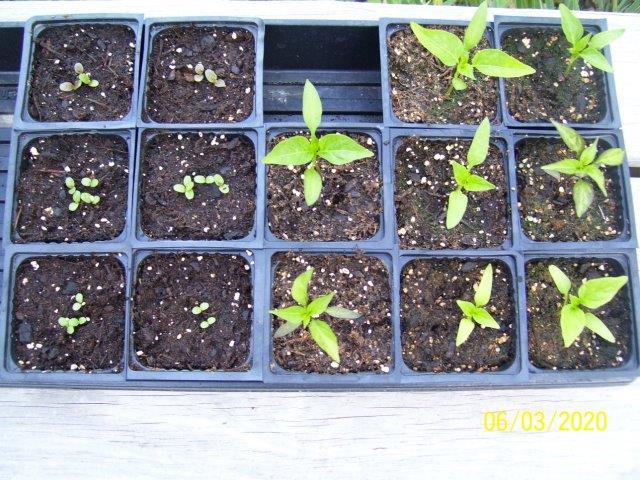 Another batch of lettuce, and the backup peppers.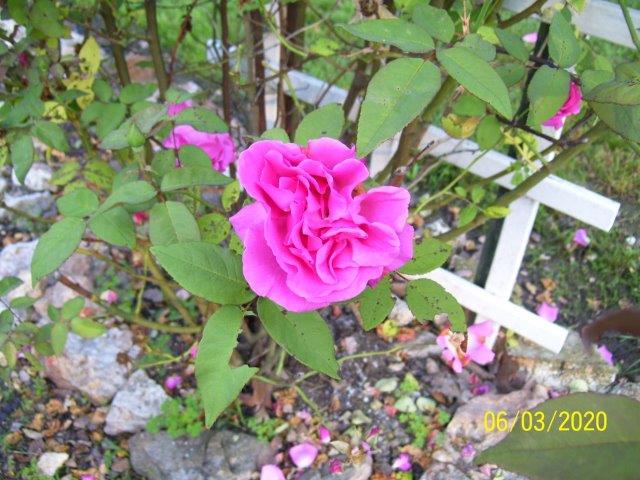 Rose.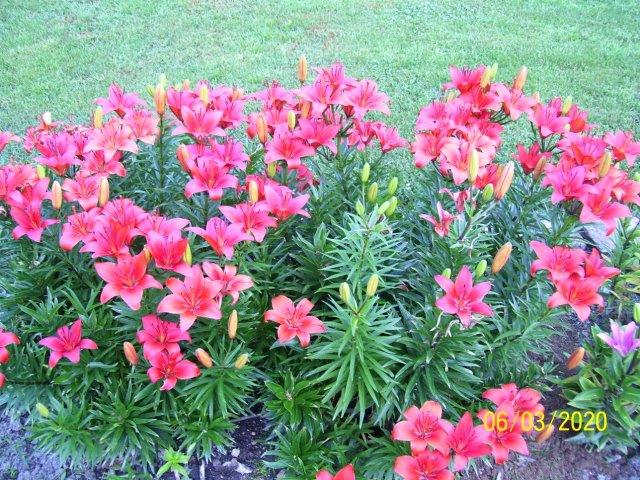 Lilies.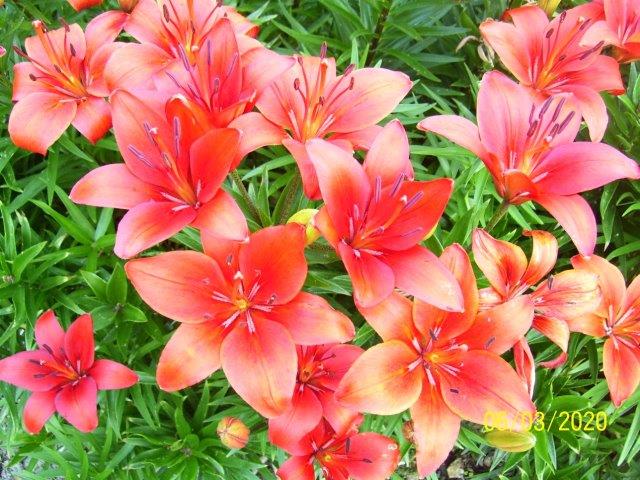 Lilies.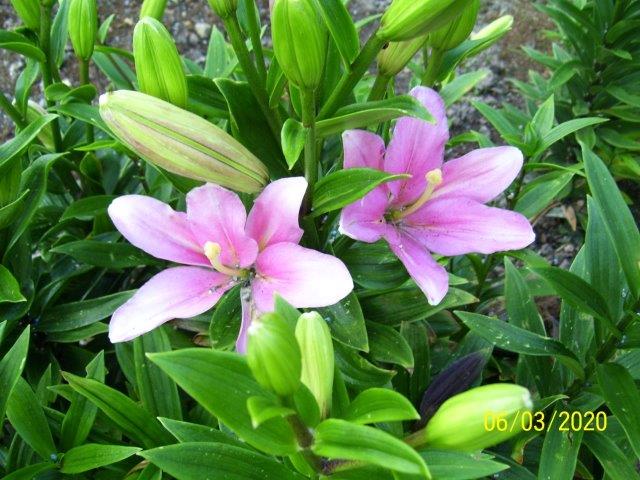 Lilies.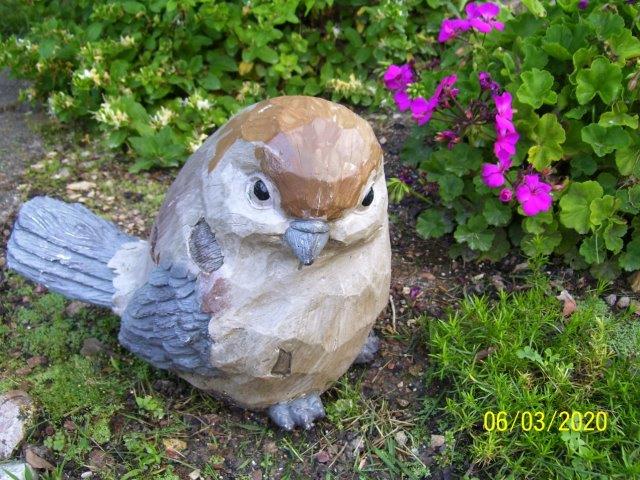 Not a lily.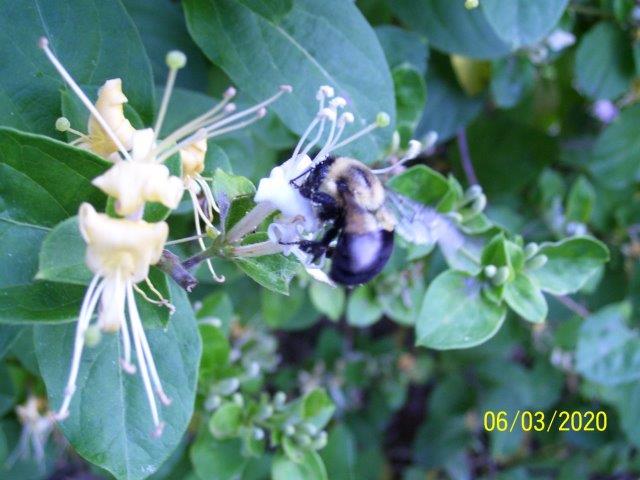 Bumblebee on honeysuckle.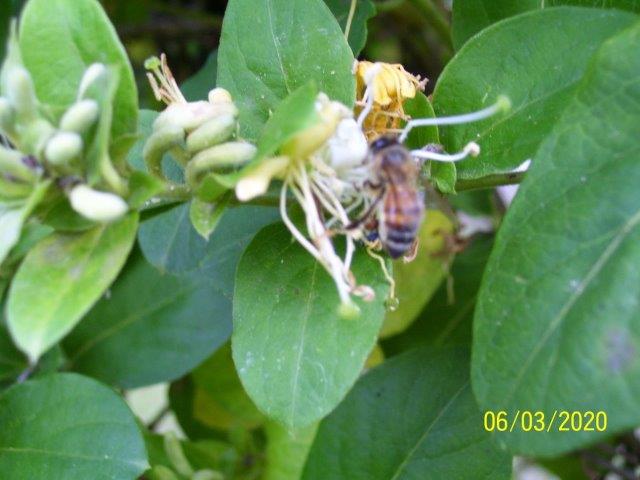 Honeybee on honeysuckle.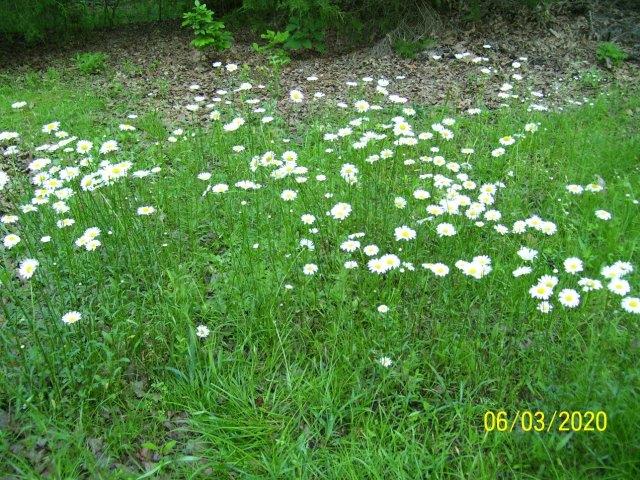 Wild daisies.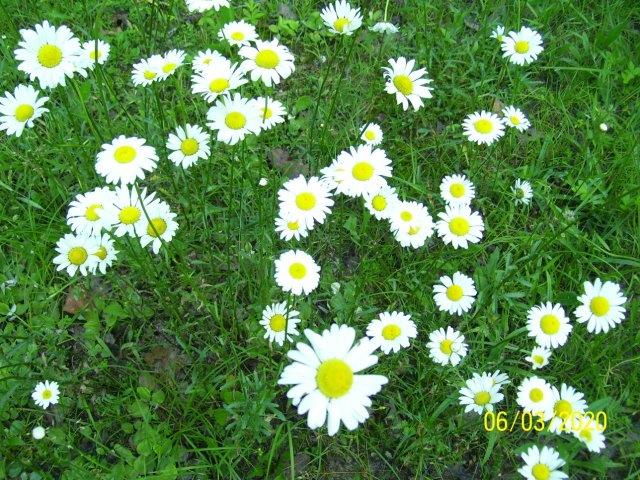 Still blooming. It's been weeks. I should dig a few up and put them in the yard somewhere, maybe around the little pond. I think they're perennials.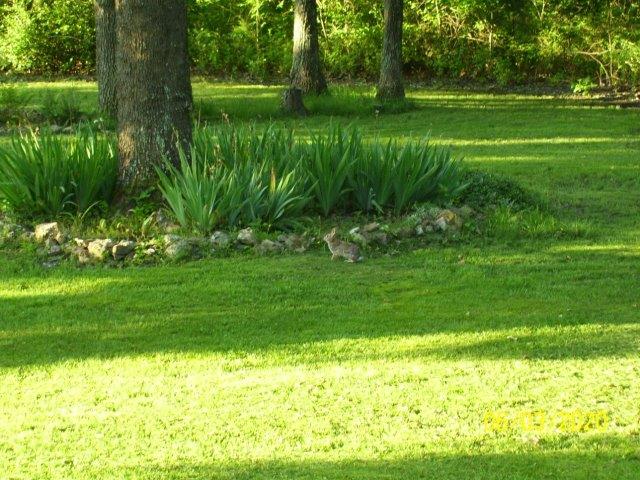 Here comes Peter Cottontail.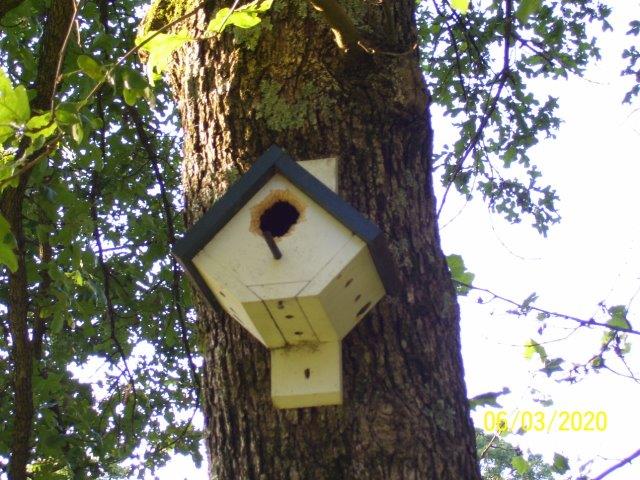 This made me laugh. Apparently, a woodpecker decided this old bird house needed a bigger front door, so he (she?) carried out some home improvement. I'll have to keep an eye on it now, to see what's nesting in it.
See you next time.