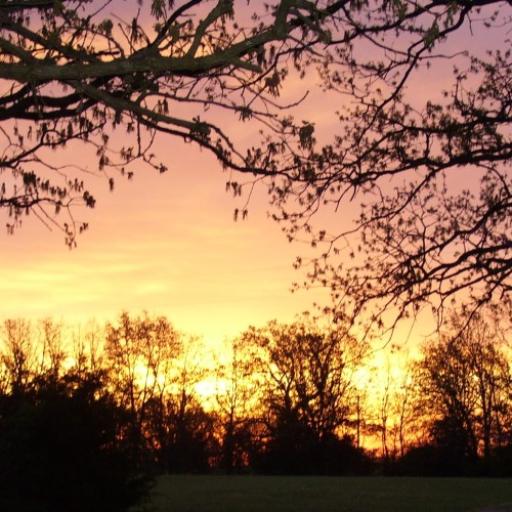 The Garden Chronicles - Week 11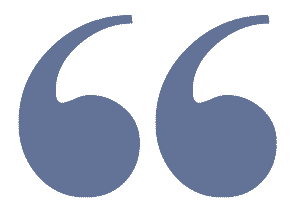 Gardening is just another day at the plant.
It seemed pointless to post a week 9 blog just 3 days after week 8.5, and I was too busy last weekend to post a week 10 (these things take quite a while to make), so I'm just going to call this one week 11. It's a couple of days early, but hey, that's close enough (and close enough is the widely accepted standard with horseshoes, hand grenades, and garden blogs, I believe). 
It's been a mostly dry and hot couple of weeks, and it finally feels like summer.
The corn is up, though I've lost several plants. I lose some every year, of course, but this year is a little worse than normal. Some of the seed in two separate rows got washed out by a storm just a couple of nights after it was planted (2 inches of rain in about 45 minutes); a few just didn't come up (which is normal); and I can't prove it, but I think birds have been pecking away at a few more (there one day, gone the next... go figure). There's still plenty of it growing, though. I always want at least 150 ears at harvest time every year, but if I only get 100 or so I guess it'll be fine. Less shucking, anyway.
The greenhouse is done selling their garden veggies for the year, so I missed out on getting new peppers to replace the ones that almost drowned the last week of May. They're still in the ground, and are pretty small, but they're finally starting to put on some new green leaves up top, so they may produce after all. If not, I went ahead and stuck my 8 backup peppers in the ground at either end of the 4 trellises.
I also put my backup tomatoes in the ground, just for the heck of it. I drove some stakes for them right down the middle of the onions and potatoes, which look to me to be as good as goners anyway.
I had to replant the second batches of beets and carrots, and I had to replant the beans for a third time. I don't think I've ever had to try this hard to get green beans going. They're usually one of the easiest things to grow, and tend explode vigorously out of the ground right on the first try, especially when the ground is warm. I switched to different seed this time, and the ground is definitely warm now, so hopefully they'll be coming up strongly in the next couple of days or so. The first two tries were with seed I got from the greenhouse, which may have been bad. This new seed came from a farm store.
I got the urge to learn how to post homemade videos this week, so there's a few short ones at the end. Mostly an experiment.
Oh, and the spring peas got picked last week.
---
- Last Thursday -
---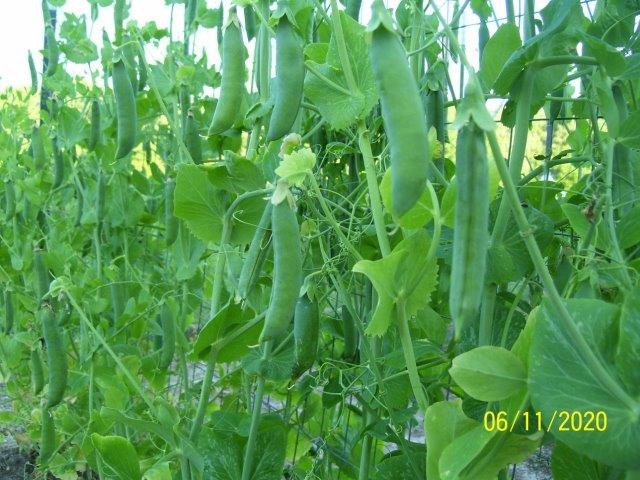 Plump pods, ready for picking.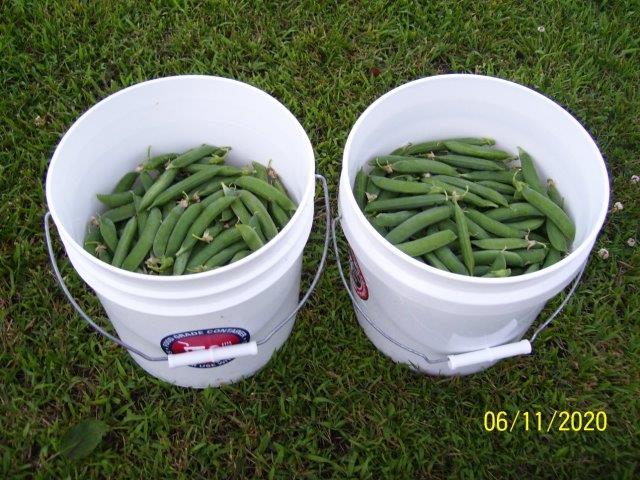 I picked about 3 gallons off those 2 small trellises. Growing them was effortless, and now I wish I'd planted the whole back garden fence with them as well. I hope the fall crop that I'm going to plant later on grows as well as the spring one did.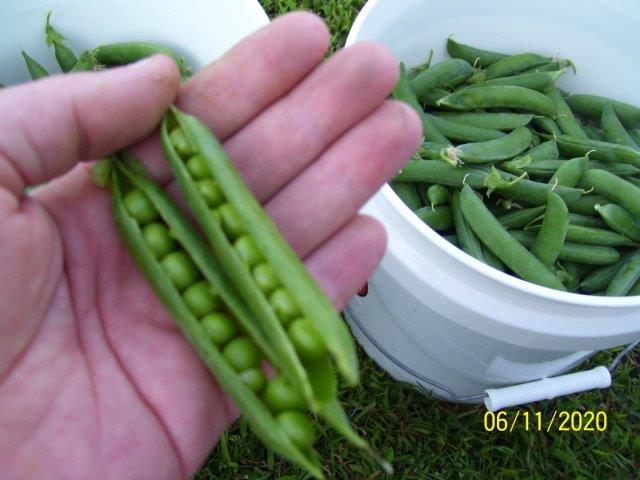 Full, clean pods. Great variety - Miragreen. These had 9 peas per pod (one fell out just as I was taking the picture), but several had up to 11 in them.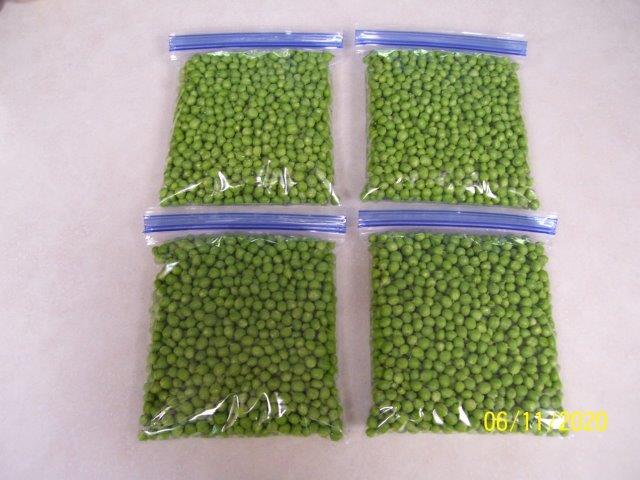 They shelled out to about a gallon's worth.
---
- Yesterday -
---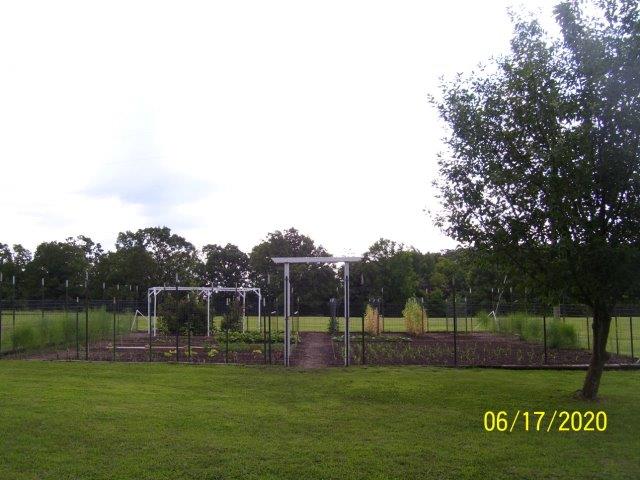 The gate is missing because I took it down for painting. It's finally dry enough.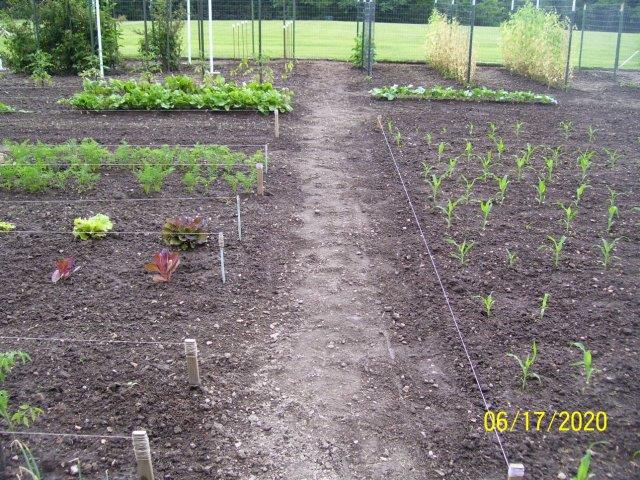 Starting to fill up.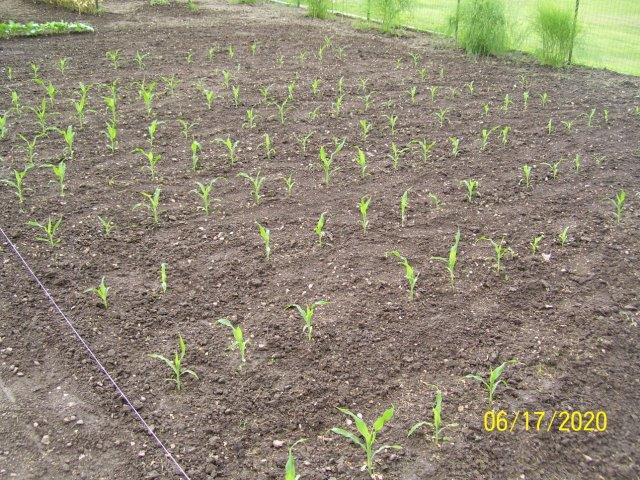 Corn with gaps here and there. Still going to have a good amount, though.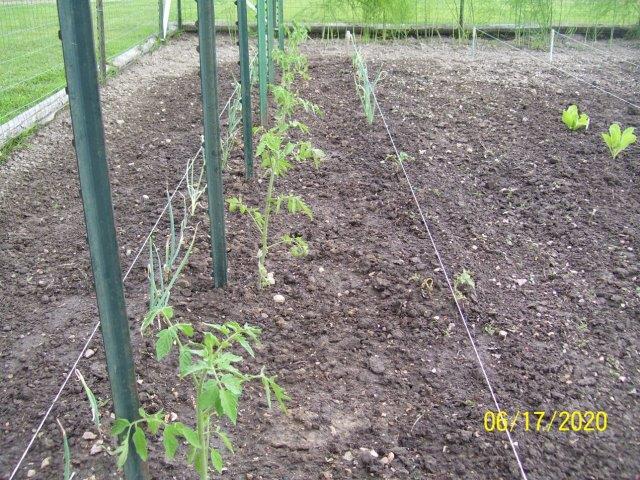 The backup tomatoes in with the onions. They're Rutgers, from seed.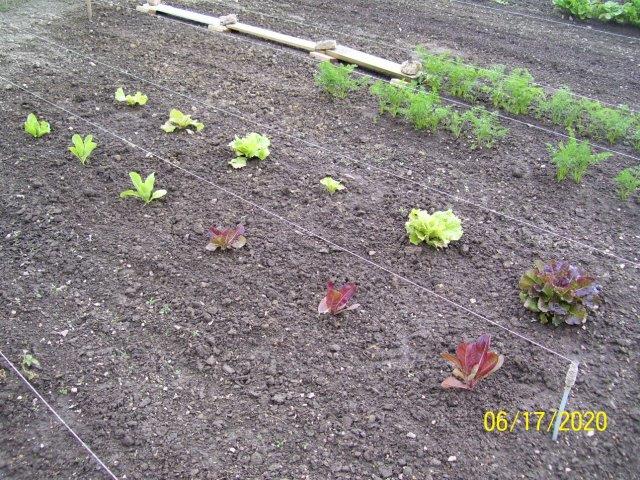 More lettuce transplants went in this past week.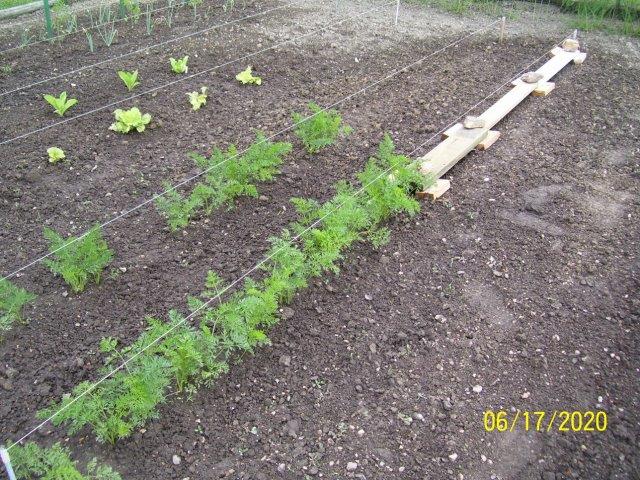 The first carrots, and the replanted second batch behind. Those boards are an experiment. I'm trying to see if shading from the summer sun helps prevent drying out and overheating for better germination compared to the row next to it. I'll take them off as soon as they come up.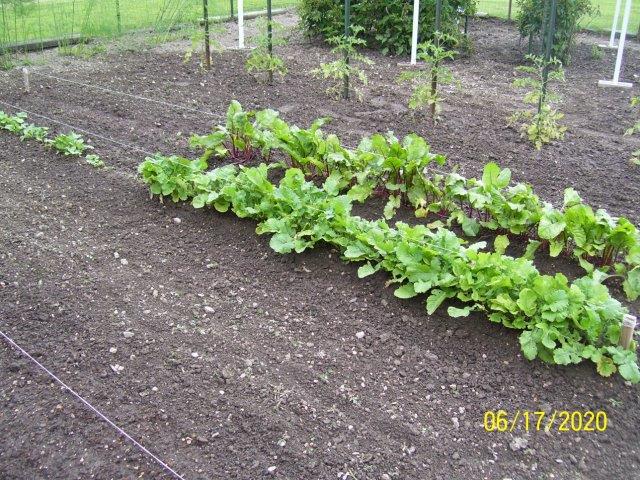 Turnips and beets, with empty bean row bottom left (Grrr).
Kohlrabi.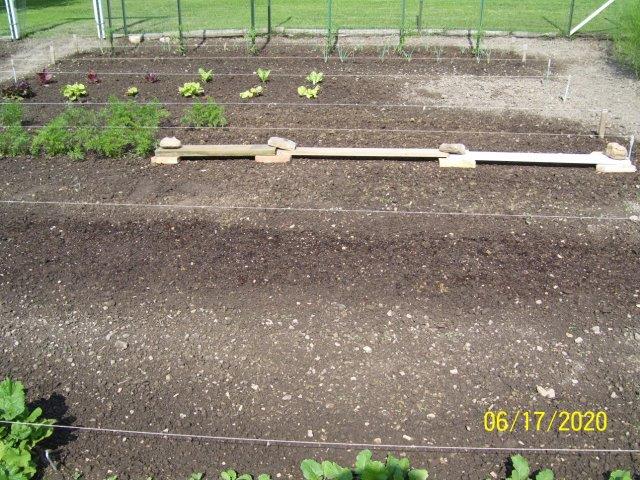 The replanted bean row, with extra potting soil worked in for good measure.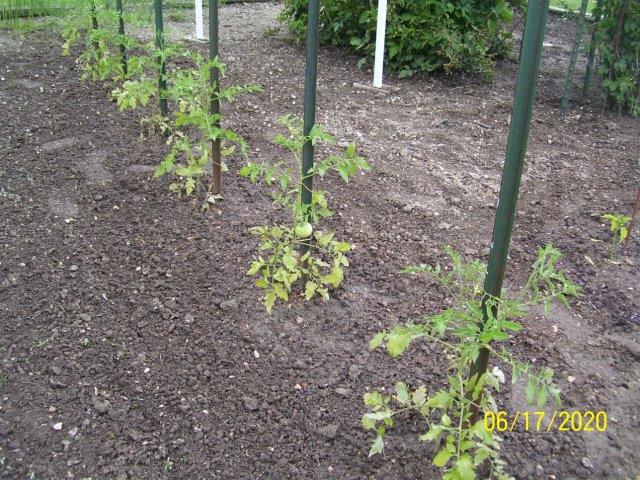 The other tomatoes. They're Big Beef's from the greenhouse.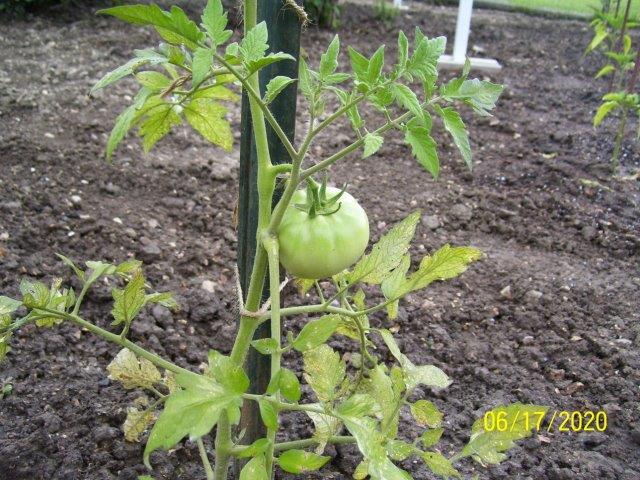 What the... Surprise, surprise. I doubt it'll be ready by the 4th (which is my yearly goal), but still, it looks like the universe is starting to play nice. *knock on wood*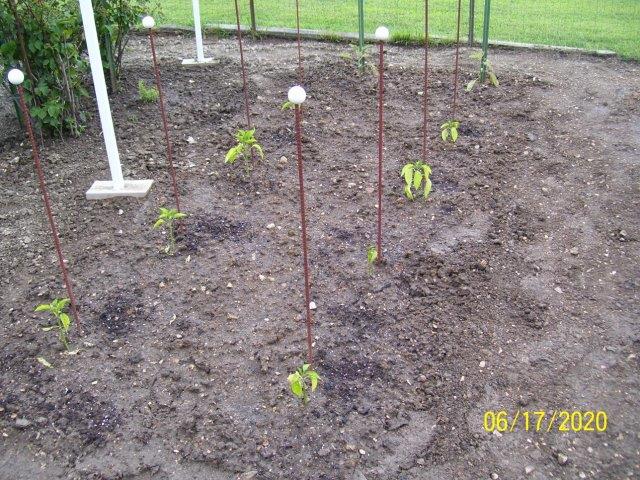 These are the peppers that almost drowned in May. They have a few new green leaves coming out on top, so who knows? Maybe they'll produce after all. They'll be late, but hey, so is everything else. Eggplants behind.
Watermelon seeds coming up in the corner behind the blackberries.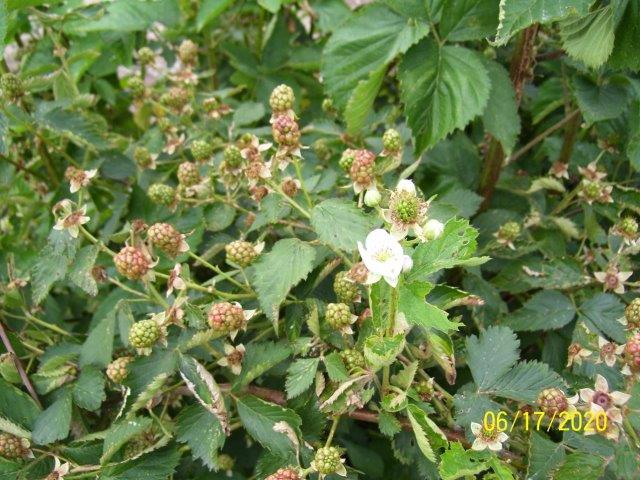 Speaking of blackberries. Not quite there yet, but coming along.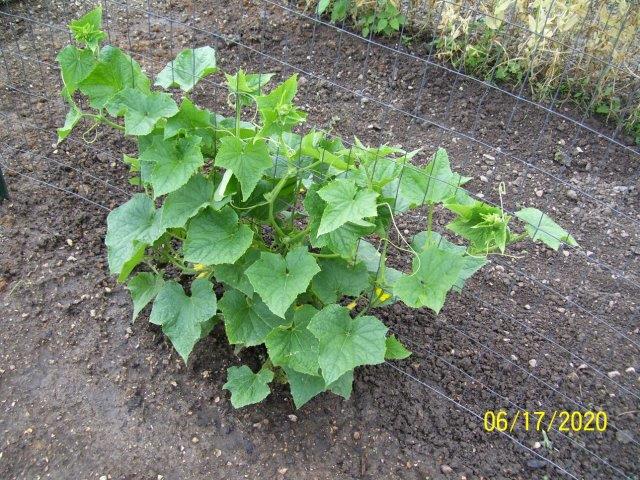 Cucumber plant. Looking good.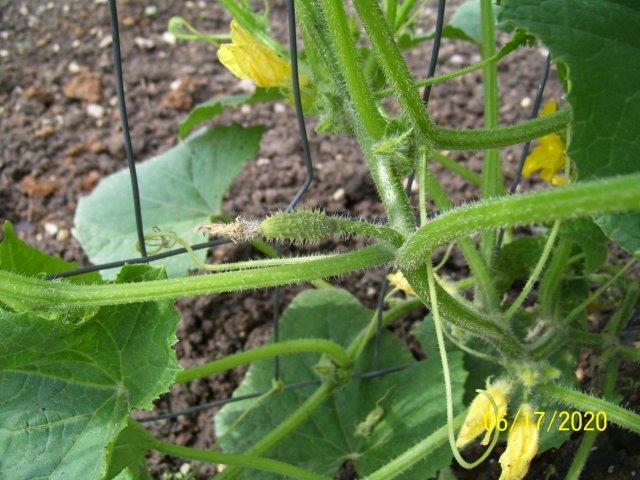 Baby cucumber.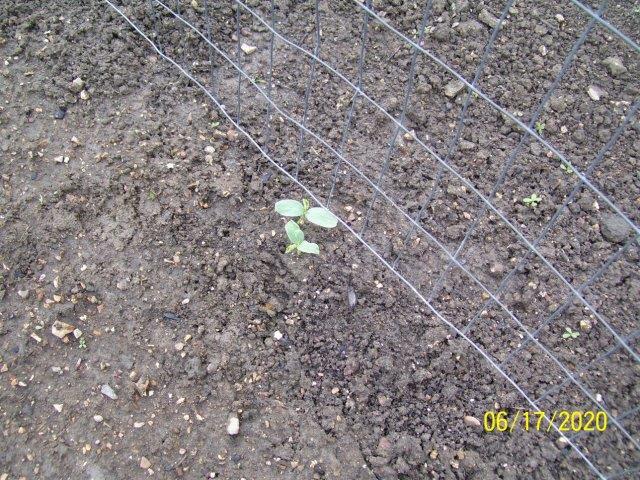 Second cucumber planting coming up.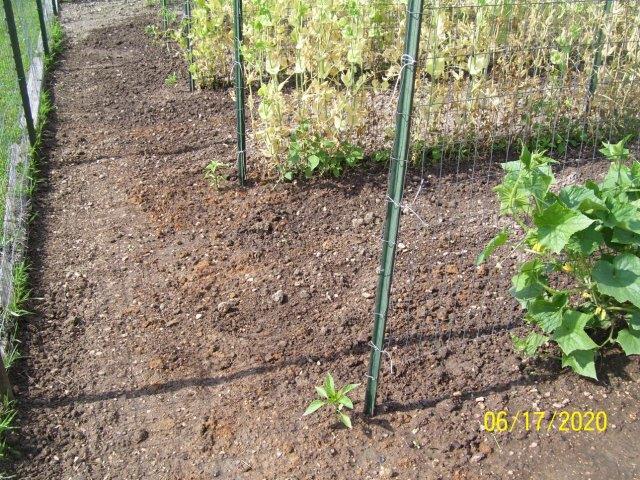 Pepper backups at the end of the trellises. This is where I tried to grow to some chard, but it didn't come up in the late May soak, and I decided I'd rather do this than replant it.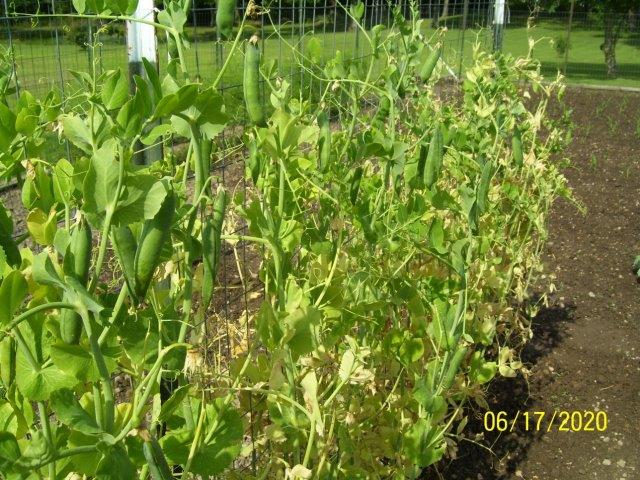 A few remaining pea pods that weren't ready when I picked before. They got picked later this day, though. Got another meal's worth out of them.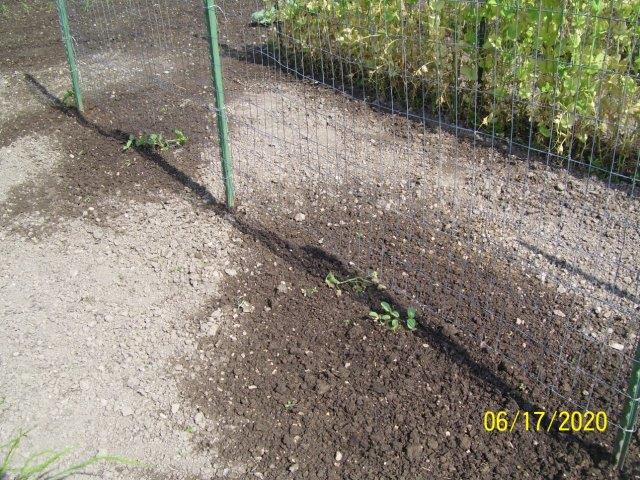 Backup cantaloupe seedlings coming up next to failed May transplants.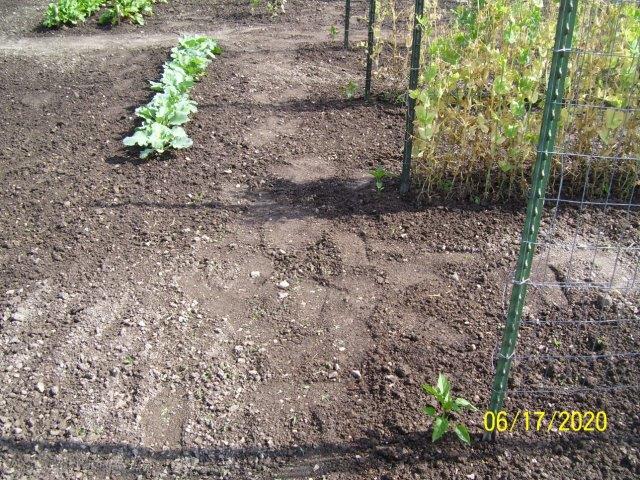 The rest of the pepper backups, on the other side of the trellises.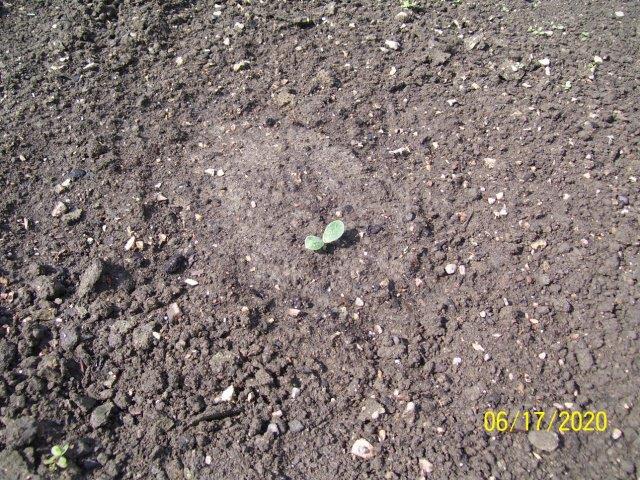 The first butternut squash plant to come up.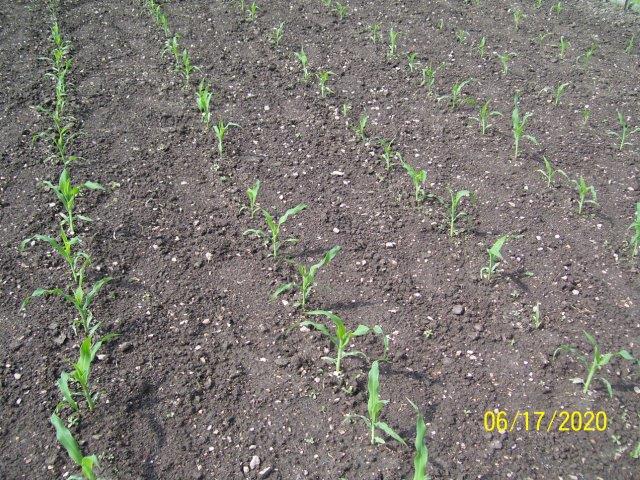 Another view of the corn.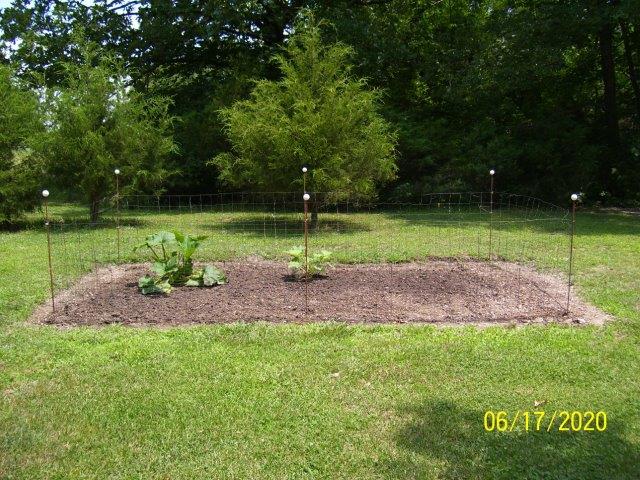 This is my separate zucchini side plot. Those white balls on the posts are for safety. I don't want to bend over and put an eye out on one of those low, hard-to-see things. They're just table tennis balls with holes drilled in one side to fit the post. They're also on the pepper posts in the main garden, but I forgot to mention them above.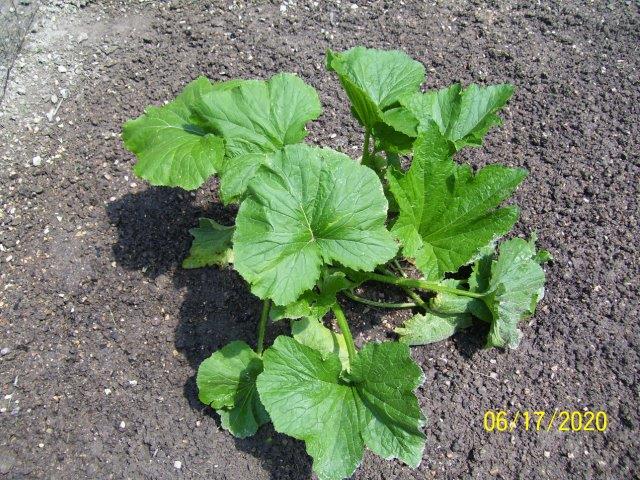 The first zucchini is looking pretty good now. It dropped the baby zucchini it had on it, just like I expected, but it's growing well now and should set many more in the weeks to come.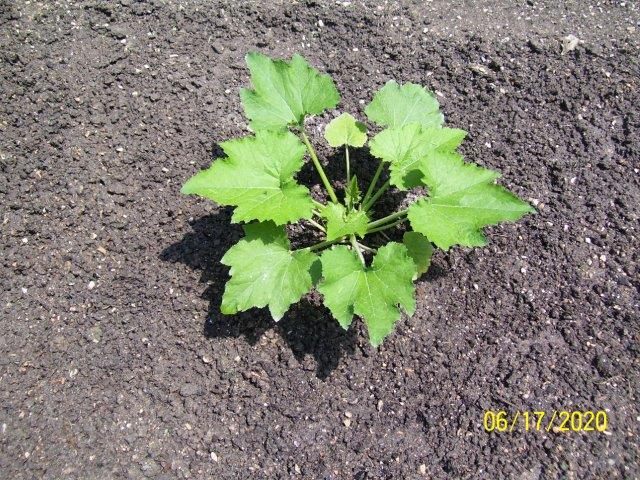 The second zucchini greened up, started growing, and saved itself from getting pulled.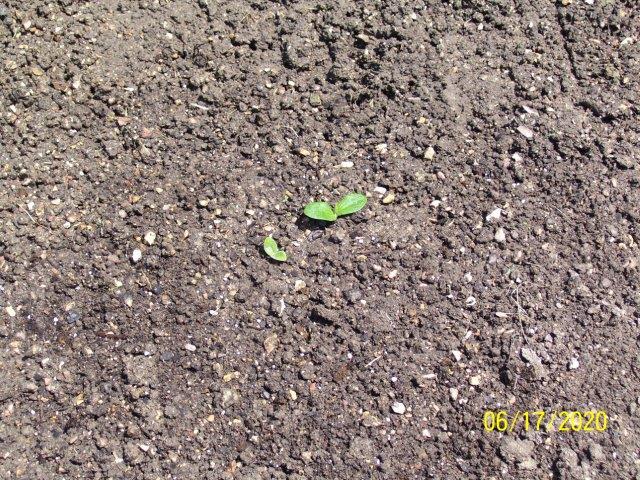 The third was direct-seeded, and is just now coming up.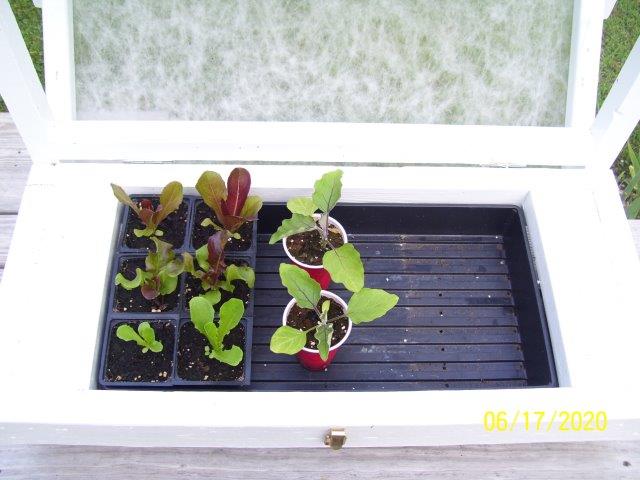 The planter is looking a little bare at the moment. Just one batch of lettuce and a couple of backup eggplants. There'll be some more new lettuce pots in there shortly, though. I grow lettuce constantly, all summer long.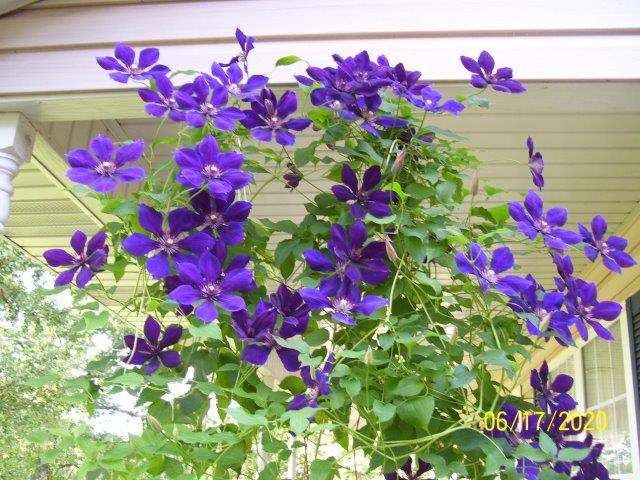 Purple clematis growing up some twine hanging from the side of the front porch.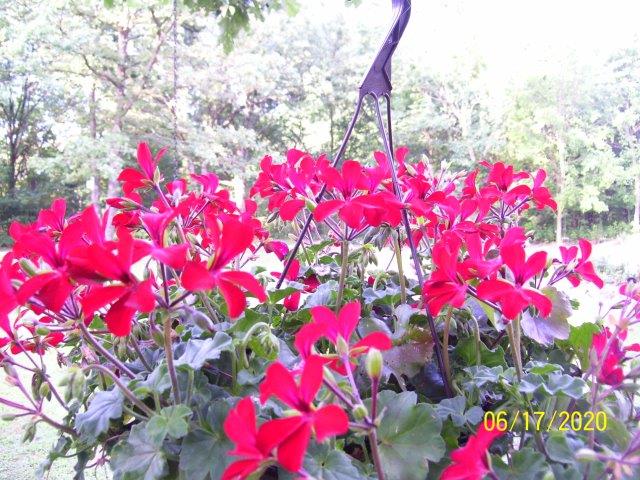 Ivy geranium in a hanging pot.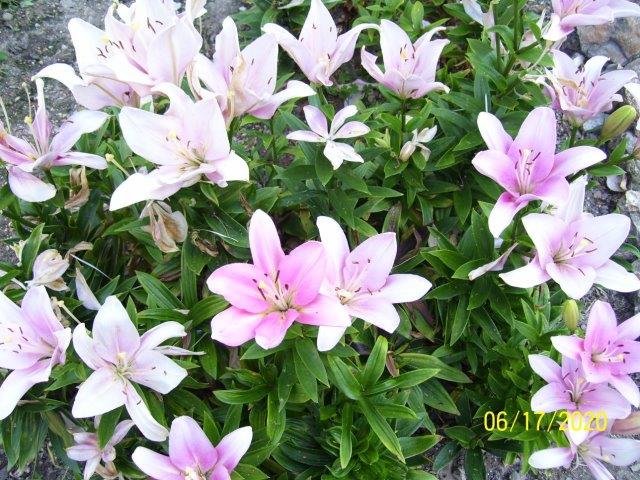 Lilies.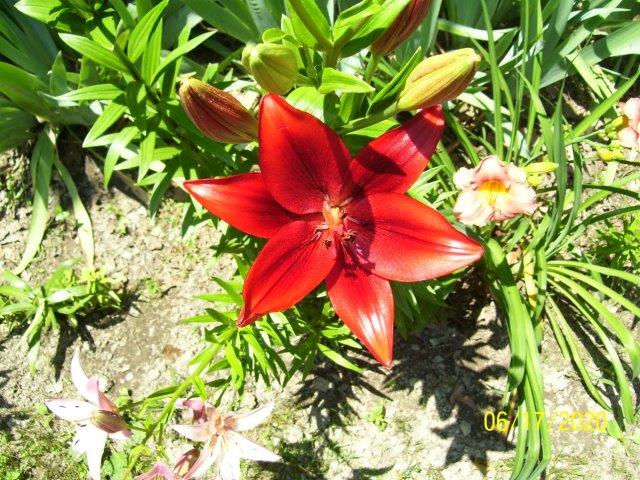 Lily.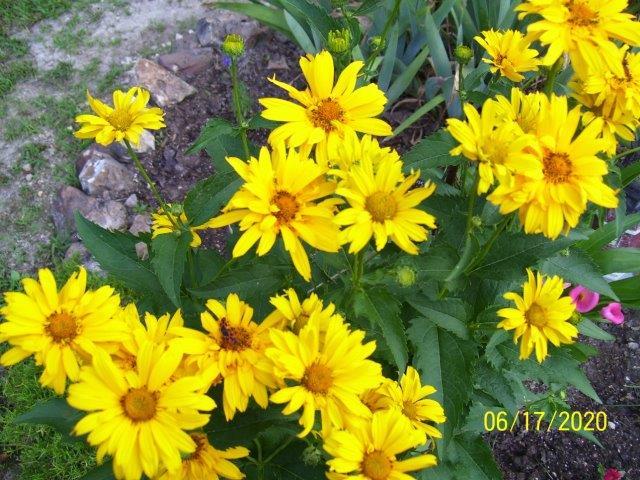 Oxeye sunflowers.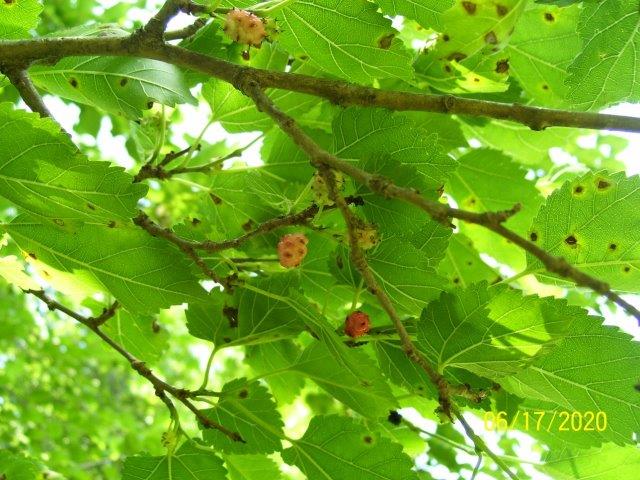 Mulberry trees are starting to set fruit. I don't know what's causing the dark spots on the leaves, bugs or disease.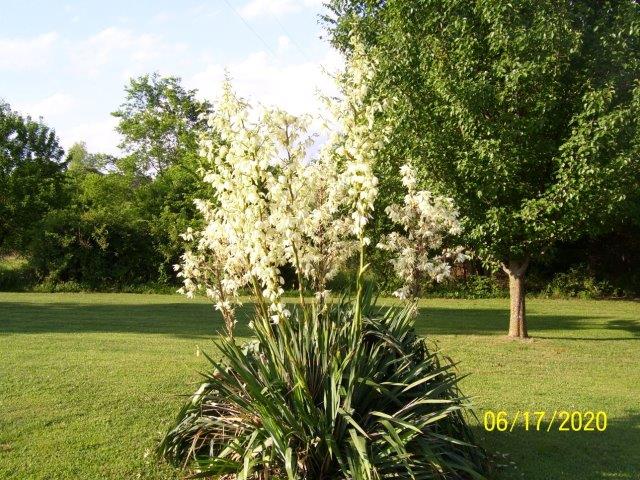 Yucca in full bloom.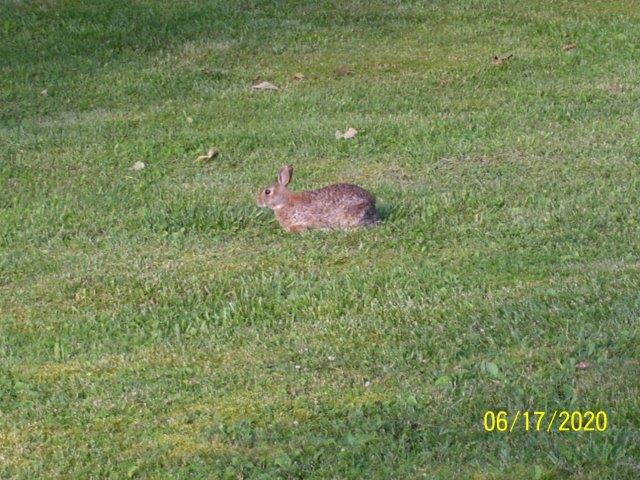 The rabbits are happy this year. I keep seeing them bunny hopping each other and flopping over on their sides. I had to look the flopping over thing up. Apparently, they do that when they're really content. I wish I could get a picture of it.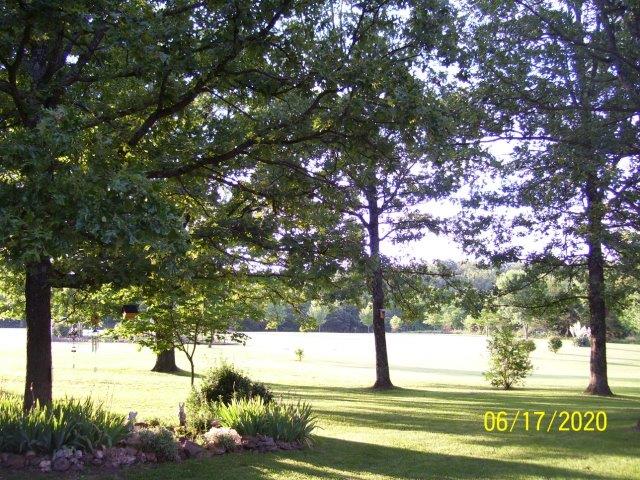 See you next week.