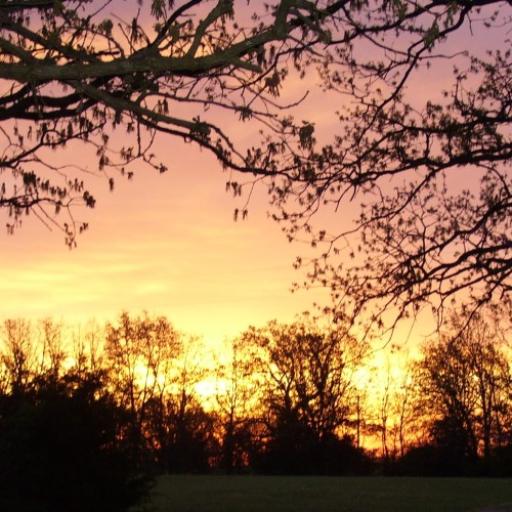 The Garden Chronicles - Week 13
It finally rained. I got a little over an inch a few days ago, but it wasn't much help. All it really did was green the grass up a bit, and increase the humidity. June is usually one of the wetter months, if not the wettest, but not this year. I hope it rains a good amount in July. If it doesn't, I'll be gardening in drought conditions.
It's been hot, too.  Heat indexes over 100 lately. It's even staying hot well into the evenings when I'm trying to hoe or water the garden. I could almost water the garden with sweat sometimes.
On the bright side, I haven't seen any Japanese beetles yet this year. I hope they stay away. They've been a problem in the past.
---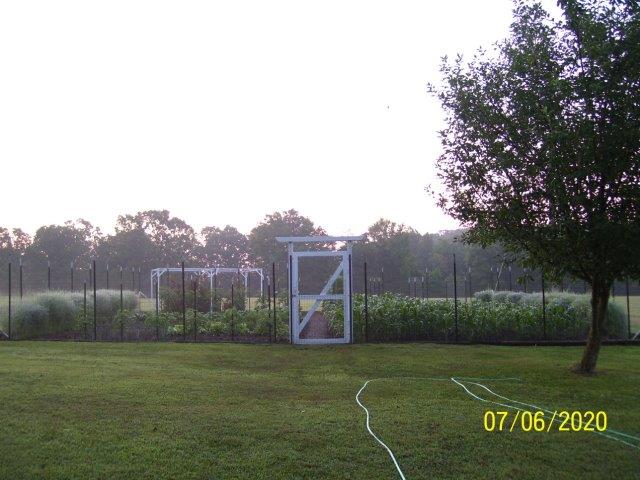 Right around sunrise this morning, with dew on the asparagus on either side of the garden. I trim them like hedges every now and then, if anyone was wondering about that. If I don't, they grow these really long messy stalks that fall all over the place and break off at the ground in strong wind.
.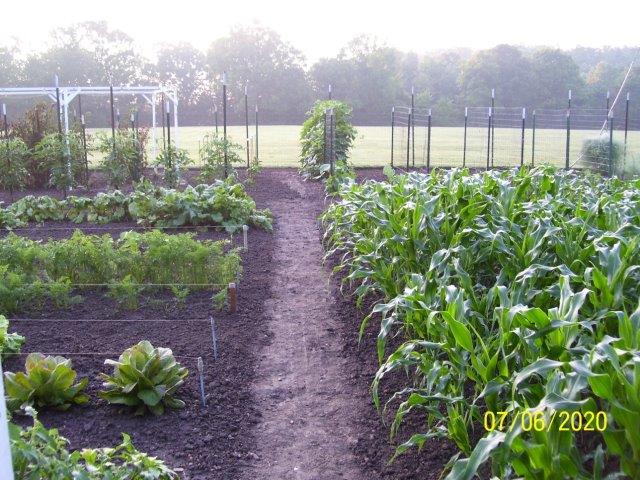 Hazy summer morning air.
.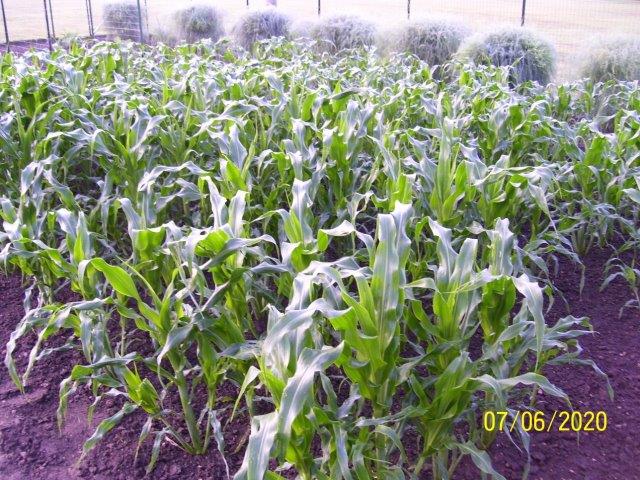 Corn.
.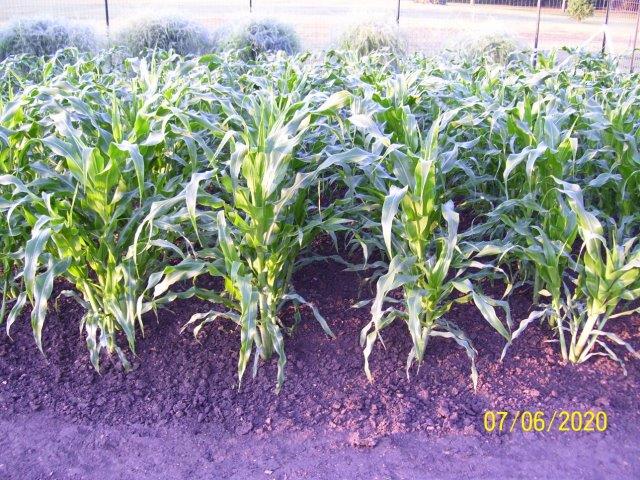 Another view.
.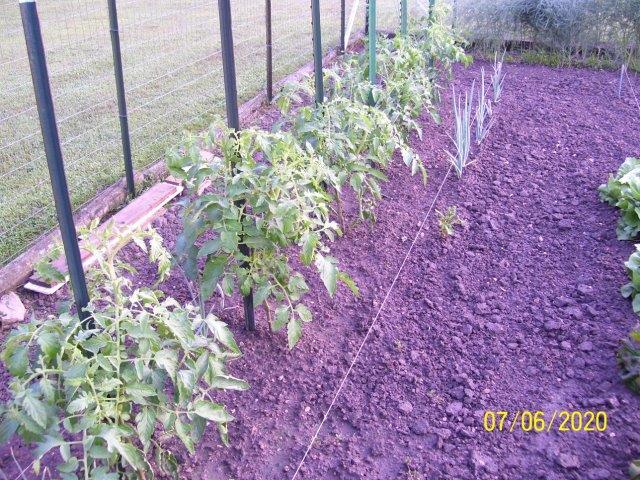 Rutgers tomatoes. I pruned all of the tomatoes in the garden on Wednesday. I decided on 3 vines per plant. I'd usually go with 4 or 5, but I have a few more plants than normal this year.
.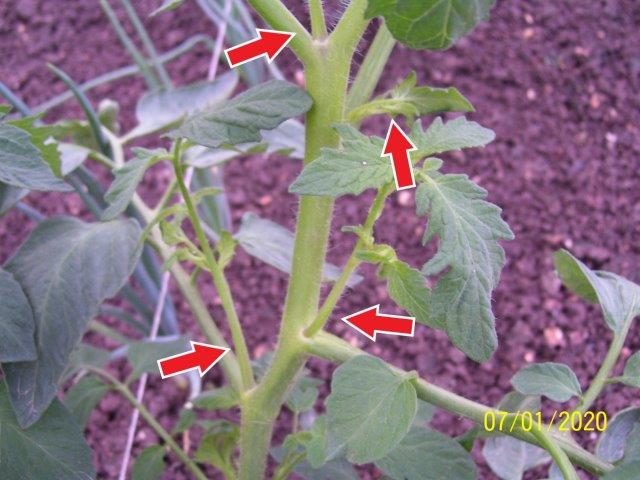 For anyone who doesn't know, indeterminate tomatoes (all I'm growing this year) are continuously vining, meaning they will go and go and go until something kills them, making new vine after new vine after new vine (from suckers, shown by arrows in the photo) until you have a giant, unmanageable mess on your hands if you don't prune them. You don't absolutely have to prune them, of course, but you'll probably need to support them with big, strong cages if you don't. I'm using stakes, so I pretty much have to prune (it would be almost impossible to tie them all up if I didn't). The suckers always grow out of the node or joint where a leaf truss connects to the vine, the 'crotch' or 'armpit' of the branch, so to speak (see red arrows).
.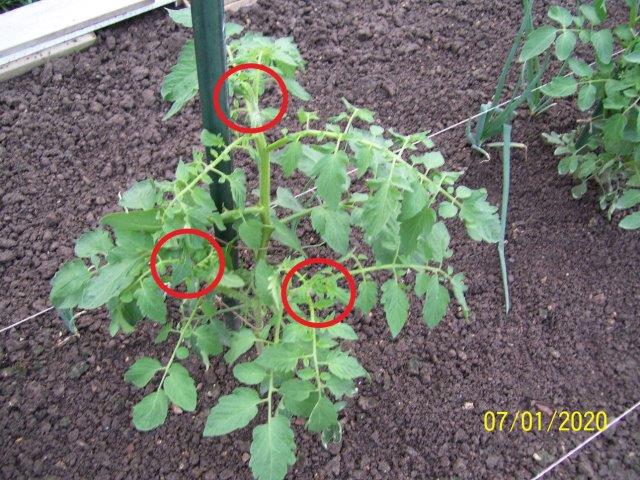 To prune indeterminate tomatoes, the first thing you need to do is decide how many vines you want per plant, and then allow suckers on young plants to grow until you have that number. After that, you pinch or cut off all remaining suckers, and continue doing so for the rest of the season (3 to 5 days is a decent pruning interval). Be careful of the vine tips (they're hard to see above, but they're circled in red on this plant). The tips contain the machinery for making new vine, leaf trusses, and fruit trusses. If you pull the tip off of a vine it won't die, but it won't be able to add more new growth either. They're usually curly and have white fuzz on them (you can kind of see that in the top circle).
.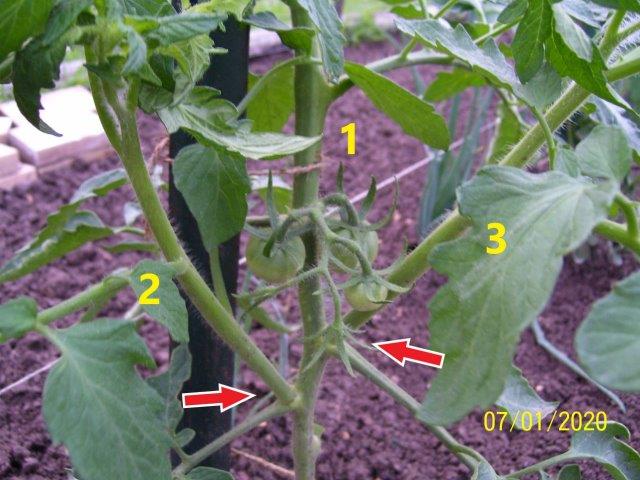 I pruned all of my tomatoes to look something like this. I kept a couple early suckers coming out of the main vine (red arrows) for a total of 3 vines, and removed all other suckers. If anyone has any questions about pruning, just ask me in the comments.
.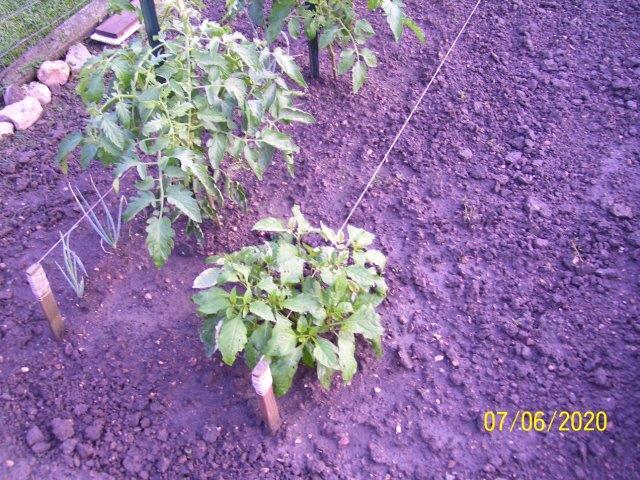 I can hardly believe this, but 2 potatoes and several onions are actually making a comeback.
.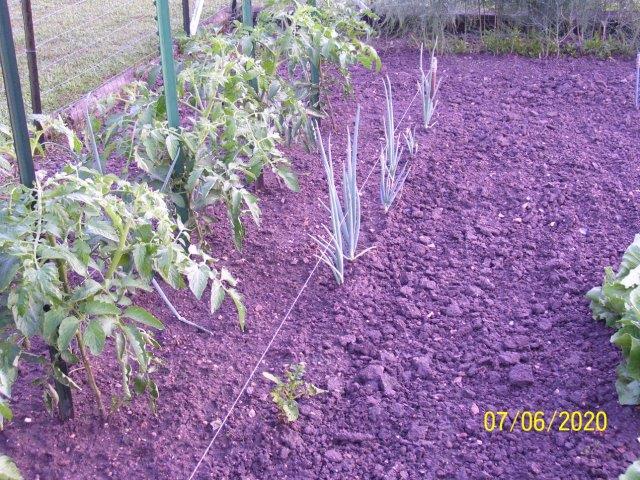 The other potato and some onions. I really thought they were going to die because of all the extra rain in May. They looked pretty bad a few weeks ago.
.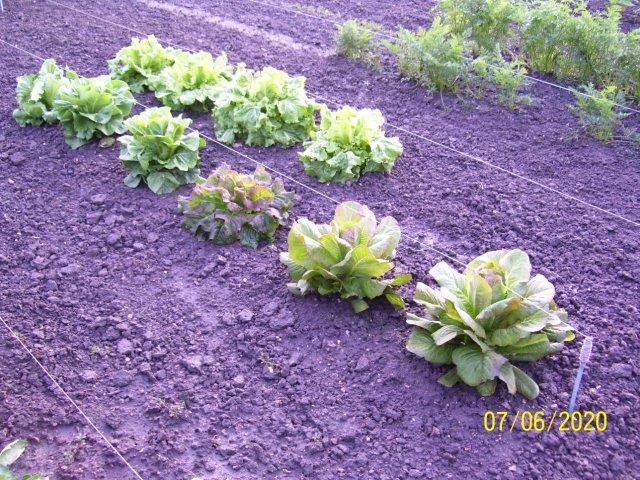 Lettuce. I've finally started picking it.
.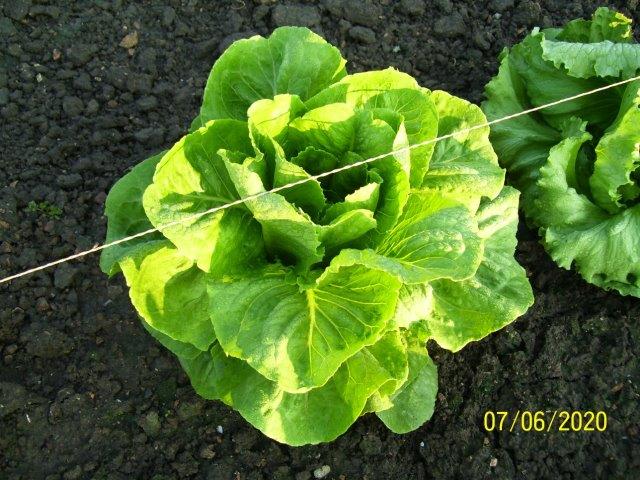 One of the Parris Island Cos romaines.
.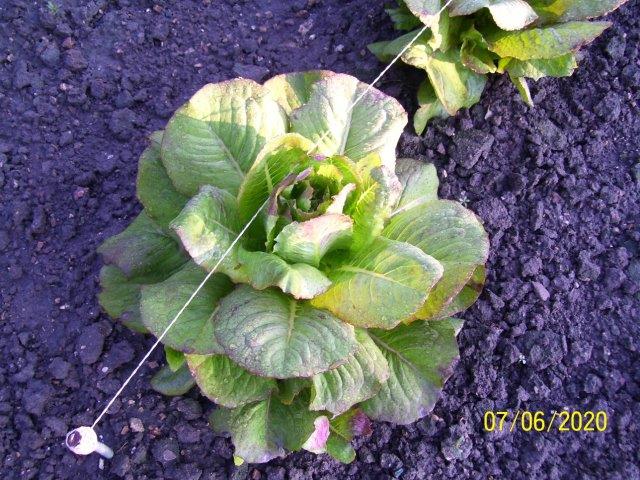 One of the Cimarron romaines.
.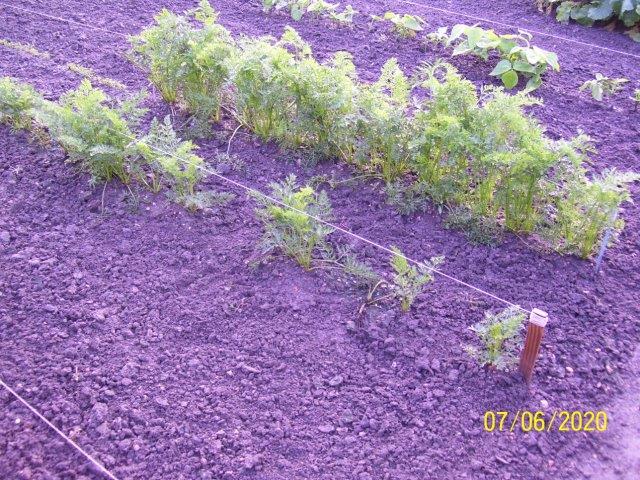 Carrots. I dug a couple samples. They're almost ready.
.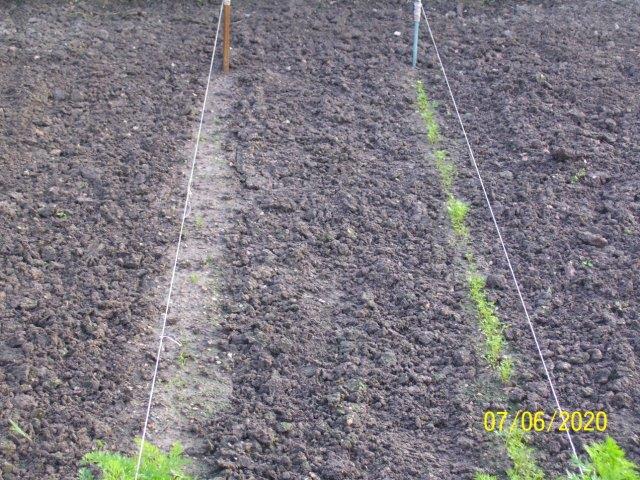 Here's the result of the experiment. The row on the right germinated under the boards, the row on the left didn't (it may look empty, but there are some seedlings there, fewer and smaller by comparison).
.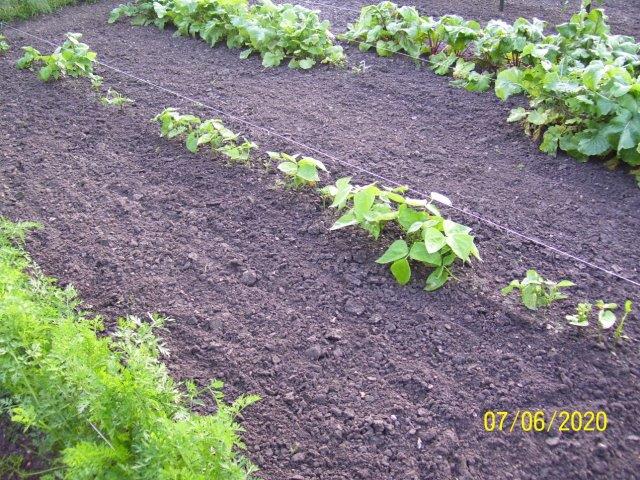 The pathetic third try at beans. Almost laughable. They should fill out and give me some beans eventually, though.
.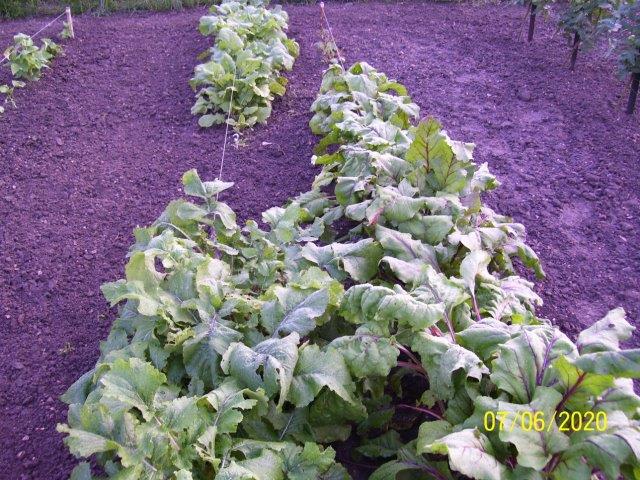 Say goodbye to the first batch of turnips and beets. They're getting pulled and put in the fridge tomorrow night.
.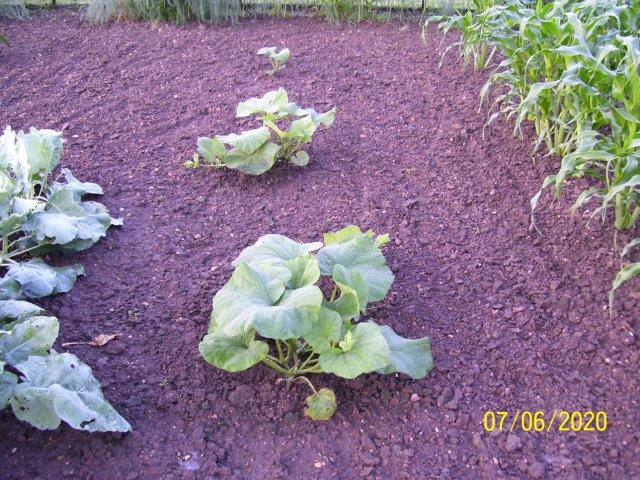 The butternut squash plants. Man, I wish they had all come up at the same time like they were supposed to. Now I have to be careful when I harvest them, to make sure the younger ones are fully mature (some will probably be mixed with older ones).
.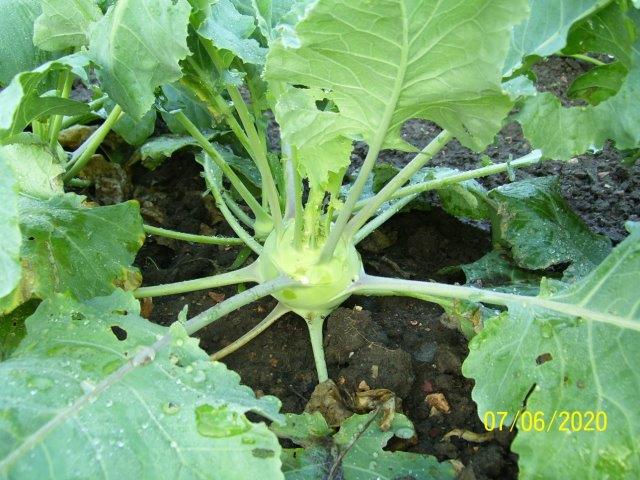 I've been picking kohlrabi and I think I'm sold. I really like it. It grew easily from a spring planting, and you can eat the whole plant. You can put it in a salad like you would radishes, or sauté it in a little butter and eat it as a side dish, or add it to stir fry. I think you can even shred it and make slaw. The leaves are thick and cabbagy, kind of like collards. All of mine have been tender and mild so far. They're great. I honestly can't believe that I've never grown them before. The tap root is hard as heck to cut off the bottom, though. I ended up using wire cutters on them.

.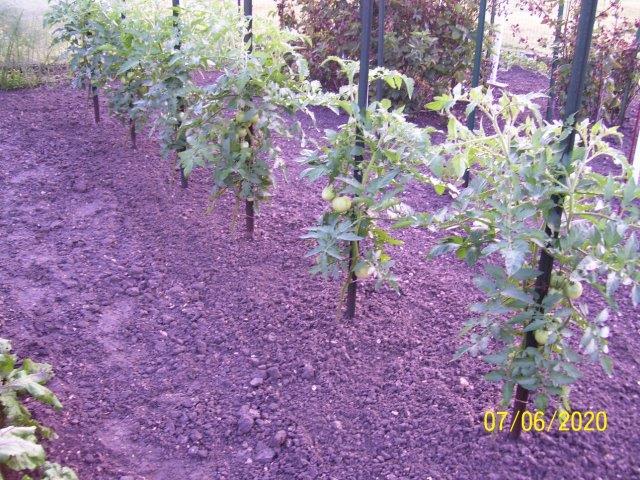 The Big Beef tomatoes, pruned to 3 vines each.
.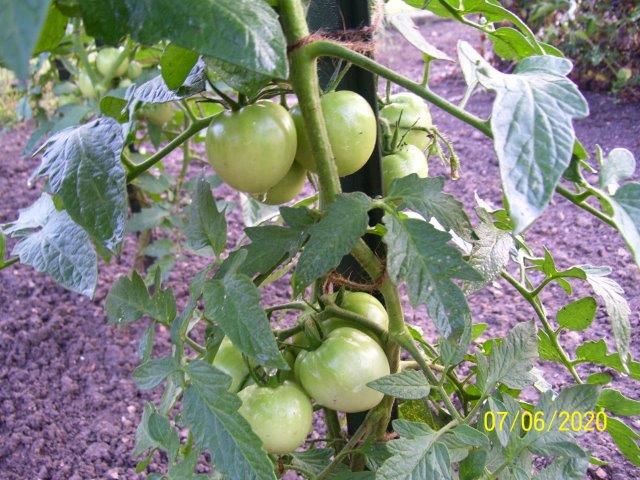 They're starting to load up.
.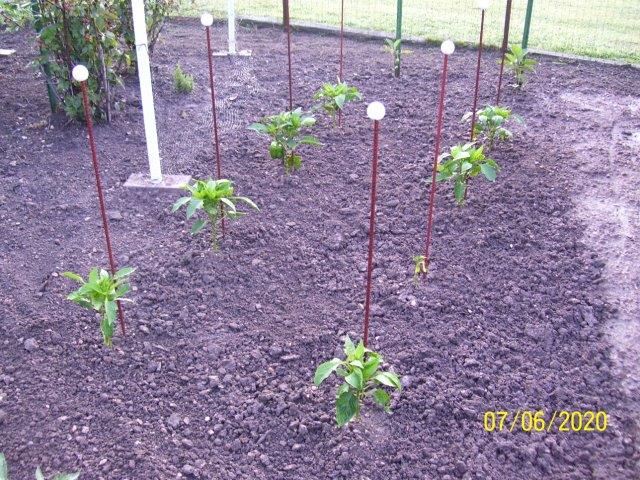 The nearly-drowned peppers are still making a comeback (except for that one). The eggplants behind them are too.
.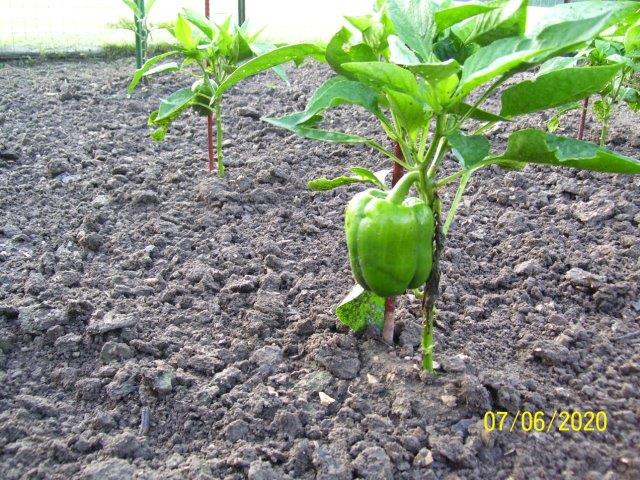 They're even trying to make peppers, as small as the plants still are.
.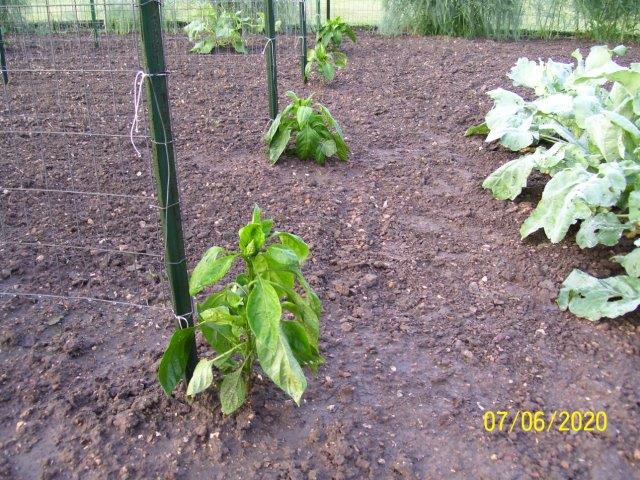 The backup peppers are actually bigger than the other ones now. They're still busy growing, though. No peppers on them yet.
.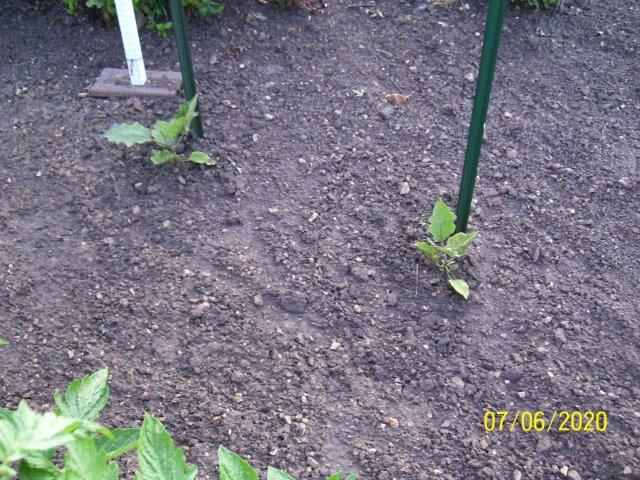 The backup eggplants. Starting to add new growth.
.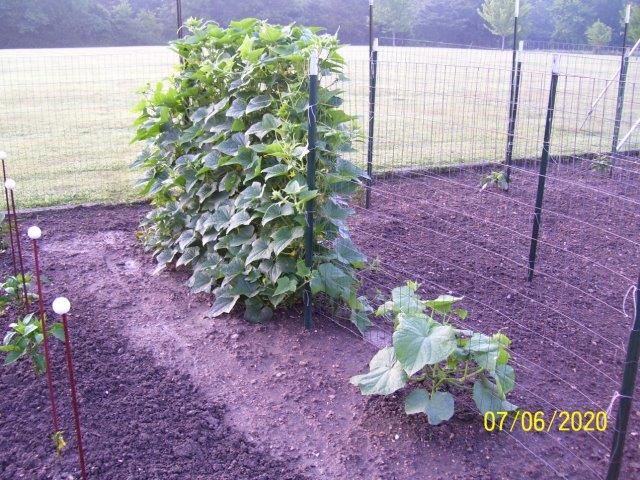 First and second cucumbers. The third will be planted on the next trellis this coming week.
.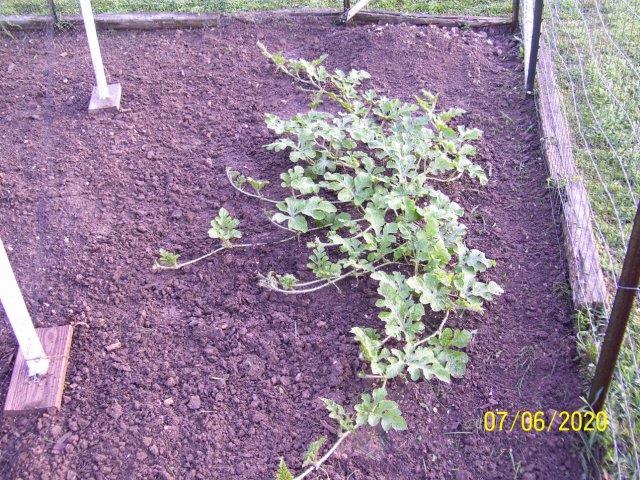 Watermelon plants.
.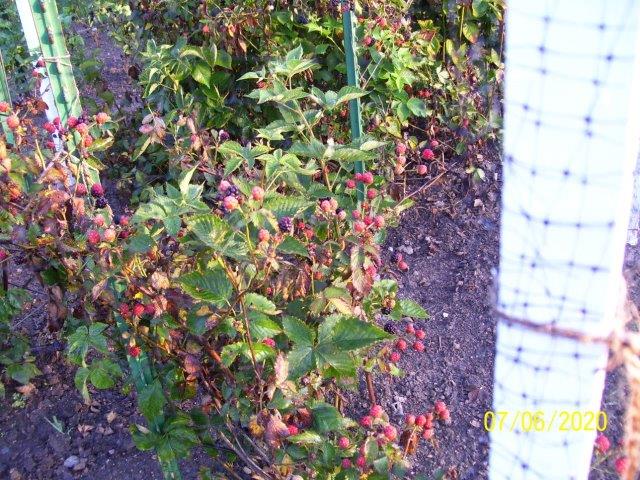 Blackberries still ripening. You can see the bird netting against a frame post in this shot, but nowhere else. It's there, though.
.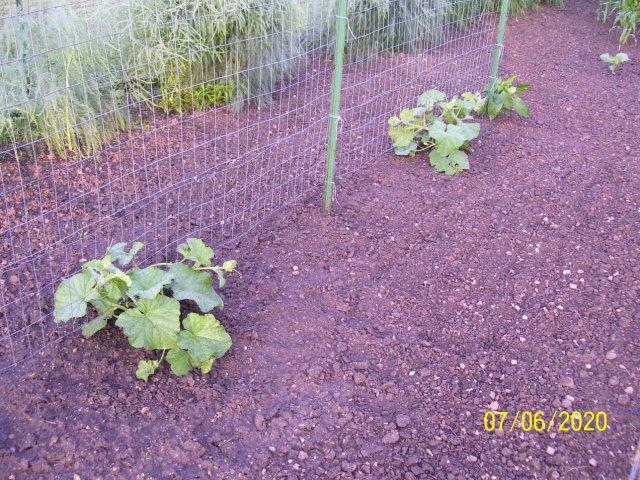 Cantaloupes.
.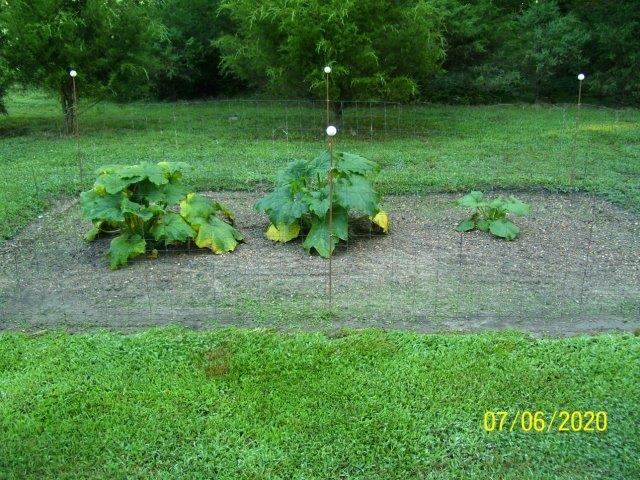 Zucchini plants.
.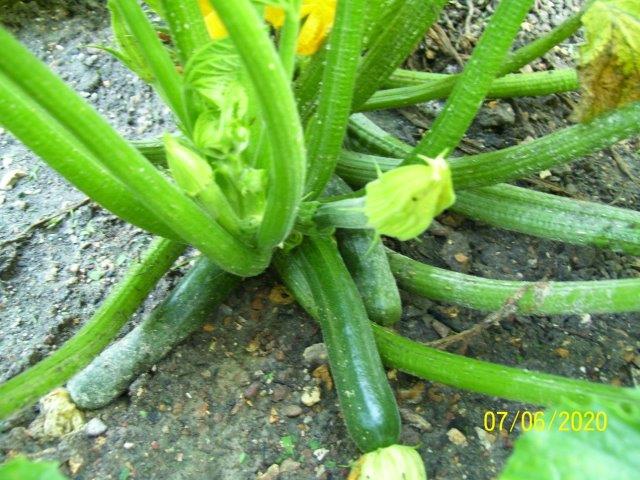 Zucchini. I'm not sure what's on them, whether it's dew, or dirt from watering, or even some kind of mold. I didn't notice that when taking the picture. I'll have to go check on that.
.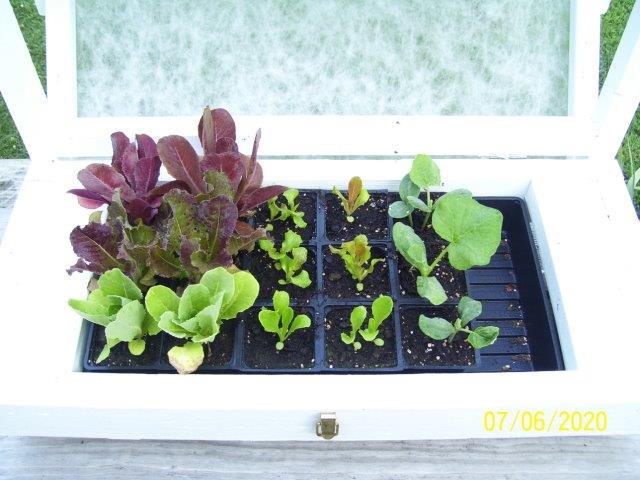 The planter with lettuce and backup Waltham Butternut. I'm thinking about putting one of the butternuts on an open trellis. I've never grown it vertically before.
.
Yellow marigolds and white petunias.
.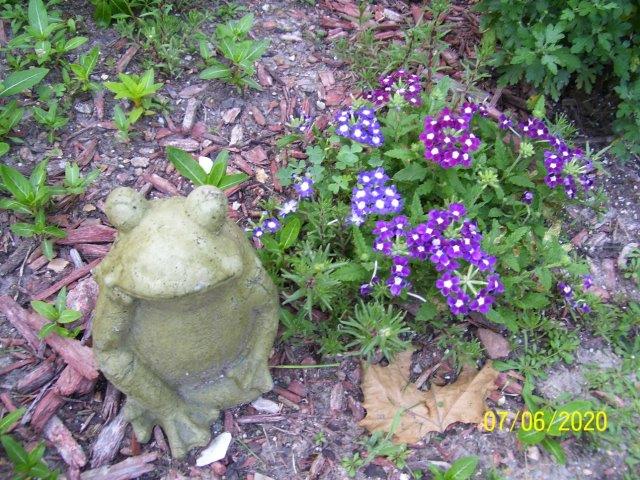 Verbena in a flower bed.
.
Verbena in a flower pot.
.
Cone flowers.
.
Cone flowers.
.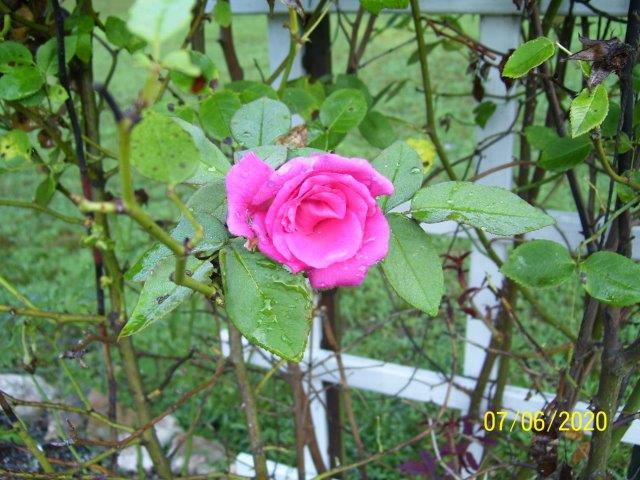 A single rose popped back out of the vines.
.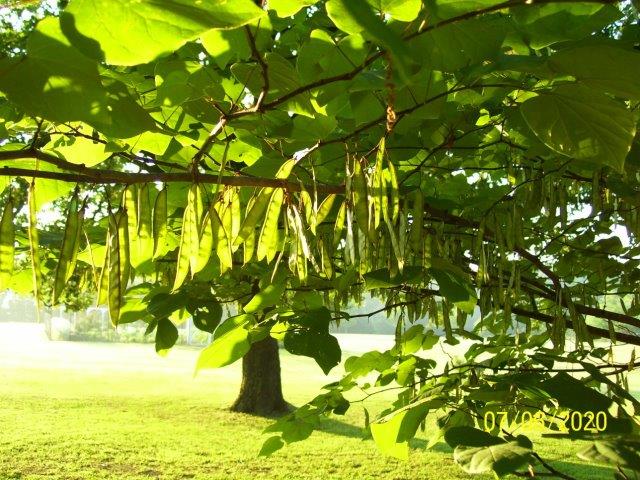 The redbud trees are covered with seedpods.
.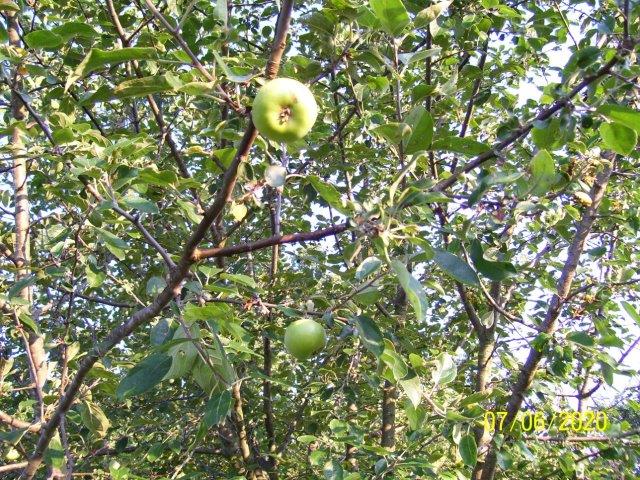 Apples on the mystery tree.
.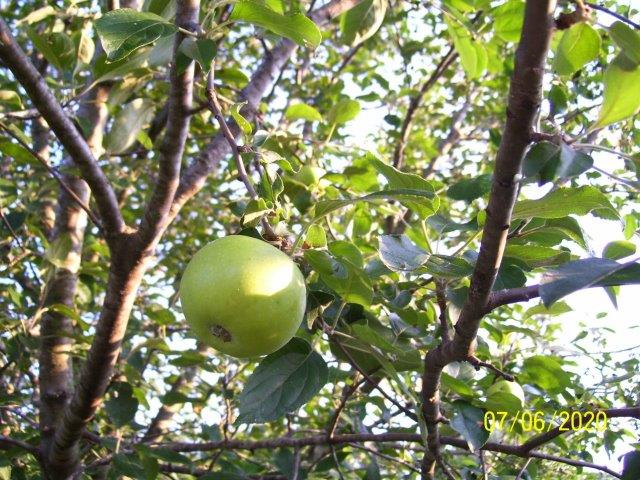 Another one.
.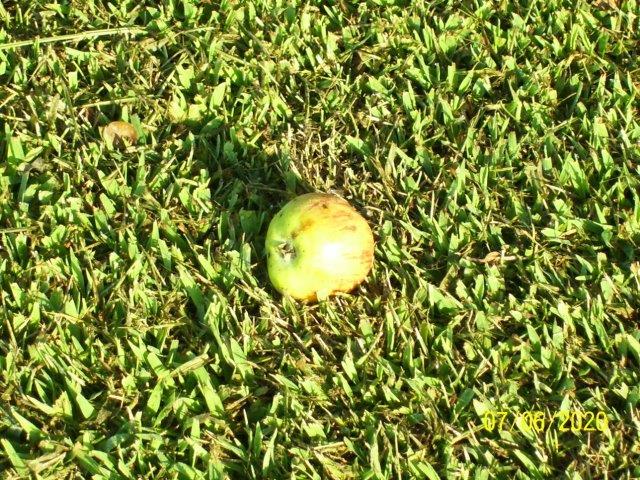 Most of them fall off early like this one, though. Actually, they usually fall off when they're a lot smaller than this one. That tree is so frustrating.
.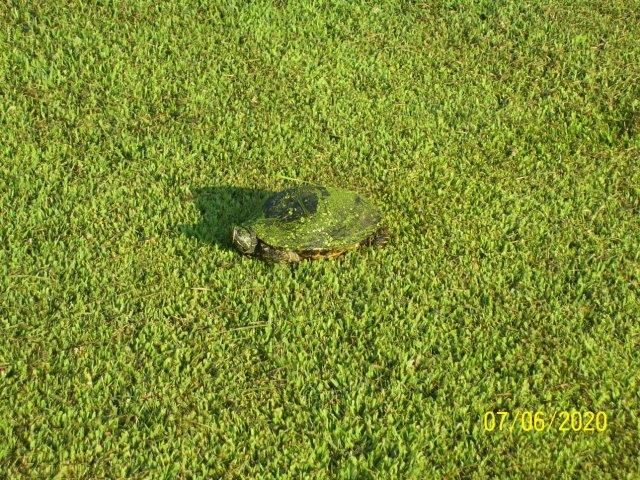 A water turtle covered in algae. Probably looking for a spot to lay some eggs. They do that all over the front yard. I don't know why they lay them so far away from the water, but they do.
.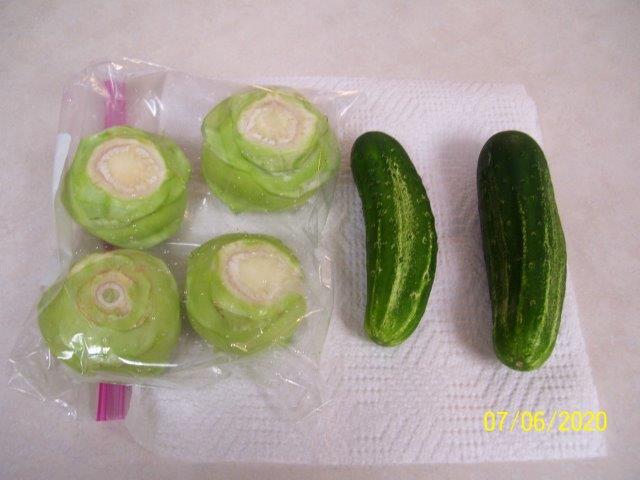 Some kohlrabi and a couple of cucumbers from the garden.
.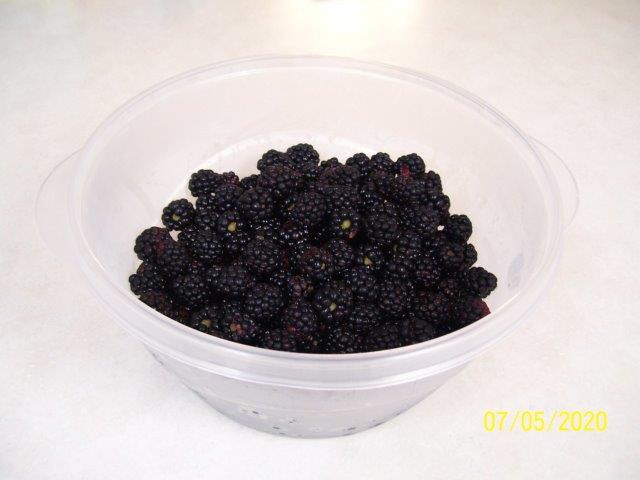 Blackberries.
.
See you next week.