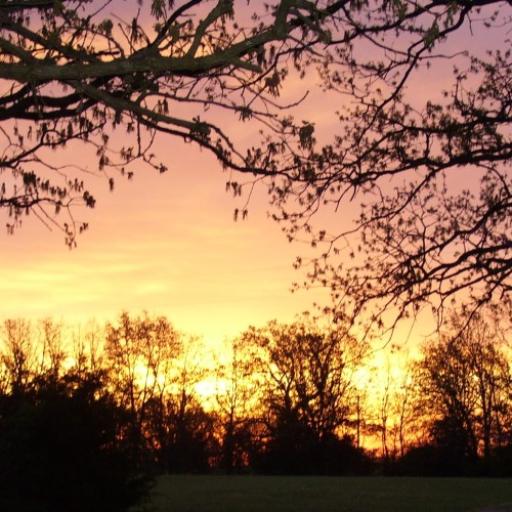 The Garden Chronicles - Week 17
More strange weather, but it's not altogether unwelcome this time. The heat and dryness continued for a week after my last post, and we were officially in moderate drought conditions, but then it was like a switch got thrown and everything changed, literally overnight. A cold front rolled in and broke the drought with almost daily rain (I got over 4 inches in just one night a few days ago), and it brought much cooler temps as well. Today has been the coolest. It's August now, but it feels more like October at the moment. The low was in the upper 50's last night, and the high today was only about 70. It's beautiful, but it's not supposed to last much longer. They're calling for highs back up around 90 by the weekend.
I decided to do more to the garden fence than just add rabbit wire to it. I'm going to paint all the posts and lay new landscape timbers all around (the old ones are rotting out). I'm also going to split the rabbit wire down the middle, putting the fine-spaced part at the bottom to overlap the existing wire (double trouble for the rabbits), and the wide-spaced part at the top, with a space in between so I can continue to reach through unobstructed. I've gotten used to being able to dump veggie kitchen scraps in a corner from the outside, without having to actually walk into the garden, especially in the winter when it's often muddy in there, and I want keep doing that.
I started working on the fence last week, but it wasn't long before I discovered I couldn't take the wire down to paint posts in the evenings (out of the heat of direct sunlight) without leaving the garden open to rabbits overnight while the paint dried. I did finish one side, but the rest is going to have to wait until later on this fall. I ran the rest of the rabbit wire around the garden and tied it up with a little twine for the time being. It's just a temporary thing, but it's stopped the rabbits in their tracks, and I've finally been able to do my fall plantings safely. It's a little later than I would have liked, but here's hoping it all makes it before the first frost.
*****
.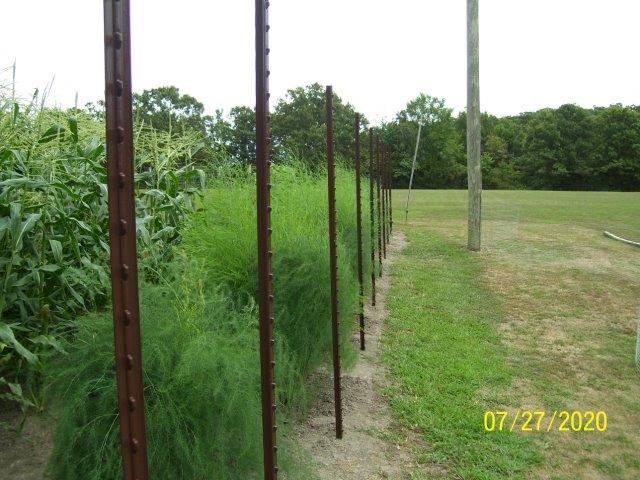 The south side posts. I scrubbed the rust off with a wire brush, cleaned them, and then painted them from the ground up with brown Rust-Oleum. I think it looks much better than the standard t-post paint.
.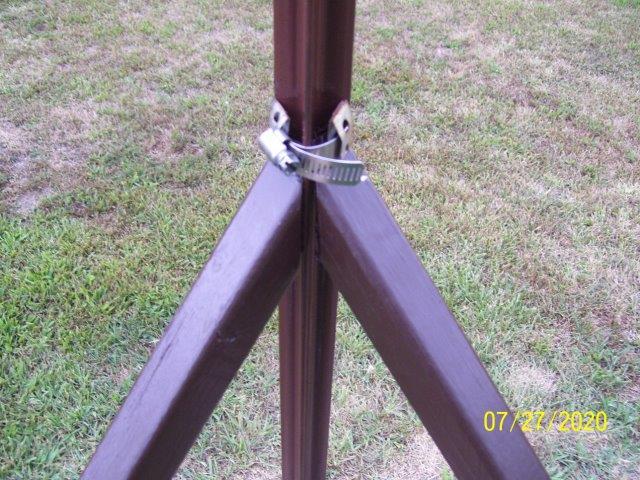 Here's how I attach the corner braces. It's just a garden fence and doesn't need to be super strong (it's not keeping heavy livestock in or anything), so I just used t-posts at the corners, turned so that the 't' faces in at a 45° angle. I cut the ends of treated baluster posts (usually for decks or porches) at just the right angles to nest in the 't', and then clamped them in place with a stainless hose clamp. I folded small lengths of strap iron around the clamp to take the sharp off of the edge where it presses down on the baluster wood. The bottoms of the braces are attached in the same way, an inch or two off the ground to help prevent rotting.
.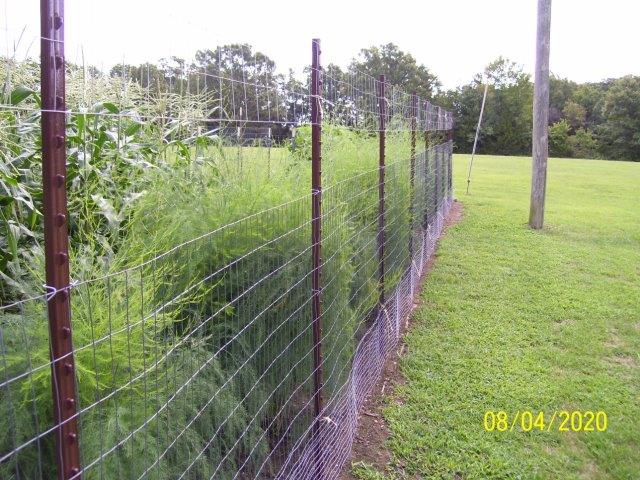 I temporarily hung the wire back up with a few fence clips and some jute twine, just to give me an idea of what it will look like. Fine wire at the bottom, wider stuff at the top, and an opening in between. I won't finish it until later this fall, after the garden is mostly done. It's good enough to stop the rabbits for now, though.
.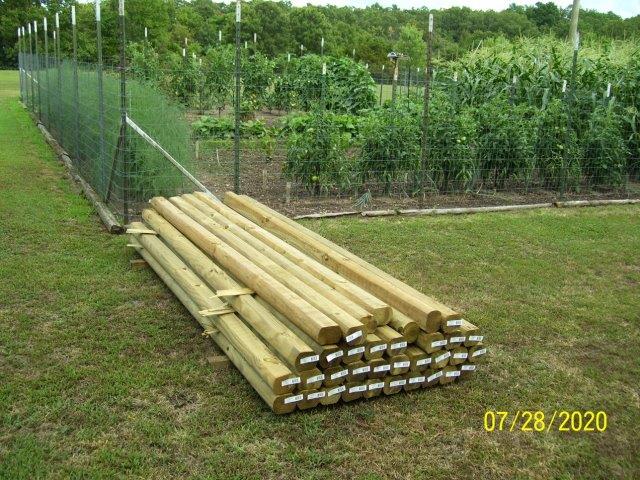 A load of new landscape timbers, delivered by Lowe's.
.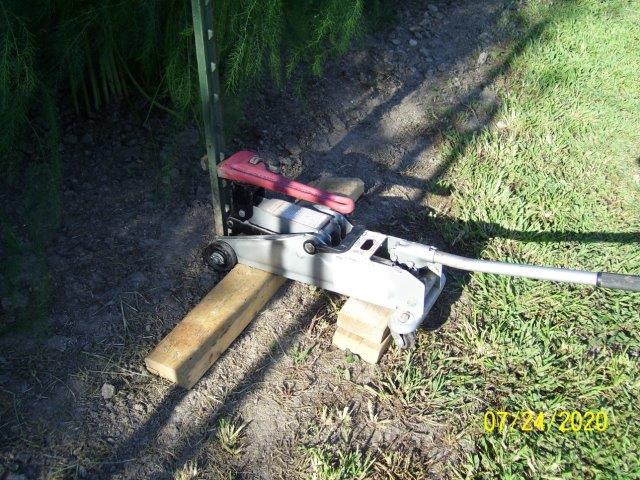 The garden sits on a bit of a slope, and over the years the rain has shifted soil to the lower side and raised the ground a few inches. I wanted to bring the posts on that side up a little while I had the chance, and here's how I did it - a hydraulic jack and a pipe wrench. It works great.
.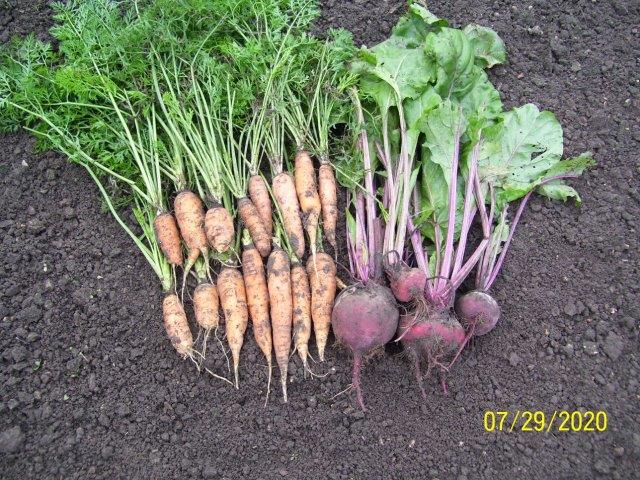 I realize I haven't been taking pics of much of this stuff, so here's the last of the spring carrots and beets. The shorter carrots are a variety called Yaya, and they weren't supposed to be like that. It might have been the harsh spring, but still, I probably won't bother with them again.
.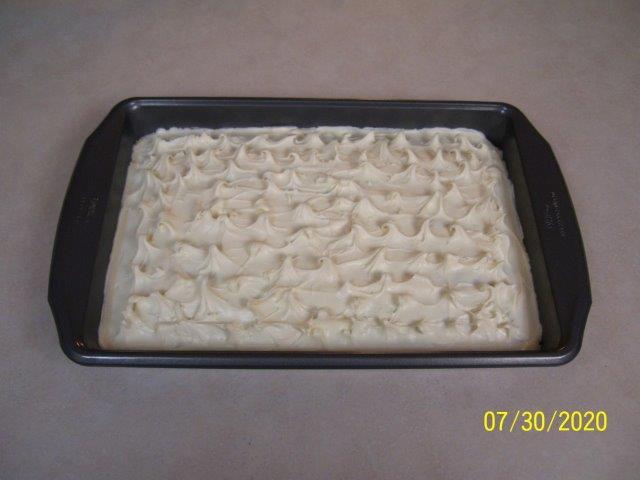 Some of those carrots went into this, a carrot spice cake.
.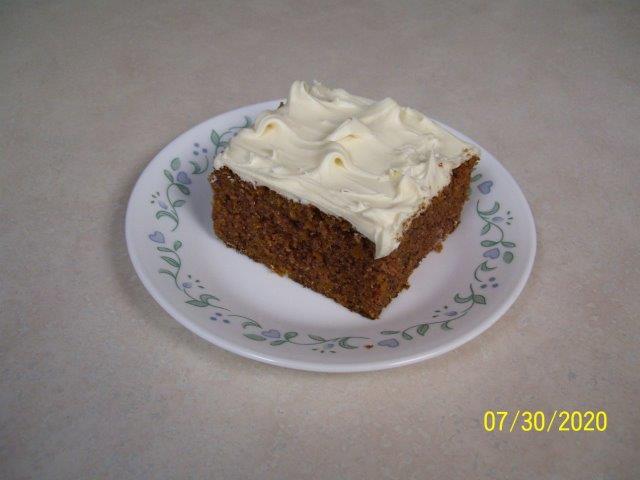 I think it might just be my favorite kind of cake. Bon appétit.
.
The rain brought the grass back to life lickety-split. I don't think I've had to mow in about a month, but I suppose I'll be back at it again before long.
.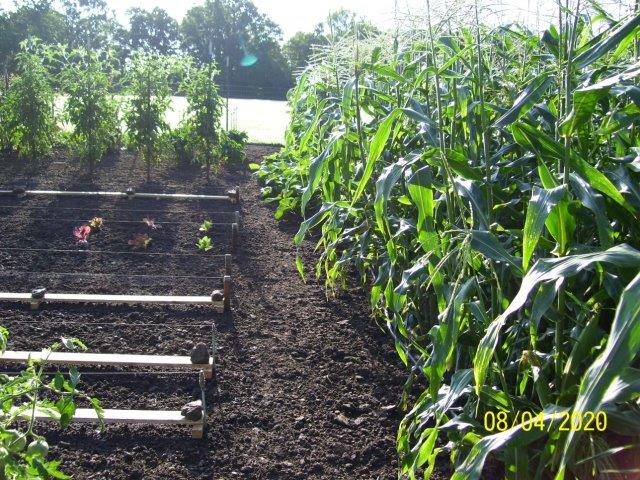 It was cool enough this morning that I almost needed a jacket.
.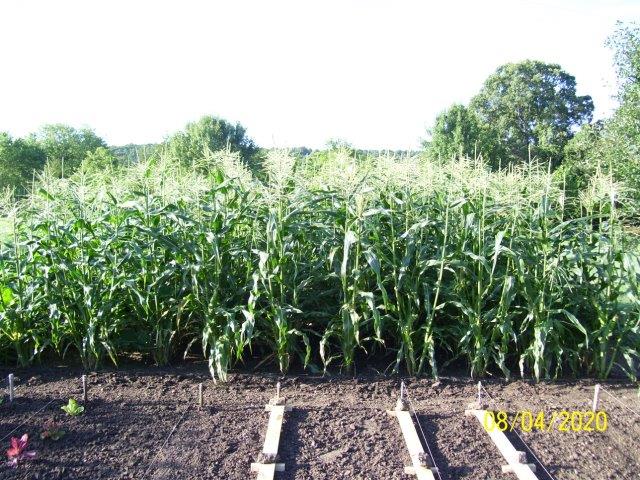 The corn.
.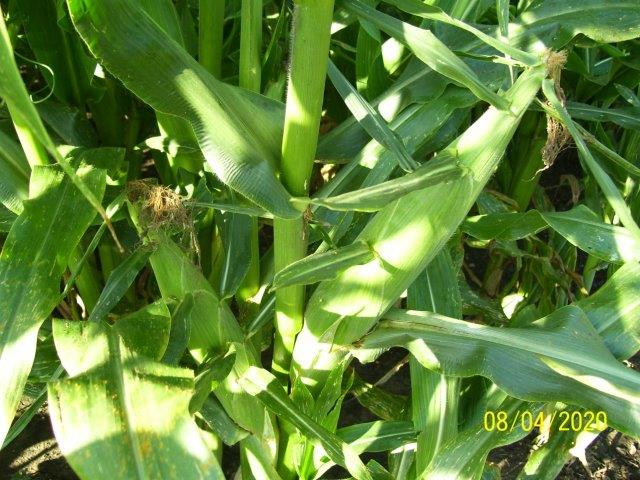 Almost ready.
.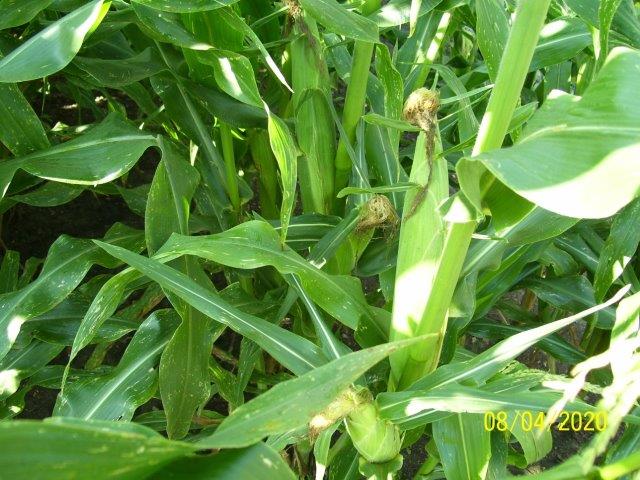 Four ears on two plants. I've even seen an ear or two on sucker stalks (they probably won't be any good, though). It turned out to be a good year for corn.
.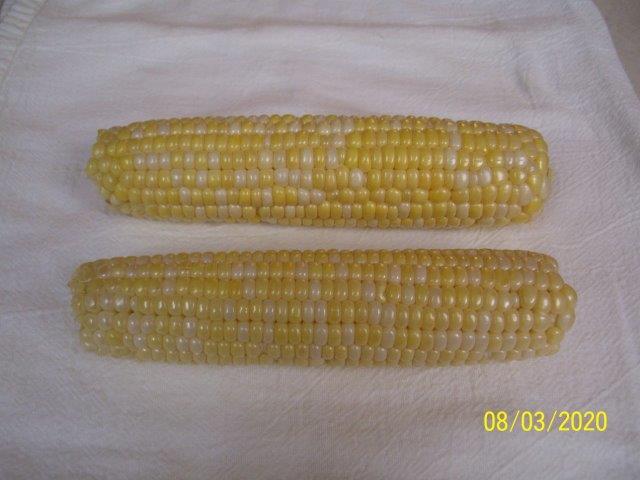 I've been sampling it to see how far along it is. Looks like I'll be doing a big pick in a couple of days.
.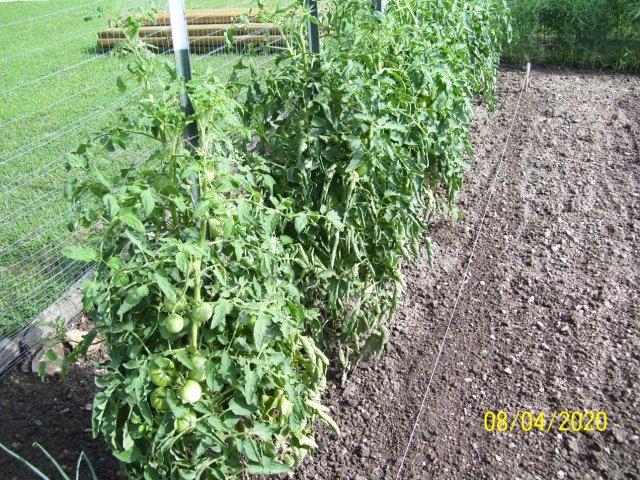 The Rutgers tomatoes, with some new fall carrots planted under the line in front of them. They say carrots love tomatoes.
.
New fall plantings of beets, turnips, and more carrots. The beets and turnips are where the lettuce had been before. I'm trying new turnip seed, some kind of sweet white hybrid. I hope they're good. I also have some new hybrid kohlrabi seed that are supposed to grow up to 5 or 6 inches across. The package claims they only need around 45 days, so I'm going to plant a row of it (along with some more peas) where the corn is now, after it comes out, which should be pretty soon.
.
New lettuce transplants in a different place.
.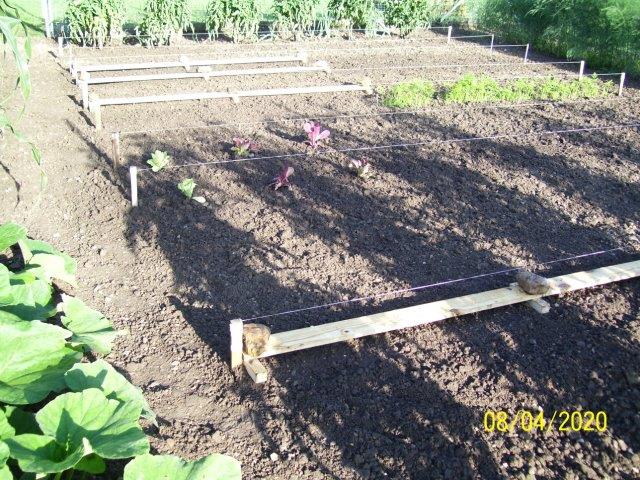 I don't have enough boards to cover all the new plantings. I wasn't expecting to have to plant my fall stuff all at once, but I had to because everything was so late this year. The wet spring (and the rabbits) messed up my normal rotation.
.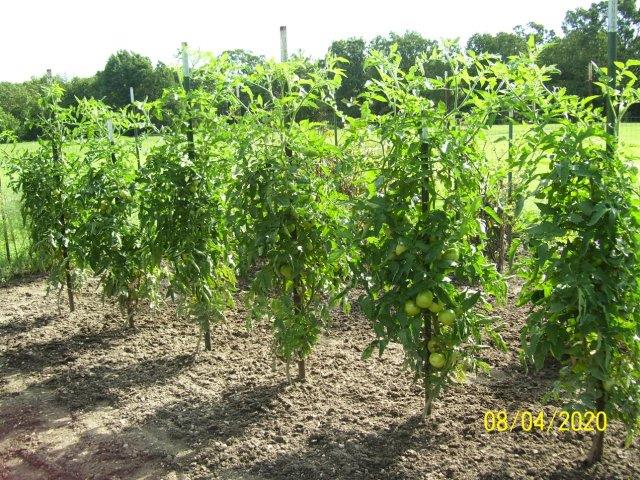 The Big Beef tomatoes. Only a few have been picked so far. They haven't started ripening up strongly yet.
.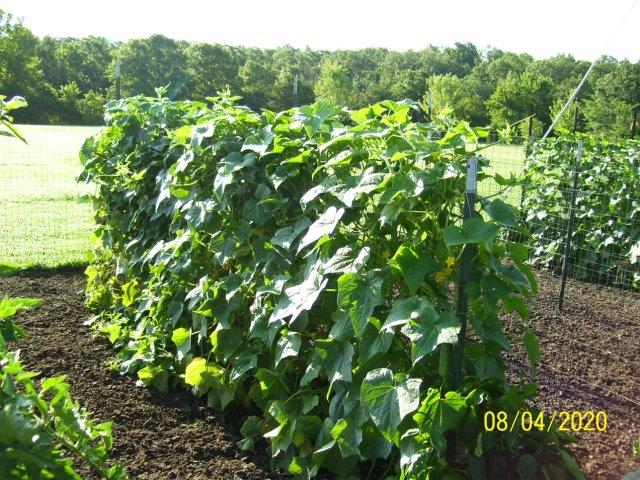 First and second cucumbers. I've been enjoying a steady supply. It's been great.
.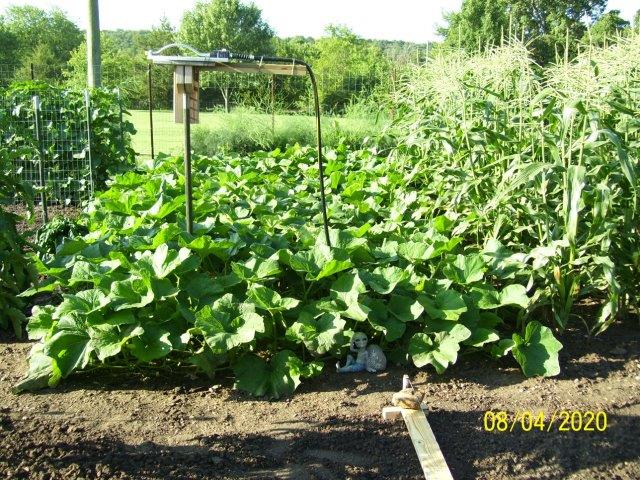 The butternut squash is taking over.
.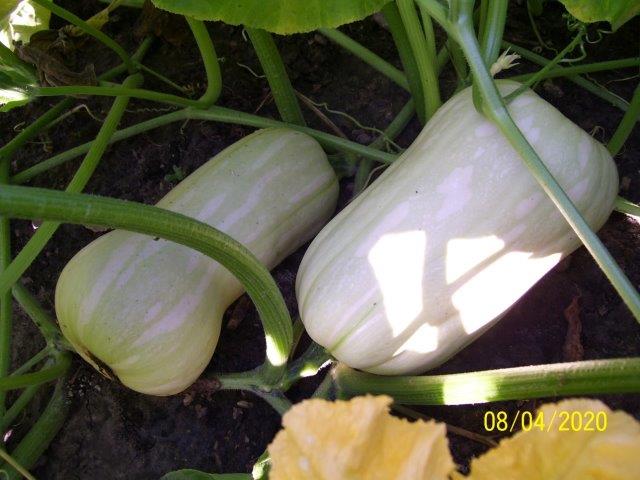 A couple of the bigger ones.
.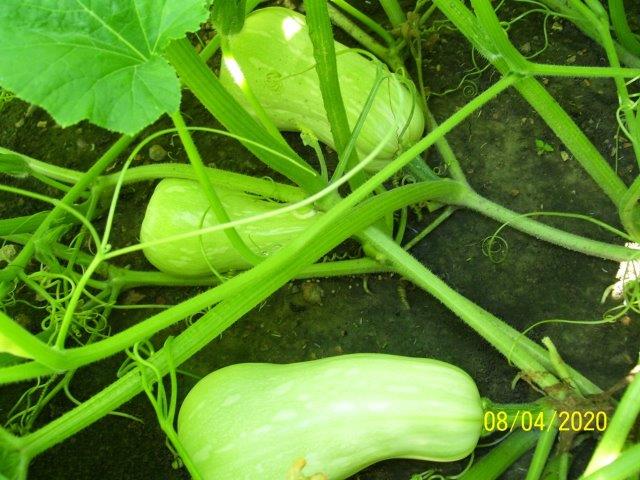 A few more.
.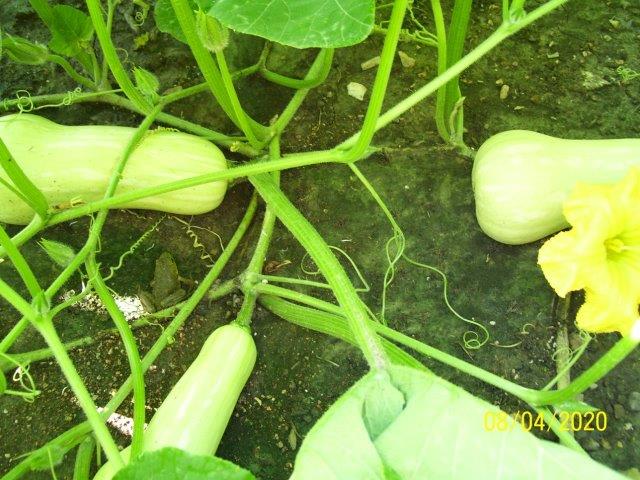 And a few more. There's also a little frog in this shot. Can you spot it?
.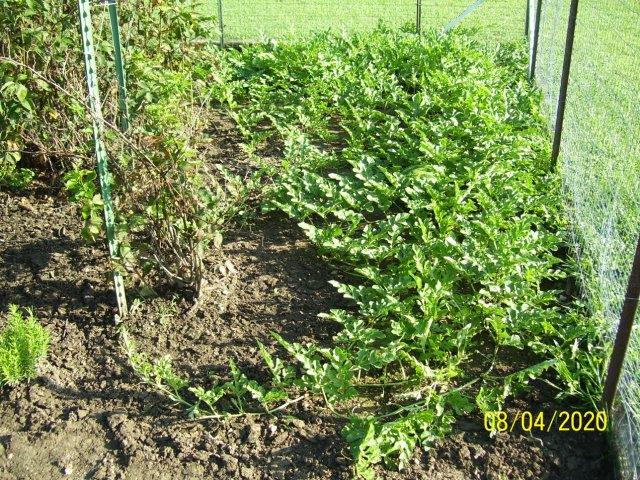 The bird netting frame is out of the way now, so the watermelons have free rein.
.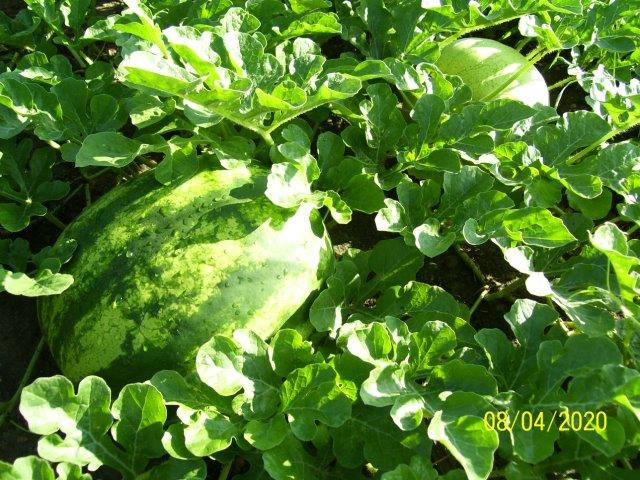 Yet another seed packet mixup. Can you believe this? They're all supposed to be Crimson Sweets like the one on the left, but there's also a different kind on the right.
.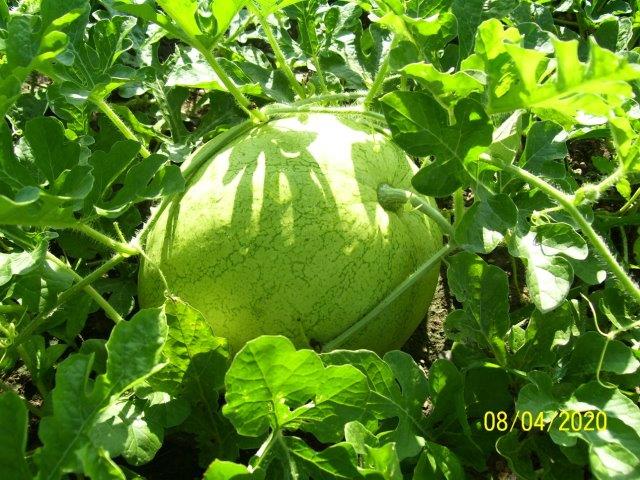 Any guess what kind that might be? I thought maybe Charleston Gray, but I'm not sure. The seed packagers really did a poor job this year. This is the third packet I've had with different seed mixed in (lettuce, peppers, and now watermelons).
.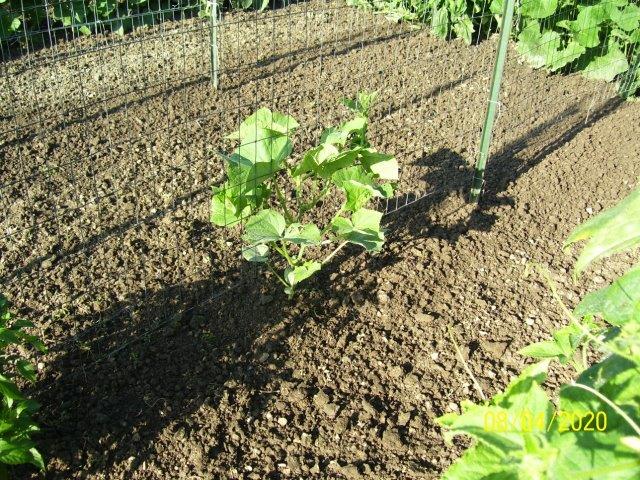 The third cucumber, and probably the last. It's getting late in the season now.
.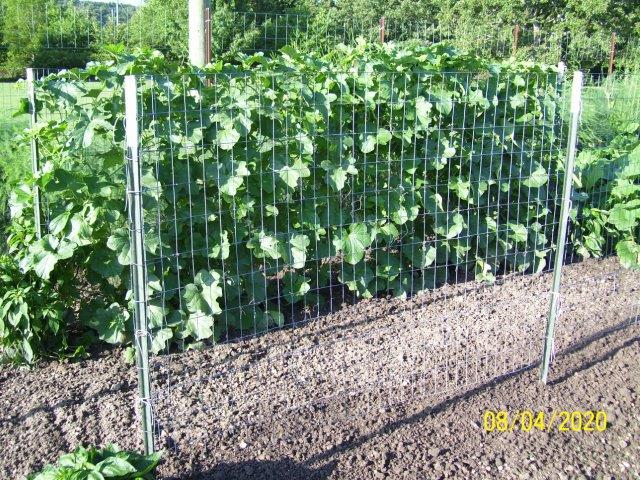 I had a butternut squash on this trellis, but I decided it was a bad idea. I don't think the trellis is big enough, so I pulled it and planted some fall peas there instead. Those are the cantaloupe plants on the next trellis.
.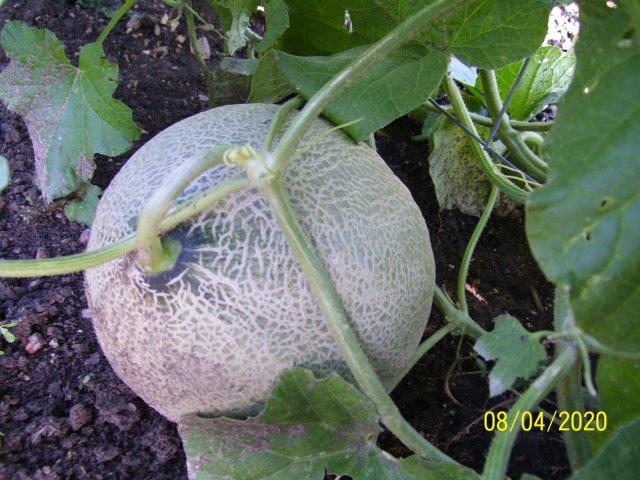 Cantaloupe.
.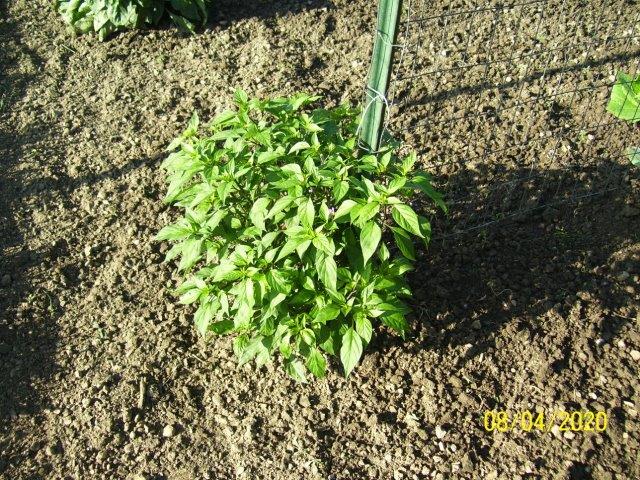 One of the mystery peppers.
.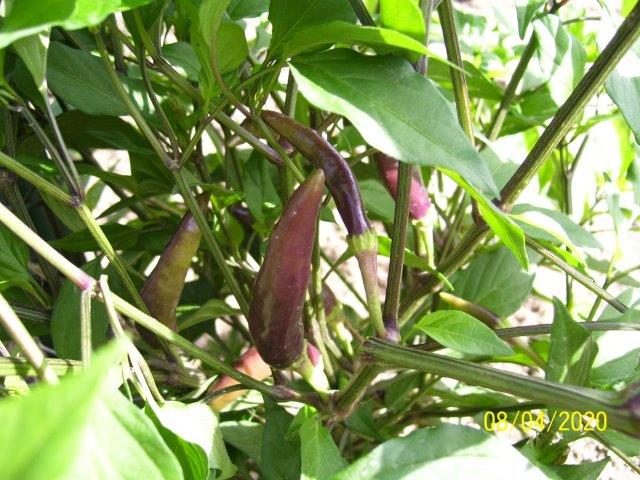 They have purple flowers and purple peppers growing up instead of down, and they're shaped like chilis. They're hot, too. I'm going to let them grow just to see how well they do. I'm not very fond of hot peppers, but I may end up cooking with a few of them before everything is said and done. Maybe in a spicy-hot stir fry or something.
.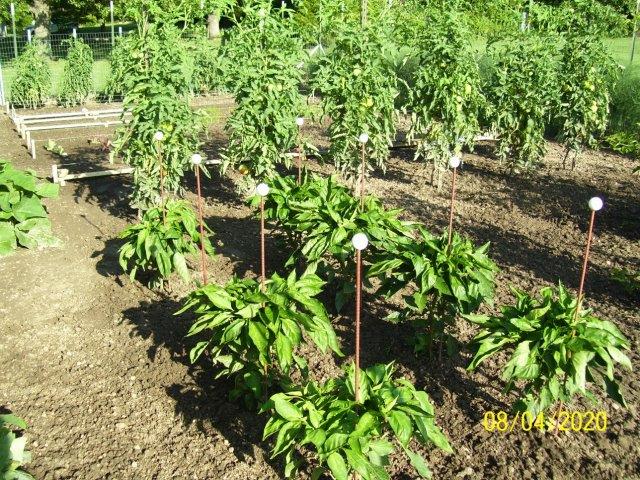 The nearly-drowned peppers.
.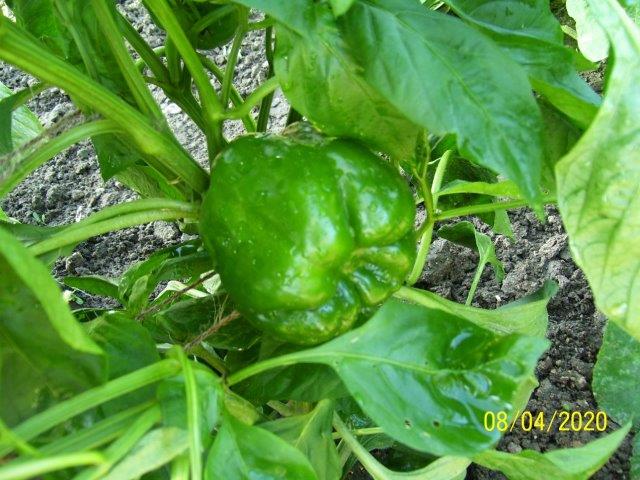 One of the backup peppers.
.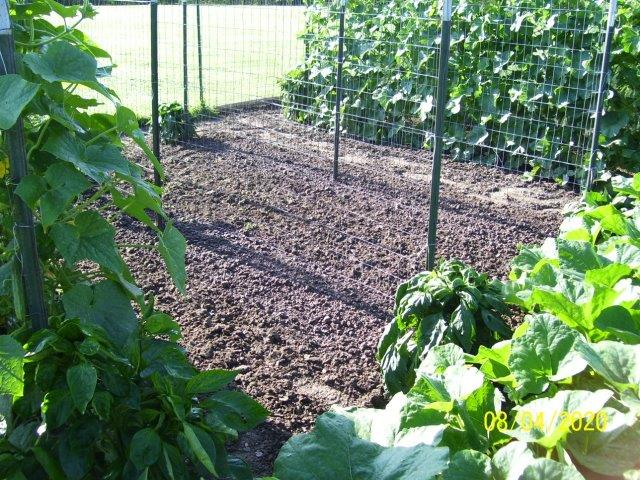 I went ahead and planted fall peas under the open trellises.
.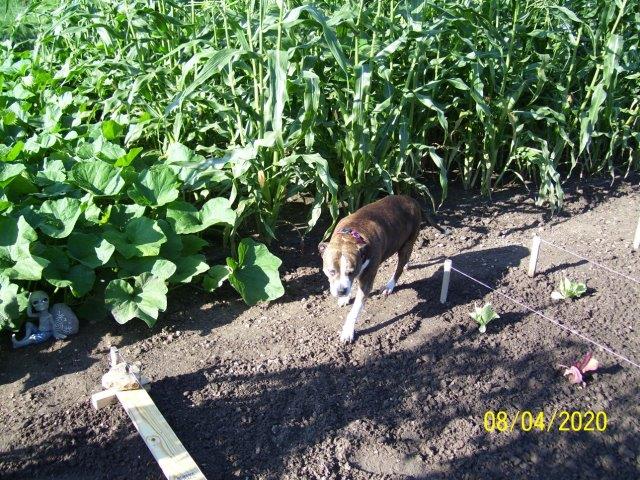 Polly came to visit.
.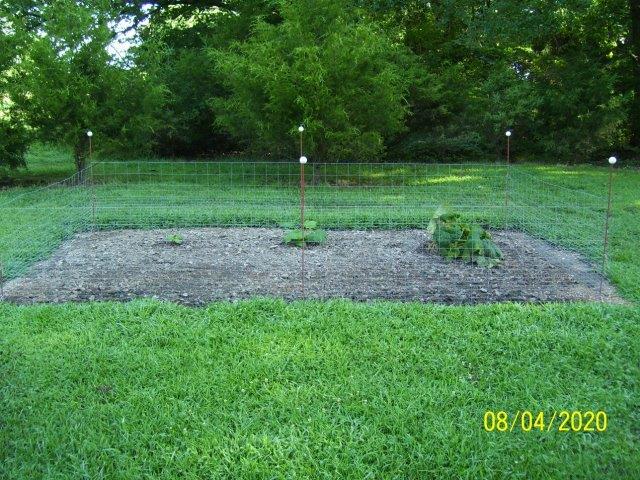 It's been a bad year for zucchini for me. I'm basically starting over for the fall now. Up in the main garden I pulled the eggplants (which were going nowhere due to bug damage) and planted three more zucchinis in their place, in addition to the two new ones here. I'll be framing this little plot with some of those new landscape timbers later on this fall.
.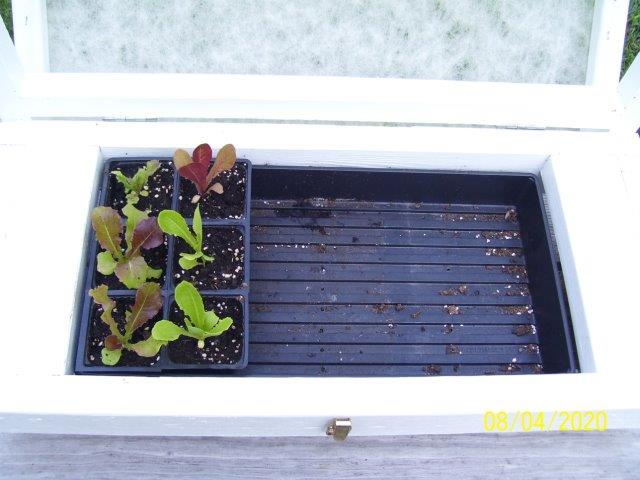 I've fallen behind on my lettuce rotation. I'll correct that shortly, though.
.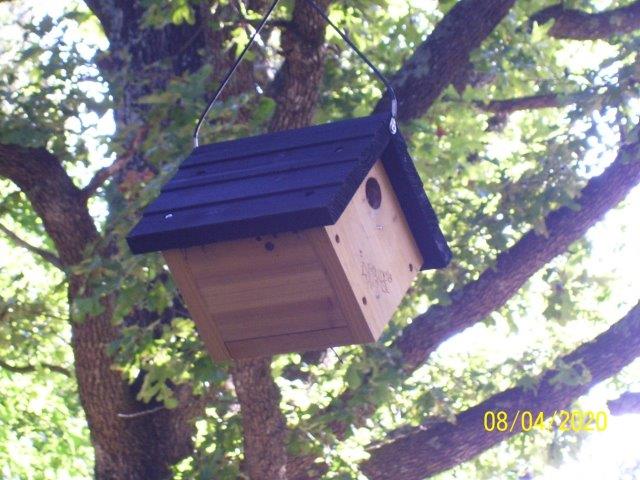 The wrens were feeding a second batch of chicks in the last post, but then they up and disappeared. I have no idea what happened. Maybe the heat killed the chicks, poor things. I might drill some ventilation holes in the back before next year. You'd think the manufacturer could have done that, but no.
.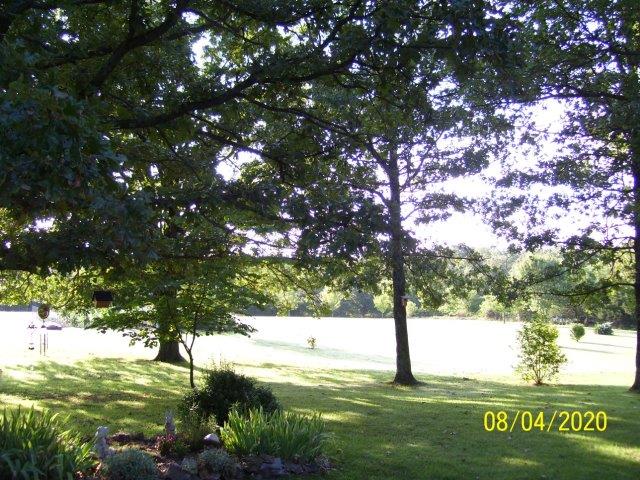 See you next time.